We welcome Adam Thurston to our army of groundhopping bloggers. As he starts on his journey doing the 92 league grounds. The first tick off Adam's list was a trip to South Wales…
Ground: The Cardiff City Stadium 1/92
Game: Cardiff City 3-1 Colchester United
Date: 02/01/2015
Thoughts on the ground:
So it was Cardiff which is where my journey began – a cold (and I mean very cold), Friday night in South Wales to watch a 3rd round FA Cup tie between the Blue Birds and Colchester United. I wasn't sure what to expect as it was the first game I'd been to in a number of years. I was previously a season ticket holder at Bristol City but had stopped when the quality of football was dropping yet the prices of tickets were rising. Our first thoughts when we came into the car park were "wow", as you would expect with a modern stadium. A beautiful 33,000 seater stadium situated a short distance away from Cardiff City Centre.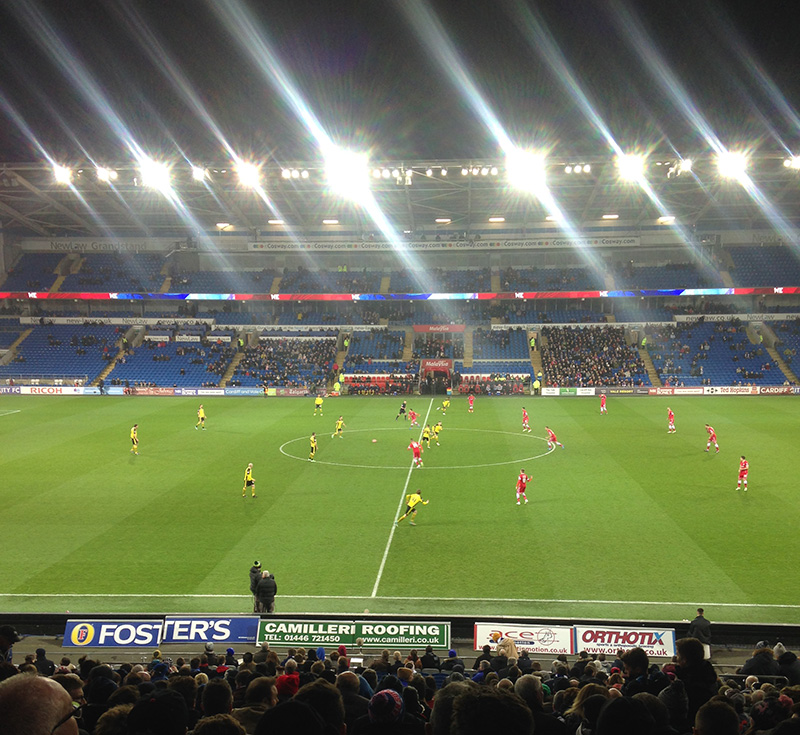 The evening began with a quick meal with a KFC based within the Car Park, brilliant idea. Anyway, onto the football part, our first sight of the pitch and the ground were exciting with the stadium being empty (we arrived slightly early), however as kick off loomed we looked around expecting the ground to start filling up soon, it didn't. Just 4,194 fans in a 33,000 seater stadium. The lowest ever attendance at the new stadium for Cardiff, this did not bode well for an exciting atmosphere, which was a slight contrast to the season before when the fans were treated to a 3-2 win over the current English champions Manchester City. Nevertheless, this does not mean that a good game couldn't be played.
A club such as Cardiff shouldn't be where they are in the current situation, with a stadium like they have, a catchment area such as theirs, they should be battling it out in the Premier League. Whether that is possible with the instability they have with the constant battles with the owner. I presume that the next to empty stadium was partly in protest against the man.
Thoughts on the game:
Onto the more important matter, the football. To be honest, that was dire as well. The opening half an hour was very sloppy with a very small number of chances, even the goal which came on 34 minutes by Joe Ralls wasn't much of a chance. A clearance from a corner and a 30 yard speculative effort which took a massive deflection to give the Championship side the lead. No individual stood out as having an excellent first half which from Cardiff's point of view would be disappointing due to the number of high quality numbers in their squad.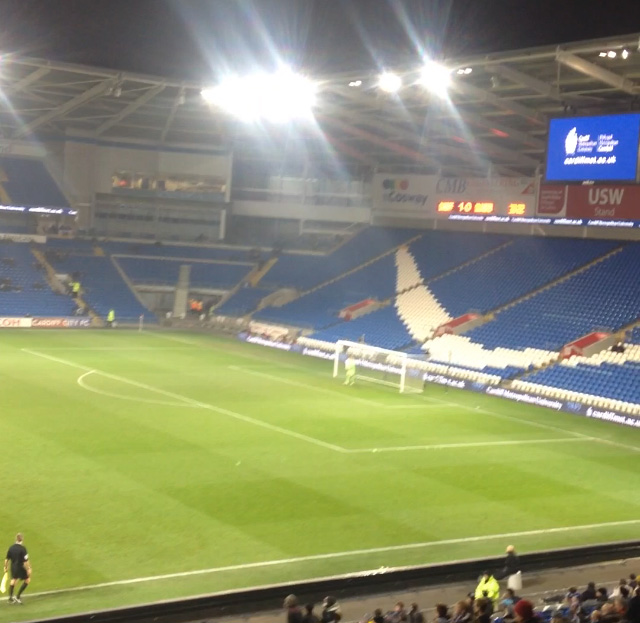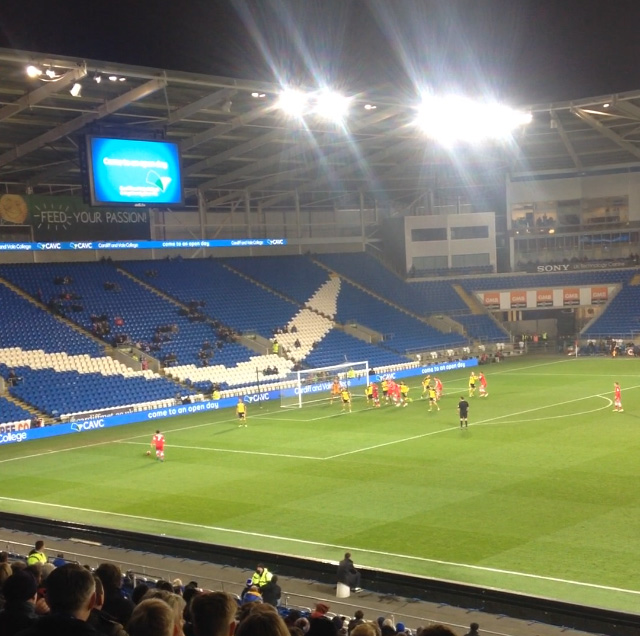 Things began to open up in the second half an 2 goals in the space of 7 minutes just before the hour mark sealed the deal for Cardiff who now lead 3-0 with half an hour to go. A piece of brilliance from Kadeem Harris who scored a hooked volley from within the penalty area which sailed past the keeper before Kenwyne Jones made the game safe with a strong header into the corner just seconds after coming on as a substitute. The consolation goal for Colchester and their travelling fans was scored after 74 minutes by Freddie Sears – a player who was once scoring for West Ham in the Premier League, now plying his trade in the Football League. A brilliant strike after cutting inside and putting the ball into the bottom left corner giving the Cardiff keeper no chance.
So commiserations to the Essex club and onto the 4th round for Cardiff, the first team to go through to the next round of the competition. As for me, I'm looking to enter back into Wales at some point to watch Swansea and Newport before the season is out. At least that gets the payment for the bridge out of the way.
Atmosphere 0.5/5: Very poor atmosphere – however I can imagine this being different at a bigger game with a bigger crowd.
Location 4/5: Good location, easy to find on the TomTom and ample car parking for £5.
Value for money 3.5/5: Relatively cheap tickets but with the emptiness of the stadium, it begs the question was it still too expensive?
Pie Rating and Pint Rating n/a
Programme 4/5: Cheapest I've seen, at £2 you can't really complain.
Character 3/5: At a more important game I definitely feel that this would be a higher score.
Stewarding 5/5: I didn't notice a single steward and there wasn't any trouble so they must have been doing their job properly.
Overall 3/5: Lovely stadium, poor atmosphere, not a very good game.
You can keep up with Adam's journey by following him on Twitter @athurston_1996 or on his the92.net profile here. Have you ticked the Cardiff City Stadium off your 92? Add it to your 92 here www.the92.net/ground/cardiff-city-stadium or plan your visit using our away day planner here www.the92.net/plan-your-away-day/cardiff-city-stadium.