It's been a while for the92.net blogger Michael Pilcher, but he's finally been to a new ground, as his visit to the Victor Tedesco Stadium also saw him visit his first non British ground! You can follow Michael on Twitter here.
8th April 2017 was the date that I achieved my long-held ambition of joining the 92 Club. On the back of the buzz at finally realising that dream, I conducted an interview on this very website where I spoke of my grand plans for the future: to complete all the grounds in Kent, to visit more non-league games…I was going to keep those new ground visits going.
Aside from a couple of visits to Priestfield, 18 months later those plans have come to absolutely nothing.
I think a hectic 2016-17 where I plowed through seventeen grounds to get to 92 took it out of me, certainly financially – being tucked away in the south-east corner of the country means most grounds are a mission to get to. Tickets, travel, food/drink, possible accommodation: it quickly adds up. I always thought I'd miss the buzz, not just of the experience of visiting new places but of the matches themselves, yet I've found it easier than I expected to go cold turkey. I'm back down to 89 grounds (88 if you include Spurs' ever-delayed new ground) and haven't made any real effort to get to Lincoln, FGR or Macclesfield yet. In my head I know I'll do them, eventually.
567 days after I finished my 92 at Barnet I finally visited my first new ground since that date. But it wasn't one of the new additions to the 92, and was going to be my first stadium visit outside the British Isles.
The Island of Knights and Legends
The idea of a family trip to Malta, the land of my grandmother's birth, for her 80th birthday was suggested earlier in the year, and now my kids are 8 and 4 we felt it was probably a good age for their first trip abroad.
Ever since I found out about my Maltese heritage in my youth I've always had a certain fascination with Maltese football. In my mid-teens, I harboured dreams of one day playing for Malta (at 34, I'm still waiting for that call-up). My great-gran used to go to Malta every summer, and one year I asked if she could get me a Sliema Wanderers shirt just because I liked the name, and I love a random football shirt. My mum later found out how much it had cost and chastised me for asking, and I never had the heart to tell my great-gran she'd got the yellow away shirt when I'd really wanted the navy/sky blue home one.
During our October 2018 stay, after a fairly hectic week we decided to take it easy on our last full day and stay in. But after years of visiting random grounds the old hunting instincts kicked in, and I reached for my phone. We were staying within five minutes of Luxol Stadium, disappointingly the next fixture there was taking place a few hours after our flight out the next day, but there was a ground, the Victor Tedesco Stadium, around fifteen minutes' drive away. Checking the handy eCabs app (basically the Maltese Uber), I saw the rates were reasonable. With trepidation I checked for permission from Mrs P, she was all for the idea so off I set with my eldest daughter for our first taste of foreign football.
The Victor Tedesco Stadium, Hamrun
Back in the old days, I remember seeing photos of Maltese games basically being played on what looked like grit, however the Victor Tedesco was a 3G affair. Malta is a country ranked 163rd in the world with a part-time domestic league ("Most of the players are carpenters", my taxi driver informed me), I wasn't expecting much. Football is now the most popular sport in Malta, but it didn't used to be, and was competing with Water Polo in the popularity stakes.
After a fairly hair-raising taxi ride – Malta has some seriously aggressive drivers – we arrived in Hamrun an hour to go before kick-off. Getting to the gate I paid €9, €8 for me and €1 for an under 12 tickets, which covers two matches – with the island being small there aren't that many grounds, so two matches are played back-to-back at one neutral ground. This led to the slightly odd spectacle of two opposing teams warning up together behind one goal as the first match reached its closing stages, and fans of the Game 2 teams entering in with the Game 1 fans. Game 1 was Floriana vs Pieta Hotspurs, and we picked the Floriana end on the basis it had a few more people stood outside it.
The stadium only has one stand, a large number of plastic seats which aren't the flippy ones we get in the UK, although most fans preferred to congregate on the cement steps around the seats. I was hoping for some sort of merchandise: I've recently got into the habit of buying club crest pin badges, but there wasn't even so much as – shock horror – a programme. This is the first game I've gone to which hasn't produced a programme, something I suppose I'll have to get used to as UK clubs are no longer obliged to produce them.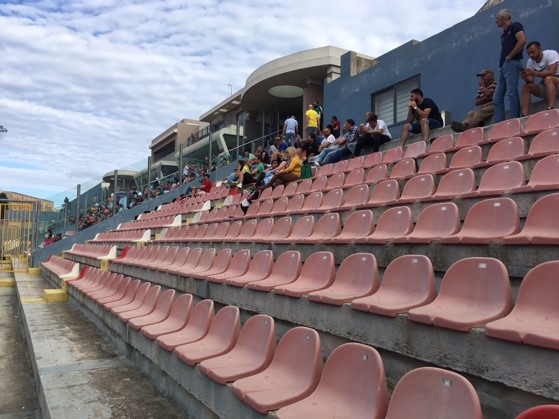 The game itself got its first goal after three minutes, the 'home' side Floriana being awarded a soft penalty which just made its way in. From there it was a somewhat stodgy affair, neither side able to get much of a foothold on the game. The quality of the passing wasn't great with players seeming to constantly pick the wrong option once they reached the final third. There was certainly a lot of desire, but not a great deal of finesse.
The Hotspurs had probably had more of the play without doing much with it but leveled things ten minutes into the second half after a challenge from Mohammed Saleh led to another penalty, which was confidently dispatched. The match seemed to be heading for a draw before substitute Shunsuke Nakamura – not the same one that used to play for Japan and Celtic – hit a fierce drive from a difficult angle that found the bottom corner. 2-1 to Pieta it finished at the Victor Tedesco Stadium, by all accounts a shock result as they'd just been promoted and Floriana is the most decorated club in Maltese history.
Unfortunately, we had to get back for a family meal so we missed Game 2, champions Valletta taking on Mosta at the Victor Tedesco Stadium, which I saw later finished 5-0 to Valletta. Valletta had recently tried and failed to sign Usain Bolt, which could have been a jolt to the arm for the popularity of football on the island. It's rare for a big name to be associated with Maltese football, Sir Stanley Matthews coaching Hibernians in Paola for a season in the 70s perhaps being the only example. I couldn't see that attendance figures get released anywhere here, but estimated there were probably around 500-600 here.
I was hoping for some Mediterranean passion on the terraces, alas there wasn't so much as a single chant. The fans had no qualms letting the referee know when they felt he'd made a bad call, leading to some ardent and no doubt colourful rants, but there wasn't a great deal of what you could call atmosphere. Malta is a beautiful island with a lot going for it, and while I can recommend a great many things there – including a trip to the capital Valletta, European City of Culture 2018 – I wouldn't put a visit to see a Malta BOV Premier Division match too high on the list.
But Wikipedia says there are eleven grounds in Malta, so I am now 9% of the way to completing the Maltese eleven with this trip to the Victor Tedesco Stadium – and, once you've started something, you may as well finish!
If like Michael you fancy blogging about your experiences doing the 92 league grounds drop us a tweet to @the92dotnet.
Are you on a journey to the 92 club? Use our free website to keep track!