Blogger Michael Pilcher made the trip to the Potteries for some midweek Capital One Cup action. Cup holders Chelsea were the visitors as they looked to stop the rot and continue to defend their silverware.
Ground: The Britannia Stadium 75/92
Game: Stoke City 1-1 Chelsea (Stoke win 5-4 on penalties)
Date: 27/10/2015
I've heard so many variations on Andy Gray's Lionel Messi quote that I don't think anyone knows what the original was anymore. Did Gray say Messi would struggle "on a cold, wet Tuesday night in Stoke" or on a "wet, windy night at the Britannia"? Whichever, I – alongside my long-suffering wife – were off to the Britannia on a Tuesday night: it was wet, it was windy and, thanks to the stadium being open and on a hill, it proved to be cold. We didn't struggle and in fact it proved to be an enjoyable evening; Gray would be proud.

The main reason I'd never done the Britannia before, apart from cost, was that it's so far from any train station. It was just over an hour's drive from where we were staying in Preston, but as my wife is very protective of her car, doing the Britannia meant I'd need her involvement (anyone who has read my 92 blogs before know what's coming here: a meal out and a trip to two nearby shopping outlets were used as a sweetener for this one). A monumental moment in terms of my 92 journey: ticking off Stoke would mean I'd finally completed a division, 20 out of 20 Premier League grounds in the bag.
We'd pre-booked parking at the ground and, after having to go through about five or six stewards to wave us through various checkpoints, were at the ground with an hour to spare. I took a walk around and have to say it looked pretty imposing, a feeling enhanced by the ground being lit up for an evening game. Three of the stands were of equal size and joined together, with one stand set apart. Strange they didn't make it completely enclosed as, being on a hill, you're exposed to the wind more, something you notice on October nights like this.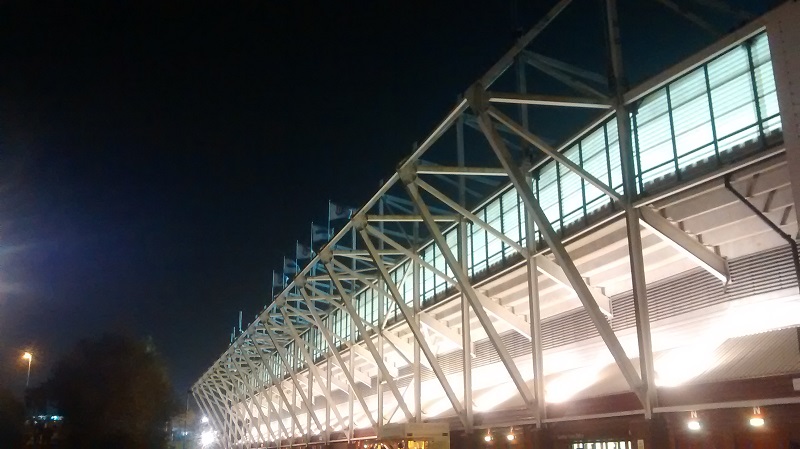 As it turns out I'd chosen an ideal game to come to. £10 for two Cup game tickets was a bargain and, with Chelsea having a torrid start to the season, it looked like they were going full-strength to try and turn things around. Which meant Stoke would have to go full-strength too. Was this going to be the start of Chelsea's revival, or a final nail in Jose Mourinho's coffin?
Chelsea seemed up for this, and had some fine chances: Ramires shot wide after rounding the keeper, John Terry – booed throughout as per – had a goal ruled outside for offside, and Butland had had to make a couple of smart saves. Diego Costa, after winding up the fans after going down easily a good few times, lasted half an hour before being subbed ("Is this how Chelsea win, by falling over all the time?" my wife asked me. "Pretty much" I nodded). The best chance of the half fell to the Potters' Arnautovic, who turned and shot from close range but just couldn't get enough power on his shot to beat Begovic.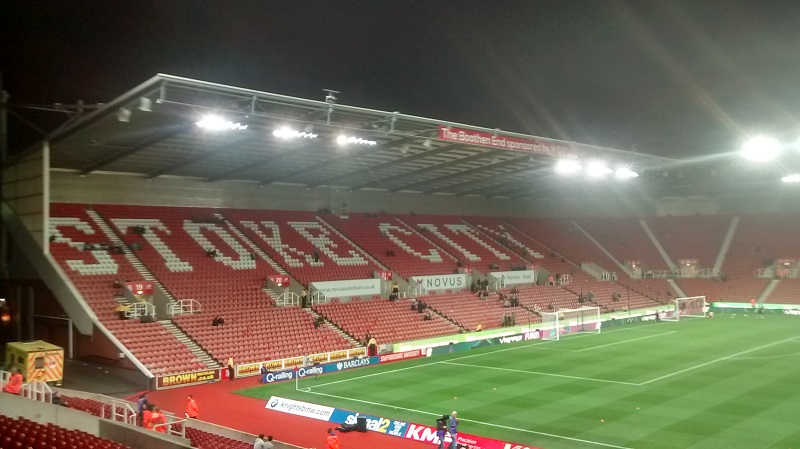 Minutes into the second half, the breakthrough came: the ball was worked up to Jonathan Walters, who teed himself up before unleashing a superb strike that went in off the underside of the crossbar. Bang. How would Chelsea respond? Despite seeing plenty of the ball, their attacking players just couldn't find a way through, with no final ball or end product. Stoke looked comfortable, to the point I couldn't see anything other than a 1-0 win and was wondering what time we'd be home. An injury time corner was headed on to Costa's replacement Loic Remy, who took a touch before firing into the roof of the net. There was even time before the final whistle for Stoke's Phil Bardsley to get himself sent off.
The home side, a man down, looked tired in extra time and Chelsea dominated possession. They didn't create too many chances, Butland having to be aware to keep out a Kenedy effort and Willian firing just wide. There was tension amongst the Potters fans but they still managed some Delilahs and Mark Hughes' Barmy Army's to will their team on to the end. They held out for those extra minutes, and so it was penalty time. After nine faultless spot kicks, up stepped Eden Hazard, who had probably been Chelsea's best performer on the night. His was by no means a bad penalty but Butland pulled off a great one-handed save to deny the Belgian: Stoke had won the shoot-out 5-4.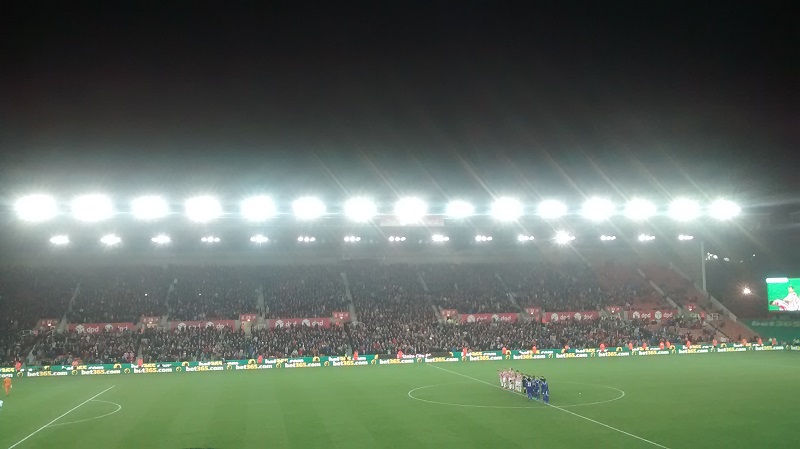 A good cup tie all in all, although Britannia lost itself some points after we were held in the club car park at a standstill for over an hour after the game. I've been in a car at Wembley with 80,000-odd and been back on the road within half an hour, so not quite sure what was going on here. Overall though it was a decent visit: good game, good ground, a good bunch of fans, and I finally had one division completed on my 92 Club quest. One down, three to go…
Atmosphere 4/5: A good sized crowd with lots of noise coming from both sets of fans, including a packed away end, and lots of chant-sparring.
Location 2/5: Not really near anything, except lots of car showrooms. Nearly four miles from a train station, which is what had put me off doing the Britannia sooner.
Value for money 5/5: £10 for two tickets to watch two full-strength Premier League sides with some big names on show, and an extra 30 minutes and a penalty shootout thrown in.
Pie Rating and Pint Rating n/a
Programme 0.5/5: In the JPT last season, Bristol City charged me a pound for a 'programme' that was essentially just a folded up A3 poster. Premier League Stoke City, in a game against the reigning Premier League and League Cup winners, pulled the same stunt…but charged me £2. Really poor effort, why can't an established big club run a reduced-sized normal programme for a cup game? Luckily there was someone outside selling Duck Magazine, a Stoke-based fanzine which had far more insight and content than the club's own 'programme'. Very disappointing from SCFC.
Character 3/5: Probably looked more impressive as it was lit-up for a night game. A lack of any real distinct or noticeable features, just a nice, functional uniform ground.
Stewarding 5/5: A friendly and helpful bunch.
Overall 3.5/5: Apart from the poor excuse of a programme and sitting in the club car park at a standstill for AN HOUR after the game, we at least got to witness an interesting, lively game with a great atmosphere.
Keep up with Michael's journey doing the 92 here and follow him on Twitter @michaelepilcher. If like Michael you fancy blogging about your experiences doing the 92 league grounds drop us a tweet to @the92dotnet.
Have you ticked the Britannia Stadium off on your quest for the 92 club? Add it to your 92 here www.the92.net/ground/britannia-stadium or plan your trip their with our away day planner here www.the92.net/plan-your-away-day/britannia-stadium