They say doing the 92 is a marathon not a sprint, but the92.net blogger Tim Dove is now in the sprint – if this were the Marathon at the London Olympics he'd be entering the last 400 metres on the Olympic Stadium track…
Ground: Broadfield Stadium 91/92
Game: Crawley Town 0-1 Yeovil Town
Date: 19/09/2015
Thoughts on the ground:
Crawley Town was one of the grounds remaining on my 'to visit' list for two reasons: my own side had yet to play here and the fact it was so far away from home. So it became my penultimate ground of the current 92 to visit, and for this reason alone, generated quite an amount of excitement.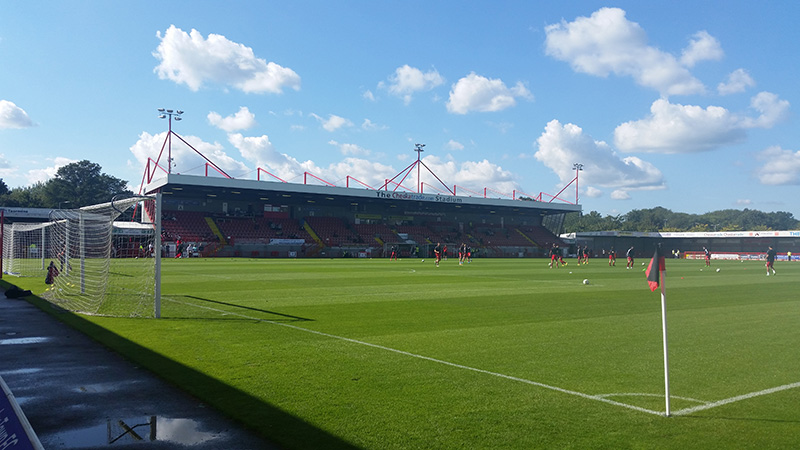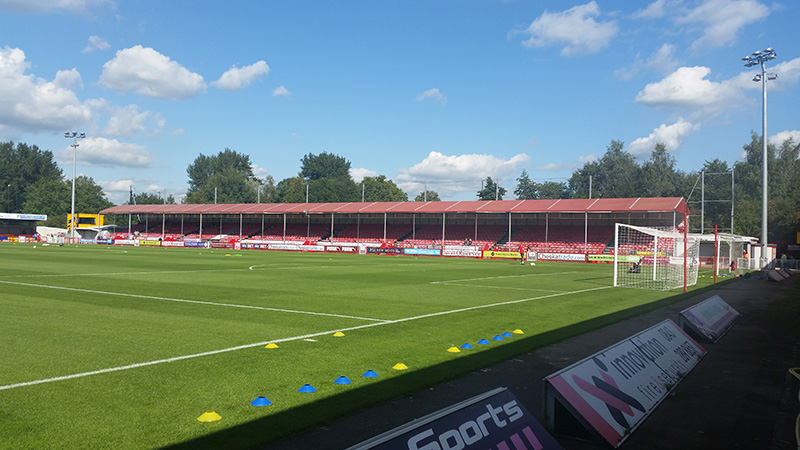 Built in 1997 as the Broadfield Stadium, it was renamed in 2013 as part of a sponsorship deal as the Checkatrade.com Stadium. Approaching from the train station it seems out of town and surrounded by tree-lined roads. These busy roads have an underpass with football murals to set the mood for supporters approaching the ground.
The ends behind each goal are both small and covered terraces, one end each for home and away supporters. Unusually both terraces extend toward the main West Stand and so the corners are enclosed on this side.
The West Stand is the main feature of the ground. It is fully covered and all seated and is approximately two-thirds of the pitch in length. The stand has windshields at each end of the stand and three untypical floodlight pylons can be seen on the roof of the West Stand. Fans enter this stand by climbing a small flight of stairs and all seats look to be raised within this stand. The West Stand has a capacity of 1150 seats.
On the opposite side is the East Stand and this also is an all seated and covered stand. The East Stand capacity is 2145 fans. The stand does have regular but slim supporting pillars across its entire length. At each end of the East Stand a pair of new floodlight pylons have been installed, and these are different to the three on the West Stand. Behind the East Stand are a row of mature trees which gives this part of the ground a rural feel.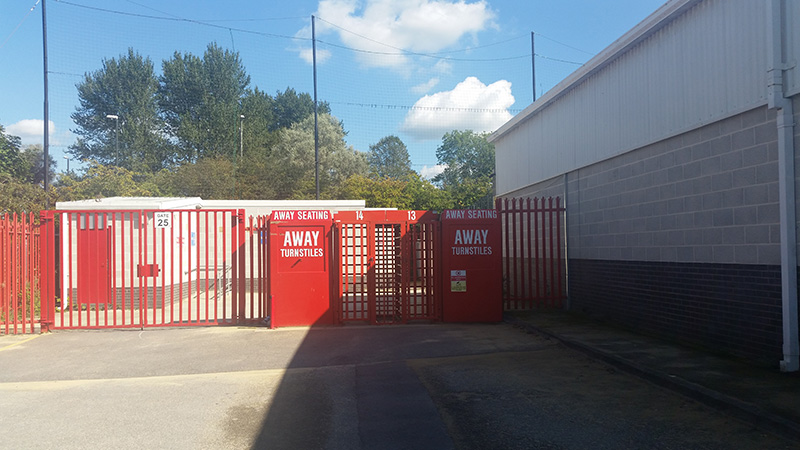 Thoughts on the game:
Yeovil Town won their first away game of the season as Harry Cornick scored a brilliant winner to beat Crawley Town.
It didn't bode well for Yeovil as ten players were out injured and manager Paul Sturrock was serving a touchline ban and was forced to watch from the stands. The Yeovil injury situation meant academy player Ollie Bassett made his Yeovil debut and became the youngest player to play for Yeovil Town in the Football League.
Both teams started with energy and purpose, and the first real opportunity came after 13 minutes. A long ball over the top from Yeovils Sokolik was sliced by Crawley defender Ashton into the path of Bird, but the strikers effort went wide of Woodman's goal.
Three minutes later Crawley keeper Woodman saved a one-on-one chance to keep the match goalless. Yeovil's Cornick latched onto a poor defensive header back from Ashton, and with just Woodman to beat Cornick's effort was saved by the feet of the keeper to save Ashton's blushes.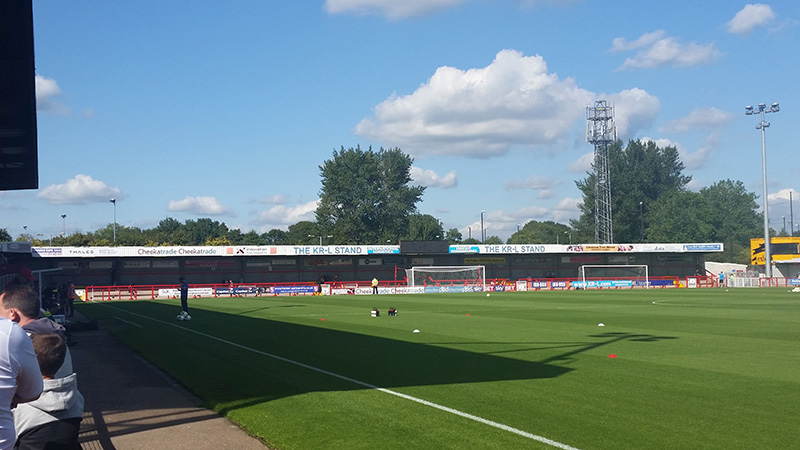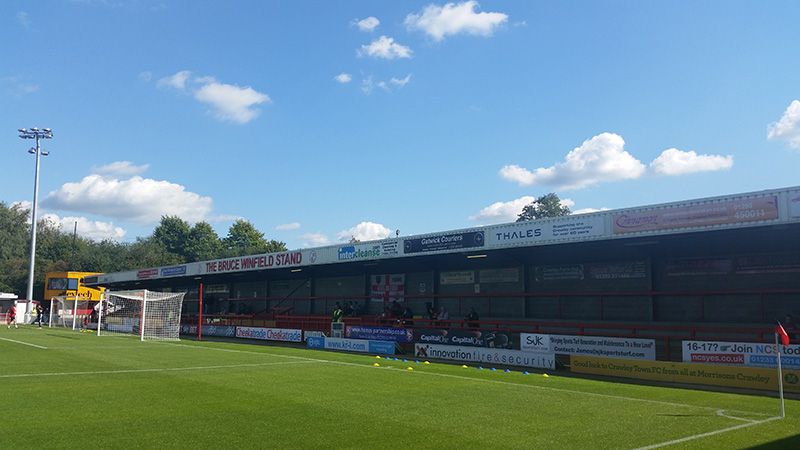 After about 28 minutes Cornick cut in from the left wing to unleash an unstoppable shot from 25 yards that left Woodman with no chance as it nestled into the top corner of the net. Its not often that goals of that quality are scored in league 2; and it was even more surprising after some of the wasteful finishing seen earlier in the game.
One minute into the second half and Crawley could have equalised. A free kick on the right was swung in by Rooney and found its way to Bradley at the back post, but somehow the defender put his shot wide with the goal at his mercy.
On the hour mark Bradley again went close for the home side when his bullet header cannoned back off the cross bar after a pin-point corner from Rooney.
With 83 minutes on the clock Cornick robbed Ashton on the half way to run clear of the Crawley defence, but with Crawley's Scales covering well the goalscorer could only fire his shot at goalkeeper Woodman.
A game of high energy and full commitment, with plenty of chances. With more prolific finishing then the game could have seen many more goals.
Atmosphere 3/5: Vocal traveling support under a low roof who brought a drummer; plenty of shouts from home supporting individuals with a few home chants and the home team had a bell-ringer.
Location 3/5: Seemed plenty of street parking nearby. About a 15 minute walk from Crawley train station with regular trains back to London.
Value for money 3.5/5: A goal of high quality settled a game with numerous chances.
Pie Rating and Pint Rating n/a
Programme 2.5/5: A small sized programme on good quality paper with standard articles for £3. It also felt a bit thin.
Character 3/5: A modern day ground built out of town. There are terraces behind each goal, with a covered row of seating to one side with the main stand opposite.
Stewarding 4/5: Plenty around, friendly and helpful.
Overall 3.5/5: Plenty of chances in a game of full commitment which was settled by a goal of high quality. A good day out.
Keep up with Tim as he nears the end of his journey to complete the 92 on Twitter @dovet1975. Have you ticked Crawley Town's home off your list? Add it to your 92 here www.the92.net/ground/broadfield-stadium or plan your visit using our away day planner here www.the92.net/plan-your-away-day/broadfield-stadium.