Blogger Katie recounts a trip to the Eithad Stadium, the home of Manchester City as she continues on her journey to reach the 92 club before turning 30.
Ground: The Eithad Stadium (previously visited)
Game: Manchester City 3-0 West Bromwich Albion
Date: 21/03/2015
Thoughts on the ground:
There have been massive improvements transport wise recently with the opening of the tramlink which goes directly from Piccadilly station to the Etihad. Though at £3.00 for a 5 minute journey it is a pricey way to travel.
One of the downsides of the Etihad is the lack of places to eat near to the ground. I refuse to pay the best part of a tenner for a pie and chips from a kiosk so it was onwards for a traditional pre-match McDonalds with my Dad. Whilst there we got chatting to a couple on the table next to us. We spent a good 20 minutes dissecting our recent performances before mentioning how lucky we are to even be playing Barcelona on a regular basis. We are so lucky to be able to watch world class players such as Sergio Aguero and David Silva play for us and we have come so far in the past 15 years, so to be moaning about the fact that we didn't compete against players like Messi and Xavi seems ridiculous That said we were rubbish!
A unique feature of the Etihad which I really like is the City Square entertainment. It normally features some live bands, interviews, quiz games and today some extreme BMXers. I'm also a big fan of how City promote the women's side. As a footballer myself it's great to see the women's game get a bit of coverage and whilst the new City Football Academy should bring some rising stars to the men's team (hopefully) it should also be a great facility and help boost attendances for the women's games.
The Etihad Stadium is a fantastic new ground. While it will never have the character that Maine Road did, I still love the pace and I think that the steel spikes (I'm no architect so not sure what to call them) and spiral walkways make it look very different to the identikit stadiums that you see around these days. My season ticket is in the 3rd tier of the East stand and offers one of the best views in the place, though I think it is hard to get a bad view. The photo on the right is taken from a different game but it gives you a decent enough idea.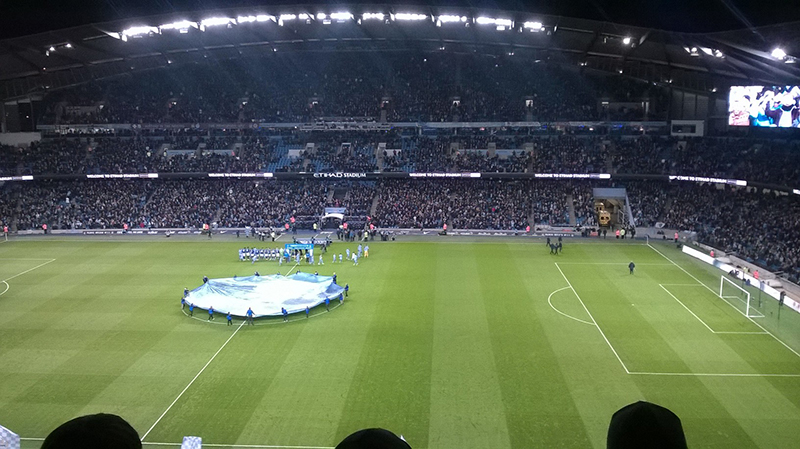 I must say also that my season ticket this year was £750 which I think is pretty reasonable for arguably the best seats at the home of the champions. The South Stand is currently being rebuilt (with the north to follow next year) to add another tier onto it which will make the ground even more imposing though as we struggled to fill it today I'm not sure how we think we're going to get 60,000 week in week out. At least it's not my money!
Thoughts on the game:
A red card 90 seconds into the game was always going to give City a slight advantage though I'm not sure if it changed the course of the game much. Tony Pulis was always going to set up his side to defend and the red card only served to make West Brom even more defensive. We did think it was a bit harsh though (when we later found out that the wrong player had been sent off it seemed even more harsh) as you could argue that other players were running back to cover.
City made hard work of things for the next 26 minutes and the atmosphere was very quiet. This has been a bit of an issue in the past few seasons with the place being very quiet aside from the "big games." A class turn and finish from Bony (hopefully the first of many for him) put City one up and helped to calm any nerves. From there on there was only going to be one winner. Screens running round the 2nd tier show statistics every so often and the possession stat was around 80% in City's favour for most of the game. Fernando bundled in another one before the break and we went into half time happy.
Just before half time there was an announcement that there was no water supply to the ground and therefore no hot drinks. Some initial concern from the people around us ("what will they water the beer down with?") then led to delight as they realised that the queue for the bar would be shorter.
The second half came around and the only surprise really was that City only got one more goal. Though in good news for my fantasy football team it was a Silva goal as he touched in Jovetic's shot. On another day we could have had a few, the chance where Aguero and Bony hit the post and bar within 5 seconds springs to mind, but after the run that we were on 3 points is all that mattered
Atmosphere 2.5/5
Location 4/5: Really easy to get to from the station
Value for money 4/5: 4 for now but after seeing the price increases for next season I won't be rating this so highly next year
Pie Rating and Pint Rating n/a
Programme 4/5: Decent programme slightly ruined by irrelevant features
Character 3.5/5
Stewarding 5/5: Never had any trouble
Overall 4/5
You can keep up with Katie and her mission to do the 92 before her 30th on Twitter @katiemcmillan90, her blog (https://92before30.wordpress.com/) and her the92.net profile. Have you ticked off the Etihad Stadium? Add it to your 92 here www.the92.net/ground/city-of-manchester-stadium or plan your visit using our away day planner here www.the92.net/plan-your-away-day/city-of-manchester-stadium.