Blogger Katie recounts a trip to Stadium MK, the home of League One side MK Dons as she continues her journey to reach the 92 club before turning 30.
Ground: Stadium MK (71/92)
Game: MK Dons 0-3 Sheffield United
Date: 22/04/2017

Thoughts about the ground
Stadium MK is about 2 miles out of Milton Keynes centre so I hopped on a bus outside the train station to navigate the roundabouts for me. Everything at the train station is brilliantly signposted and there are 3 or 4 buses which take you right past the ground so you're never waiting too long for one. As the bus trundled through central Milton Keynes there were hordes of Sheffield United fans packed into every bar.
I only arrived at Stadium MK at about 2:40 so only had chance to quickly head round towards the main entrance before heading in. Unfortunately, I didn't have the chance to sample any of the delights of the pick n mix shop outside the club shop but it did smell delicious. The outside of the ground does look very impressive and extremely modern in comparison with many of the other grounds at this level.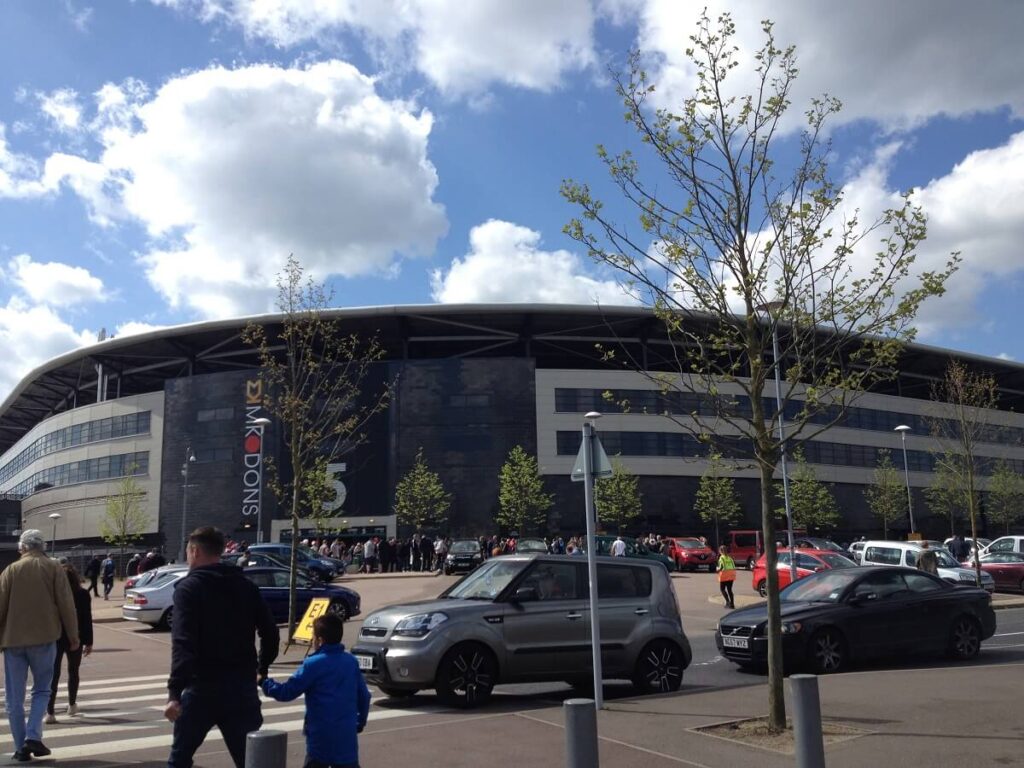 My preconception of Stadium MK was that it would be the same characterless bowl that seems to be the trend in a lot of new grounds. However, instantly after getting into the ground, I was taken aback by the fact I could already see the pitch. This was due to open concourses, which I was a big fan of.
≤h4>Into the Ground
With it being 2:55 I headed straight to my seat. Or at least I tried to. My ticket said staircase 5, row EE, seat 143. So I made my way to staircase 5 and the first row I came across was DD. I asked the steward and she genuinely had no idea and suggested that I gave the block along a go. When I got there though the seat numbers started at 169 and were going up so no joy there. It was at this point that they announced over the tannoy that kick off was delayed by 5 minutes due to the amount of fans coming in. If they were having the same issues as me it wasn't the getting in that was the problem. Luckily the home end wasn't too full so I decided to take my chances and choose another seat at random. If anybody does know if / where that seat exists I'd love to know though please.
The seats at Milton Keynes were lovely and padded just like the ones at The Emirates but it is a slight issue for me having short legs in that I can't touch the floor when sitting back. The ground is an impressive size for League 1 being a double tiered bowl and you get a decent view of the pitch from wherever you sit. Regardless of whether the seat exists or not!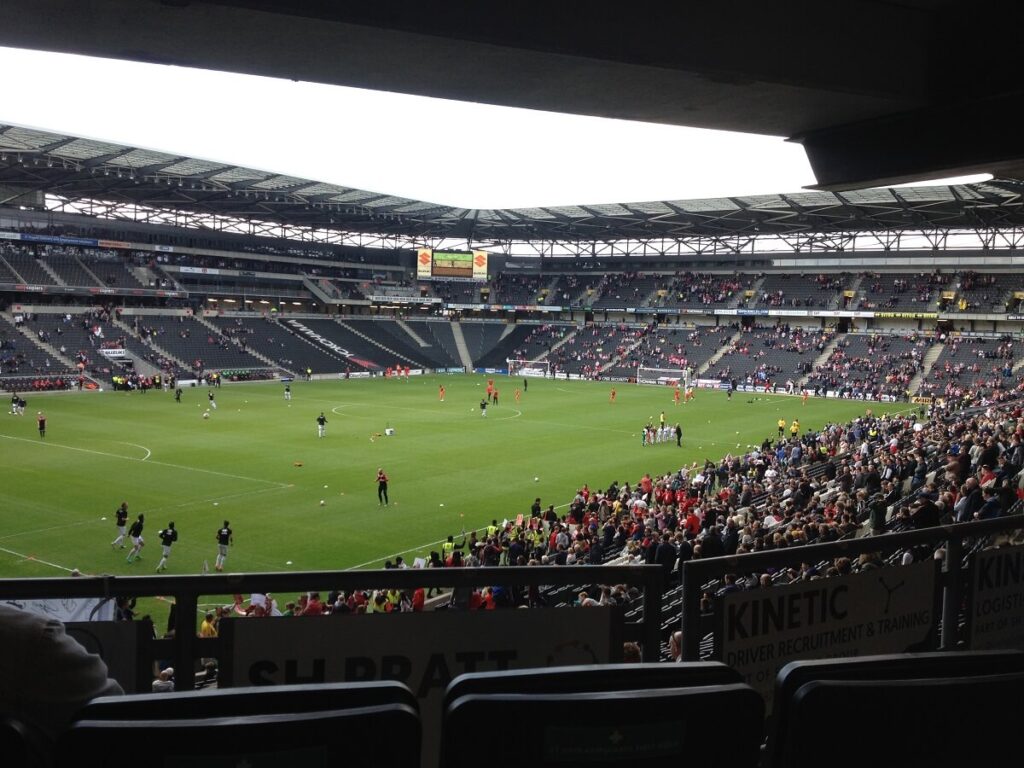 Thoughts about the game
With it being a sunny day it was the perfect day for a game of football. The first half was edged by Sheffield United and they hit the post early on. Milton Keynes levelled up the post hitting later on with a lovely curled effort from the left by Dean Lewington.
As the clock ticked towards half time Sheffield United won a corner at the far end. It was swung in and Leon Clarke jumped highest to nod home for 1-0. Easy as that! As the goal went in at least half of the people around me in the home end jumped up and cheered. The stewards just marshalled them over towards the away end which I thought was a good way to control things. In fact the stewards and police did really well all day, they allowed Sheffield United fans to get away with things as long as they weren't causing any trouble and it meant that everyone had a good laugh. All the chat in the home end was about how the 4th official held up 1 minute of injury time and the goal came in the 47th. I've never understood how a lot of fans don't quite get that it's a "minimum" time so it didn't seem like the biggest injustice in the world.
In the second half Sheffield United really started to show their dominance. Milton Keynes huffed and puffed but never really looked like grabbing a goal. The "fat lad from Sheffield" Billy Sharp showed why he's scored so many goals this season by capitalising on two mistakes at the back from Milton Keynes to seal a fairly easy 3-0 win.
The final whistle was met with a pitch invasion from the Sheffield United fans. The bloke behind me went ballistic but I thought that it was inevitable and again they weren't causing any trouble. Especially as someone dressed as the pope seemed to be parading around the pitch too. Though he didn't seem to bat an eyelid at the inflatable lady that seemed to have been abandoned on the pitch, so I can't be 100% sure if it was the real pope.
Ratings
Atmosphere 2.5/5: Had to put this as average. I'd give it a 1 from the home fans but 5 from the away.
Location 2/5: A lot further out of town than I'd expected.
Value for money 4/5: As I managed a slight upgrade due to not being able to find the seat on my ticket I can't really complain.
Pie & Pint Rating n/a
Programme 3/5: Plenty of pages.
Character 3.5/5: Better than I'd expected.
Stewarding 5/5: Dealt with the vast number of slightly tipsy Sheffield United fans extremely well.
Overall 3.5/5: Better than expected!
You can keep up with Katie and her mission to do the 92 before her 30th on Twitter @katiemcmillan90, her blog (https://92before30.wordpress.com/) and her the92.net profile.
Have you made the trip to the home of MK Dons? If yes, you can tick the Stadium MK off your 92 grounds checklist or if not plan your trip there: