Blogger Katie recounts a trip to Griffin Park, the home of Championship side Brentford as she continues her journey to reach the 92 club before turning 30.
Ground: Griffin Park 62/92
Game: Brentford 1-3 Burnley
Date: 15/01/2016
Thoughts on the ground:
Brentford's ground is of course famous for having a pub on every corner. The two times that I've been to Griffin Park I haven't managed to visit one which is a shame. We arrived at the ground with a quarter of an hour to kick off and the two that we walked past were heaving so not sure we would have even got to the bar in time.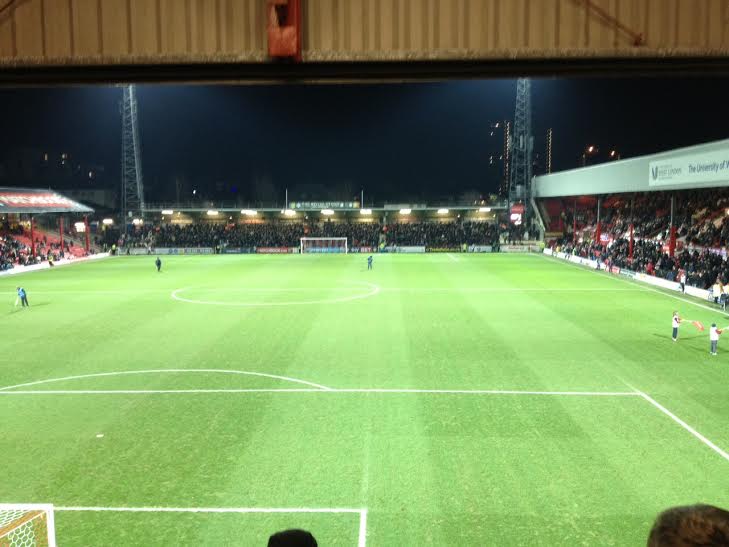 We made our way round to the away end and met a great steward who was having a laugh with the fans going in and wishing everybody a nice game. It makes a difference from the sometimes heavy handed approach that you see from stewards welcoming away fans. Though having said that they only seemed to have opened one gate which wasn't the most useful when fans were trying to get into the ground close to kick off after having necked their last pint at one of the four pubs.
I've been to Griffin Park once before and sat in the Bill Axeby stand. I'd just assumed that Bill Axeby was a former Brentford player but whilst doing my research for this blog I've realised that the stand has been named after a long time Bees supporter which I think is a really nice touch and a fitting tribute to a man who followed his team for 89 years. Bill's stand is resplendent currently with a Matchbook.com logo offering "big bets for high flyers."
The rest of Griffin Park consists of a covered terrace behind the other goal and the catchy titled "The University of West London Stand" which curves round at the end next to the terrace. This section was pretty empty for tonight's game which I'm not surprised about as the only view you get from these seats is of the linesman sidestepping up and down the near touchline.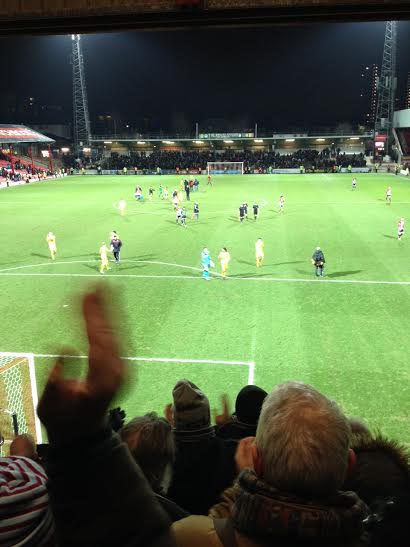 Thoughts on the game:
Before the game my partner suggested that Burnley would win 3-0 which I thought was wildly optimistic. But lo and behold Burnley in their yellow kit played just like Brazil in the first half with Joey Barton running the show in central midfield. Scott Arfield opened the scoring on 12 minutes with a beautiful curled finish into the top corner and then on the half hour mark the aforementioned Barton scored a free kick to double the lead. George Boyd added a 3rd before half time and 3 – 0 at half time didn't flatter Burnley at all with Andre Gray guilty of missing a hatful of chances.
The second half was understandably a much more low key affair with Burnley unable to keep up the pace from the first half. Brentford grabbed a consolation around the hour mark but it never felt like they were going to get back into the game.
Atmosphere 3.5/5: Brentford understandably quiet for most of the game but Burnley made a fair bit of noise.
Location 2.5/5: Not the most convenient from the tube.
Value for money 3.5/5: Under £30 for the "posh" seats in the upper tier.
Pie Rating and Pint Rating n/a
Programme 4/5: Plenty to read.
Character 4.5/5: Terracing at both ends and a pub on each corner. What's not to love.
Stewarding 4.5/5: Very friendly but didn't see too much of them.
Overall 4/5: A great ground and superb performance from Burnley.
You can keep up with Katie and her mission to do the 92 before her 30th on Twitter @katiemcmillan90, her blog (https://92before30.wordpress.com/) and her the92.net profile. Have you ticked off the Griffin Park? Add it to your 92 here www.the92.net/ground/griffin-park or plan your visit using our away day planner here www.the92.net/plan-your-away-day/griffin-park.