Blogger Katie recounts a trip to the Madejski Stadium, the home of Reading as she continues her journey to reach the 92 club before turning 30.
Ground: The Madejski Stadium
Game: Reading 1-1 Cardiff
Date: 04/04/2015
Thoughts on the ground:
The Madejski is a purpose built out of town ground with a hotel built into the west stand. There are plenty of shuttle buses just outside the station which take you directly to the ground so it's easy enough to get to. I find with many modern grounds (and this one is no different) that there doesn't seem to be an enormous amount of character. Saying that, it does have it's own windmill which you could argue is a unique feature. My heart sank when I saw the size of the queue to pick up tickets but the people in the ticket office were brilliant and I was on my way to the turnstiles in no time.
There are plenty of places to eat and grab a few drinks outside and inside the ground with a wide range of choices on offer. The menu was pretty varied and not just standard football fare which impressed me. In my haste I plumped for a bog standard steak pie which is a decision I still regret to this day. I could tell that it was a posh pie though as it was served in a box and it was fairly tasty.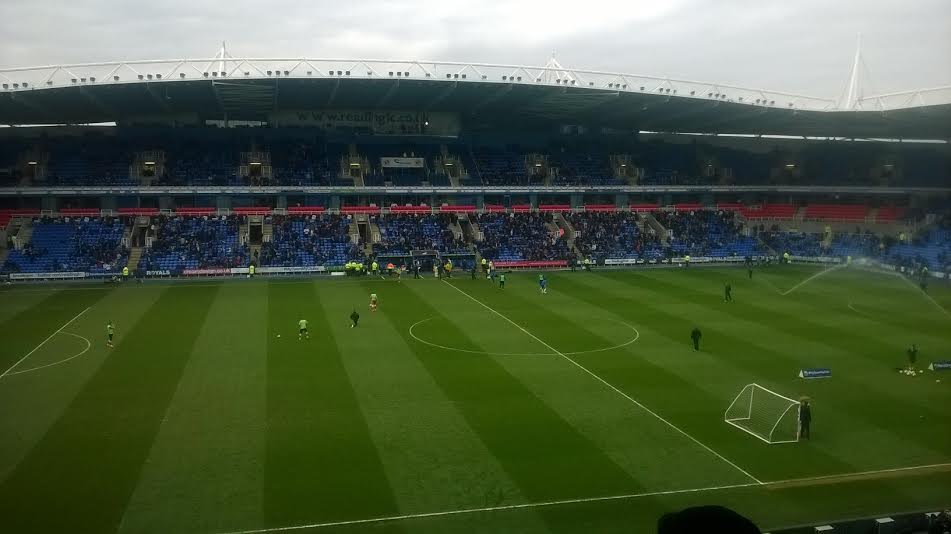 The atmosphere seemed a bit forced at times. The stadium announcer must get through some lozenges as he bellowed out the teams at about 300 decibels followed by "let's make some noise for the boys" as well as shouting his way through the entire 15 minutes of half time. Added to this, as the teams were on the pitch waiting to kick off both before the game and at half time, "Sweet Caroline" was played out of the speakers at top level right up to the moment that the ball was kicked. So if anybody was "making noise for the boys" there wasn't much chance to hear them. That said once the game kicked off and the PA nonsense died down there were a fair few England v Wales chants from both ends. There were also plenty of "we're on the way to Wembley" chants so something gave me the idea that this game against Cardiff wasn't the most important thing on the Reading fan's minds.
Thoughts on the game:
The game kicked off and Reading started off much the better side. After 5 minutes Pavel Pogrebnyak (I was hoping that he would have a quiet game so I wouldn't have to try and spell his name) nodded in the opening goal of the game and the PA system took over again blasting out "Chase the Sun" at top level.
After that it was a fairly nothing game for about 85 minutes with only half chances at each end until Cardiff equalised with a great finish from the edge of the box. On the train to the ground I was reading "Soccernomics" which introduced to me the "gentlemen prefer blondes" theory. The theory in the book is that when a scout goes to watch a youth game he is more likely to recommend a blonde player as they are more recognisable if you don't know the players. So with that in mind I thought Nathan Ake was the standout player on the park. I thought that he was calm in possession and in the middle of all good things that Reading did (although he could have been rubbish and it was just because he has dreadlocks that I had noticed him).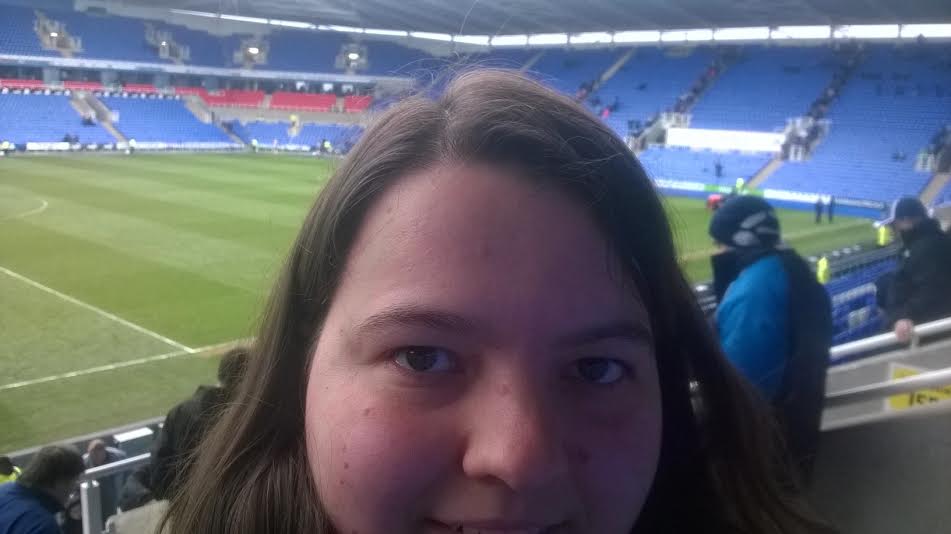 On the way back on the train I read the programme. I thought that it was poorly written and there were far too many photos instead of decent content. For example, a 9 page interview with Chris Gunter contained 4 full size photos and many smaller ones. I also thought that the coverage on Cardiff was poor with only 4 players (the spine) mentioned and instead there was a half page feature on their assistant manager.
Atmosphere 3.4/5: Decent when it got going
Location 3/5: Out of town but plenty of buses to get you there straight from the station.
Value for money 3/5: Fairly standard for Championship level
Pie Rating 4.5/5 One of the best
Pint Rating n/a Didn't sample but looked like there were a good range of ales on offer
Programme 1/5: Poorly written and too many photos
Character 2/5: Your typical modern football ground
Stewarding 5/5: No bother at all
Overall 3/5:
You can keep up with Katie and her mission to do the 92 before her 30th on Twitter @katiemcmillan90, her blog (https://92before30.wordpress.com/) and her the92.net profile. Have you ticked off the Madejski Stadium? Add it to your 92 here www.the92.net/ground/madejski or plan your visit using our away day planner here www.the92.net/plan-your-away-day/madejski.