Blogger Katie recounts a trip to the Pirelli Stadium, the home of League 1 promotion hopefuls Burton Albion as she continues her journey to reach the 92 club before turning 30.
Ground: The Pirelli Stadium 62/92
Game: Burton Albion 1 – 0 Blackpool
Date: 02/01/2016
Thoughts on the ground:
The Pirelli Stadium is another modern stadium which was built in 2005. The main stand seats around 2000 people and I did have a bit of a panic on the drive down to Burton when I read that all the seats had sold out. It seems though that a large percentage of those 2000 seats are filled by executives and people that won't even take their seats until 5 minutes before kick off because they're too busy enjoying the pre match 3 course meal.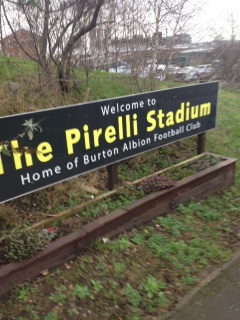 The other three stands are terracing and built fairly similarly with an indoor bar (which is set out a bit like a dentist's waiting room) and a couple of food hatches just past the turnstiles. We decided to make the most of the facilities (though soft drinks only as we're on dry January) and I have to say the food was fairly tasty. I saw on the92.net that Burton Albion's pies were voted 6th best in the league and with big names such as Rochdale and Wigan in that league they've done well to be voted so highly. My Mum who sampled one of the pies saw it as a fair rating.
We also purchased a programme which was alright and had plenty of content for £3. Though there was a full page advert for a sticker book which you could purchase in the club shop. Unfortunately there was no contingency plan in place and the picture on the front of the book was Jimmy Floyd Hasselbaink so I'm not sure that it's sold many copies since he moved to QPR As terrace tickets were the same price no matter what stand you were in we plumped for the North Stand as it was along the side and offered a better view. So for £19 (would have been £17 but we weren't organised enough to pre book tickets) we got a great view right on the halfway line. Being a bit on the short side I was a bit worried about if I would struggle to see on a terrace but as it turned out the terracing was very steep. This may all be part of the Burton master plan as if they do go up again into the Championship – unfortunately the terracing will have to be replaced by seating so I guess the steep terracing makes it easier to put seats down with no great building work needed.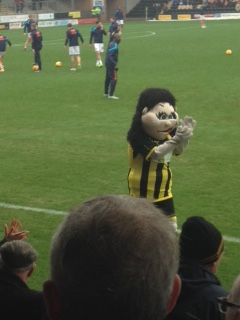 Thoughts on the game:
Before kick off the two Burton mascots Bill and Betty Brewer did a tour of the ground. They are two of the most terrifying mascots I've ever seen even rivalling the infamous Kingsley from Partick Thistle. Bill very much reminded me of the husband in Chicken run whereas Betty was something else. Not many women can pull off a mullet these days and make up smeared all over their face but she does it with some style. Funnily enough we didn't see many kids chasing them for autographs. They were probably having nightmares.
I was looking forward to seeing high flying Burton in action and they had most of the possession in the first half without creating too many chances. Blackpool in fact had the best chance of the half with Bright Osayi-Samuel having a shot saved by the Burton keeper. We noticed how young the Blackpool squad looked and having looked at the programme the aforementioned Osayi-Samuel had only just had his 18th birthday on 31st December. My birthday is in 1990 and I would be one of the oldest in the Blackpool squad.
The natives around us weren't too impressed with what they were seeing especially from poor Tom Naylor who had every pass he made slated from the first minute. We started to feel a bit sorry for the poor lad. The game looked to be drifting towards half time until Robbie Weir decided to liven things up by hacking various Blackpool players down on the halfway line. Two bookings later and he was off.
The second half began and I thought that Blackpool would continue to defend a point and that Burton would struggle to break them down with only 10 men. How wrong I was! On 50 minutes it was like somebody (Nigel Clough maybe?) pressed an on switch and Burton created chance after chance. It was only a matter of time until they scored and on 63 minutes the pressure finally told. Mark Duffy curled in a beauty of a strike and from there on in there was only going to be one winner. It was as if Blackpool had gone down to 10 and not Burton.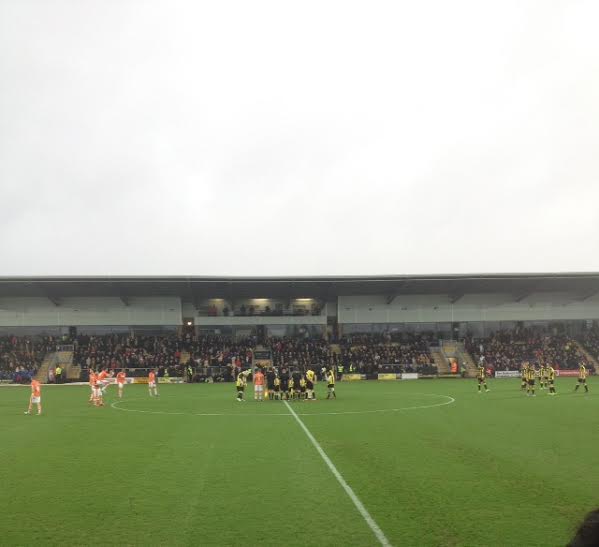 The Blackpool fans sang throughout though understandably most of the repertoire was against Karl Oyston. These chants were warmly applauded by the Burton Albion fans as I imagine it would be around most of the country. Most of the second half they sang "they've only got 10 men" and "it's only 1-0" implying that they felt Burton should be further ahead. I can't imagine what it must be like following your team home and away without expecting to win and fair play to the Blackpool fans for turning out in such numbers. I really hope that the Oystons do the decent thing at some point but I don't think the chances of that are likely which is a shame.
Burton Albion could have got another one as they continued to attack even after the goal. Right towards the end Tom Naylor broke through the defence and strode forward for a one on one with the keeper. We thought that this was his chance to avenge the doubters who had berated him the whole game . . . and then he rolled it straight at the keeper. Oh Tom!
Atmosphere 3/5: Got going a bit in the second half when
Burton improved
Location 2/5: Would have been fairly impossible on public
transport.
Value for money 4/5: Under £20 for a prime spot on the halfway
line can't argue with that!
Pie Rating n/a
Pint Rating n/a: Dry January unfortunately
Programme 2.5/5: No better than average
Character 4.5/5: Don't often see 3 sides of terracing at this
level these days
Stewarding 3/5:
Overall 4/5:
You can keep up with Katie and her mission to do the 92 before her 30th on Twitter @katiemcmillan90, her blog (https://92before30.wordpress.com/) and her the92.net profile. Have you ticked off the Pirelli Stadium? Add it to your 92 here www.the92.net/ground/pirelli-stadium or plan your visit using our away day planner here www.the92.net/plan-your-away-day/pirelli-stadium.