Set on the banks of the Trent, neighbouring the famous Trent Bridge Cricket Ground and Meadow Lane, the home of local rivals Notts County, the City Ground is one footballs greatest locations. Whilst the ground has been home to the Reds for over 100 years, redevelopment in the 1990's means that the facilities are fairly modern, that is with the exception of the Main Stand which looks tired and old fashioned. Although modernised, the stadium has lost none of it's character and retains the feel of a classic English football league stadium.



Much of the character is gained by the unusually shaped Bridgford stand, which dips in one corner due to council planning restrictions to prevent the blocking of light to nearby houses. It is the lower section of this stand where away fans are housed, surrounded by the noisiest of the home sections above and with the main stand's A Block to the left, all resulting in a great atmosphere.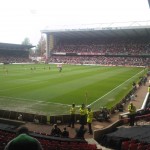 Where to ear and drink
Nottingham is home to the only Hooters in Britain making it a popular destination for home and away fans alike. A short walk from the train station on Queens Road and on the way to the ground, the bar provides chicken, beer, multiple sport channels and short shorts. Elsewhere, away fans are welcome at the newly refurbished Meadow Bar attached to Notts County's Meadow Lane, as well as the nearby Navigation Inn, both of which are only 5 minutes walk from the ground. The Trent Bridge Inn and Southbank are within a minute of the ground and are very popular with fans.
Further away from the ground in central Nottingham, both the Castle Pub and Olde Trip to Jerusalem (Britain's oldest pub) provide great beer and a more chilled out atmosphere. Alternatively stroll past the ground a little into West Bridgford and try the Stratford Haven, ran by the excellent local Castle Rock Brewery with a fantastic selection of ales, with both home and away fans welcome. Apparently in Notts you could eat somewhere different everyday of the year so a bit to eat won't be a problem!