Blogger Michael Pilcher sets the standard for parents doing the 92 combining a great day out that's light on the wallet with another tick off the list. Read and learn…
Ground 81/92: ABAX Stadium, Peterborough
Peterborough United 2 – 2 Swindon Town
3rd September 2016
After my successful experiment of taking my five-year-old twin daughters to Priestfield for the EFL Trophy in midweek, they had already asked "Can we go to football again on Saturday?" Most parents might have been tempted to fob them off with a standard "Maybe" or "We'll see" to keep them at bay, perhaps hoping they'd forget all about it. But not me. When you're busting a gut to complete the 92, I sensed only opportunity.
A quick peruse of the fixture list and there it was: Peterborough United v Swindon Town, 12:15 kick-off. Marginally just over two hours drive away from Maidstone, we could get up there first thing, take in the game and be back for tea time. The children had been going a bit stir crazy over the summer holiday and having constant run-ins with their mother, so this looked like a good chance to get them out the house for the day. Even better, in the family stand at Peterborough adults could take up to three under-10s for free. £1 tickets at Priestfield, free at Peterborough – 50p cost per ground average for my daughters so far, let's hope they can keep those kind of numbers going. Securing tickets online the day before (no booking or printing fees – take note, West Ham!) I picked a cluster of empty seats at the back of the Motorpoint Stand – if I was taking two fidgeting five-year-olds to a proper league game, it was best to disturb as few people as possible. Although looking at the large swathes of spare seats available for purchase, I wouldn't have been disturbing many people wherever I chose to sit.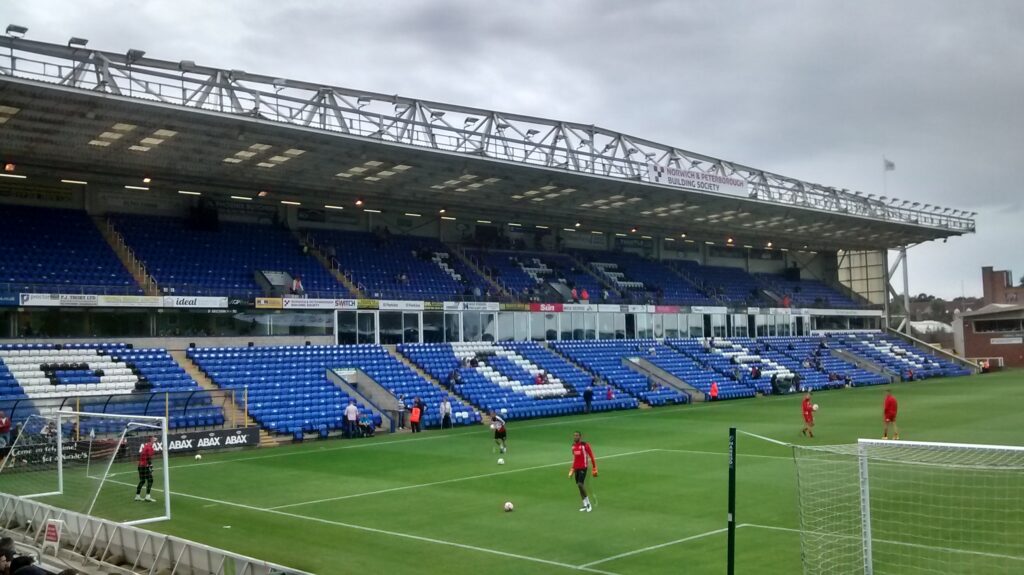 Up at 6:30 and on the road by 7am, it took us a little longer than planned to get to Peterborough thanks to the ubiquitous motorway roadworks & speed restrictions, but we arrived with sufficient exploration time. I'd set the sat nav for a long stay pay & display on Oundle Road, which was ideal. Only £3 to park for the day, you can see the ground pretty much over the road and it's also only a 5-10 minute walk up to the city centre. With it being fairly early it wasn't particularly busy, the weather was pretty much ideal and it was a nice morning to spend meandering and exploring a new place. The twins enjoyed getting free chocolate samples from the swanky Queensgate shopping centre, and we sat and had a drink before running amongst the Cathedral Square fountains. Peterborough Cathedral itself is an impressive sight, a fine example of Early English gothic architecture (and who isn't a fan of that).
The city centre looks like it has undergone a fair amount of recent regeneration, and the same can be said for half of the city's football stadium. London Road – or ABAX Stadium as it's now known – is a mix of the old and the new, 1950s vintage meeting 1990s/2000s modernisation. The Motorpoint and Norwich & Peterborough Stands are the two newer stands, the former just a couple of seasons old. Oddly, the latter appears to have very little in the way of advertising hoardings or indeed any barriers to the pitch; a spectator could very easily walk on should they feel the urge. The Main Stand consists of a hotchpotch of different coloured seats and a cluster of old wooden ones where the away fans were housed, and the London Road Terrace is what you would call a classic looking stand. You suspect these stands aren't long for this football world, although as ever much likely depends on whether the club get promoted or not. There's a lone ageing floodlight in one corner, the rest of the lighting provided by lights on the roofs of three sides.

I'd always wondered what the purpose of club mascots were: they're meant to be lucky, but essentially they're just recently-conjured, large furry embodiments of things on the club badge. Today, I finally found out what they were for. Peterborough had an impressive three mascots on display, two what I think were meant to be builders and the third the wonderfully-named white rabbit, Peter Burrow. (Although the club badge has what appears to be a pair of winged lions, so not sure why these haven't been turned into mascots). My children seemed drawn to them, giving me regular pre-match and first-half updates as to their whereabouts they were and what they were doing. Another two mascots appeared – a kangaroo, and a large letter 'A' (for Abax) – for a pre-match race across the pitch, comfortably won by Peter Burrow. I have a new-found respect for these mascots, anyone who thinks that mascots have a rest when the game has kicked-off are very much mistaken. As the kids told me about the mascots' regular dancing, falling over or making flatulence jokes, these guys were performing for the duration.
The scoreline suggests this was a cracker, with two penalties and an own goal, but in truth this was a game that threatened to but never quite managed to ignite. The Posh had largely toiled until a pinpoint Marcus Maddison free-kick into the box was headed home by winger Gwion Edwards, his fourth goal in six games since signing in the summer. The second-half was livelier as Swindon started to come into the game more, cultured midfielder Michael Doughty beginning to exert his influence and it was he who won and converted a penalty five minutes into the second-half. His initial shot was blocked by defender Michael Bostwick who came charging in, and the referee deemed the shot had been blocked by a hand; Doughty made no mistake, tucking his penalty right into the corner. The Posh fans certainly felt that was a harsh call, and there was a sense the referee was evening things up when he awarded the home side a penalty ten minutes later. Chris Forrester certainly seemed to make the most of a challenge in the box, and the man in the middle took his time before pointing to the spot. Maddison made no mistake.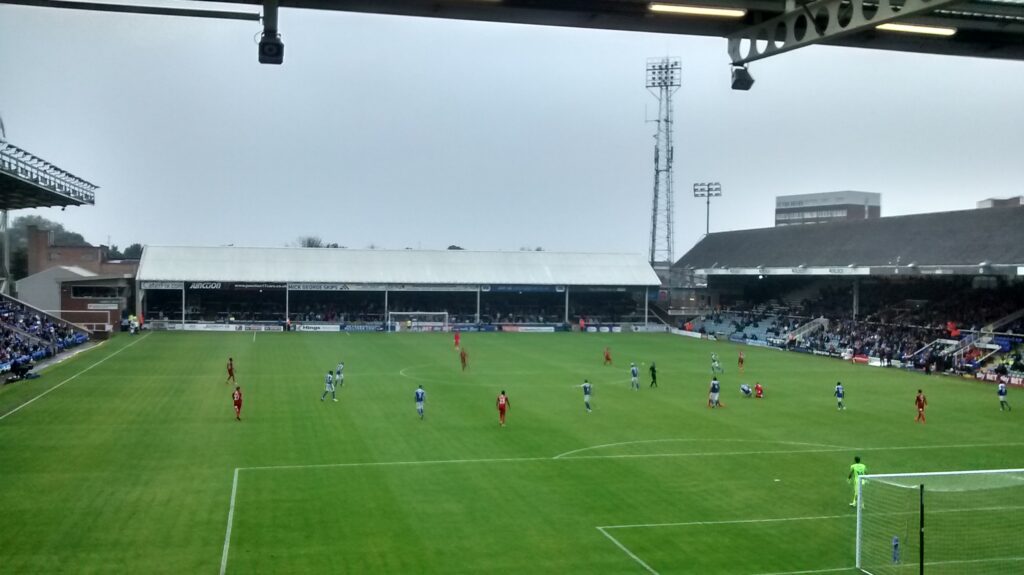 With 14 minutes left a dangerous Doughty cross saw Jack Baldwin slide in to put into his own net, leading to me having to explain the concept of an 'own goal' to my daughters and that in fact it wasn't 3-1 to 'the Blues'. "It doesn't matter though, because it was an accident" one said. The die-hard Posh fan to my left didn't look convinced.
Swindon came closest to winning it, sub Luke Norris firing narrowly wide late on, although it looked like he'd controlled the ball with his hand in the build-up so probably justified it didn't go in. A Desmond was a fair result, Swindon had probably slightly edged it overall but were often guilty of over-elaborating. After a second-half downpour we negotiated our way across the busy London Road junctions in pouring rain, something the kids will need to get used to if they want to keep going to football in England. We were back in the car park and on the road without too much of a wait, and made it back in good time. Our visit to Peterborough ticked all the boxes of a fun family football-related day out – hopefully it won't be too long before we're plotting our next trip to get grounds 82 and 3 ticked off.
Atmosphere 3/5: With a sparse crowd there was no sustained chanting or any exchanges between the two sets of fans, but those in attendance made the effort.
Location 4/5: Certainly a pleasant city to visit with lots to see and plenty of choice for places to eat and drink. Train station comfortable walking distance and a massive car park close to the ground.
Programme 3/5: A good looking effort, but lacking somewhat.
Stewarding 5/5: Friendly and helpful, and didn't insist on searching my kid's backpacks.
Character 3/5: The two older stands harked back to a bygone age.
Value for money 5/5: £20 for me, with two children's tickets free. Always great to see clubs encouraging affordable family football.
Overall 3.5/5: A grand day out, worth getting up there earlier to have a look around the city. Hats off to Peterborough on the free football tickets for youngsters.
Keep up with Michael's 92 here and follow him on Twitter @michaelepilcher. If like Michael you fancy blogging about your experiences doing the 92 league grounds drop us a tweet to @the92dotnet.
Have you made the trip to the home of the Posh? If yes you can add London Road (the ABAX Stadium) to your 92 or if not plan your trip there: