With Christmas fast approaching we take you through a selection of the best groundhopping gifts that you can put on your list to the Big Man in the red…
Stadium Hoppers scratch map
⚽️🎁👀FOOTBALL FAN? OR JUST LOOKING FOR THAT PERFECT CHRISTMAS GIFT?! 👀⚽️🎁 pic.twitter.com/PWN2iE7WTG

— Stadium Hoppers (@StadiumHoppers) November 18, 2017
A staple for any groundhoppers' man cave is the Stadium Hoppers scratch map. The new 2017/18 edition features all the current England and Wales 92 football league clubs, Wembley Stadium, Millennium Stadium as well as several of the most popular stadiums that have recently left the Football League. Scratch the grounds off as you to keep track of your progress doing the 92.
As an added Christmas bonus our friends the Stadium Hoppers have given us our own promo code! Get 15% off your 17/18 scratch map and any other Stadium Hoppers products by entering 92DOTNET at the checkout.
Books!
"Roots to the 92" is a book written by Southend United fan Andrew Leeder (get it, Roots, Roots Hall, home to Southend United, Roots to the 92…). In Andrew's book, he details his experiences reaching 92 league grounds spanning 45 years, confirming something all ground hoppers seem to love. The predictability of the unpredictable! It's for a great cause too, as in December Andrew will be donating the proceeds of his book in aid of Parkinson's Research.
Part football reporting, part travel journal, part autobiography of a travelling circuit comedian 'The Football Neutral' is must read for any groundhopping fan. The books by comedian Jim Smallman follow his football adventures watching the beautiful game in a variety of locations rather than just sitting in a hotel room between shows. This quote from a review says it better than I could "This book inspires you watch football at any level on Saturday afternoon instead of watching Soccer Saturday".
Terrace Battles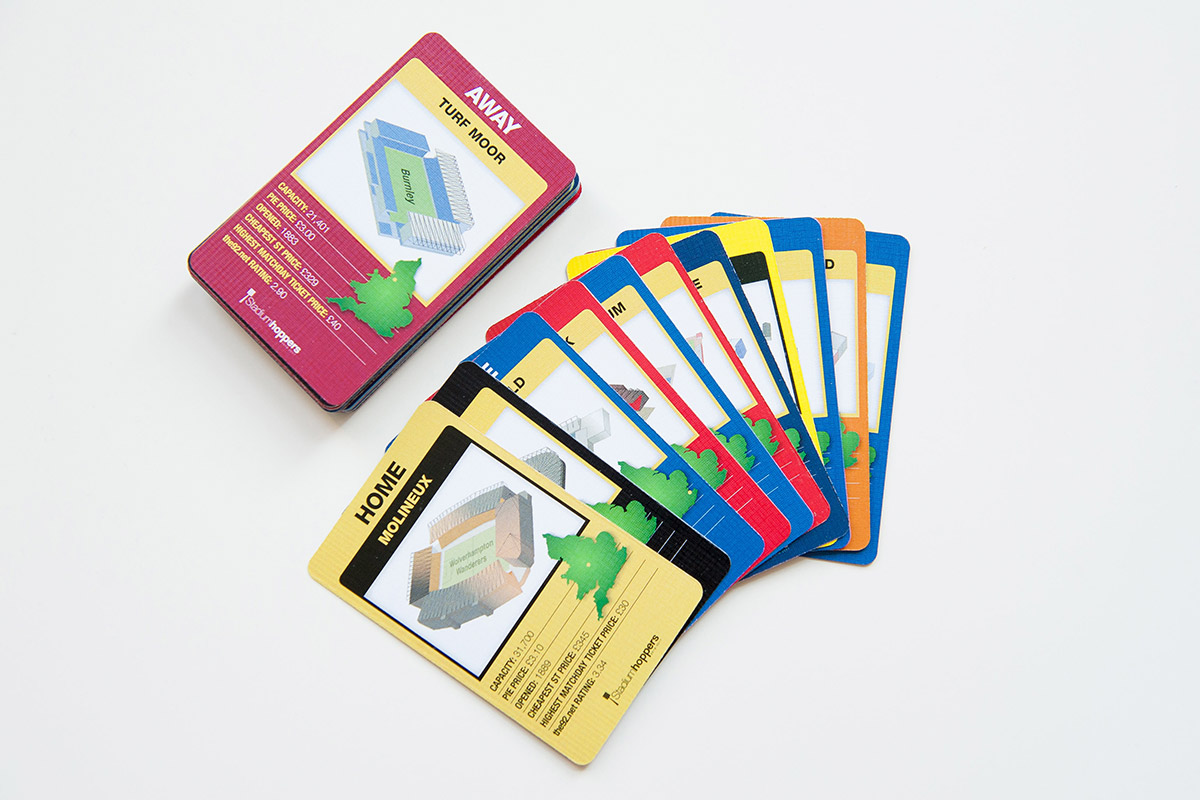 Tired of those long away day trips, getting stuck in traffic or your train gets delayed, your phone batteries shot…what could possibly fill the void…Terrace Battles! Terrace Battles is the ultimate Football Stadium card game. Each card contains a number of stats in a ground including their the92.net rating! Using these values, you battle your value with your opponents to try and win their card. However, there is an added twist – choosing whether to play Home or Away?!
As with the scratch map above get 15% off your Terrace Battles and any other Stadium Hoppers products by entering 92DOTNET at the checkout.
Artwork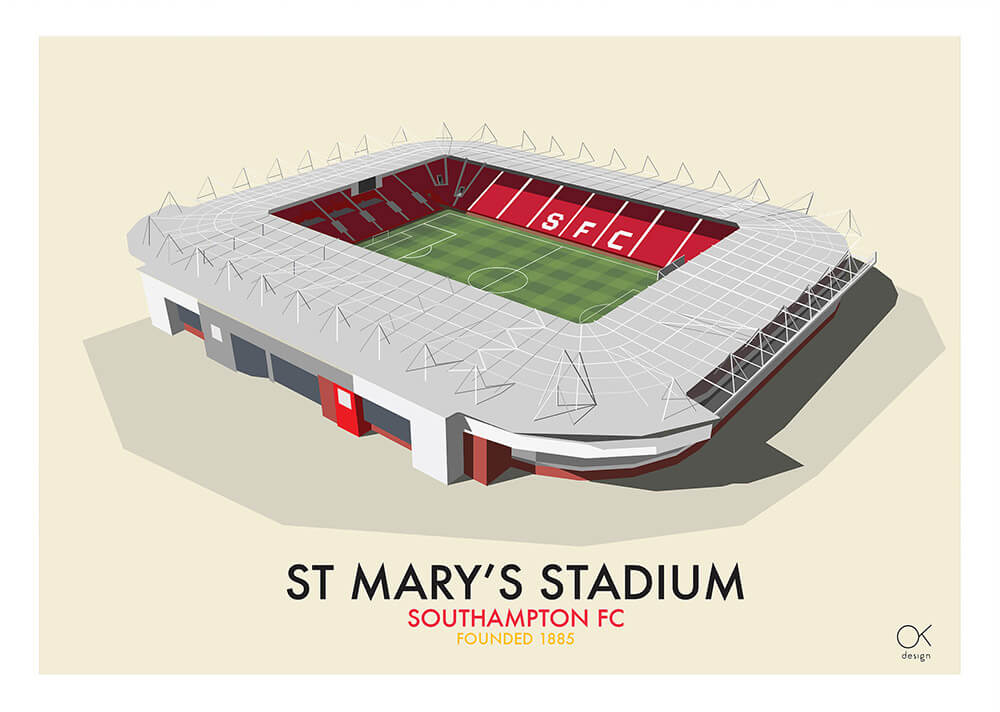 If you're after something a bit different why not go for a stylish print by Oli Knowles. The talented designer produces stylish 20th century inspired prints that would suit any groundhoppers pad. He has currently created St Mary's Stadium, Adams Park plus Griffin Park and is also available for commissions. Also along the lines of something different also check out the framed artwork made by phome. They'll produce a personalised piece of artwork featuring any ground and surrounding streets in an engraved map style combination, I'm sure you'll agree they're very cool.
Club specific
There are numerous ground related gifts to fill the stocking of any club fan. From street signs to 3D Puzzles, Stadium Tours to cushions, even a mural!
More Books!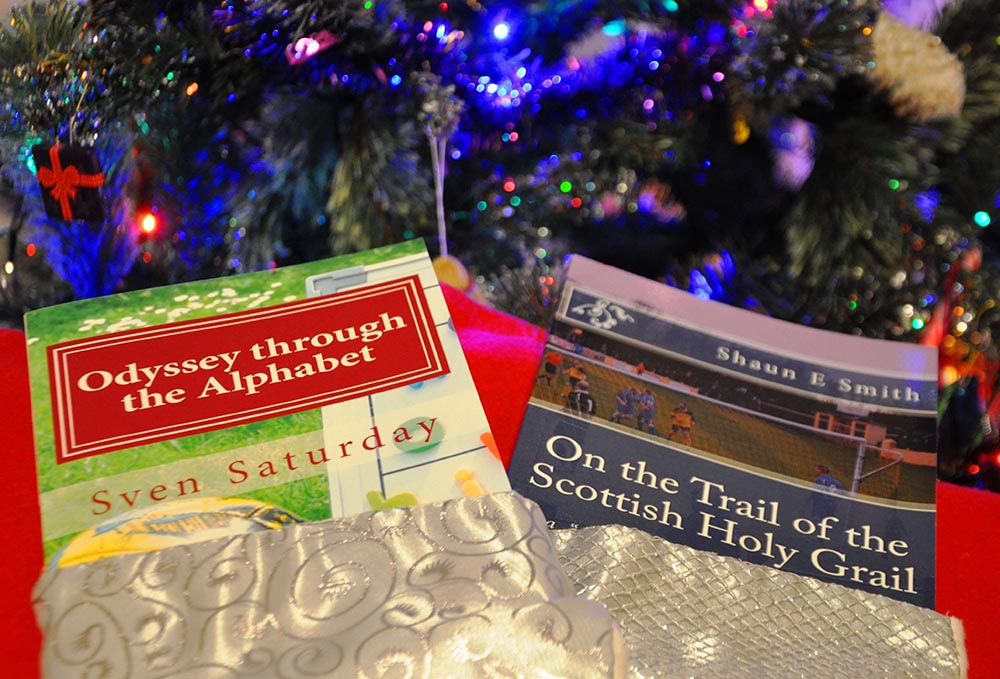 'Odyssey through the Alphabet: A football adventure from A to Z' is the story of Sven and his family's mission to try and visit a new football club for each letter of the alphabet in turn. Having completed the 92 the season before, it seemed a perfectly logical next step and became the challenge of a lifetime!
When Shaun Smith turned 50, he wanted to do something special to celebrate the occasion – and so, being a huge fan of Scottish Junior football, he decided to set out to visit all the Junior Cup winners from across those 50 years! On the Trail of the Scottish Holy Grail is the story of that journey.
Written by the man behind the brilliant footballgroundguide.com the Football Grounds Guide 2017-18 by Duncan Adams is to groundhoppers what Bradshaw's guide is to Railway enthusiasts. Covering all 92 grounds plus a few extras the guide is full of useful info and tip for your groundhopping adventures from travel directions to pubs.
If there's something you'd like to add to our groundhopping gift guide let us know! Drop us a tweet to @the92dotnet