The domestic cup competitions are a great way for fans doing the 92 to tick off new grounds otherwise not on their radar. A tie in the North East caught blogger Michael Pilcher's eye as he made the gargantuan trip to Wearside.
Ground: Stadium of Light (73/92)
Game: Sunderland 6 – 3 Exeter City
Date: 24/08/2015
I changed jobs just over a year ago, and in my new department I was pleased to find myself working alongside another individual that was attempting to do the 92. Nigel, one of the nicest people you could wish to meet, is on exactly the same number of grounds as me but has probably ten times as many anecdotes. At work he's quiet and unassuming, but once he hits the terraces he's an entirely different beast; pretty much any team or ground you mention will lead to a tale: some good, some cautionary. The one that always sticks out involves getting set upon by a group of Preston North End fans after waving 'Barbara the inflatable sheep 'at them following a 3-1 win, not the wisest of moves it has to be said. And don't ever get him started on Wales…

Yet despite both of us being neck-and-neck on 72 grounds ticked off, there is very little crossover on our lists; when I've been to Port Vale, he's been at Morecambe; when I've been at Wigan, he's been up to Carlisle. As I was watching the League Cup Second Round draw unfold – my team Gillingham got Birmingham away, disappointingly as I'd already done St Andrews – on the list of fixtures I noticed Nigel's team Exeter had Sunderland away. The Stadium of Light, a new ground for both of us…did he fancy it – a Tuesday night trip? "Too good an opportunity to miss" he said, so after getting the boss' approval for both of us to have the Tuesday afternoon off, it was on. Planes and trains were ruled out due to expense and impracticality, and so automobile it was. With a mammoth ten-hour return journey from Kent in prospect, three of us – another Grecian picked up en route – we were on our way. Heroically, Nigel agreed to do all the driving.
It was a perfect run up the A1, no roadworks or delays, and we were in Sunderland by 5pm. Parking up at the park & ride a couple of miles from the stadium we decided to walk over, with plenty of time to kill. Once you come off the various industrial estates it's an impressive site: the large stadium visible from a distance, set alongside the River Wear, opposite the vast rail manufacturing works on the quay. Turning off at the Halfway House pub, when you get closer to the stadium you notice that one of the first things you can see isn't actually part of it. The large elongated blue pod isn't some sort of large outdoor bar/drinking area, as I was hoping, but is the Sunderland Aquatic Centre; a bit of a strange place for it, right next to the stadium.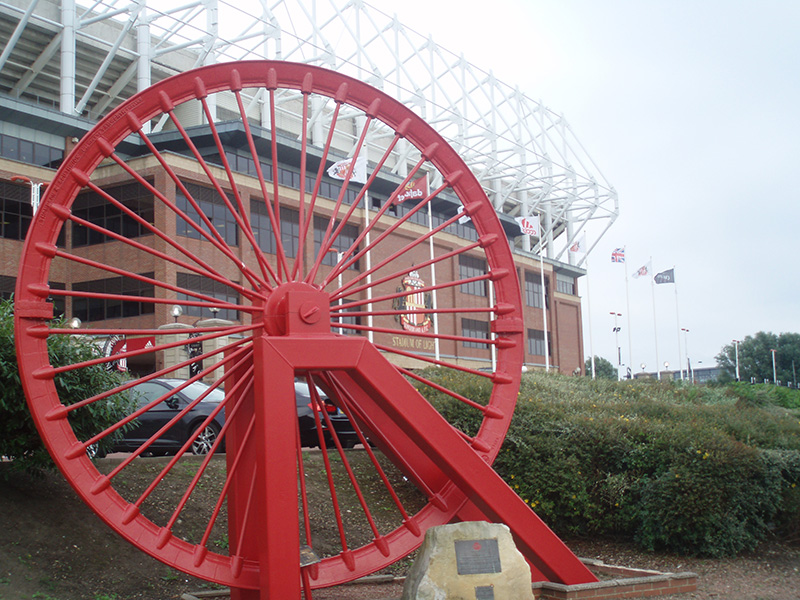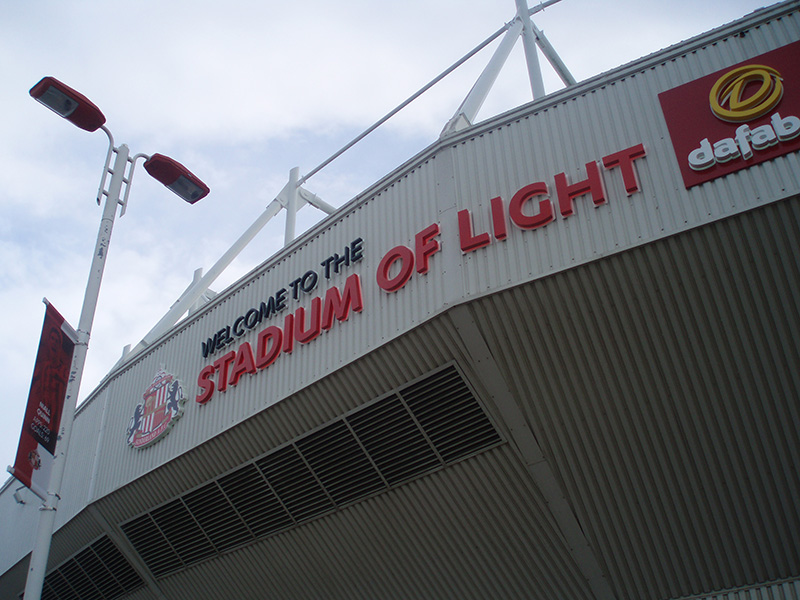 The stadium itself is quite a site; you're greeted by three large Black Cats on one stand, and if you turn by the other there's a large red colliery wheel, symbolic of the city's mining heritage – which is also reflected on the club badge – as well as the site on which the ground is built. Unlike other new grounds it's not a uniform height, with two of the stands shorter than the others (probably with potential to build on these to increase the capacity if needed). Inside the facilities are Premier League quality, and the stadium looks even more impressive inside, with the Sunderland crest motif on the seats a striking view. There's a large 'Fan Zone' right next to the stadium if you like that kind of thing, which the younger home fans seemed to be enjoying. With Nigel proudly displaying his Exeter City shirt there were plenty of good natured comments from the Sunderland fans. The locals we encountered were all really friendly, and in good spirits despite current form – there was a fair bit of self-deprecating humour on show – and after the game congratulated Exeter fans and wished them well for the season. No gloating, because the Grecians had made this one hell of a cup tie.
With Sunderland fielding a full-strength team it was clear they were taking this seriously, but they were made to work hard by an Exeter side that started the stronger. It was really against the run of play that Sunderland took a 2-0 lead with two quick goals, Jack Rodwell and poacher-supreme Jermaine Defoe both firing home. Within minutes the deficit was cut after a great touch and finish from Emmanuel Oyeleke, and then deservedly equalised – a long raking ball out to the left-wing, an inch-perfect cross, David Wheeler heading home to the delight of the travelling fans up in the rafters. Defoe helped himself to another to make it 3-2, but the Grecians were soon celebrating once again thanks to Tom McCready lashing home. One of these defences was that of a Premier League side, the other League Two, but you couldn't tell which was which as they were both carved open with equal ease.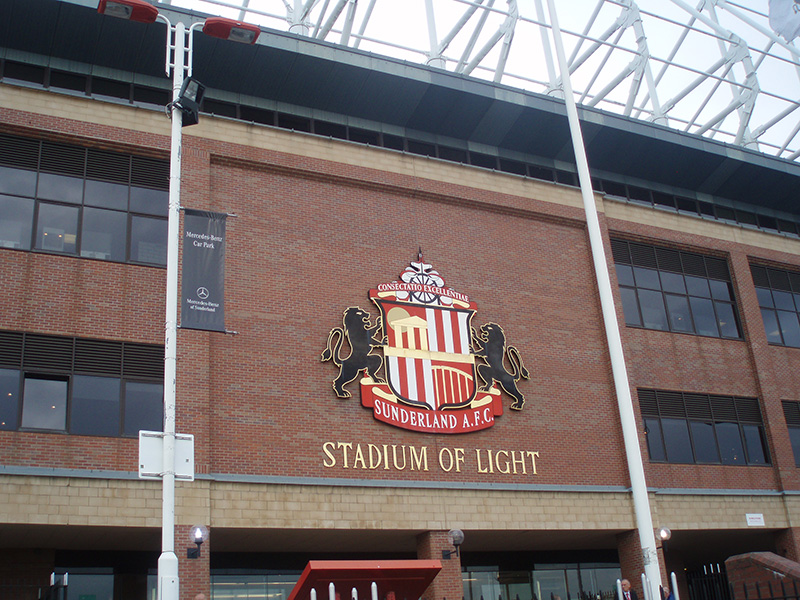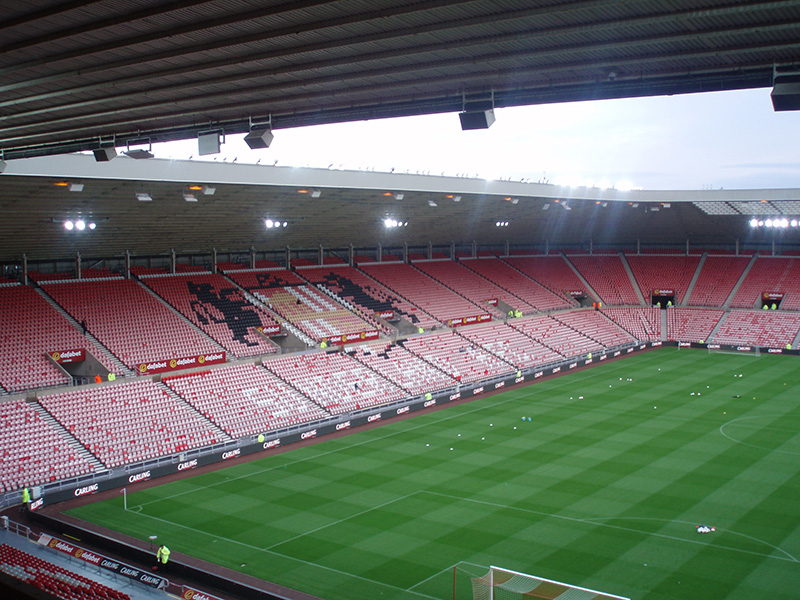 Alas it seemed Exeter had used up everything in that first-half display and quickly the Premier League team started to show some of their higher fitness levels. Rodwell restored the lead with a free header, and a gift from Grecians keeper Bobby Olejnik – inexplicably running to the edge of his box and waiting for a ball forward to trickle into his hands, Darren Watmore gratefully nipping in to steal the ball and fire into an empty net. In fairness Olejnik did redeem himself with two excellent saves to deny Rodwell and Defoe their hat-tricks. That man Defoe wasn't to be outdone though, with minutes left he converted a cross from the wing with an instinctive first-time finish for his third goal of the evening. A 6-3 score line was harsh on Exeter, who despite offering little going forward in the second-half had defended resolutely and moved the ball very well in spells.
Post-match we hopped on a deserted park & ride bus back to the car, and our journey back to the South was as seamless as the journey up, although after a couple of detours it was gone 4am by the time I reached home. Unfortunately for me, due to having no annual leave left, I was staring bleary-eyed at my computer screen a matter of hours after getting back from Wearside; Nigel meanwhile was enjoying a nice Wednesday morning lie-in. Doing the 92 can very often lead to crazy, often impractical decisions, and travelling up to Sunderland midweek was seemingly one of them. I was tired, I was weary, but at least I had the furthest ground on my 'to do' list ticked off. Whenever people ask why I do it, I tell them it's because of nights like this; an entertaining, nine goal cup thriller played out in front of two great sets of supporters. Was it worth travelling over 600 miles? Absolutely.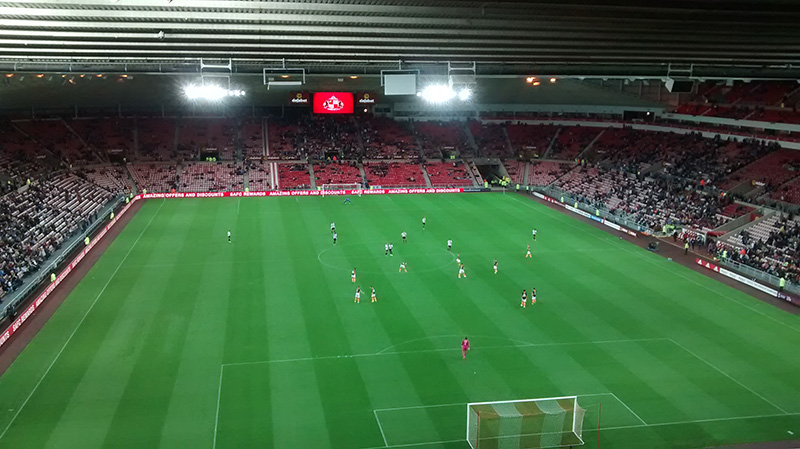 Atmosphere 3/5: Superb effort from the 500 or so Exeter fans that made the trip, singing heartily throughout. Less impressive from the 14,000-odd Mackems scattered around the ground; I wonder why for cup games like this they don't let them fill one of the stands so they can generate more noise, rather that randomly dispersing them throughout.
Location 3.5/6: Nice surroundings, a couple of decent pubs in walking distance, and far enough but not too far from the city centre. 3.5/5
Pint 3/5: The away fans had a choice of Carling or Carling Cider in a plastic bottle for £3.50. Not a classic by any means, but was just what was needed after a long car journey.
Pie: Not sampled
Programme 4/5: Good to see Sunderland making the effort here, as many clubs don't for cup games. Great cover design, great content and although probably smaller than usual, it was only £2.
Stewarding 5/5: Cracking. They were all happily chatting with away fans and were really helpful as we tried to locate the elusive park & ride buses post-match, and all wished us well on our journey back as we left. The best stewards I've experienced on my various travels.
Character 4/5: An impressive looking new ground with some nice touches, such as the red colliery wheel linking to the site's past, and the grandiose metal club gates at the player entrance.
Value for money 5/5: £10 to watch a full-strength Premier League team at home, plus the added bonus of a nine goal thriller.
Overall 4/5: It was one long journey up, but we were rewarded with a great game. There were goals aplenty, the away fans were superb and saw their side put in a spirited performance, and the locals were fantastic.
Keep up with Michael's 92 here and follow him on Twitter @michaelepilcher. If like Michael you fancy blogging about your experiences doing the 92 league grounds drop us a tweet to @the92dotnet.
Have you ticked the Stadium of Light off on your quest for the 92 club? Add it to your 92 here www.the92.net/ground/stadium-of-light or plan your trip their with our away day planner here www.the92.net/plan-your-away-day/stadium-of-light