Chasing down the holy grail of the 92 club blogger Michael Pilcher is on a mission this season. The Gills fan reduced his remaining total to single figures with a trip to Yorkshire to the home of Rotherham United. Find out what he thought of his match day experience…
Ground: AESSEAL New York Stadium (83/92)
Game: Rotherham United 0 – 1 Reading
Date: 22/10/2016

Rotherham United's New York stadium (so-called as it's built on the site of a foundry that made New York's distinctive fire hydrants) has been in my sights for a good while. Having been to University in Huddersfield I always enjoy an excuse to get back up to Yorkshire, but events always seem to transpire against me when it came to ticking off Rotherham. The most recent was last season when I should've ticked this off for a game vs Hull; once the Hull end sold out, anyone attempting to buy home end tickets was checked against a list of people registered on the Hull database. And as someone doing the 92 I must be registered with about 70-odd clubs, Hull being one of them. Access denied.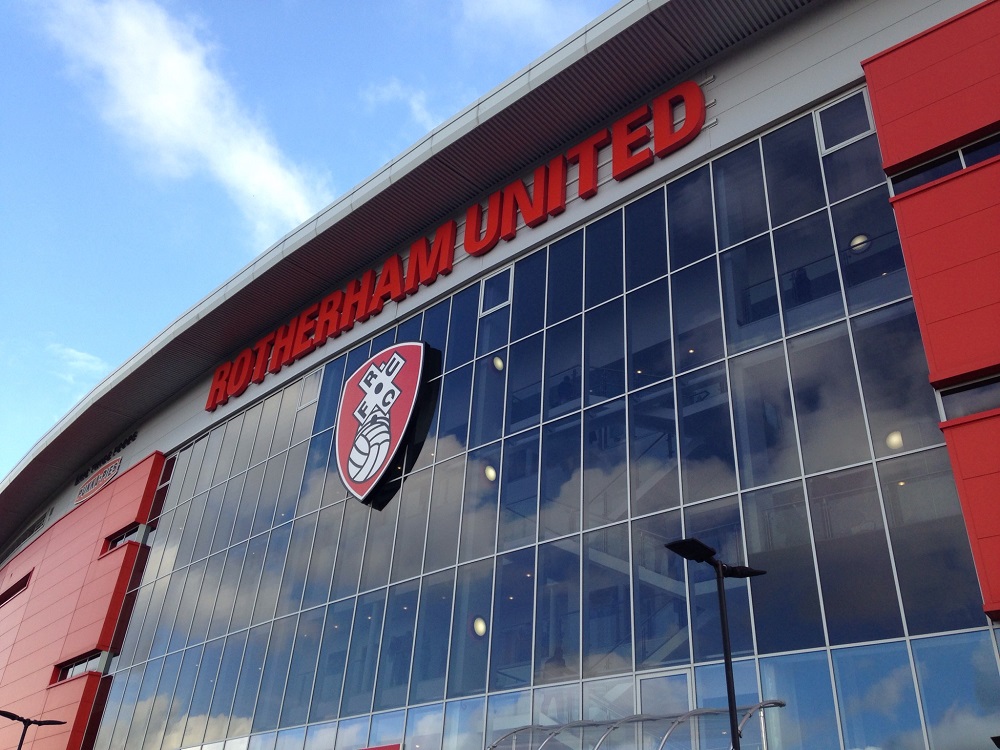 I wasn't expecting any such disasters for a home game against Reading, but took no chances and booked tickets weeks in advance; I was to kick off my week's October half-term holiday by ticking off the last ground I had left in the Championship. As it was half-term I thought I'd best take my eldest two children along, and for the first time I picked my seats not by where the loudest hardcode element sit, or which stand had the cheapest seats, or which had the best views or photo opportunities; I went by the location of the club mascot. I e-mailed the club to ask about their booking fees (tip: save on fees by phoning up to book), and after saying it was my first visit I got a very detailed guide from the club's Head of Supporter Services. The Ben Bennett Stand has a special under-8 price of £2 a ticket, and I was informed you can see the mascot better in two particular blocks in the corner, so plumped for one of these.

There are a number of car parks along the Sheffield Road, and we went for the one that was slightly further away (£2 for the day), and the New York is visible from here and only 5-10 minutes walk. As you get near the ground you walk past the impressive Grade II-listed Guest and Chrimes factory buildings, where the earlier-mentioned fire hydrants were made. And with the old Millmoor ground on the horizon (not close enough to have a look round, and my kids didn't seem keen on walking over to it), it is quite a contrast with the brand spanking new New York Stadium in the middle.
We arrived well before kick-off, we were content having a wander before a couple of employees around the ground recommended the family Goalzone, which we found out after had only opened that day. The early kickoff on a big screen for me, and all manner of interactive games for them – a decent way to kill time before the match. My pre-match routine used to involve simply pub and pints; now, it's a case of keeping my six-year-old daughters entertained. But this did the trick, and it's always good to see clubs attempting to encourage the next generation of fans along.
The stadium itself seems a bit more striking and distinctive than the usual new builds. The two floodlights have a futuristic look, and it's kind of a reverse Tardis – looking at the size and scale of the ground from the outside, you wouldn't think the capacity is only 12,000. Unusually the roof appears to be clear perspex, presumably to allow more light onto the pitch. Inside it seemed quite steep but can have no complaints about the views, legroom or facilities, which were all top-notch. And, as promised when I bought the tickets, we had the mascot Miller the Bear directly at the front of our corner of the stand, banging his drum, attempting to gee up the fans throughout, and theatrically reacting to each chance, tackle or incident.
The Millers had just got shot of manager Alan Stubbs and wasted little time in employing Kenny Jackett, a man that had done a steady job at this level with Wolves. He had his work cut out here, with the club bottom of the table with just six points, and coming off the back of six straight defeats. The Millers also boasted the worst defensive record in the football league, and so from the off Jackett was understandably trying to make them tougher to break down.
The Millers were content to soak up pressure and try and hit Reading on the break or from set-pieces. The first-half stats showed 80% Reading possession (74% by full-time), but without creating too many chances – indeed, Reading keeper Ali Al-Habsi was arguably the man of the match. He kept out efforts from Danny Ward, Joe Newell and made one stunning close-range save from a powerful Richard Wood header. The latter chance came after another hefty Greg Halford long throw, which caused panic in the away defence each time they were delivered. It could prove a very useful weapon in Rotherham's relegation scrap.
The visitors began to dominate the game, finally making their possession count, but after Lee Camp saved a Gareth McCleary penalty and John Swift hit the bar after slaloming his way through the home defence, you thought Rotherham were going to emerge with a hard-fought point. Alas, football can be a cruel game, and minutes from the end Paul McShane finished well after following up on a rebound. There was still time for another Al-Habsi save in injury-time, this time from Anthony Forde, to preserve the clean sheet and give his side a win.
I had parked far enough away without getting caught up and in any usual post-match traffic, and departed content in having two achievements unlocked: all Championship grounds ticked off, and down to single figures in my list of stadiums left to tick off. Suddenly that remaining grounds list doesn't look quite so daunting.
Atmosphere 3.5/5: The crowd was only 8,800 but it sounded like a lot more, the home fans made the effort for their new gaffer.
Location 4.5/5: Very close to town, set alongside the River Don, and plenty of cheap pay and displays in walking distance. Right next to a train station too. Pretty much all bases covered.
Programme 3.5/5: Solid, well-presented effort.
Stewarding 5/5: All the staff were really friendly and helpful, and encouraged us to use the family Goalzone prematch without ever being pushy about it.
Character 3/5: Doesn't feel as clinical as other new builds, the New York is a rare example of a new build having been done well.
Value for money 3.5/5: £30 for three tickets doesn't seem too bad. Only £2 for under-8s is good value, and £25 for an adult is probably par for the course in the Championship these days.
Overall 3.5/5: A fairly engrossing game, a great shame the home fans didn't get to see their side get at least a point. Left with the sense this was a very friendly, welcoming club, and enjoyed this trip more than I was expecting to.
Keep up with Michael's 92 here and follow him on Twitter @michaelepilcher. If like Michael you fancy blogging about your experiences doing the 92 league grounds drop us a tweet to @the92dotnet.
Have you made the trip to the home of the Millers? If you have you can add the AESSEAL New York Stadium to your 92 or if not plan your trip there: