With the planning application recently submitted AFC Wimbledon's dream of returning to their spiritual routes edges that little bit closer to becoming a reality. We speak to Dons fan Joe Moger about the latest goings ons at the club.
Groundsman: You have enjoyed a meteoric rise through the divisions – would a return to Plough Lane be the icing on the cake?
Joe: It would certainly be the icing on the cake, but not quite the cherry on top. There's been a long term dream of returning to Plough Lane and the Championship, both are still quite a long way off though. It's also worth noting the Plough Lane that everyone knows is at the other end of the road to where the new stadium would be, on the site of the current greyhound track. But Wimbledon did play at this site about 100 years ago for a season.
Groundsman: What do you make of the ambitious plans and what they could mean for the future of AFC Wimbledon?
Joe: They're certainly impressive, but it's more of a sentimental return as much as a physical one. I would be happy with few lines on a patch of grass as a stadium! Unfortunately a park pitch doesn't allow us to grow and reach our potential, just like the current stadium. We have the smallest ground in the Football League and this means our revenue could be much higher. The new ground would attract a larger crowd and also allow for expansion in the future as well as benefit the local community, of which many are Wimbledon fans. It also means Kingstonian can have an improved stadium back potentially. The problem is that ambitious plans are more difficult to get planning approval for, especially as the site is on a floodplain, and has some transport issues. ​
Groundsman: The club clearly has massive potential – where do you see the club in 10 years?
Joe: I'm always hesitant to answer this kind of question, because if you asked us where we would be in 10 years in 2002, I don't think many would have believed we'd actually be back in the Football League. I'd hope we'd be able to get promoted at least once, but it's difficult to do on our current budget. Relegation would be difficult for us to take, we've never taken a backward step and this is already the longest season we've stayed in one division for, and it's only the 4th season! The board would definitely like to see us in the Championship though, as we can't continually increase the funds without progress. There's no secret we've invested a bit more this year, but other clubs have too, and it's becoming more and more difficult to get out of this league. Rochdale could be a good guide for us, as they performed a minor miracle to get promoted and are still doing well this season and a relatively similar budget to ours.
Groundsman: Do you have memories of when Wimbledon played at Plough Lane?
Joe: Unfortunately I wasn't born before it was essentially shut down! I've been to the greyhound stadium where the new stadium would be, and also walked past where the old Plough Lane was too. But it's impossible to go to a game and not hear about it at least once. There are pictures in the club bar of the old ground and the older generation of fans will always have a story to tell about it. Even one of our coaches posts pictures of where he used to stand.
Groundsman: The team played at Selhurst Park from 1991-2003 – how did if feel to watch your side there? Did it ever feel like home?
Joe: It was always a bit surreal. It didn't feel like home, and it didn't really feel like it was Wimbledon playing. There was no excitement like you'll feel at Kingsmeadow now. The problem was there was so much going off the pitch that it distracted everyone from what was happening on it.
Groundsman: What happened with the Milton Keynes move and the apparent franchising of the team shocked the football community, without reopening the issue do you think you've come out if it with a better more united club?
Joe: What's important is that we have our own club. The fans just wanted to watch a team that represented the community of Wimbledon, and we have that and more. I wouldn't want to use the word better, but we've got a club who can't be ripped off by its owners again. I also wouldn't say more united, as I don't think it's possible to be more united than the '88 cup win. Maybe if we reach the heights of the Crazy Gang you can ask me that question again!
Groundsman: Kingsmeadow has been your home since forming the club – will you be sad to leave?
Joe: It definitely will be for me personally. I've been in every stand, walked around the dressing rooms and met a lot of the people involved in running the club. The stadium has always been pretty full, and two stands will usually sell out for league games. If we move to a bigger stadium it will be half full a lot of the time in League Two, so that will be weird. There was also something nice about having a non-league ground in the Football League, especially beating Portsmouth 4-0 there, it's a ground you can connect with in a weird kind of way. Hopefully a new ground wouldn't destroy the feel of the club that makes it so different.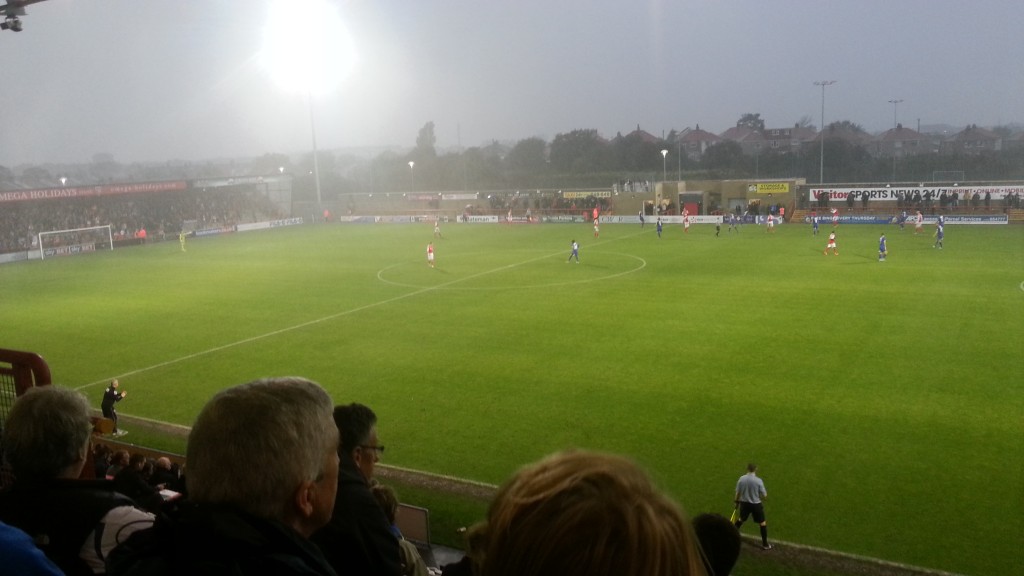 Groundsman: Finally we can't let you go without finding out a bit about your 92 – how many of the 92 league grounds have you ticked off?
Joe: This is only our 4th season back in the league, so it'll get better! I think it's somewhere around 14 or 15.
Groundsman: So far which have been your best/worst and why?
Joe: We seem to draw every away game I go to. We drew 2-2 at Gillingham a couple of seasons ago, coming from 2 down which was crucial to keep us up. The worst was probably the first 50 minutes against Accrington, the last game of last season. The train from Preston to Accrington was barely a train, it's incredibly hilly, and we were 3-0 down just after half time. Thankfully for my sanity we scored a couple so it wasn't a complete disaster. Morecambe was also pretty miserable as it rained the entire time.
Thanks to Joe for taking the time to share his thoughts. You can keep up with Joe on Twitter @JoeMoger. Have you been to Kingsmeadow? Tick if off your 92 here www.the92.net/ground/kingsmeadow or plan your visit using our away day planner here www.the92.net/plan-your-away-day/kingsmeadow. Do you want to blog about your experiences on your quest to join the 92 club? If your interested we're always after guest bloggers – drop us a tweet to @the92dotnet to find out more.