With just a trio of grounds left to tick off his 92 blogger Michael Pilcher heard Notts County's call for a 12th man. Under new ownership and management the Pies were eager for a bumper crowd for a relegation 6 pointer and had an offer to boot to entice the fans back to Meadow Lane…
Ground 90/92: Meadow Lane
Notts County 2 – 1 Cheltenham Town
11/02/2017

Back in August I ticked the City Ground off my 92, and had to walk straight past neighbouring Meadow Lane en route to Forest from the train station. It was still on my 'to do' list at the time, and I gave it a rueful glance as I passed. Forest's home was number 78 on my journey and I'd been rattling through the grounds to get to the point where, six months later, I was down to my final three. County was one of those.

The 'Cheap Tickets' thread of Football Ground Guide used to be a rich source of budget ground visitation opportunity – it was thanks to this I got Doncaster and Sheffield United ticked off on the same day – sadly it's not posted on quite as prolifically these days. However, it was a comment from one poster that led to a cheap trip to County entering my crosshairs. It was mentioned that the club were under new ownership and that they would probably look to run some sort of ticket offer to get fans back through the turnstiles. Sure enough, when I checked the County website a week before this game there was a "Be our 12th man for £12" offer being promoted for their big relegation showdown against Cheltenham Town.


 
As both my children decided they wanted to come when I asked, I'd been slightly dreading this trip: the prospect of a minimum six-hour round trip in the car with them whinging and fighting in the back didn't seem pleasant, plus I'd have to think up ways to keep them entertained at the football. Another issue with their attendance was that both are funny about loud noises, this coupled with me wanting to inflict their insistent "when can we go home" requests (which invariably start around the 60-70 minute mark) on as few surrounding fans as possible meant I was in the unusual position of trying to locate seats in the quietest stand.

When I checked online on Wednesday the Family Stand looked mostly empty, and the Nottingham-based friend I was meeting up with before the game told me this stand was one that 'no-one goes in it'. This sealed the deal, so I phoned to book tickets in the Family Stand: adults £12 (usually £20), under-12s free (usually £5 each). My mate was going to be in amongst it in the opposite Kop, he assured me he'd give me a wave from time to time. Thankfully the drive up was hassle and argument free, and I met up with him at his house in Radcliffe pre-match, before making the short drive over to County.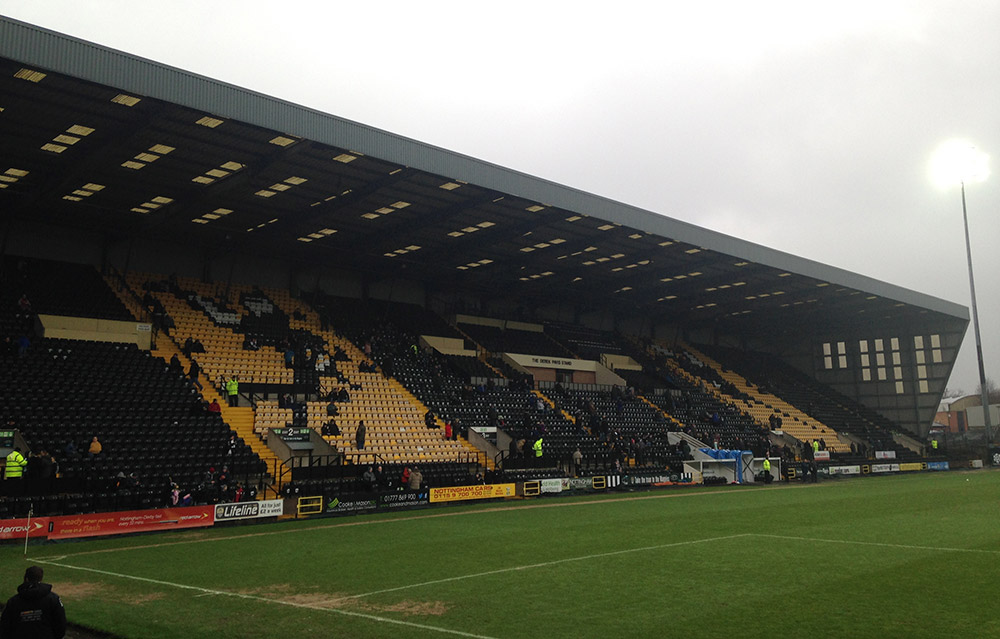 My internet research told me that Nottingham uses cashless parking through a company called Ring Go, so I downloaded their parking app in preparation. Getting there just after 2pm, there was a wealth of parking on Meadow Lane road itself, costing just £2 for the day. In an area with lots of 'Football Parking' car parks asking for £4-5, this was something of a mini-victory. It was a very short walk to the ground, we collected our tickets and as it was raining decided to go straight in. With the snaking queues for tickets and groups of fans outside, there was a welcome buzz around the Lane. Alas as we went straight in I didn't get to have my usual circle of the stadium perimeter to get some external photos for the collection; disappointing. 
 
As a Football League founder member and the world's oldest professional team, it would be a real shame to see County drop into non-league for the first time, so I was rooting for the home team more than usual (I have nothing against the Robins, I hasten to add). The ground inside was classic looking – four similarly-heighted stands decked out in the club's colours, proper floodlights, open corners. Each stand's seats was spelling out something – 'NCFC', 'NOTTS COUNTY FC',  'MAGPIES', and one side stand had the two magpies from the club badge – I always think a 'plain' stand is a bit of a waste, so was a big fan of this. The triangular gable of the Jimmy Sirrell Stand was a terrific feature, harking back to the days when most grounds would've had these, and befitting of the world's oldest pro club. Our seats at the back of the Family Stand offered some great views, let down by a great big supporting pillar front and centre.


 
Notts County were on the front foot from the off, in Cheltenham's faces and chasing down every ball and lost cause. The hosts had already hit the bar before deservedly taking the lead through Jon Stead. I missed the build-up due to some request from my children for something out of their bags – match reports informed me that it was a fantastic pass – expectant noises from the crowd made me turn round, just in time to see Stead bearing down on goal. He smashed a shot into the roof of the net. I remember going to watch Stead at Huddersfield during Uni when he was a skinny, fresh-faced teen, and the Terriers had really high hopes for him. He's had a decent career, and it was great to see him still banging in the goals some fourteen-years on. Within ten minutes it was 2-0, a Richard Duffy header squirming over the line via a visiting defender following a corner.

The home side were dominant and their fans got right behind them, buoyed by a committed and high energy performance. In the event the Family Stand was actually quite full, but with a lot of families it was noisy without being uncomfortably loud for my little ones. Alas, in the end it wasn't the noise levels that were to be my downfall, but the temperature.
 
The second-half went by in a bit of a blur… my children were so insistent that they wanted to go home, and complaining/crying due to how cold it was, I was willing the clock down. From what I saw County held Cheltenham at arm's length, and were the ones that came closest to scoring through a couple of quick counters – one shot hitting the post after a one-on-one before the rebound was smashed well over. I thought I'd prepared my children against the cold: they had extra layers, extra socks, I'd even brought blankets, but seemingly it wasn't enough. Their incessant whinging – coupled with my guilt at having dragged them 170 miles to football in the freezing cold – meant I ended up doing something I've never done during my 23 years of attending football matches: I left early.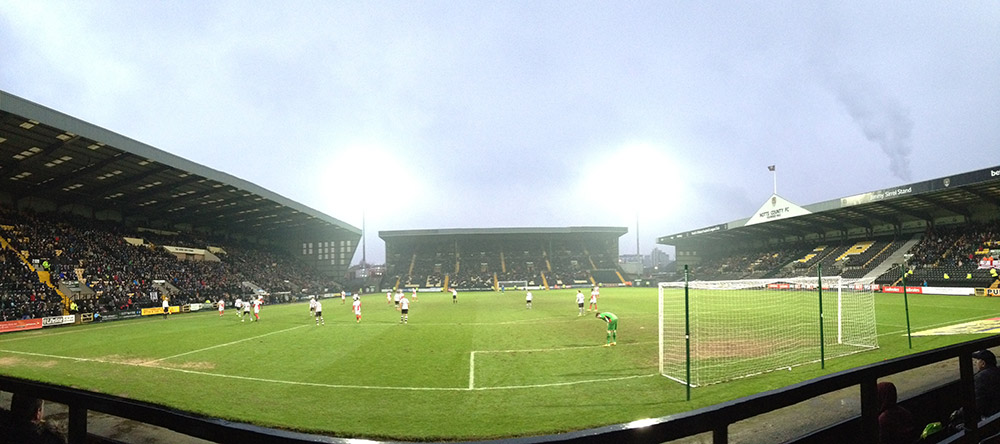 Like leaving the cinema before you've seen the ending of the film, I've never understood people that leave early, so I felt ashamed and annoyed with myself. (That said, the surrounding area was like a ghost town and the roads were clear, so I can now see the benefits for those people that leave early to 'beat the traffic'. Not that I plan on doing it again!) I didn't want to be the first to go and so waited until some other families left, and so somewhere between minute 80 and 85, we slunk out. We drew some sympathetic/understanding looks from the stewards as we left – "Really cold, int'it" – and filed back to car. We made a short retreat to the nearest McDonalds to get fed and to warm up, and I checked the scores. Naturally we'd (or should I say I'd) missed a goal, Cheltenham pulling one back in the 88th minute. It was only a two-yard tap, but it was vexing to miss it nonetheless.
 
What should have been an enjoyable football day out – I was up to ground number 90, for goodness sake! – was a nice enough day out, apart from the part in the middle where we went to the football. Meddling kids.
 
Atmosphere 3.5/5: A higher attendance than usual and a fair amount of noise from both stands behind the goals. 
Location 5/5: I'd scored City Ground 4.5 for this, so Notts County really should be full marks on account of having more nearby parking and being closer to the train station. The city does a great night out and has plenty of places to eat and drink. 
Programme 4/5: Classic looking effort, very classy. There was a lot inside – including features and interviews with all six recent signings, such as big Shola Ameobi – and there seemed to be very few adverts inside. Championship standard. 
Stewarding 5/5: Friendly. 
Character 4/5: A 'proper' stadium. 
Value for money 5/5: £12 for one adult & two children; usually this would cost between £30-36 depending on where you sat. A significant saving either way, terrific offer from County. 
Overall 4/5: A decent game (from what I saw) in front of a vocal crowd. I wouldn't hesitate to revisit Meadow Lane. 
Keep up with Michael's 92 here and follow him on Twitter @michaelepilcher. If like Michael you fancy blogging about your experiences doing the 92 league grounds drop us a tweet to @the92dotnet.
Have you made the trip to the home of the Magpies? If you have you can add Meadow Lane to your 92 or if not plan your trip there: