Many fans bemoan the number of games moved for TV coverage in the modern game. However for those seeking to join the 92 club it can present many an opportunity. With Newcastle being box office in the Championship this year it has presented season ticket holder Colin Harrison with a number of free Saturday afternoons…
Ground 77/92: Kenilworth Road
Game: Luton Town 2-1 Notts County
Date: 22/04/2017

With Newcastle United's match at home to Preston moved to the Monday night, it gave me a free Saturday and a possibility to tick off another ground in my quest for 'The 92'. On the Wednesday before, a quick check of the referee appointments for that weekend to see where my mate would be posted, showed he had been given Luton Town v Notts County. I hadn't been there…
My text to Mr Webb was replied to with the offer of free travel and tickets, but I would need to book a room at the hotel he was staying in, and be able to travel on the Friday evening. I hastily contacted my brother-in-law Paul (Geordie Boy on the92.net) to see if he was available. He was, but I needed to sweet-talk my better half as I had just returned from Ipswich Town two days earlier. I got an ear-bashing, but she succumbed to my begging and granted me another night away.

We were picked up by David at 8pm on the Friday and spent the next four hours heading South to Luton. This time was spent discussing the life of a referee, and I can honestly say what an incredible insight we were given. Not many football fans will realise the level of commitment referees, and their assistants, give to our beautiful game.
Every game for the officials is an 'away game'. Without really thinking about it, we all assume they are teleported into the stadium. We spent some time discussing the laws of the game and 'what if this happened' questions, before arriving at the hotel around midnight. David headed straight to bed while Paul and I headed for the bar. At around 2am we hit the sack ready for a 9am breakfast rendezvous.
On the morning of the game, we set off for Kenilworth Road and arrived around mid-day. We were met by former league linesman and now Luton Town match-day host Matt Buonassisi. We were then given our complimentary tickets and escorted into the officials changing rooms. From there we were taken across the pitch for our customary dugout photo, this time including the ref!!
Whilst on the pitch more photos were taken to record something loads of Luton Town fans would love to do, just to be on the pitch. We realised then, what a privileged position we were in. We headed back inside, and sat in the 'John Moore Lounge', named after the former Luton player and manager, for coffee and sandwiches waiting for the other officials to arrive.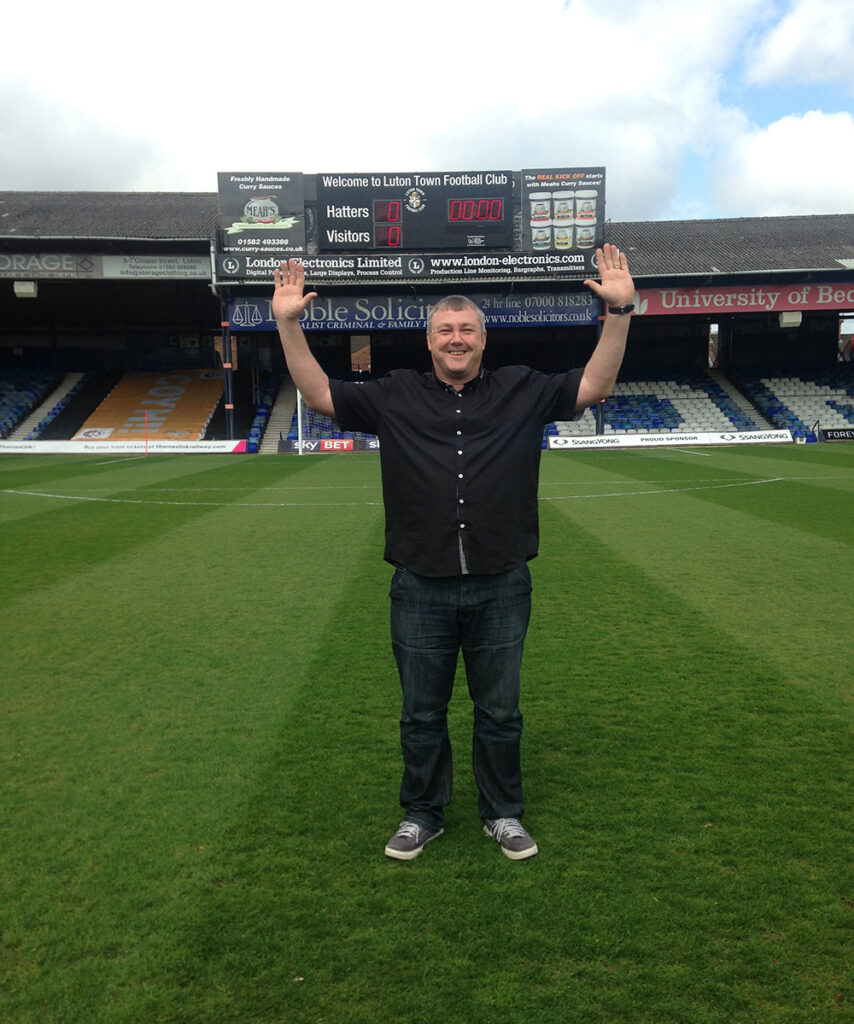 The two referee's assistants, the fourth official, the referee's assessor, and even the assessor's boss all arrived and chatted informally with us about our love of all things Newcastle United. This didn't seem to interest our Sunderland fan referee. At 1.30pm the officials made their way to the changing rooms, which signaled time for a pint.
Talking about betting and drinking alcohol is strictly forbidden when sitting in the company of any match official. A couple of pints of reasonably priced ale soon disappeared and it was time for kick off. We went to our seats and sat only a dozen or so seats away from Luton chairman and TV presenter Nick Owen.
Notts County, whose starting line-up included Geordie cult hero Shola Ameobi and ex-toon player Adam Campbell, started the brighter; the Pies going ahead within six minutes with a fine finish from Elliott Hewitt. Luton levelled ten minutes later when Danny Hylton smashed a curler off the bar and Ollie Palmer reacted quickest to head home. On the stroke of half time The Hatters took the lead when Pelly Ruddock scored from the edge of the area.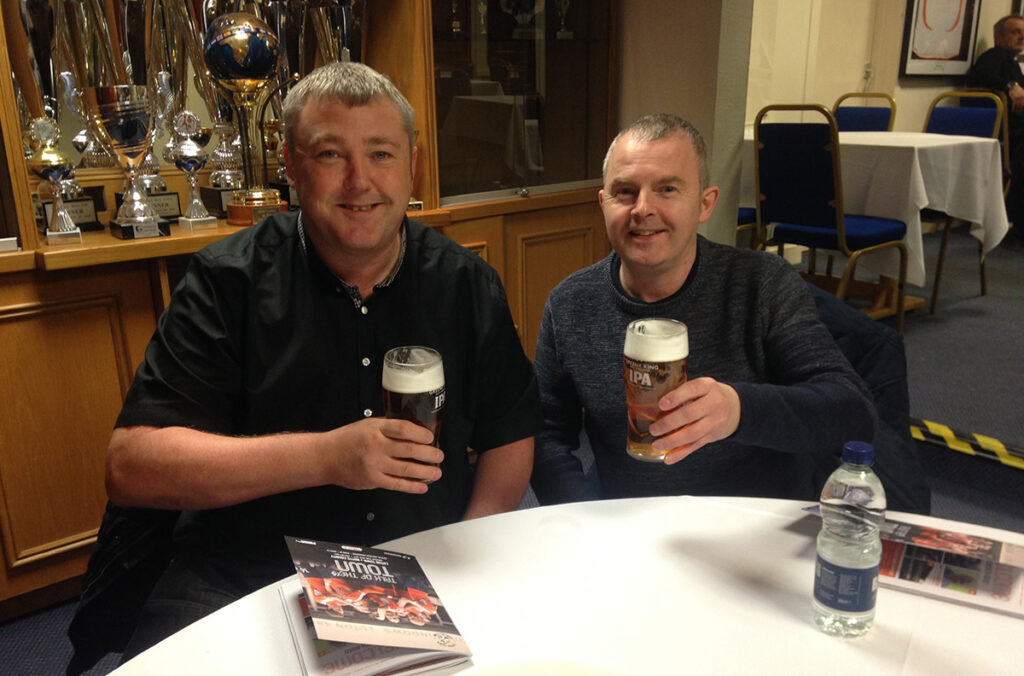 The second half saw both sides create chances, but to be denied by some good goal keeping at each end. The talking point was the red card for Luton striker Danny Hylton. In the first half he was booked for jumping into the County keeper, and in stoppage time he was warned when not retreating the full ten yards for a free kick. Moments later he put another late challenge in to give the man in the middle no option but to send him off. Later, in the tunnel area Hylton didn't seem too displeased with his enforced suspension, knowing he would be back for the play-offs.
With the game over, we made our way back to the John Moore lounge to watch the final scores coming in from around the leagues. We were then escorted to near the changing rooms to wait for David. Once there, we waited like exited school kids hoping for that moment when you meet your hero. First out was the Notts County manager, and hat-trick hero of Newcastle's 5-1 demolition of Sunderland back in 2010, Kevin Nolan. A couple of handshakes and photos later and he was back inside for a drink with the home manager.
Next up was the scorer of Newcastle's other two goals in that memorable match against our bitter rivals, Shola Ameobi. What a great fella he is. He chatted with us for a couple of minutes, thanking us for our support for him, and our love for the toon. We could have stayed longer but we knew the referee, and our chauffeur, had another four-hour drive to complete.
We arrived home around 10.15pm. I was still buzzing from a great day, but for David Webb it was just another day at the office.
Keep up with Colin's 92 here and follow him on Twitter @colinpodge. If like Colin you fancy blogging about your experiences doing the 92 league grounds drop us a tweet to @the92dotnet.
Have you made the trip to the home of the Hatters? If you have you can add Kenilworth Road to your 92 or if not plan your trip there: