A League 1 fixture on a Monday night may have raised eyebrows for many, but not for those doing the 92 league grounds. For those faithful disciples chasing down the holy grail of the 92 club it was an ideal opportunity to chalk another ground off the list. That's exactly what the92.net regular Michael Pilcher did to leave just 8 grounds on his 92.
Ground: Gigg Lane (84/92)
Game: Bury 0 – 2 Bolton Wanderers
Date: 24/10/2016

Being a Gillingham fan I had slowly worked my way through most of League One, with the Gills now in their fourth successive season in the third tier (a run in serious danger of coming to an end this season). I had three League One grounds left to tick off at the start of 2016/17 and when I saw the Gills fixture list annoyingly the closest – London Road – was due for Boxing Day, so I ended up doing that one earlier this season. After that I was eyeing up the two B's, Bradford and Bury, to complete the L1 set. Gills were due to visit Bury on March 4th, but a combination of recent dire Gills performances and Sky TV changed my plans. Why bother spending a day travelling to Greater Manchester from Kent and back, likely to witness a grim defeat, when it was less than an hour from the in-laws in Preston? In my early ground-hopping days I was determined to only really go to Gills games, but through my years of doing the 92 I now much prefer experiencing games as neutral, where I can enjoy the match without worrying about the result. Gills have just let me down too many times…

Enter Sky Sports, who had conveniently moved the Bury v Bolton tie to a Monday night during the October half-term when I just so happened to be in Lancashire. The prospect of a derby under floodlights was tricky to resist, and further temptation lie with both clubs being in or around the play-offs – Wanderers could go second with a win, and the Shakers were only three points off the play-offs despite having lost five games in a row – and this being the first league fixture between the sides since 1998/99.
The lack of train stations in the vicinity had put me off doing Bury before, so ensured I had permission to borrow the Mrs' car for this one. After putting the word out on Twitter pre-match, in the end I settled on some advice I found on Google – park to the west to avoid trouble getting out after (wise words, as I found out after). I found a prime spot on Redvales Road, about 5 minutes from the ground. If it hadn't been signposted it would have been a mission to find – once you walk down Gigg Lane eventually, on your right, there it is: a football stadium tucked away inconspicuously amongst masses of housing and cobbled streets.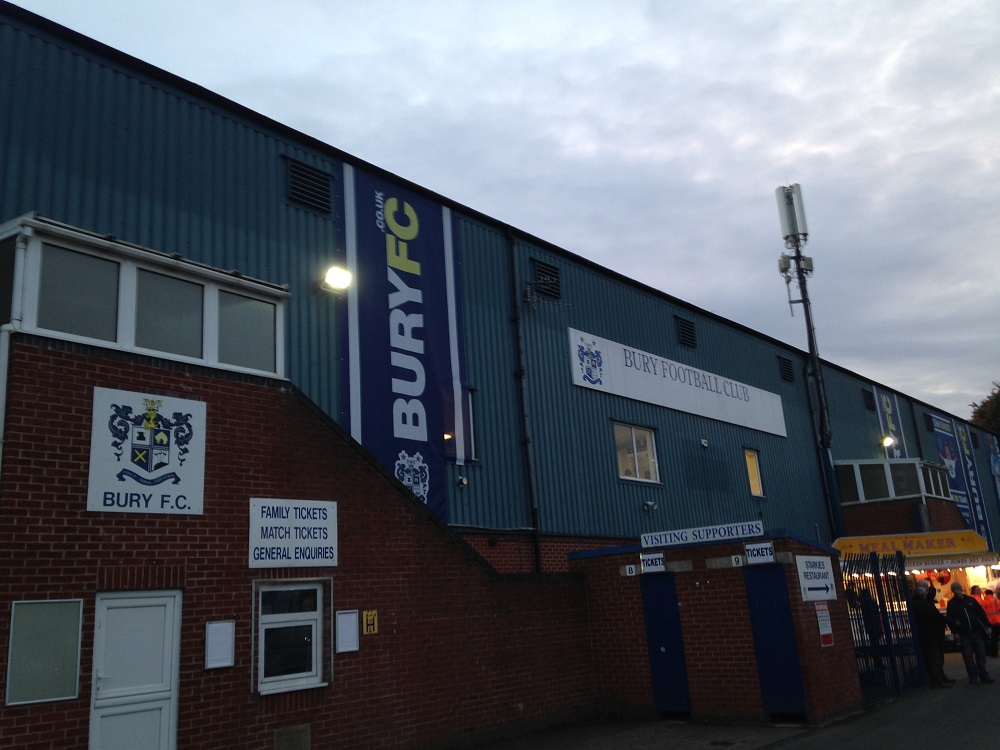 Unusually all the turnstiles are located on one side of the ground, which led to one elderly Bolton fan in front of us trying to get into the wrong end. Disappointingly though this means you can't walk around the stadium to take a look, you only get to see the one end, annoying for any 92er. The turnstiles themselves are wonderfully old fashioned, and the outside has a traditional feel; inside its a different story, a tidy all seater affair which underwent modernisation in the 1990s. The most modern thing was the sparse club shop at the top of the road. A shame to hear that the club are exploring plans to move in the coming seasons, surely it's not going to be too long before everyone is playing at cold, clinical out-of-town identikit bowls. A couple of stands may have supporting pillars but Gigg Lane has a charm to it that'll be difficult to replicate.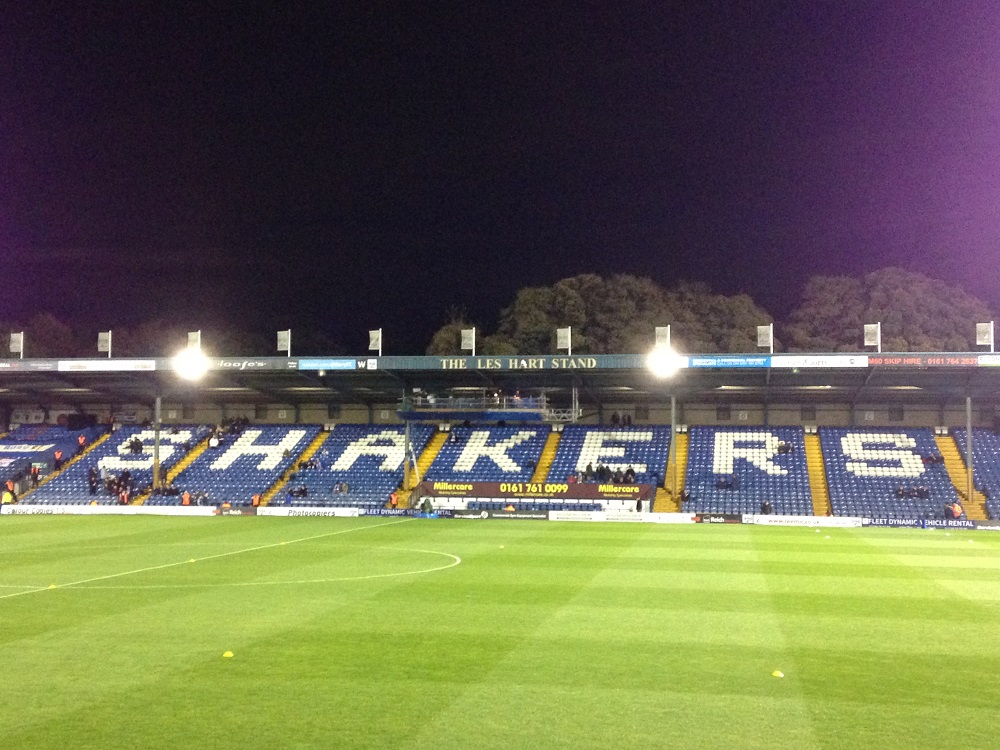 The place was rocking – just over 3,100 Wanderers fans in a crowd of 8,007 – and a strong police presence let you know this was one feisty encounter. Alas, the contest was effectively ended after just 13 minutes. Zac Clough went through on goal, eventually went down, and the ref eventually awarded a penalty. Two delayed reactions, one extremely soft penalty. Clough dusted himself off to convert, sending it straight down the middle. Thereon in Bury played like a side on a run of successive defeats: nervous, edgy, and completely devoid of any confidence. Most criminal of all for a derby league fixture that hadn't been seen in nearly two decades, they played without any sort of urgency. They mustered one long range shot which drew a comfortable save, otherwise it was an easy Bolton win. Clough had one off the line after rounding the keeper, before adding a second after the break, another penalty – no arguments with this one, a stonewaller after he was barged over. Proctor should have added a third late on after a quick counter attack, and Sammy Ameobi had a couple of chances in what was the most one-sided derby game I've witnessed in many a year.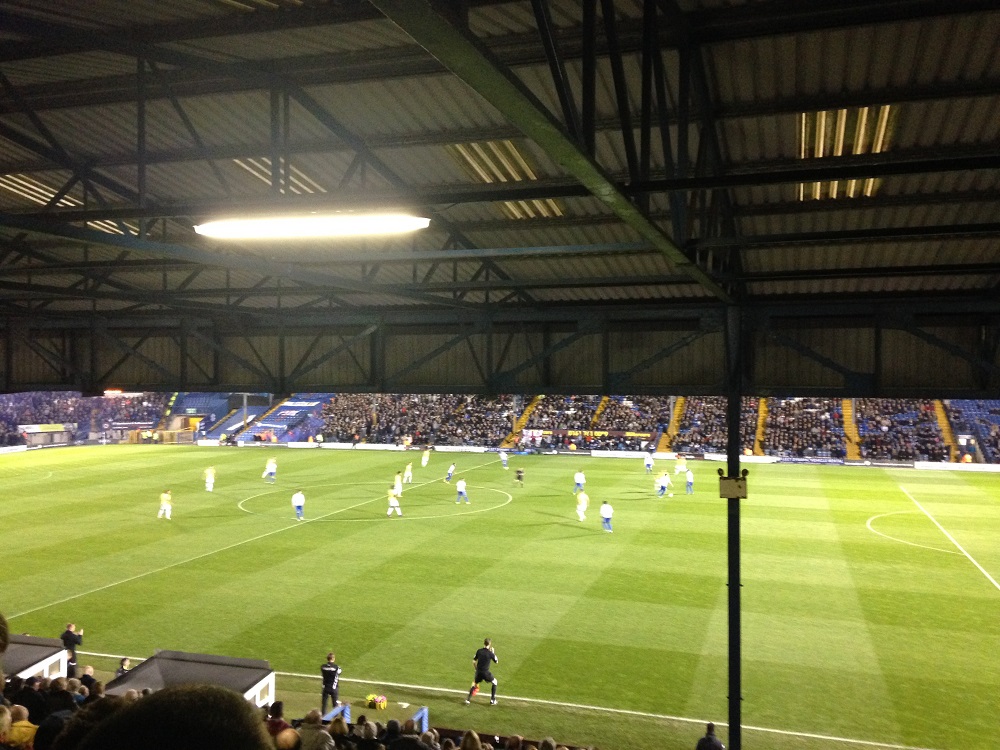 Tensions spilled into the stands, with some home fans arguing and squaring up to each other. There were eight arrests made after (exceeding the seven arrested after the much discussed West Ham-Chelsea game the following night); I'm not sure if that was Bury fans fighting with Bolton fans, or with other Bury fans. Buoyed by their vocal support, Bolton were strong, clinical and in complete control; if I was a Shaker, I'd have been fuming with the lack of desire from my team. My daughters were oblivious to all of this – so underwhelmed were they with the first half, they spent the second half asleep. I'm sure most home fans wished they too could have slept through this.
Atmosphere 4/5: A first league meeting in seventeen years, an intense derby. Shame there were sections of empty seats in the Shakers ends, but there was plenty of noise, from the away ends especially.
Location 3/5: A nightmare to get to by train! But easy enough to park nearby and a good choice of pubs.
Programme 4/5: Not as glossy or pristinely presented as other clubs, but made up for that with plenty of good content.
Stewarding 5/5: Had a difficult job with it being a feisty game, but seemed to take it in their stride, and were helpful rather than heavy handed. Having a well-trained stewarding team can make a big difference (take note, Hammers).
Character 4/5: A traditional, Northern ground.
Value for money 4/5: £22 for a 'category A' game family ticket (1 adult + 1 child) seems decent value – a child goes in free with an adult, and then it's only £1 for another child.
Overall 4/5: A proper football ground, watching a derby under the lights, with a lively atmosphere. Shame it wasn't a Saturday game, but an enjoyable Monday night all in all.
Keep up with Michael's 92 here and follow him on Twitter @michaelepilcher. If like Michael you fancy blogging about your experiences doing the 92 league grounds drop us a tweet to @the92dotnet.
Have you made the trip to the home of the Shakers? If you have you can add Gigg Lane to your 92 or if not plan your trip there: