As the Football League season entered its penultimate round Michael Pilcher made another lengthy journey from Kent following Gillingham. Burton was the destination as the Brewers sought to inch closer to Championship football while the Gills still had hopes of a play off place.
Ground: The Pirelli Stadium 78/92
Game: Burton Albion 2 – 1 Gillingham
Date: 30/04/2016
Burton was in a cluster of grounds around the middle of the country I had yet to tick off, and what was supposed to be a top-of-the-table clash against my team Gillingham looked a good opportunity to get it ticked off. Alas, whilst Albion have continued their great form and were on the cusp of promotion to the second tier for the first time in their history, the Gills were in freefall.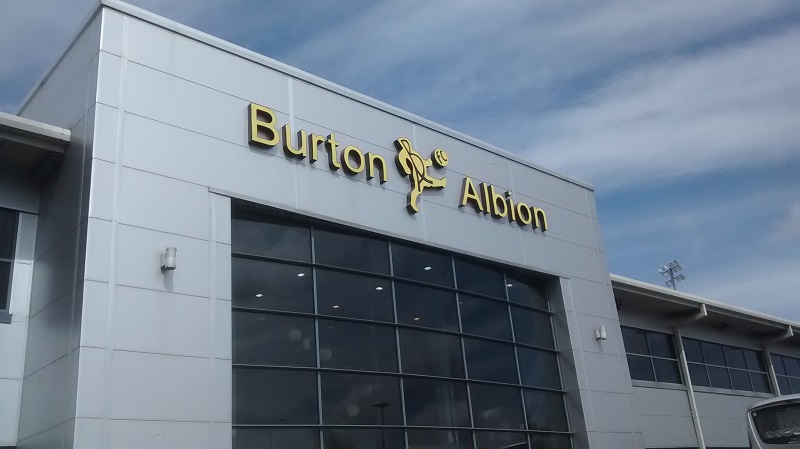 On 7th January, Gillingham were 2-0 up away at Wigan in the 63rd minute and were about to go top of the league. By the end of that game they'd lost 3-2, and have won just four games from 19 since. Most Gills fans would have snatched a 7th or 8th place finish after being one of the pre-season favourites for relegation, but the fact the Gills had never been lower than 4th in the table up until mid-April, but were now outside the play-offs, was leaving most fans feeling despondent. Only the Gills could be top six for 44 games – top two for most of the first six months of the season – and blow it in the final few games. If the Gills had held out to win on that Thursday night in January, Wigan would have lost their fourth home game in a row and there would have been a 12 point gap between the two sides. Instead Wigan cut the gap to 6 points and their confidence grew, whilst Gills' early season swagger abandoned them.
So Gills fans went to the Pirelli Stadium with a certain sense of resignation. Most fans would admit that the Gills had massively overachieved given their resources; no-one had expected much from a team of free transfers and youth teamers, but they put in some incredible early season performances, memorably tearing apart Wigan and Sheffield United at home and Millwall and Swindon away. Automatic promotion looked a possibility, play-offs looked a certainty. So to now be in a position now where we were relying on other results to finish sixth, this was unthinkable just two months previously. Losing three home games in a row left most fans feeling that the game was up. We'd officially blown it, right at the business end of the season.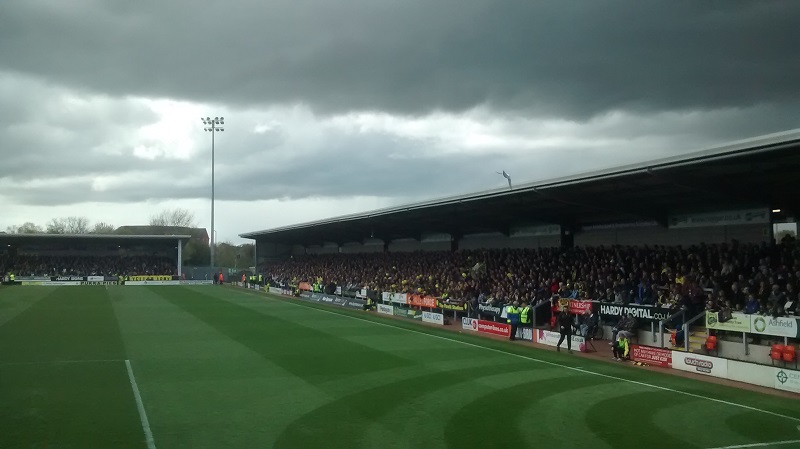 Burton were a club and area I knew very little about. As a club coming up from the Conference they seemed one of the more likeable new names to the league, with their seemingly Victorian-influenced club badge, Dortmund-esque playing colours and Albion suffix (it's always nice to see an Albion, lends itself a certain English charm). I knew the ground was fairly new, but wasn't one of the 'functional' all-seater monstrosities, with a decent chunk of it taken up by terracing.
I got one of the supporters coaches up with two coaches sold out, a far cry from the mostly-empty coach I took to Scunny six weeks ago. After experiencing the full spectrum of English weather en route – sun, wind, rain, sleet, snow – I arrived with about 45 minutes to spare. The ground seemed tidy enough but it lacked a certain something. The glass fronted outside of the main stand made it look more like an office building than a football stadium. But the home fans and stewards were a friendly bunch, and the facilities once I got inside were excellent. I have a Gills-supporting mate that lives in Nottingham so I agreed to let him buy the tickets and meet him and a few of his mates there. After several phone calls he eventually rocked up in taxi at 14:50, the group of them clearly having enjoyed a few lemonades.
We took our space on the terrace behind the goal as the teams took their positions, and I was surprised at how much of the ground was terraced – about three-quarters of it from what I could tell. Next season it'll certainly make a change from the grounds Aston Villa and Norwich are used to. I thought Championship stadiums had to be all-seater, so a busy summer potentially awaits at the Pirelli. A shame if they're forced to get rid of the terracing.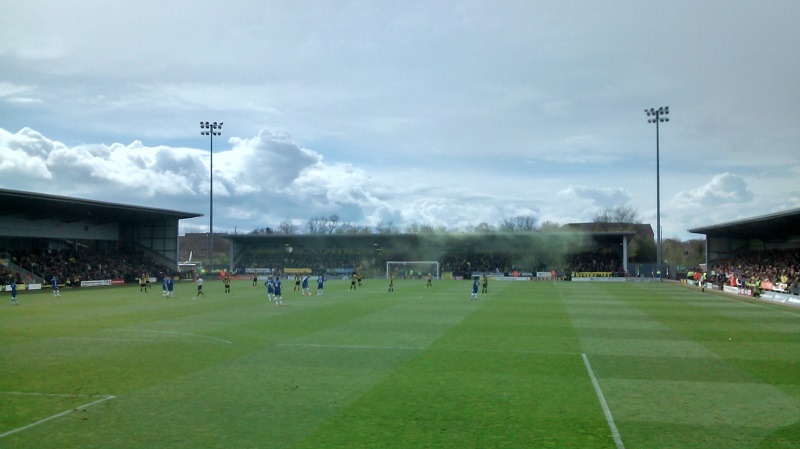 The game itself went as expected, with the nervous Gills unable to get a grip on the game. Losing two players to injury in the first ten minutes didn't help matters, but I was very impressed with Burton – neat triangles, slick passing and the player with the ball always seemed to have several options. Their rise to the brink of promotion was clearly no fluke. Burton had the majority of the possession without really testing the keeper, but a 44th-minute cross played into the corridor of uncertainty led to Akins sticking it in at the back post. The home side led: cue yellow flares being let off from the opposite end. Just like being abroad…
A half-time rollicking had the desired effect, as finally the Gills came out showing some urgency. Doug Loft drove forward from midfield after winning the ball back, and fired off a shot that the keeper saved down low. From the resulting corner, Bradley Dack whips it in for Cody McDonald to head in. 1-1, game on. The game then opened up, the Gillingham enjoying the best of it for the next twenty minutes or so. Unfortunately Burton were well-organised and kept Gills attack at bay.
Burton then began to take the front foot again, the Gills trying and failing to hit them on the counter – the final ball always desperate, wayward, or both. But it was comfortable enough, the Gills central defence pairing of Egan and Ehmer alert to the dangers and making vital blocks and winning crucial headers. Then, in injury time, disaster. Ehmer put in another superb sliding tackle to prevent a dangerous opportunity, but from the resulting corner everyone seemed to go to sleep. Naylor gets a free header, 2-1, cue jubilation from the Brewers fans. In the away end, with constant checking of football scores apps, fans announced Barnsley had won their game 2-1. The final whistle blew soon after, calling time on a 2-1 defeat for Gills and on their season. Four points behind Barnsley with one game left. The season was officially over.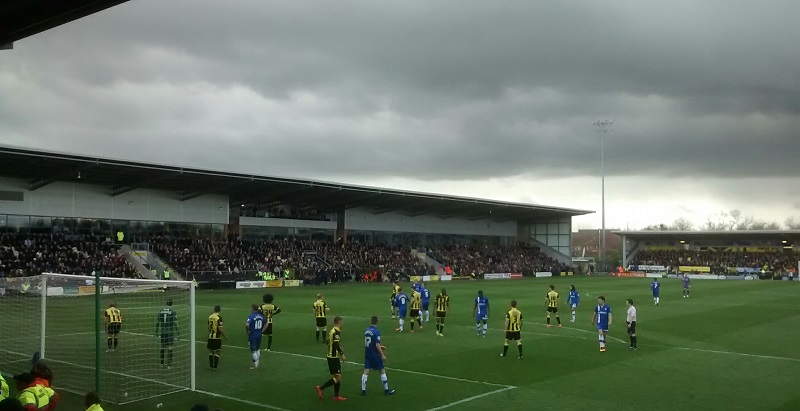 As everyone took their seats back on the coach, the air of despair soon made way for excited chatter. What was wrong with these people? We'd just lost, our season was done! But then word got round: Colchester had equalised in the 99th minute against Barnsley. The season was alive again! All that had to be done was hope Barnsley and Scunthorpe drew on the last day, and beat in-form, free-scoring Millwall at Priestfield.
Gillingham certainly never make things easy for themselves.
Atmosphere 3/5: Understandably nervy with lots riding on the result for both sides. Both ends had their moments but it was never really sustained.
Location 4/5: Hard to gauge as I got dropped off directly outside the ground, but am reliably informed it is close to the station with some superb pubs in the area. To be expected from a club nicknamed the Brewers!
Value for money 4/5: Not often you get a ticket for under £20 and the privilege of standing (terracing over seating every time for me). £18 seemed decent value for an end-of-season game with a lot riding on the outcome for both teams.
Pie Rating and Pint Rating n/a
Programme 2/5: Shiny and presentable but very lightweight.
Character 3/5: Tidy and with a community feel, but the stadium wasn't exactly distinctive.
Stewarding 5/5: Very friendly and helpful – whilst I was stuck outside waiting for my mates, I heard a steward be told on his walkie-talkie that the programmes were sold out everywhere apart from the away end. Annoyingly they only sell them inside the ground, and I was at real risk of going programme-less at a ground for the first time. I could see one left on the away sellers stand, and asked the steward if he could go and buy said programme for me. He nabbed me the last one in the ground. Absolute hero.
Overall 3.5/5: A decent game of football, even if the result wasn't what I wanted. Fair play to Burton who deserved their win, and it's difficult to begrudge them their rise to claim a place in the Championship. A friendly community club with a functional mostly-terraced stadium. Best of luck to the Brewers next term.
Keep up with Michael's 92 here and follow him on Twitter @michaelepilcher. If like Michael you fancy blogging about your experiences doing the 92 league grounds drop us a tweet to @the92dotnet.
Have you ticked the Pirelli Stadium off on your quest for the 92 club? Add it to your 92 here www.the92.net/ground/pirelli-stadium or plan your trip their with our away day planner here www.the92.net/plan-your-away-day/pirelli-stadium