Please welcome Fulham season ticket holder Dan to the92.net blog! Dan continued to make inroads into double figures of his 92 and shares his thoughts on a trip to Rotherham's New York Stadium.
Ground 11/92: The New York Stadium
Rotherham United 0-1 Fulham
01/04/2017

Your thoughts about the ground
It was an interesting stadium, neither myself nor my sister were able to work out from the outside which way round the pitch was, as all the stands appeared to be the same length. Upon entering, the first thing we noticed was how steep the seats were. This meant that despite the height of the stands, there were not as many seats as could have been fitted in, giving the stadium the very nicely palindromic capacity of 12,021.
Fulham filled 1,245 of these seats with the overall attendance coming to just over 9,000; a very respectable number for a team whose relegation was confirmed by the end result. Yet the away end was not full so there was ample opportunity to get photos of the ground. The other very commendable aspect of the ground was the ample leg room, making the whole match a generally less cramped experience than at some other grounds; I'm looking at you Crawley Town!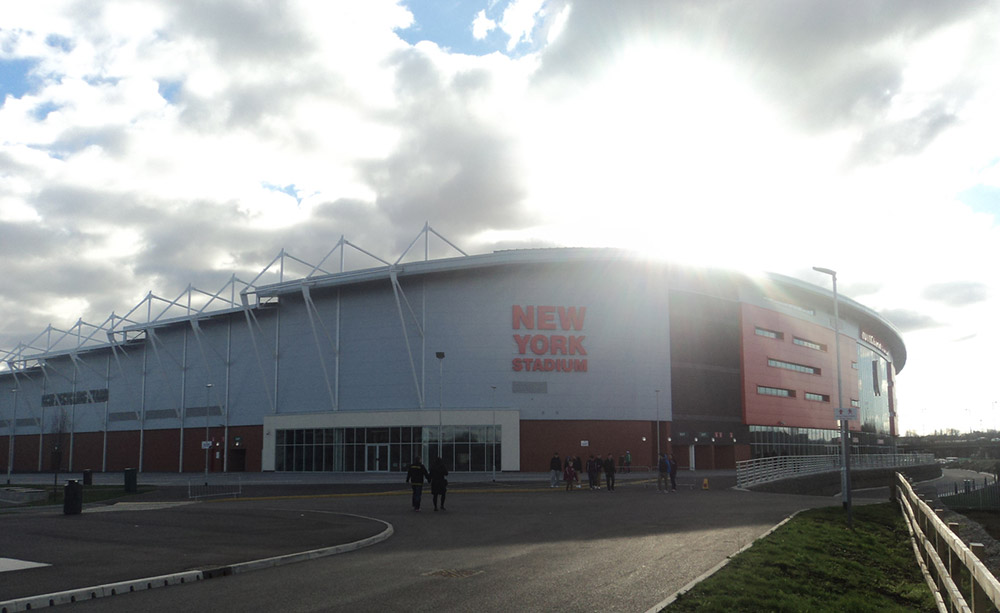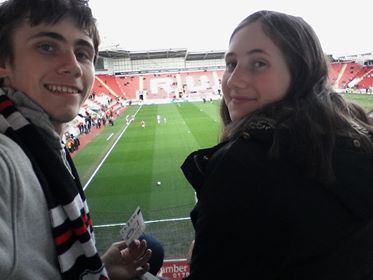 Your thoughts about the game
This was the first Fulham away game I had been to, and also the first for my sister, two years younger. She had only come to her first football match two weeks ago; the 3-1 defeat for Fulham at home vs Wolves. Her knowledge of football is growing, though currently extends only to naming Fulham players. I have historically been a Chelsea fan, but have always been to Fulham games, and this season I have been to more games at the Cottage than I have missed. I have been dragged in to the tension of the play-off push, and saw this game as an opportunity not only for Fulham to move into 6th place, but for me to bag the 11th ground off my 92!
The warm-ups and team announcements complete, the announcements packed full of various sponsors; match day, kit, ball and every player had a separate individual sponsor, which I've never heard before, and the game was ready to begin. Rotherham started the brighter of the two teams, belying their position propping up the table, as Fulham's nerves appeared to have kicked in again. Fulham slowly grew into the game, with two chances missed by Soné Aluko. Prior to the game, while watching the Merseyside Derby on TV an older Fulham fan had laughed after Kevin Mirallas ran past 4 then blazed over, 'at least it's not just Soné', he observed.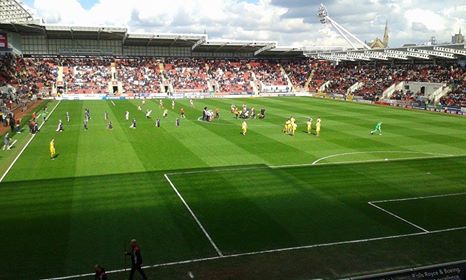 The half-time whistle snuck up on us, given there was no scoreboard or clock anywhere in the ground, despite Rotherham having big screen, which showed adverts throughout the whole game; they do like a good advert. As the second half wore on Fulham's players and fans got increasingly nervy. Chris Martin, the ever-unpopular on-loan Derby striker, missed an absolute sitter, drawing a volley of obscenities from the crowd. On a personal level I am a fan of Martin and we were especially impressed by how polite he was after the game with the fans.
On what felt like around the 70-minute mark (BBC Sport tells me it was 66), Tom Cairney released Scott Malone down the left. Malone's cross led to blocked shots from Johansen and Cairney. But it was kept alive by Martin, where after Floyd Ayite's shot was scooped off the line, Aluko was on hand to blast home from 2 yards. The Fulham end, wonderfully loud all game, erupted.
The remaining 20 or so minutes passed in what felt like the same length of time as the prior 70, as Rotherham blazed chances over the bar and had a couple brilliantly blocked by Ryan Fredericks. As the board went up for three minutes of added time, the Cottagers' faithful finally burst in to 'We are going up' and 'We're on our way'. The final whistle was met with a further roar. By this time most of the Rotherham fans had seen enough and had left in the final few minutes.
We slowly made our way out of the ground and round to the players' entrance/exit door. We only had to wait for 20-odd minutes before the Fulham players appeared. They were all very obliging, signing programmes and taking photos with a number of fans who had stayed behind like we had. For this I greatly thank the players.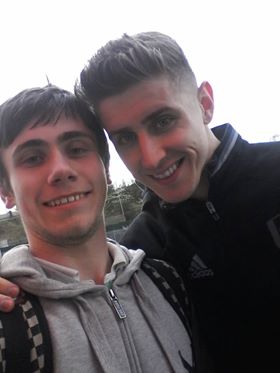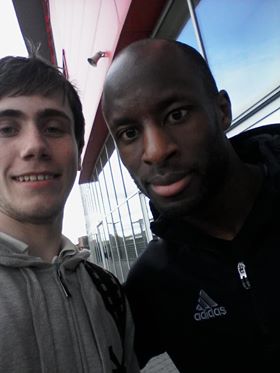 Atmosphere 1/5: The Rotherham fans hardly made a noise all day, although I am sure that it would have been a much better atmosphere if the team was doing a bit better. Fulham fans were excellent.
Location 5/5: Nice short walk from the station, easy to find as you pass it on the way in!
Value for money 5/5: Game wasn't great but for £8 each for an under-18 ticket has to be 5/5 at Championship level.
Pie Rating 3/5: Standard Pukka pies fare. Not spectacular but still edible.
Pint Rating n/a
Programme 3/5: A decent offering, with lots of interesting features, but no real profiles of either team like you normally find.
Character 2/5: It's a modern ground and while a very nice one, it doesn't offer much I couldn't find elsewhere.
Stewarding 4/5: Fairly limited stewarding and those I saw were friendly and helpful. They dealt fairly swiftly with a Rotherham pitch invader and a Fulham fan who seemed to accuse his fellow fans of being fascists.
Overall 3.5/5
You can keep up with Dan on his journey to the 92 club through his the92.net profile and on Twitter @dan2000smith.
If like Dan you fancy blogging about your experiences doing the 92 league grounds drop us a tweet to @the92dotnet.
Have you made the trip to the home of the Millers? If you have you can the New York Stadium to your 92 or if not plan your trip there: