Blogger pb1uk reviews the first game of a 2-in-1 weekend, a trip to Stadium MK for the visit of Colchester United.
Ground: Stadium MK 47/92
Game: Milton Keynes Dons 6-0 Colchester United
Date: 29/11/2014
I wasn't too sure what to expect when visiting Stadium MK. I had heard mixed reports of the ground including a lot of negativity, but I went with clear head to form my own opinions. Needless to say it in was stark contrast to my previous visit to the town, seeing a game against Yeovil Town at the National Hockey Stadium. I was greatly impressed with Stadium MK – it is a Premier League quality ground stuck in League One – but not for long if they continue in the same vein!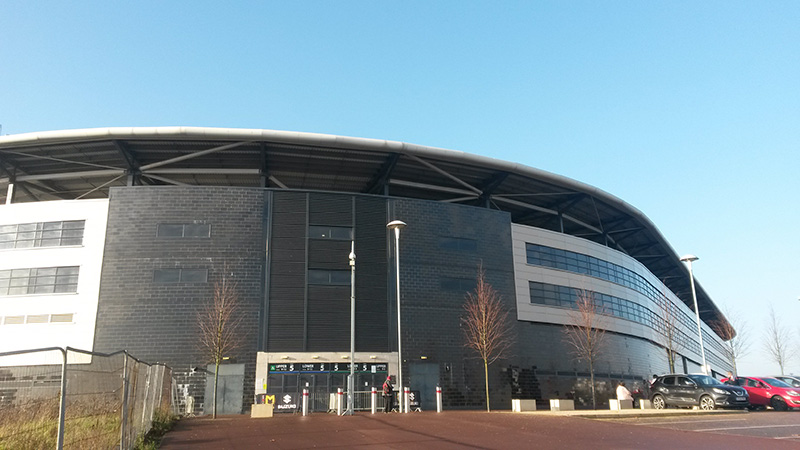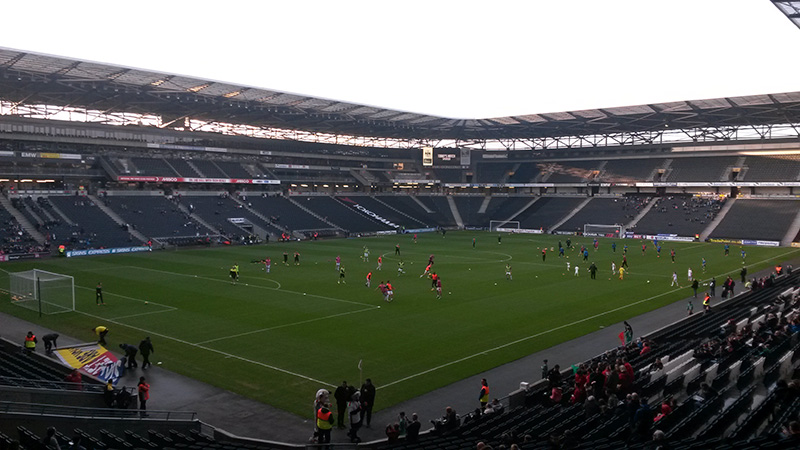 I really like the way the ground has been designed. Most modern stadia are single tier bowls, however Stadium MK is different, having an upper and lower tier. I was also impressed with the open concourse – everything seemed very well thought out and planned. There are separate bar areas as well for those that want to partake in a prematch pint and plenty of space for fans to mill about. As in all new grounds the view is always decent, but the seats were padded! Usually the corporate 'posh' seats are, but at Stadium MK they all are which was a nice surprise.
The game itself didn't disappoint. I'd seen MK Dons play at Port Vale in the FA Cup a few weeks back and they were impressive winning 4-3 and this time out they took it to a new level. The visitors started well and inside the first few minutes were inches away from taking the lead. A cross from the right got a touch from MK Dons centre back Kyle McFadzean, leaving home keeper David Martin a spectator as the ball bounced off the post and away to safety. From then on though it was one way traffic. MK Dons opened the scoring after 10 minutes, youngster Deli Alli, linked with the Premier League big boys picked the ball up, skipped past a challenge, made space and from 25 yards powered a shot low into the bottom left hand corner.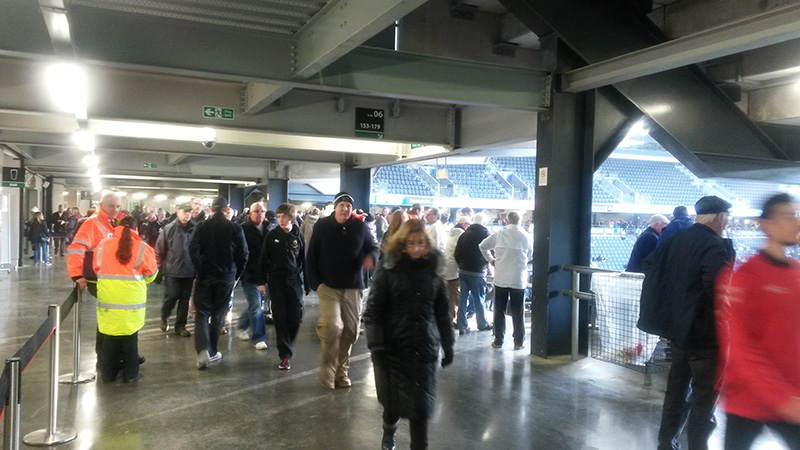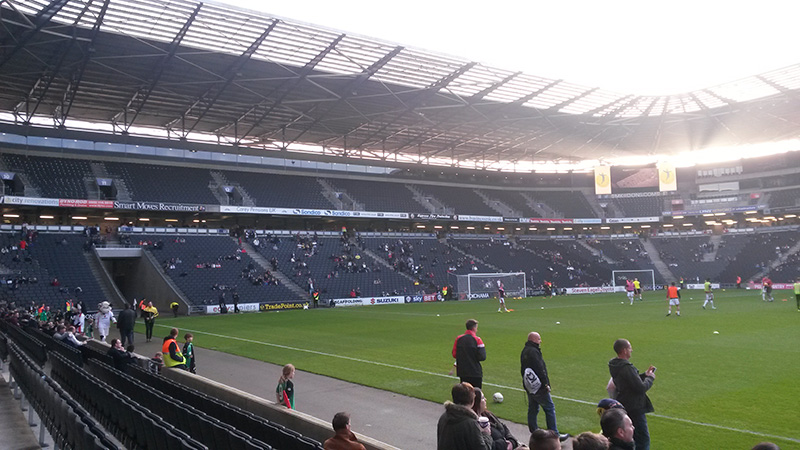 The hosts continued to dominate. After 37 minutes a neat through ball from Carl Baker was cooly chipped over visiting keeper Sam Walker by Benik Afobe. On the stroke of half time Afobe got his second, heading in after Walker parried a stinging shot from Baker. Into the second half and the Arsenal loanee had his hat trick. Minutes after blazing over he burst through the centre of the Colchester defence to claim the match ball. The striker still wasn't finished – as he broke through the visitors back line again only to be brought down by Birmingham loanee Will Packwood. The defender received a straight red and Afobe handed the ball to Ben Reeves who made it 5 powering the penalty into the top left hand corner.
The best was left to last though as the home side sealed a club record win in the 90th minute. Full back Lee Hodson, usually a right back, but playing on the left was allowed to run with the ball, he cut in on to his favoured right foot to curl a delicious shot in to the top right corner from 20 yards. It was the icing on the cake of an impressive performance for the home side. I have seen MK play twice in a matter of weeks, seeing 13 goals, 10 scored by them, with Afobe netting half of them – in full flow they are certainly a pleasure to watch!
Atmosphere 3.5/5: Honestly I was expecting none, but was pleasantly surprised. The home fans behind the goal made a real effort to stand up and sing, which was great to see and hear. The noise from the away end was pretty much non-existent – which i wrongly assumed would have been the other way round!
Location 4/5: Easy to find, and being a new development in a newish area it is all thoroughly well planned. There was plenty of free parking on nearby industrial estates that meant an easy get away. Not sure if there are any pubs nearby but there are plenty of places to eat around the ground.
Value for money 3/5: £20 for a ticket at League One level is quite costly, but I suppose nowadays that is par for the course really. With the display MK Dons put on today I can't really complain!
Pie Rating, Pint Rating and Programme n/a
Overall 4/5: A thoroughly enjoyable experience in a very impressive stadium. It's certainly geared up for bigger and better things – if the team keep playing like they have then they'll be going places this season – maybe I should watch them every week!
You can keep up with Peter's 92 on his the92.net profile here. Have you ticked Stadium MK off your 92? Rate / slate and review your experience here www.the92.net/ground/stadium-mk or alternatively plan your trip there using our away day planner www.the92.net/plan-your-away-day/stadium-mk.
Do you fancy blogging about your experiences doing the 92? If you're interested drop us a tweet to @the92dotnet.