We all know doing the 92 is a marathon and not a sprint. Many won't complete the epic journey which requires time, dedication, a lot of hard work and planning – imagine now having to do all that from abroad. Well that's exactly what Norwegian Liverpool fan Einar Kvande has done! We caught up with Einar to find out more about his remarkable achievement.
Groundsman: Firstly congratulations on completing the 92! Which was your final ground and did you commemorate the occasion?
Einar: Thank you very much! Kenilworth Road was my final ground, 26 years after I watched my first football match in the UK. I took a few extra photos, and also got a mention in Luton Town's matchday programme for the match v Wycombe Wanderers, on the 24th of March. I also gave it a mention on my Facebook account. Apart from that I treated it just as any other match, though I had a nice Turkish meal after the game!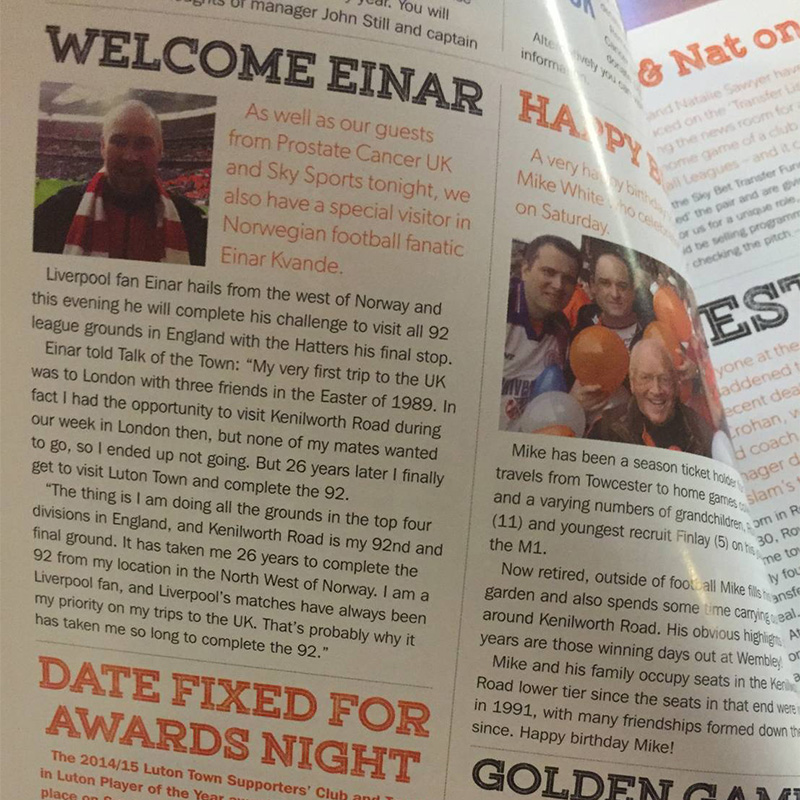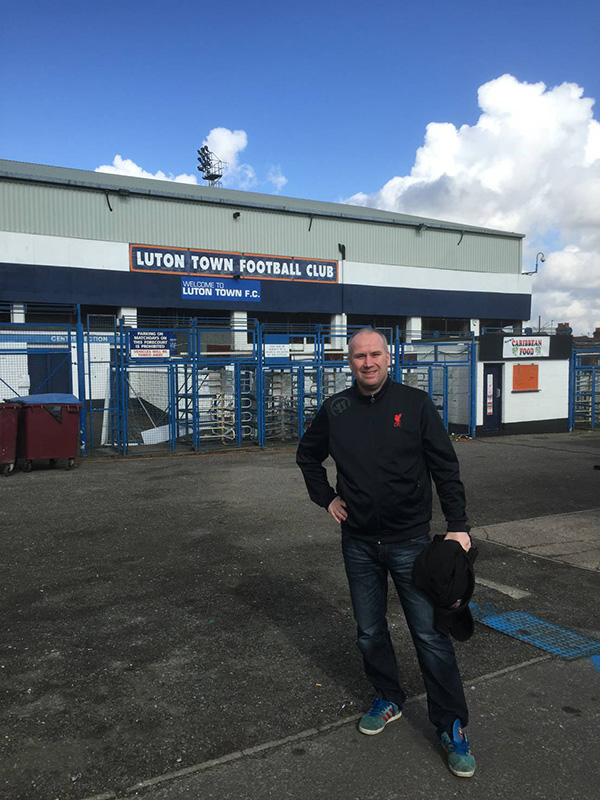 GM: Joining the 92 in itself is a remarkable achievement, but to do it living abroad just adds a whole other level to it, firstly how have you managed it and secondly have you ever questioned why you were doing it?!
Einar: Well, it has taken me 26 years, 127 trips to the UK and 389 football matches to complete the 92. I guess this feat could have completed in a much shorter time frame, but I am first and foremost a Liverpool supporter, and as such the focus of my travels has been to watch as many Liverpool matches as possible, not visiting as many new grounds as possible. Hence the long time it has taken me to complete the last few grounds. My first game in the UK was Wimbledon v Middlesbrough at Plough Lane on the 25th of March 1989. My plan was therefore to finish off with watching AFC Wimbledon at Kingsmeadow as my final ground, to go "full circle", but Kingsmeadow ended up being ground number 91 because of logistical reason/fixture reasons.
I have managed it mainly because I got a couple of very good mates in Liverpool, who have let me stay in their homes for free on numerous occasions, and who have also taken me to several matches all over the land in their cars. My occupation as a football journalist has also been helpful, as some of my trips have been paid for by my employer.
Of course you question why you are doing it at times, but I reckon a love for the beautiful game and a love for traveling and seeing new places is the basis a groundhopper thrives on.
GM: Do you follow football in your home country and is there a similar feat of groundhopping in Norwegian football?
Einar: I used to play football myself for 20 years in Norway. I spent most of my time playing in the 3rd division, but have played in every division from 2nd to 6th level. So I have visited quite a few grounds in my native country as well, and have been lucky enough to have played at some big stadiums as The Ullevaal (the national stadium), Rosenborg's Lerkendal Stadium and Molde Stadium (their old ground). I do know some groundhoppers are doing Norwegian grounds as well, but I don't think it is as organised as in the UK with the 92 Club.
Groundsman: How do grounds in the UK compare with those in Norway?
GM: Grounds in the UK tend to be bigger and better, although we have got a fair few new modern grounds in Norway as well over the last ten years or so. A lot of the top teams in Norway have either built completely new grounds, or renovated their old grounds, in a similar fashion to a lot of the big clubs in the UK.
GM: Back to your 92 – what was the first ground you ticked off your list?
Einar: As mentioned earlier, Plough Lane was my first ground. But as it no longer exists, and as such is not a part of the 92 any more, Tottenham's White Hart Lane was the first I visited of the current 92, in a match versus my beloved Liverpool on Sunday March 26th 1989. Liverpool won the game 2-1.
GM: Which ground was your favourite overall over the course of the journey?
Einar: Anfield for obvious reasons. Of my 389 matches in the UK, 242 have been matches with Liverpool as one of the teams, and I have watched Liverpool at Anfield on 163 occasions. Among them the famous Auxerre-game in 1991, and both Champions League-semis v Chelsea in 2005 and 2007. I also have good memories from big games v Real Madrid and Barcelona amongst others.
GM: And your least favourite?
Einar: Old Trafford, also for obvious reasons. I have never liked the place, even though I've been there for several famous Liverpool victories. The place just has a very unfriendly atmosphere, and you never feel welcome and comfortable there.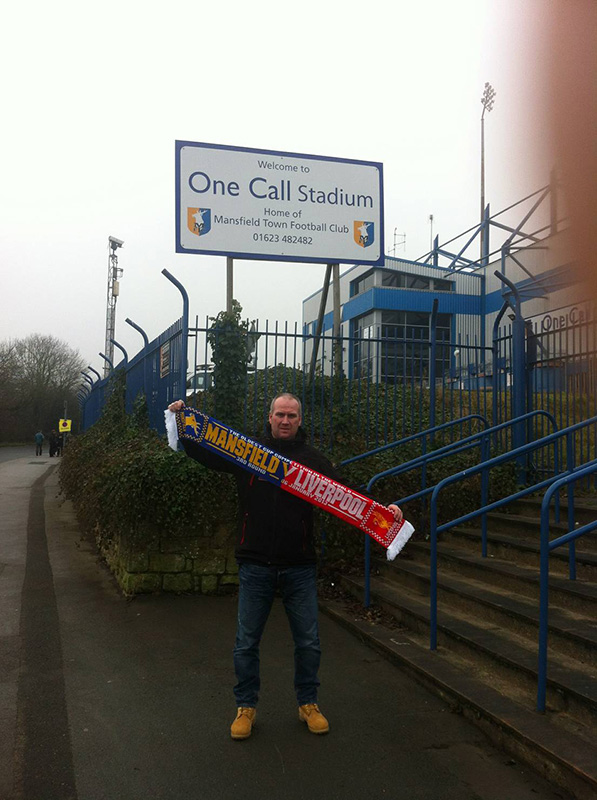 GM: What are the lasting memories of your travels?
Einar: There are too many to mention. There have been lots of funny episodes and I have made several friends for life during my travels. But you also tend to remember when things go completely wrong and you have to visit places twice for different reasons, like the floodlight failure at Dagenham and the match at Aldershot getting called off at half time because of fog. I also remember taking the train from Liverpool to Portsmouth in the early 90's only to find out the match v Watford (I think it was) had been called off because of a frozen pitch. Luckily I got in at half time for the match between Walsall and Wrexham at Bescot Stadium on my way back to Liverpool! I have later watched a full game at Walsall, as I did not feel comfortable with only having watched half a game there!
GM: Finally, as we all know the 92 can sometimes only last a season if relegations for League 2 and promotions from the Conference go against you, in an ideal world who would be your 2 to up and down at the end of the season.
Einar: Actually I want teams I haven't visited to get promoted from the Conference, so I can have new league clubs to visit next season as well. I have already visited Grimsby Town, Bristol Rovers and Macclesfield Town when they were in the league, so I guess I want Barnet to win the Conference this year. I have already visited Barnet at Underhill, but they have a new stadium now, so if they get promoted I plan to visit that one. I also hope one of Forest Green Rovers, Woking or Eastleigh can sneak through via the play-offs, as I have not visited either of them.
Thanks to Einar for taking the time to speak to us. You can keep up with Einar and his continuing groundhopping exploits on Twitter @EinarKvande. If you've just discovered the92.net you can join us, create your own 92 to keep track plus rate and review the grounds as you go and best of all it's all free – here's where you can join www.the92.net/register. You can also plan your away days with us using our away day planner here www.the92.net/plan-your-away-day.