It was a big day for blogger Michael Pilcher in North London. The Gills fan from Kent made the trip to the Hive Stadium in what turned out to be a very special day…
Ground 92/92: The Hive, Barnet
Barnet 0 – 1 Luton Town
08/04/2017

This was it: time for the big one. A journey that started in August 1995 at Priestfield, a casual hobby that turned into an obsession about six years ago, was now about to culminate with a trip to Harrow (or possibly Edgware; certainly not Barnet). Just shy of 24,000 miles; eight 'lost' grounds; 280-ish goals and thankfully just the six nil-nils; it was all leading to this and the one number that mattered most: Number 92.
And so, the end is near
A lot of people had asked if I had been saving a 'big' trip for last. Being practical I wanted to start at the top and work down to factor against relegations to non-league, most of the grounds I've done this season have been in the lower two league divisions. Additionally, way back when I first had the bud of the 92 Club idea and I asked someone who had done it for advice, their response was something that had stuck with me. Save the ones closest to home for last; it can be daunting completing the 92 when you're left with a lot of long journeys. And so rather than having a trip to a much-loved classic of the UK stadia scene, an Old Trafford or a Villa Park, I was off to a fairly new addition: Barnet's The Hive.
Completed in 2013 and a league ground since 2015, it was a stadium I'd very nearly ticked off in November. (In the end thanks to the much-derided EFL Trophy format it turned out to be a dead rubber and decided it wasn't worth £10, as did many others: the attendance a paltry 393). I had been to Barnet's former Underhill home ten years ago for a FA Cup game, a pretty dire day where Gillingham lost 2-1 to a club a division below. Underhill would have been a terrific number 92: a terrific little ground with plenty of charm and character, as well as the quirky and noticeable slope. Not taking my camera that day is a source of ground-hopping regret.
My 91st ground was way back on Valentine's Day, so there have been five Barnet home games before this one. I could've gone the Saturday after Valentine's, got myself up to 92 and been done with it. Naturally I've been chomping at the bit to get my last ground done, but it just seemed too easy: my journey to the 92 has involved a great deal of plotting, planning and perhaps most of all waiting. Besides, after ticking off fifteen grounds already this season (plus one re-visit), my credit card needed a rest. I thought it would be better to pick a game in the none-too-distant future and build up to it. This Luton game seemed ideal – both clubs were in or around the play-offs (at least they were when I picked it back in February), the away team close enough geographically to take a half-decent following, and it was a matter of days before my birthday. Perfect.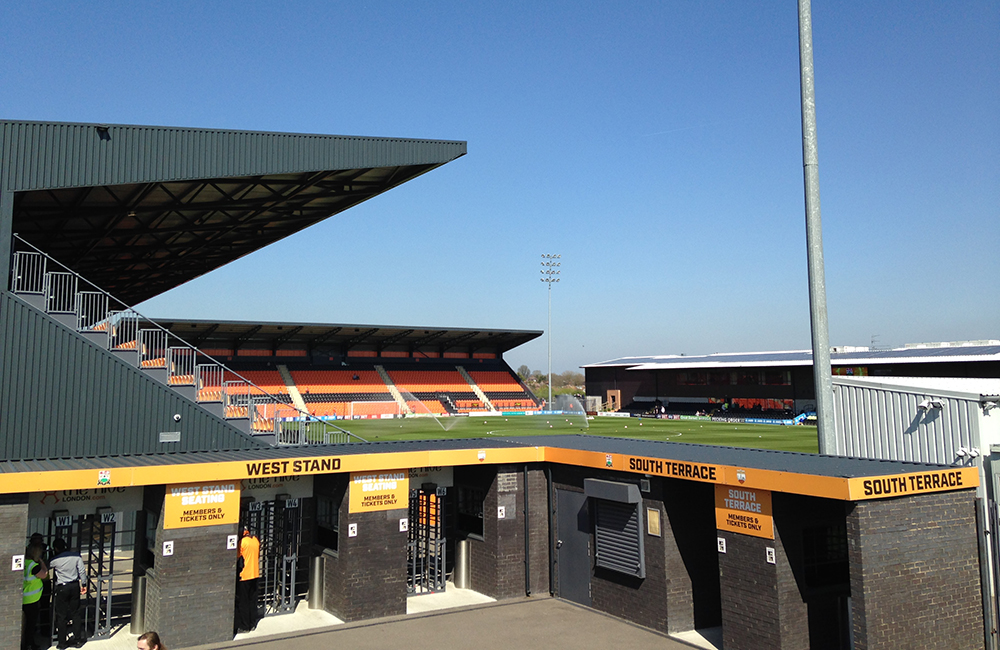 A great bunch of lads
On my quest I've got into the habit of going to games on my own, especially more recently – a 'neutral' game in another part of the country with no vested interest is generally a tough sell – so it was great to see a group of mates coming together for this. Six faces from my ground-hopping past and present tagged along for my seminal moment. Amongst them was Adam, who joined me on a 2am £4 Megabus from Newcastle and for a 2-in-1 weekend in Bristol & Yeovil; Charles, who went with me to a number of random games in between 2011-13 before he moved to Eastbourne; Modders, who has saved me a good deal in petrol money by driving me around, accompanying me on at least ten trips going back to 2005; and Ben, who joined me on a roadtrip to Exeter and for a midweek trip to Palace. Even 'The Corporal' Crumps, who I was best man for and who has accompanied me to a few Gills games, came along for only his third ever ground. Shout out to Davey B for joining also. Heroes all.
There was to be disappointment delivered six weeks before the trip though after I emailed the club to ask if I would be ok to go pitch-side before the turnstiles opened to get some photos. I'd done the same at Bradford and they couldn't have been more accommodating, so I was hopeful Barnet would come through – if a club with 18k attendances are ok with it, why not one who get 1.5-2k? Barnet though replied to say they received "a large number" of such requests, and so don't permit any of them… but they did 'offer' me the chance to book their Hospitability Lounge packages from 'just' £570.
They could keep their prawn sandwiches – never being one to turn down an opportunity to stand at a game, I was looking forward to at least being able to end my journey on a terrace. The club also said in their reply that they would do some pre-game and half-time announcements for me. Unbeknownst to me until after the game, three of the six of those coming along had also, independently of each other, done the exact same thing. So that's four people that had asked for a shout out for me, all of whom received positive replies… did Barnet read do any announcements for me? Nope. Poor form, Barnet, very poor.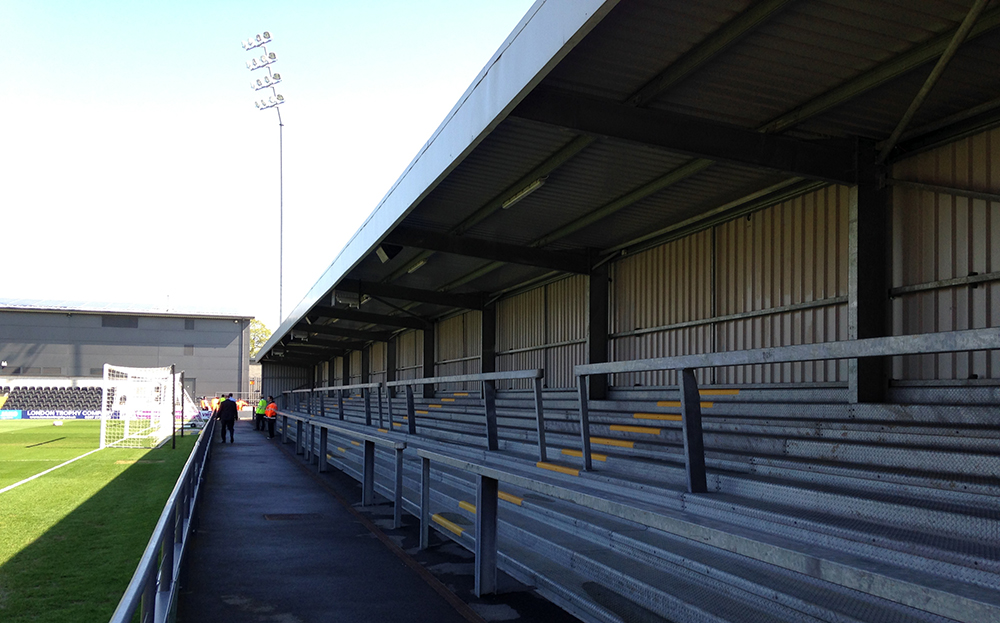 Oh Curtis Weston
My favourite Gillingham player is/was midfielder Curtis Weston. I'm not entirely sure when I became such a fan, but it was definitely cemented on Boxing Day 2008. I'd travelled down from Lancashire to Kent, spending hours stuck in motorway traffic. Forking out for the M6 Toll did me no favours time-wise, and I arrived on the 30 minute mark, just in time to see us go 1-0 down. All was looking lost, I had rushed back for nothing…that is until the 84th minute when Weston let fly from 30 yards, equalising with an outrageous strike into the top corner. One of only two players I've ever deemed worthy of getting their name printed on a replica shirt, I was disappointed when he left Gills in 2012. He was soon snapped up by Barnet where, five years later, he still plys his trade.
Most of my friends were aware of my Curtis love, so mainly for their benefit I dug out my custom-made Cult Zeros t-shirt for today's occasion, a t-shirt which adorns Weston's face and the caption "Oh Curtis Weston, I just want to be you" – a chant we used to sing to him at Priestfield to the tune of 'You're just too good to be true'. I was hoping he would be involved and – for a real fairy tale finish to my 92 – score with one of his trademark screamers. He started and captained the home side, and (spoiler alert) whilst there were to be no long-distance goals, something even better happened… More on Curtis later.

Swarming to The Hive
After getting to Canons Park – a mammoth trek on the tube, practically at the end of the line into North London – we made the short walk over to an Irish-themed bar called Moranos. With the sun shining it was an ideal day for a few pre-match drinks in their beer garden. What the internet didn't tell us was this was an away-fan pub, and as it started to fill up with Hatters fans, it led to some of our party being refused entry (admittedly they did foolishly tell the bouncers they were neutrals). We then headed down to the ground – a very pleasant walk through some playing fields, where Barnet train – bought our tickets and sought out a bar.
We approached the South Stand and, before we went in, thought it best to check with a steward that there was a bar inside the stand. He replied affirmatively, so we scanned our tickets and went in. What the steward had failed to mention was that although there was technically a bar, it was the only one in the home ends that didn't serve alcohol. With some of the group parched after being refused into the bar, we asked another steward if one of us could nip into the adjacent stand to get a round of (alcoholic) drinks; if they could do it for us; anything. They refused, and as we wouldn't be allowed back in if we left, there we were an hour before kick-off in the blazing sun with water and soft drinks our only options. The long await did allow me to get my photo with club mascot Mr Bumble at least.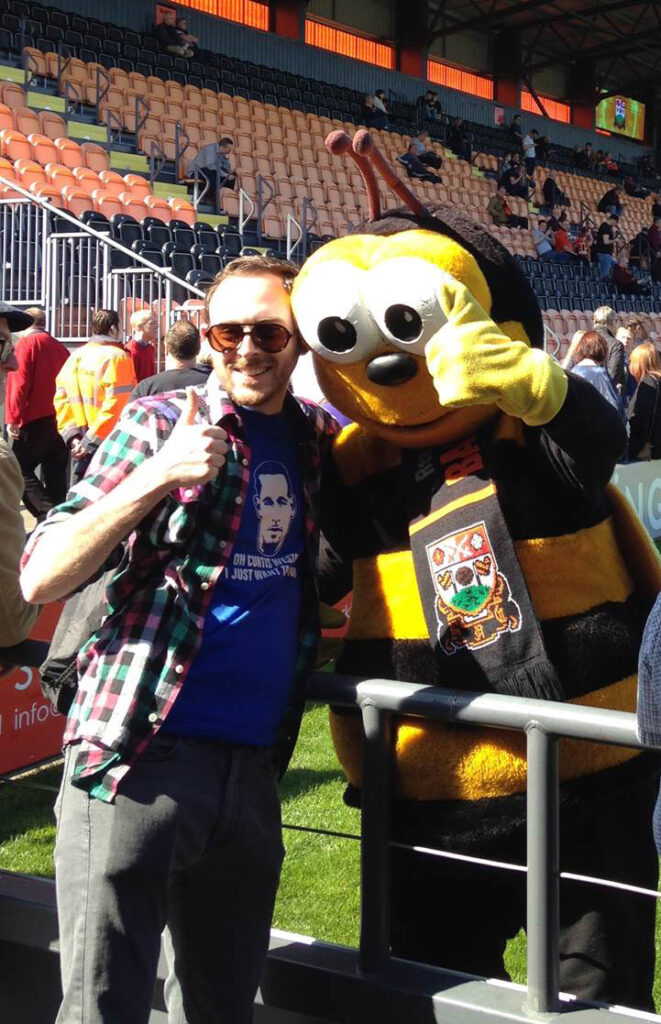 The Hive itself looks functional rather than eye-catching. The orange Perspex at the back of the North & West stands was a great idea, allowing light through and it played nicely on the clubs colour scheme along with the rows of black & orange seats. The East Stand though is basically just an office building (incorporating a gym & restaurant) with five or six rows of seats stuck in front of it, the large exposed wall behind rather plain looking and you feel the club could easily do something here.
My crew and I were housed in the small South Terrace which seemed quite narrow and wasn't particularly deep. You can apparently see the Wembley arch over the top of this terrace from the opposite end. With the rail line running next to The Hive on a raised embankment it at least made a slight difference to other grounds, watching Underground trains regularly chugging past. The facilities are good and it is a tidy looking ground, still looking 'fresh' with it being relatively new, yet oddly it felt a tad temporary, as though the stadium could at any moment be flat-packed back up and transported somewhere else.
The Match
High-flying Luton had much more to play for and with Barnet practically 'on the beach' already, you'd have thought the Hatters would have been more up for this. It was Barnet who were the better side in the first-half though, creating the better chances. It was an open game with John Akinde having the best early chances; twice he was played through one-on-one, twice he failed to beat visiting keeper Stuart Moore. The second looked a certain goal as he bore down on goal but he woefully mishit it, scuffing it straight to Moore: not what you'd expect from the division's second top scorer. The first-half ended goalless, by no means a classic but with enough going on to have meant it wasn't a complete write-off.
Barnet continued to create the best chances after the break. Mauro Vilhete was denied on the hour mark, the 5ft 5" Portuguese winger's header looking destined for the top corner until Moore clawed it out. Within a matter of minutes the visitors took the lead against the run of play, the ball falling kindly for Olly Lee – son of former Newcastle midfielder Rob – to slot home. Delight for the visiting fans, who outnumbered the Bees 1687 vs 1626. There wasn't a great deal of incident until the final few minutes when Barnet threw the kitchen sink at Luton in an attempt to grab an equaliser. Akinde headed wide from eight yards, his fourth chance of the game going begging, and Weston's shot from an acute angle was comfortably saved. Despite Barnet sending their keeper up for injury-time set-pieces it finished 1-0 to Luton, a vital three points on their quest for automatic promotion.
Big in Scandinavia
As a couple of the group had arrived late and missed the first half an hour, I thought it only right we all grab a post-match drink together at Grazioli's bar. Finally, some three hours after we first tried to get a drink, we got to sample the alcoholic delights of Barnet. We noticed a stage had been set-up inside the bar, covered with police tape; this wasn't some bizarre art installation, but the scene for that evening's Player of the Season awards. As we enjoyed a few drinks after watching the Grand National, before we knew it was 6:15 and we were told we were only fifteen minutes away from the POTS awards, so we decided to grab another and stick around.
It was certainly a very low-key event, and the 12 awards were handed out in under 20 minutes. John Akinde took home four of the gongs including the main one and, bizarrely, Swedish Player of the Year. It seems the Bees have a big Scandinavian following, as just after Akinde won the Swedish prize, Mauro Vilhete stepped up to pick up Norwegian Player of the Year. Very odd, but the awards were all good fun, and with local kids helping the chairman to hand out the awards there was a great community feel. With five games (two at home) still to play, it seemed very early to be hosting them, although Akinde seemed a shoe-in anyway – he has 23 goals for the season, his nearest challenger Curtis Weston on 4.
Grandstand Finish
Speaking of Weston, then came the crowning glory of my 92: the absolute perfect end. The others egging me on, Adam especially – "this is your only chance to meet him" "you'll always regret it if you don't" – I sought out Curtis Weston sitting at the back of the room. After a deep breath I went over, introduced myself and asked for a photo. Thankfully, he was happy to oblige (I should say that at this point the Weston T-shirt was covered up by a shirt). We spoke briefly: a chance he had saved near the end that he felt he could have connected with better, I told him I was a Gills fan and gabbled something about all the screamers he scored for us.
I was about to walk away content with the photos before Adam piped up with "Show him your t-shirt!"; I couldn't really say no, so tentatively did so; thankfully, far from calling over security, Curtis seemed to think it was great. He took some photos of it on his phone – he said he remembered the chant it referenced – and nudged some of his team-mates to point it out; Jamal Campbell-Ryce didn't seem at all impressed. We posed for some more pictures, I shook his hand again and that was that. A small exchange but one that I've replayed countless times in the following days with a giddy smile on my face. Turns out footballers are indeed decent normal people and not the pedestal-based Gods I'd always thought them to be.
And that was that. Finishing off our drinks, we headed back home, the long tube ride back to Victoria and then back to Kent. Once back in Maidstone I headed to the Cellars Alehouse in town, owned by the family of my friend James Spencer who died in 2013. James accompanied me on a good few trips – I can still remember him silencing the Gills away end at Crawley after one of the lamest heckles I've ever heard – and was a terrifically funny, intelligent, generous bloke. Gone but never forgotten: here's to you, Spence.
It was a pretty surreal day, all in all. It still doesn't quite feel 'real' somehow – I'll be happy once the official 92 Club tie is my possession – and, while there's a certain amount of disappointment that the journey has come to an end, there's also a feeling satisfaction and pride. No longer am I 'doing the 92': I can now say that I have, finally, done the 92.
Atmosphere 2/5: With away fans outnumbering home fans, it was the Luton boys making all the noise. Barnet had nothing to play for which showed both on and off the pitch.
Location 3.5/5: A pleasant walk through playing fields, the ground is minutes away from a tube station with a handily located row of shops and takeaways. Just the one pub nearby though.
Programme 3.5/5: Solid effort. Who else would this edition's cover star be but a certain Mr.Weston.
Pint 4/5: The club bar, Graziolis, had a decent range of beers and ciders as well as spirits. On a hot day like today, a G&T was exactly what was needed.
Stewarding 3/5: Misled us on the nature of the bar as explained above. Boo.
Character 2.5/5: The Hive is fairly striking but mainly because it's half-orange. It's quite boxy, and would have been nice perhaps to see some features playing on the stadium name: some hexagonal, honeycomb shapes maybe.
Value for money 3/5: £19 for terracing is probably the norm these days. For a game like today with nothing to play for, some sort of ticket offer wouldn't have gone amiss.
Overall 3.5/5: Whilst not maybe the most spectacular of grounds, The Hive will now always hold a special place for me being the ground I completed my 92 at. Many say that everything happens for a reason and, after a couple of false-starts when it came to visiting Barnet's new ground, the fact my last act of doing the 92 was getting my photo taken with my footballing hero was absolutely perfect.
You can take a look through Michael's 92 here and follow him on his future groundhopping adventures on Twitter @michaelepilcher. Look out for Michael's joining the 92 club interview coming soon!
If like Michael you fancy blogging about your experiences doing the 92 league grounds drop us a tweet to @the92dotnet.
Have you made the trip to the home of the Bees? If you have you can add the Hive Stadium to your 92 or if not plan your trip there: