After 17 months of being ripped out the heart of their city Coventry made a welcome return to their home, the Ricoh Arena. We catch up with Sky Blues fan and writer of the blog 'A Club Without a Home' Tom Murden to get his thoughts on the recent events.
Groundsman: First of all it's great to see Coventry return to the Ricoh and what an occasion it was – how did it feel from a fans points of view?
Tom: It can't be topped; it will go down as one of the greatest nights in our long history! I hope that the last year was an unfortunate anomaly that won't be repeated in the future. It shouldn't have happened in the first place, but it would be folly if the Football League let it happen again. But returning last Friday reminds you how emotional football can get!
Groundsman: What was it like to have your team playing their home games 34 miles away at Sixfields?
Tom: It was a complete disaster! A football club always has been and always will be at the heart of any local community. Arguably the Sky Blues pull in more fans as they are the biggest club in a substantial area, so the considerable population in the East Midlands were left stranded by their club.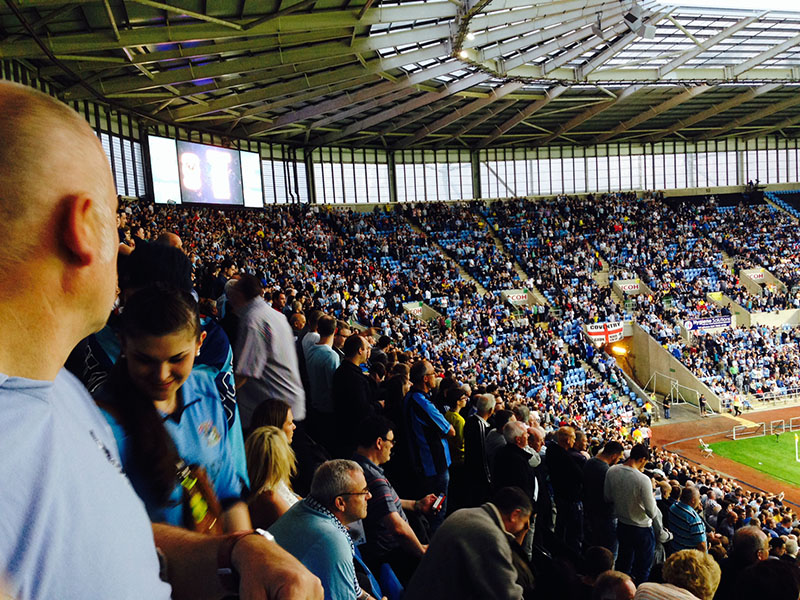 The worst part about it was not the traveling though, it was the fact that those who cherished the club the most – the fans – had nothing to do with the move away and there were divisions amongst the fans based on who went and watched the games and who those who chose to stay away. It is an experience that no club should ever go through!
Groundsman: Did you make it to any/many games there?
Tom: I did – and I have no hesitation in admitting it. I have never lived in Coventry but my dad grew up there. We used to travel up to games all the time, and we even had a season ticket for the first three seasons outside the Premiership. My point is that I have always travelled a considerable distance to see Coventry play and Northampton was actually closer. It was far from ideal and I never enjoyed it – even when we were playing some of the best football I have ever seen us play!
I chose to go inside rather than sit on the hill because I felt it was my duty to support the manager and the players. Having said that, I completely understand why people opted to sit outside on the hill. I certainly don't feel any resentment and I hope there will be no antagonism between the two groups now that we are back.
Groundsman: It was reported in the previous deal the club received none of the match day revenue – is the new deal better from the clubs perspective?
Tom: It is better than it was, but it can still be improved. We receive more money than we did before through advertising and sponsorship, but we will never receive the full gates until – and if – we own the ground we play in.
Groundsman: How are the clubs finances looking the moment?
Tom: I don't think we'll ever know the full extent of it! It is going to take a long time before we restore our finances to the position they should be in. This didn't help with the revenue that was generated from our home gates last season. However, we did get £3 million for Callum Wilson and we have reduced our wage bill considerably.
The best way to restore our finances will be to stick with the same structure we seem to be abiding by at the moment: produce home-grown talent whilst remaining competitive in the League. It has worked for Southampton, it can work for us!
Groundsman: With the return to the Ricoh and hopefully a return for some of the fans who where previously staying away what our your expectations for the next few years?
Tom: The future is bright! Well it can't get any worse, can it! We are lucky in the sense that our academy continually produces high quality players, which means we have players of a high standard without forking out for huge wages or transfer fees. Callum Wilson is a key example, but players like Daniel Sturridge also came through the Coventry academy.
Steven Pressley has signed a new four-year contract, which was great news for the club. Up until Pressley, we had been through ten managers in as many years! I believe consistency is the key at this level, and keeping Pressley on board will allow Elvis to complete the job he has started. He is a manager with great vision and if the club get behind him and things (finally) go our way, we could be making our way up The Championship in the next four years!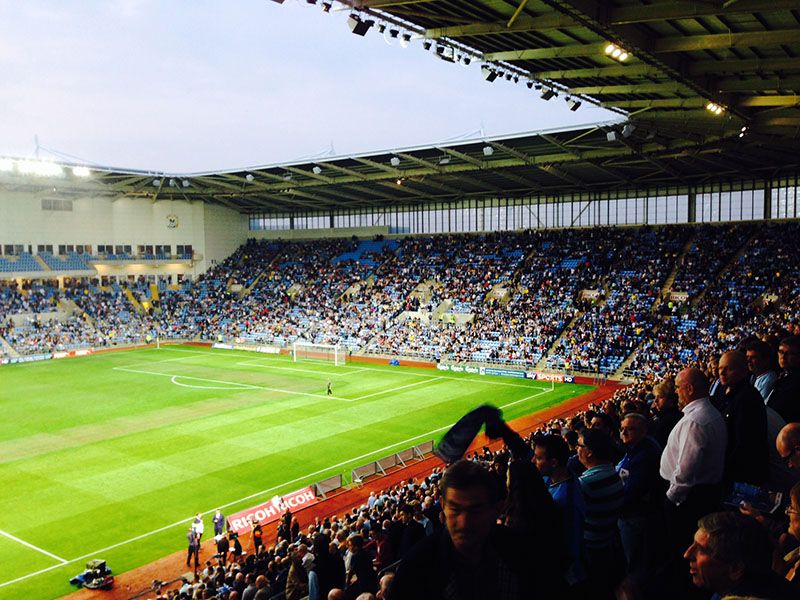 Groundsman: Finally, we can't let you go without finding out a bit about your 92 – how many of the 92 league grounds have you ticked off?
Tom: Okay, so I can't give a straight answer as I used to visit grounds as a kid all the time – but a sizeable amount of those no longer exist. Toting up a rough number, I am going with 30 grounds. That's pretty modest considering I support two teams in the football league (Wycombe is my home town).
Groundsman: So far which grounds have been your best / worst and why?
Tom: It is hard to differentiate between my favourite ground and the ground I had the best time at. The facilities at the Ricoh are amazing considering our current position in the League, but the fans need to work on generating more atmosphere.
I think Molineaux is probably my favourite. It is a great ground and the atmosphere was electric there for the game against Coventry last season. It's also great because it is inextricably linked with its illustrious history.
My least favourite is The Kassam. A ground with only three sides is inexcusable – and it is in such a vacuous location too!
Thanks to Tom for taking the time to speak with us. You can follow Tom on Twitter @thomas_murden and visit his blog 'A Club Without a Home' here. Have you been to the Ricoh Arena? Rate / slate and review your match day experience here or if you're thinking of going, plan your visit with our away day planner.
If want to blog about your groundhopping experiences, memories or just want to rant about something drop us a tweet to @the92dotnet.