Blogger Michael Pilcher signs off 2015 with a trip by train to the home of the Railway men.
Ground: Gresty Road (Alexandra Stadium) 76/92
Game: Crewe Alexandra 1-1 Fleetwood Town
Date: 19/12/2015
Having married a Northerner, in the interests of fairness every other Christmas is a Northern Christmas, spent with the in-laws in Lancashire. Typically with the festive period being packed with fixtures it gives the benefit of offering ample opportunity for new grounds to be ticked off: this time two years ago I got five ticked in just over a week. Yet despite having 10 days up in Preston for Xmas 2015, due to the way the fixtures fell and having plans for Boxing Day I would only get one ground ticked off this time around. Since any ground I wanted to visit would need to be by train, it left me a decision – do I spend the best part of the day travelling somewhere for my quest or pick somewhere relatively close by?

My original plan was to do Carlisle, but due to the unfortunate flooding of their ground they were playing their home game in Preston this weekend. My second choice was Rotherham v Hull, but unfortunately for me Hull sold their away allocation out which meant Rotherham immediately put a restriction on home tickets – any new registered accounts would be cross-referenced with Hull. Having pre-purchased my ticket for a visit to the KC in October I was registered with Hull, so Rotherham thought I was a Tiger sneaking into the home end. This left Crewe as the only realistic option; such was its convenience by train from Preston I had been aiming to save it towards the end of my 92, but needs must.
Crewe is a place that has interested me somewhat growing up – firstly, as a child, (*geek alert*) it was the place the trains got sent from/to in Thomas the Tank Engine (for years I assumed Crewe was a fictional place, like Sodor). Secondly, as my interest in football developed, here was a club that seemed to have a gift for picking up top class youngsters and selling them on for profit. On Championship Manager, any players you signed from Crewe generally turned out to be world beaters.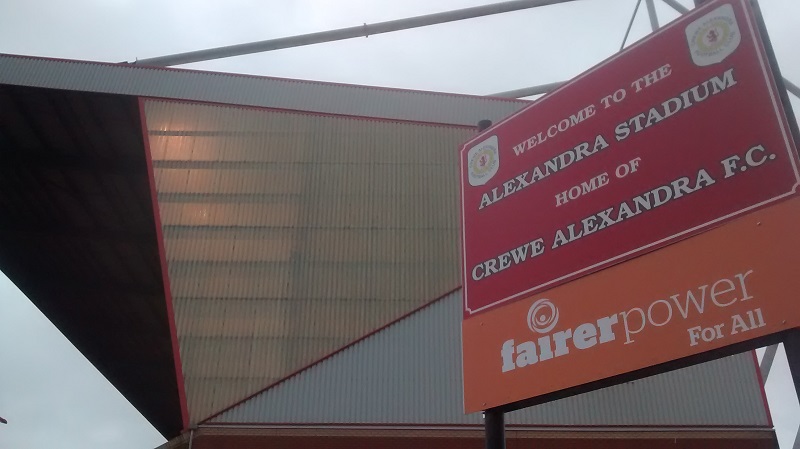 Forty minutes after my delayed train set off from Preston I was in Crewe, and after turning left out of the train station saw the stadium's Main Stand staring back me. The ground is only a few minutes walk away, coming out the station Gresty Road is the first left. The ground is surrounded by rows of Victorian terrace housing and is almost tucked away – if it wasn't for the Main Stand towering over everything you might miss the fact there was a ground there. The other three stands are of similar size, looking old compared to the newer Main Stand, which must house about 70% of the capacity.
I hadn't realised beforehand this was a bottom of the table clash, although the bottom of League One is so tight that one win could take you from 24th to out of the bottom four, so this game was a big opportunity for both sides. Crewe were ahead within five minutes, a ball into the box wasn't dealt with and after Marcus Haber fought for it, the ball worked its way to Ryan Lowe who stroked into the bottom corner. The scores were level five minutes later, David Ball being allowed to carry the ball a long way as Crewe backed off, and he smashed the ball home.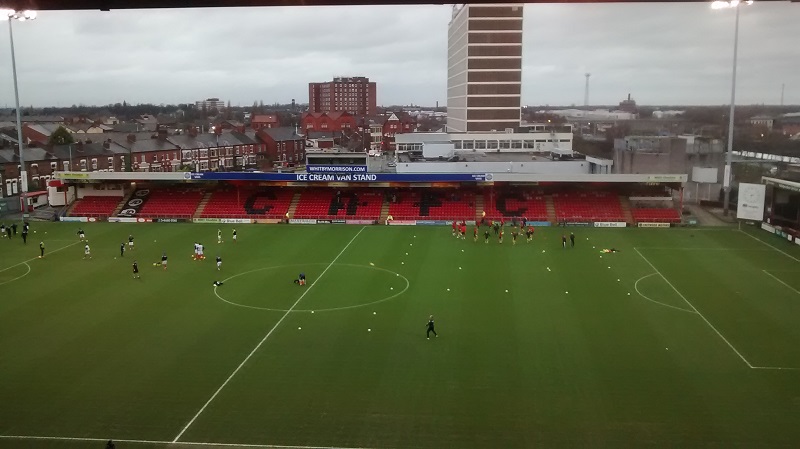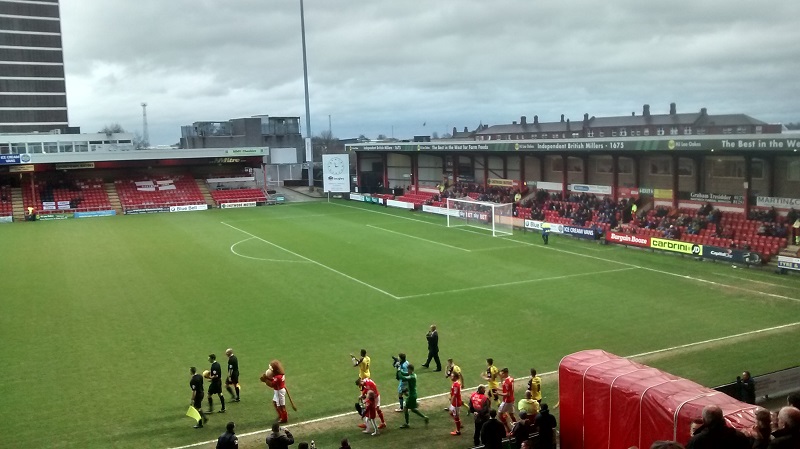 David Fox looked like he had restored Crewe's lead with a well worked free-kick routine that seemed destined for the top corner, but the agility of the visiting keeper kept the scores level. After that it was a case of lots of Crewe possession without making any inroads in the first-half; the second-half was all Fleetwood. Home keeper Ben Garrett made two superb saves to deny Fleetwood what looked like sure goals, and with his quick, clever distribution the 21-year-old could be the next big name from the Alexandra academy production line.
In the end Crewe escaped with a draw. They're a likeable club – small, play football the right way, bring through young homegrown players – so it was good to see them get a point. Generally I never look to revisit grounds I've already been to, but Crewe has me tempted to go back.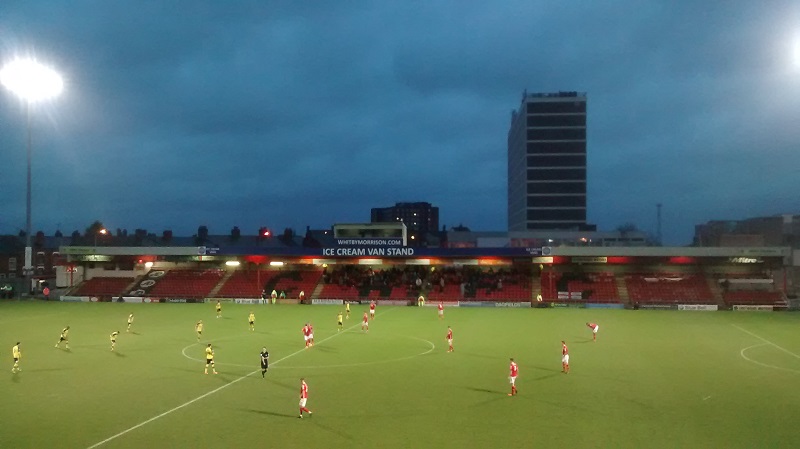 Atmosphere 2/5: Disappointing. The home fans were scattered amongst three stands, two of which looked practically empty. There wasn't a great deal of chanting going on – with a lot of young players on display, surely a rousing last 20 minutes from the crowd would have spurred them on. The Alex fans were nervous, a feeling that seemed to transfer to the players as the game went on, and there were some murmurs of 'Davis Out'.
Location 5/5: Just minutes from the train station; Crewe looked an interesting town from what I saw, and I wished I'd gone a couple of hours earlier so I'd had a chance to explore the area more.
Value for money 2/5: £22 a ticket, shame there wasn't a festive offer to increase the attendance and atmosphere.
Pie Rating and Pint Rating n/a
Programme 3.5/5: Good range of features, but felt a bit light and sparse for £3.
Stewarding 5/5: Helpful and friendly enough.
Character 4/5: A proper stadium surrounded by Victorian housing; not an industrial estate or shopping precinct in site.
Overall 3.5/5: Very nice stadium, area and club. It's a shame the crowd and atmosphere wasn't better, especially for a fairly important game.
Keep up with Michael's 92 here and follow him on Twitter @michaelepilcher. If like Michael you fancy blogging about your experiences doing the 92 league grounds drop us a tweet to @the92dotnet.
Have you ticked Gresty Road (Alexandra Stadium) off on your quest for the 92 club? Add it to your 92 here www.the92.net/ground/alexandra-stadium or plan your trip their with our away day planner here www.the92.net/plan-your-away-day/alexandra-stadium