We all know that doing the 92 is a massive challenge. Forgetting the match the travelling is the journey. It is what takes the real effort and commitment. Now imagine doing this largely under your own steam! We caught up with Leisure Cyclist Steven Rittey to find more about his groundhopping exploits…
Groundsman: Ticking off all 92 grounds in itself is a daunting challenge, but cycling to them must have been monumental! The first question has to be why?
Steven: To be honest, I am still not sure why! I wanted to visit all of the grounds in the football league around Greater Manchester and just tick them off. I enjoyed doing that as a ride, so carried on into Cheshire and Staffordshire. The first ground I went to was the DW Stadium in Wigan and then after going to Stoke City F.C, I quickly started to plan a tour to complete all of the 92.
I then decided rather foolishly to visit all of the Blue Square Premier clubs from the 2011 season too. This prolonged the project, but gave me an insight into lower league football and how the stadiums differ the further down the leagues you go.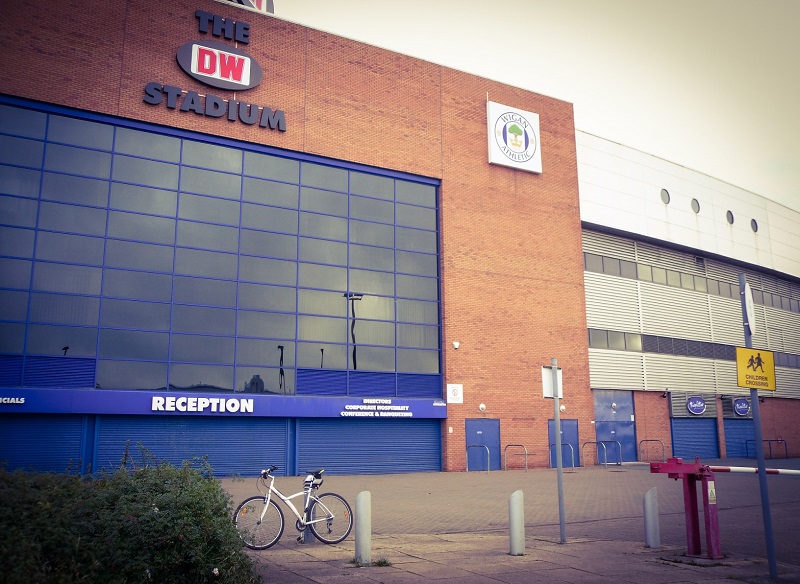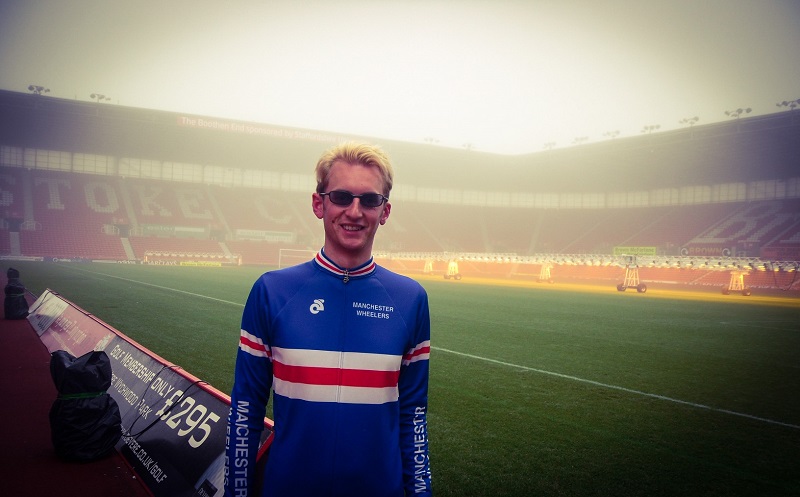 Groundsman: When did the idea first come about?
Steven: After completing the grounds in the North West and surrounding Manchester, I realised what I was doing was combining my three main interests of cycling, architecture and local history. I was already about 30 grounds into the league, so decided to carry on and see how far I could get.
The fact that I was visiting football grounds wasn't necessarily due to a fervent love of the game, but more of an interest in stadium design, the logistical and navigational challenge of going from ground to ground and how football stadia are shaping urban renewal in Britain.
If you think about it, most places have a football stadium, so they actually became more of a marker of where I had been and also where I could go next.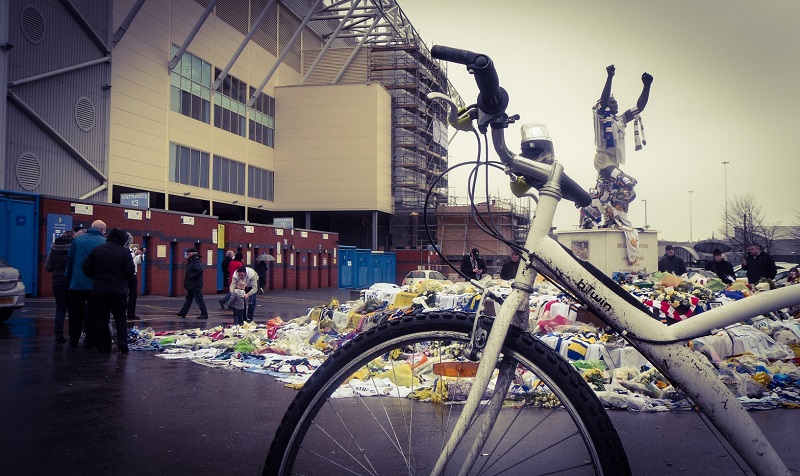 I really like this approach and unlike other 'groundhoppers' who are tied to fixture lists and the matches, I was able to pick and choose where I could go.
Groundsman: In total how long has it taken you?
Steven: I started on Remembrance Day 2011 at the DW Stadium in Wigan and finished all of the 92 and the Blue Square Premier based on the 2011 season around Easter 2015.
The last league ground I had to visit was Gillingham and due to a slight miscalculation with clubs moving in and out of the league, I had to go to Aldershot to complete the initial challenge. However, I just made the visit part of a journey down to the South Coast and rode back to Gosport, my home town.
Groundsman: It's not just cycling too, how many other forms of transport/sport have you incorporated?
Steven: Whilst I really enjoy cycling, I realised that I could incorporate other ways of getting to the grounds.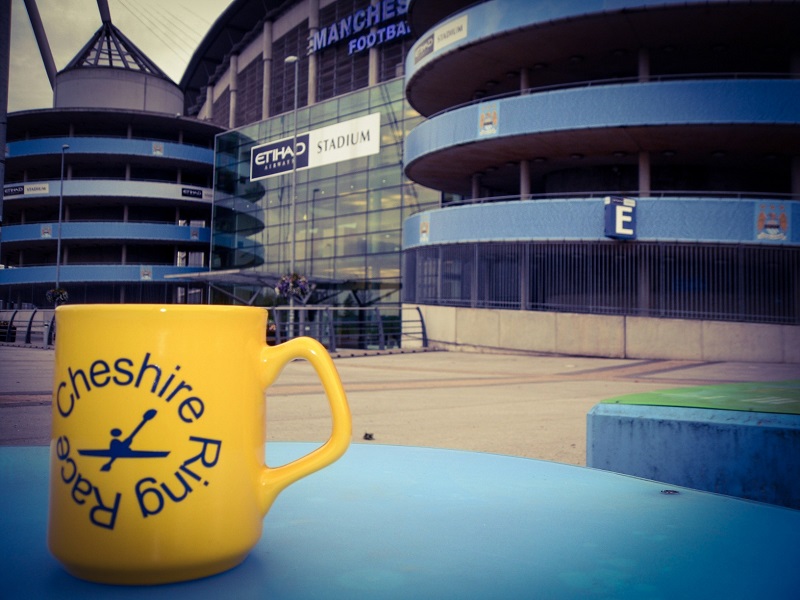 I ran to the grounds based in London and ran a marathon distance going from Southampton to Portsmouth. I often took my shoe off to mark how I got there. I also had the idea to microscoot between Liverpool and Manchester along the East Lancs Road cycle path.
Oddly, I was congratulated by Simon Cowell for my scooting efforts as he was staying in the hotel next to my flat in Manchester and wondered what I was doing!
I also completed a kayak race around the 97 mile long Cheshire Ring because the grounds of Manchester United and Manchester City were situated along the route! It would not have been much of a challenge reaching them as they are only a few miles from my apartment.
I did mainly travel by bike to each of the stadiums. I saw so much of the country and have rode in many parts of Britain because of the football ground tour. If anything, it was chance to see the UK from a different perspective.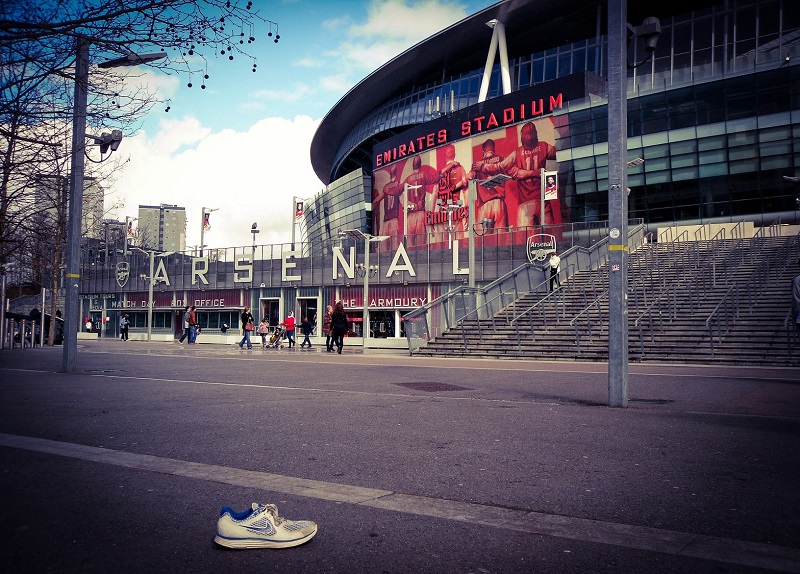 Groundsman: Did you take in any matches on the way?
Steven: I did not. However, I soon realised that wearing all of my cycling gear wasn't a good idea when the matches were being played. Also, I could not take my signature photos as easily and the traffic around the stadiums made getting to and from the grounds more difficult.
To be honest, it was better if no matches were being played in the area because the trains were extra busy.
I did get invited into some of the stadiums though. I had a private tour of the Amex in Brighton which is probably my favourite modern ground. I toured the Britannia in Stoke with the groundsman and went in the changing room with the bemused players after a training session at Port Vale!
Away from the English league, I was asked into Inverness Caledonian Thistle as I was passing through on a ride from Fort William to Dingwall. I held the Scottish Cup a week after they lifted the trophy!
As it was a personal project and not for charity, I kept the tour as low key as possible. Visiting the grounds wasn't about getting access to the stadiums or exploring the changing rooms to be honest.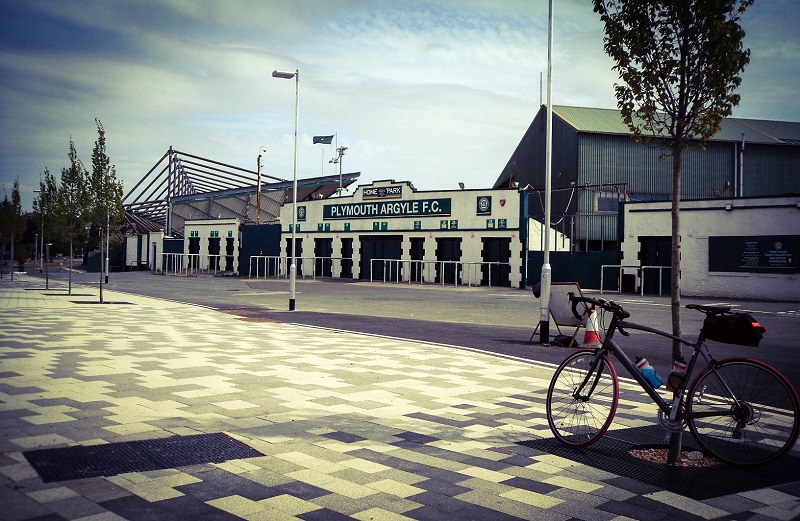 Groundsman: What were the highlights of your journey doing the 92 league grounds?
Steven: There are a couple of rides that stay in my mind. I really enjoyed going from Bath to Cardiff because going across the Severn Bridge on my bike was memorable. I also enjoyed riding through some of the areas that I do not visit often such as East Anglia, Home Counties and Kent.
My favourite ride was going from Exeter, Yeovil and Bournemouth to Portsmouth in a day via the Isle of Wight as it was a bit of a challenge and also a different way of getting back to my home town of Portsmouth/Gosport.
I also enjoyed the planning aspect of the tour. Booking the trains, planning the route, getting up early on a Saturday to ride all day and attempting to do something that not many people have done as well.
Groundsman: And the lowlights?
Steven: To be honest, it was the time that it took. I know some people have cycled the 92 in a few weeks, but I mainly stuck to day trips. Going away every Saturday made my relationship with my girlfriend at bit strained too especially when I had to explain that I was off to Carlisle the next day or would be coming back from Milton Keynes at midnight.
I actually cut back on the tour and languished on 80 something grounds for ages. I had come too far to give up, so made a commitment to finish off the tour in 2015.
One aspect that was tough and always a worry was missing my advance train or not being able to board with my bike. I never really had any problems with this to be honest, but I do remember being stuck at Peterborough train station for 3 hours because I had finished stage quicker than expected and had to battle Leeds away fans for a place to put my bike after a match ended in Nottingham.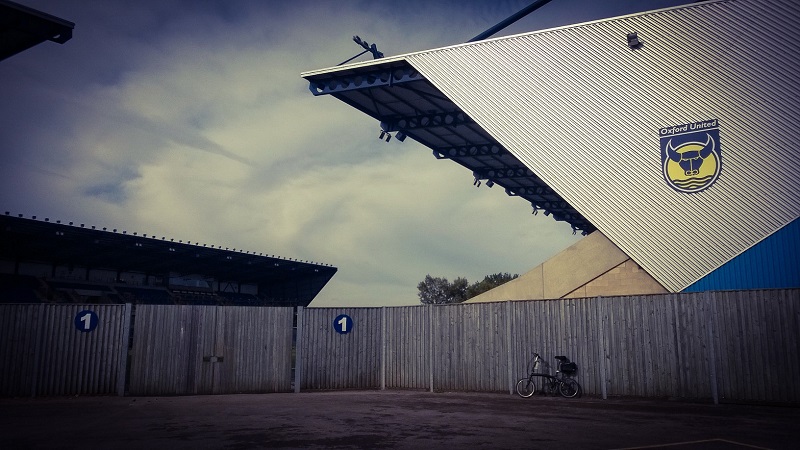 I always used to find it amazing how hard some of the grounds were to visit by bike. Britain has a real problem with cycle route signage, so getting in and out of towns sometimes took longer than the rides between the stadiums along A or B roads.
Groundsman: Finally what groundhopping cycling adventures have you got planned for the future?
Steven: As I have finished the tour to my original aim, I can now just ride to a place, city or region without wondering if I have missed out a ground or look for a new one to visit.
I still try and stop off at some of the lower league grounds beyond the Vanarama Conference and have actually been to some grounds in the Evo-Stik North/South divisions. I am also pretty close to completing the Welsh Premier clubs and could probably tick off the Scottish Premier over a few days on a cycle tour. Maybe, I should do this just to really finish everything off.
Fortunately, it appears that British football has finished many of the new ground building projects so updating the tour is not a pressing issue. I think only Barnet have built a new ground and I can easily visit here on a day trip to London.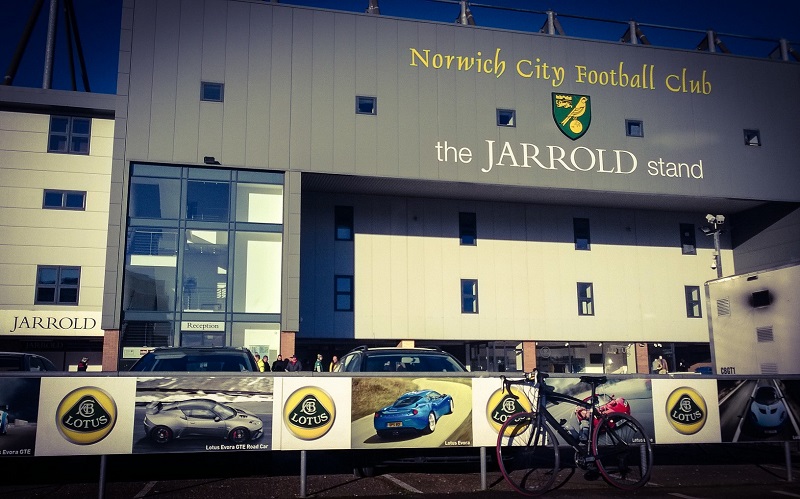 I remember that Rotherham United was always a bit of an anomaly as they had three grounds between 2011 to 2015 – Millmoor (derelict), Don Valley (demolished) and then moved to the oddly named New York Stadium. I actually ran 13 miles around the pitch there as part of a charity day and then cycled to Glossop North End afterwards!
When I travel abroad, I try and visit a stadium along the way. I have been to some unusual ones including Ajax, Sparta Prague, Tampere, Estoril and Ljubljana.
I recently went to the Olympic Stadium in Rome to look at Mussolini's statues and the formidable marble statues that line the perimeter. The day after I proposed to my girlfriend. She said yes. I am not sure if she would have been positive in her answer if I said that I was planning on working my way through the Conferences as a continuation of the football ground tour!
I know to the groundhopping purists that what I completed does not gain me entry to the 92 club as I never watched a game at each ground. However, I am still proud of my journey through the leagues and I hope that maybe I have inspired some people to cycle more or just visit somewhere new. You can see my other cycling activities, journeys and travels on my website www.leisurecyclist.com and follow me on Twitter @stevenrittey.