Blogger Dan White recalls heading to the KC Stadium, the home of Hull City to take in his first Premier League game in 10 years.
Ground: KC Stadium 6/92
Game: Hull City 2-1 Queens Park Rangers
Date: 21/02/2016
Thoughts on the ground:
As I made my way to the stadium, I couldn't help but realise that if you don't know where you're going and you can't find a sign post directing you to the ground you will get lost. This happened to me. However, I managed to find my way to the ground by following posters for a wrestling show at the building next door to the KC Stadium.

I ended up finding the ground and the first thing I saw was that the away fans were kept separated by a steel fence. I don't know if they have this fence as a way to keep fans from both teams getting into fights, especially fans of rival teams. As I took my seat in the Ideal Boilers East Stand, I looked up Hull City's Twitter and found that they had sold out of tickets. This was the first game I attended that had a sell out attendance but when the game started, I could clearly see empty seats. There was even an empty seat next to me. The guy sat next to me on the other side was very quick to notice that I was attending my first Hull City game and wished me luck in completing the 92.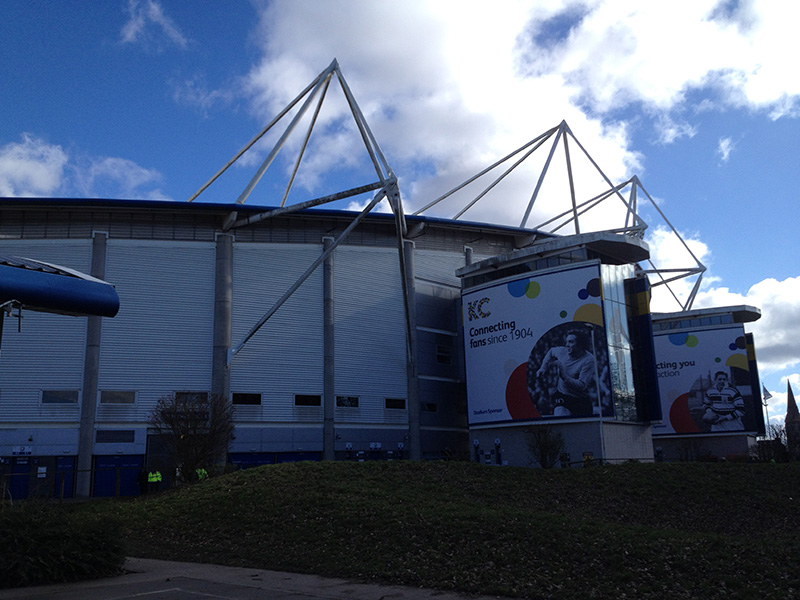 Thoughts on the game:
The game started and both sets of fans were vocal from the start with Queens Park Rangers fans being louder in my opinion. Both teams started by keeping the ball in the middle of the pitch with the occasional shot on target. But after 16 minutes Nikica Jelavić gave Hull City the lead with a volley into the back of the net. However, Hull City fans weren't happy with that as they were more focused on the linesman who they accused as being lazy and useless. This did lead to one fan mimicking the linesman until he got bored and ran away to get food.
After 32 minutes, everything kicked off as both teams were about to get into a massive brawl after Darnell Furlong tackled down someone. He got a yellow card for that tackle. This then lead to Queens Park Rangers captain Joey Barton punching Tom Huddlestone in front of the referee for whatever reason which saw Barton get red carded. In all fairness, I'm not surprised that he got red carded. I would have actually been upset if Barton didn't get booked.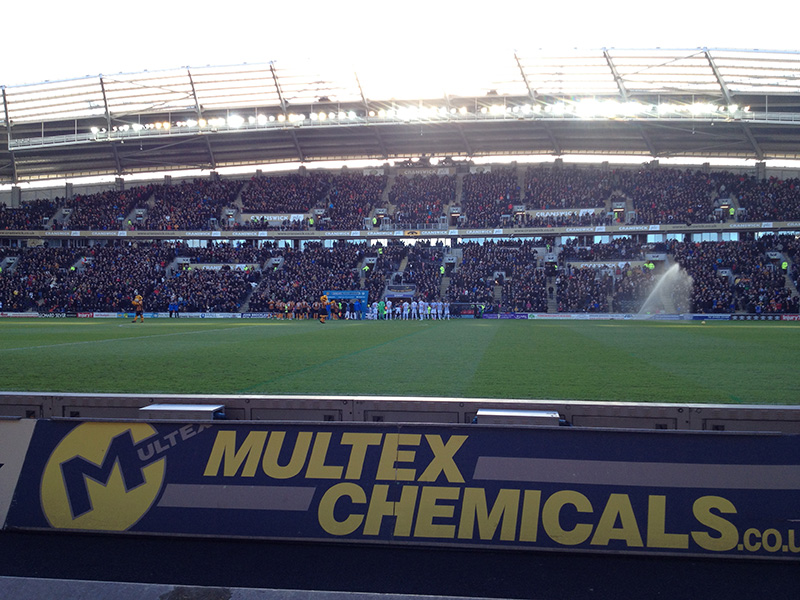 But that didn't stop Queens Park Rangers from making the score 1-1 after Charlie Austin headed in the equalising goal. After that goal, both teams decided to "park the bus" for the remainder of the game. I don't remember how but Bobby Zamora got yellow carded at the 58th minute. QPR's third yellow card was given to Mauro Zárate at the 75th minute. I should point out that Zárate was only on the pitch about 10 seconds as he came on as a sub for Austin. And the final yellow card of the game went to another QPR player. This time it went to Matthew Phillips at the 80th minute. As the fans next to me started biting their nails looking nervous, someone came to the rescue and won them the game. This person was Dame N'Doye at the 89th minute with a header to which every Hull City fan jumped for joy and hugged anyone that was within arm's reach. Not a bad way for N'Doye to celebrate his 30th birthday by scoring the winning goal.
Atmosphere 3.75/5
Location 2.5/5: Had to rely on New Generation Wrestling posters to help me find the ground.
Value for money 3/5
Pie Rating n/a: Too scared to try
Pint Rating n/a: Don't drink. Pint of Coke was £2.25
Programme 3/5: £3 for a programme
Character 3.5/5
Stewarding 3/5: They were alright with me. They seemed more focused on QPR fans
Overall 3.5/5:
You can keep up with Dan and his groundhopping exploits on Twitter @DanWhite1993 and his the92.net profile here. To see Dan's work from grounds up and down the country head to danwhitephotography.wordpress.com.
Have you ticked the KC off your 92? Add it to your profile here www.the92.net/ground/kc-stadium or if you're thinking of going plan your visit there using our away day planner here www.the92.net/plan-your-away-day/kc-stadium.