Budding photographer and blogger Dan White heads to Crewe the home of the Railway men as Oldham were the visitors.
Ground: Gresty Road 9/92
Game: Crewe Alexandra 0-1 Oldham Athletic
Date: 21/03/2015
Thoughts on the ground:
I had a nightmare trying to get to Crewe as I have to rely on trains and buses to get me to places. My train tickets told me that I had to make a change at Manchester Piccadilly, but I was already running into problems. The first train to Manchester was cancelled. Not to worry, they already had a replacement train at the ready… Only that one "ran out of fuel" 200 yards from the Manchester Piccadilly platform edge. That's the first time I've ever heard that one.
Then we have the train to Crewe. Not only was it delayed by 30 minutes but we were told that we had to get to Manchester Oxford Road. This was a complete mess. I finally made it to Crewe and was happy to know that the football ground is located next to the train station. I started my fundraising and I personally felt like I had more fun at Rochdale. I was then told that when I do the pitch side photos during the game that I would have to sit near the goal. I wasn't looking forward to this as I feared that I would get a ball booted at my face or a ball would hit my camera causing it to smash. I forgot to mention that all the stewards and staff looked miserable. They all looked like they hated their jobs. Especially the stewards who were not friendly in helping me find my way around the ground.

Thoughts on the game:
The first half started and nothing happened! With the exception of Connor Brown getting yellow carded and booed for the remainder of the game by Crewe fans, nothing happened. It took 74 minutes until someone scored. That someone was Oldham's Conor Wilkinson. After that goal, again nothing noteworthy happened. This had to be one of the dullest games I had attended. The only thing I found enjoyable about the game were the Oldham fans. They brought the party to Crewe and took it home with them after the game. They were singing and dancing 30 minutes before the game had even started. And they remained like that throughout the game.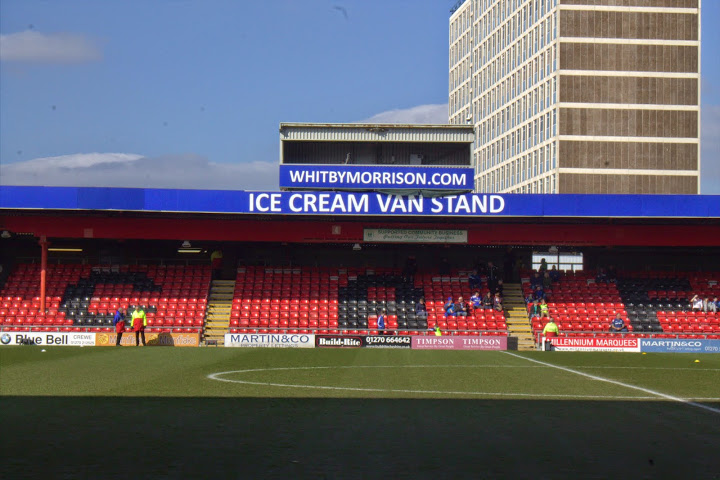 I have since created a new award known as "Best Fans Award". Previously, this award was held by AFC Wimbledon but after this game, that award now goes to Oldham Athletic. And I haven't even visited their ground yet! I spoke to a few Oldham fans after the game telling them how happy I was to award them as Best Fans. They reacted by giving me handshakes, hugs and "having beers on me". This did lead to chants of "Oldham is the best". This was Oldham's first win under new manager Dean Holden who was made manager on March 17th.
If you thought getting to Crewe on the train was a nightmare then here's what happened on the way home. On the train to Manchester Piccadilly, a total of 200 police officers were on the train as Crowd Control for Oldham fans that all sat on the train and didn't do anything. All they did was listen to music and chat while having a beer. Also, that train was delayed by 10 minutes. Then the train home was delayed by 15 minutes and couldn't decide where it wanted to go. Is it taking me home or is it taking me to Edinburgh?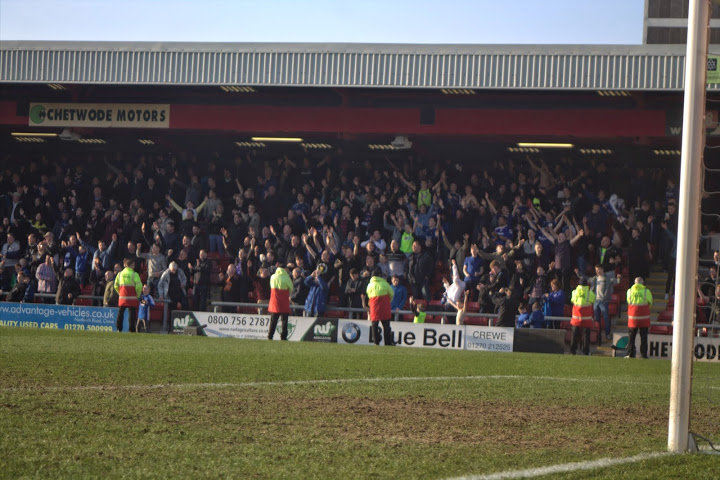 Overall, I had fun at Crewe but I wouldn't want to visit them again unless I was sat in the away section. By the way, the away fans sit in the "Ice Cream Van Stand"
Atmosphere 2/5 (5 for Oldham Fans)
Location 3/5: Located next to Crewe Train Station
Value for money 3/5
Pie and Pint Rating n/a
Programme 3/5
Character 3/5: Oldham fans were best bit about the game
Stewarding 2/5: They all looked like they didn't want to be there. Even the photographers looked miserable
Overall 2.5/5: Dullest game I've attended
You can keep up with Dan and his groundhopping exploits on Twitter @DanWhite1993 and his the92.net profile here. To see Dan's work from grounds up and down the country head to danwhitephotography.wordpress.com.
Have you ticked Gresty Road off your 92? Add it to your profile here www.the92.net/ground/alexandra-stadium or if you're thinking of going plan your visit there using our away day planner here www.the92.net/plan-your-away-day/alexandra-stadium.