Budding photographer and blogger Dan White takes a trip to Chesterfield Town's Proact Stadium with the Three Lions U17s in town.
Ground: The Proact Stadium Road 10/92
Game: England U17 3-1 Slovenia U17
Date: 23/03/2015
Thoughts on the ground:
For anyone who has never been to the Proact Stadium, it takes 20 minutes to walk to the ground from the town centre and is located next to a Tesco's and a KFC. So if you arrive early you can do your weekly/monthly shopping while having eating a bucket of chicken. One thing I found interesting was how small the ground was. Mostly the area where you get food and drinks. As both teams were warming up before the game, I spotted the away fans and noticed that not a lot turned up. Only 19 Slovenians attended the game and all looked like they didn't want to be there. Another thing I noticed was that few of the fans brought trumpets and snare drums. I thought they were there to perform the national anthems for both teams before the game but I was wrong. They were actually sat in the same stand as me but sat on the back row whereas I was sat on the second row. All the fans excluding the away fans were sat in the west stand or as it's known for advertising reasons, the HTM Products stand. The 19 Slovenians were sat in the Karen Child Stand.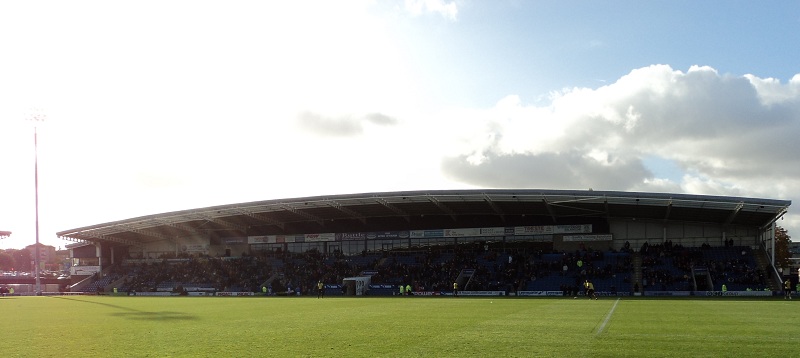 Thoughts on the game:
The game started and for the first 18 minutes, not a lot happened. But after twenty minutes England took the lead from a goal by West Ham's Reece Howard. But nine minutes later, Aston Villa's Easah Suliman was yellow carded for a rough tackle on someone. England continued to capitalise on Slovenia's mistakes and scored again with a goal from Everton's Nathan Holland. It didn't take long for England fans to celebrate even more as Domzale's Majita Rom scored an own goal in the midst of a scramble.
That's what it says online but me and everyone else in attendance were told that Arsenal's Christopher Willock scored. The second half started and it didn't take long for more yellow cards to be shown as Vitja Valenčič was yellow carded two minutes into the second half. More yellow cards were shown to both Reece Oxford and Southampton's Oskar Cvjetičanin who both got into a little bit of an altercation. There was a few fans shouting at the referee to send off both players. Yes, England fans wanted this to be 10 on 10. Why you would want the referee to send off your team's player? I could understand wanting the referee to send off the opposing teams' player but your own? This was very confusing.
Yet another yellow card was shown to Slovenia. This one doing to Olimpija Ljibljana's Jakob Novak for being unsporting and shouting at the referee.
Slovenia did manage to score one goal from Fiorentina's Jan Mlakar but it wasn't enough as the game ended with England winning 3-1. I remember leaving the ground and having to walk along the river which doesn't have any lights and was so dark I nearly fell into the river. I was so scared that I was constantly looking behind me as even someone jogging in the dark managed to scare me. I made it to the train station and I found a first in all of my travels. A vending machine that sells milk!
Atmosphere 3.5/5
Location 3/5: Located next to a Tesco's & a KFC
Value for money 3/5
Pie and Pint Rating n/a
Programme 2.75/5: Cost £3.50
Character 3/5: Most noise came from the brass band
Stewarding 3/5: They were nice to me
Overall 3.25/5
You can keep up with Dan and his groundhopping exploits on Twitter @DanWhite1993 and his the92.net profile here. To see Dan's work from grounds up and down the country head to danwhitephotography.wordpress.com.
Have you ticked the Proact Stadium off your 92? Add it to your profile here www.the92.net/ground/proact-stadium or if you're thinking of going plan your visit there using our away day planner here www.the92.net/plan-your-away-day/proact-stadium.