After the monumental travel from the coast of Croatia to the first day of Euro 2012 in Wroclaw, we enjoyed the opening exchanges and watching the Russian's battering the Czech Republic in the fanzone, taking time to check out the stadium, where the exterior still needed some finishing touches, before heading north to Gdansk to sleep in the shadow of the gorgeous amber coloured Gdansk Arena for a draw between Italy and Spain. Again, the stadium still not complete; footpaths not finished, bridges half completed.
Then to the capital of Poland, Warsaw, for the clash between the host and their mocking arch rivals Russia in the complete and mosaic like national stadium. After a tense draw with the Motherland in the emphatic and patriotic fanzone, we headed off towards the second host, Ukraine, to get acquainted with the city of L'viv.
Upon finally arriving after a tedious trip through to the border, we were off to our first game of the tournament. A thrilling game between Portugal and Denmark in which the score finished 3-2 respectively in the beautiful L'viv Arena. The stadium was again in need of touching up.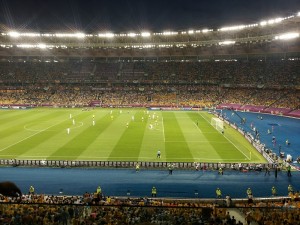 After a few days partying, the city started to swap the portuguese fans for germans; L'viv gearing up its and the groups final game, eventually seeing the Dutch go out whilst the German and Portuguese teams powered through the group.
We dashed off to catch our night train to Kiev. A slow day of sights was ensued by a day trip to the worlds most famous nuclear disaster; Chernobyl. A somber and hallowing experience to say the least. The geiger counter pulsed like communities did before the harrowing accident. Now the reactor and towns were paused in time.
That evening was another game for us. France vs Sweden. The Swedes were out in number, despite an early exit, and it proved worthwhile as the French surrendered 2-0 with a fantastic goal of the tournament candidate from Zlatan Ibrahimovic.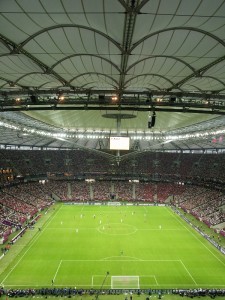 Our next stop was to see the Chernobyl museum and the famous Death Match Monument at the Start Stadium in the North Eastern part of the city. Once we had completed our tasks we jumped in a taxi to the station. Next Stop: Warsaw and the first of the knockout stages!
Back in Warsaw. No time for sights this time. We wanted a ticket for our last stop in the host countries and we hadn't been to a game in Poland. Czech Republic vs. Portugal. A friendly negotiation with a German, including beer for a face value ticket, and we were walking into the illustrious National Stadium.
A fairly one sided affair was sealed by a certain Cristiano Ronaldo who produced the goods in the end seeing the Portuguese through to the semi's, surely setting up a tie with their Iberian neighbours Spain.
Keep up with Moss through the92.net news blog or follow him on twitter @sirmmoss