Since our last blog on the issue the clubs have voiced opposition to the FA's plans to introduce a new League 3 to aid the fortunes of the England team. After such a lame performance at this summers World Cup no doubt the issue won't be dead in the water. To find out a bit more about how it could affect the supporters of the clubs we catch up with exiled Scotsman and Cheltenham Town fan Dave Nelson.
Groundsman: Initially, what are your thoughts on the FA's proposal to bring in B teams to the lower leagues?
Dave: When I volunteered to write for this blog, I thought it'd be easy. But then I sat down and started to think about it, and started to realise it was a lot more difficult. After all, what more could I possibly write about the FA's League 3 than "it's a f***ng terrible idea"? So yeah, I suppose those are my initial thoughts!
But let me put a bit of background here. I'm about as far removed from a typical Cheltenham fan as you can get. I'm Scottish, for a start! I moved to Cheltenham 6 years ago, and started going along to Robins games about a year later, purely for something to do on a Saturday afternoon. I grew up as a Rangers fan, and as anyone who knows even a little about Scottish football knows, that club hasn't exactly been without problems recently. With all the off-field drama at Ibrox, I now care more about Cheltenham than I do Rangers, and as such I have a season ticket and go to as many away games as I possibly can.
Nowadays, Cheltenham are my club. I care about them, and about what happens to them. And in my opinion, the FA's proposals would be a disaster for the club. Hopefully the rest of this interview will explain why that is.
GM: How do you think this would affect Cheltenham?
Dave: If I'm being honest, Cheltenham are probably one of the smaller clubs in League 2. We average under 3,000 people at home games (2,989 in 2013/14); and as a result have one of the smaller budgets. You won't see us going out and spending money on players like, for example, Bury have done recently. Instead, we rely on free transfers (often from non-league level), and the loan market. Despite that, we punch above our weight. We've been in the Football League since 1999, and bigger clubs than us have gone down during that time. A big part of that is the atmosphere around the club – it's a proper community club, where the fans are closely involved with the team at all levels; where the chairman will come into the club bar and have a pint with you; where the club will involve themselves in the wider community. The open day to be held in pre-season is a fantastic example of this.
The players who come to Cheltenham really buy into this community spirit, and in the main, they do everything they can to repay the support from the fans. We may not have had the best season last year, but there were still players who did everything they could for the club, and you only need to look on Twitter to see how deeply some ex-players care for the club.
With the FA's proposals, I can see all of that changing. I can only imagine that playing on a freezing cold Tuesday night in December is bad enough; without that game being against someone like Stoke B. What's the point? Why would players, striving to earn an honest living in the lower reaches of the Football League, want to take on players potentially earning thousands of pounds more per week then them, players who the Premiership sides just didn't want in their main squads; or even 18/19 year olds who are staking a claim to make the main squad? Where's the motivation? For me, it would get to the stage where we would expect the B sides to win the league, to win promotion, to reach the playoffs; because they'd have the money and the facilities to give them an advantage over the rest of the league. And if that was happening, where would the motivation be for players at clubs like Cheltenham? Why would fans even bother going to watch games when they knew it was pointless? Attendances would decrease, revenue would decrease, the quality of football would decrease; and long-term, Cheltenham's very existence could be threatened.
GM: Would it impact on Cheltenham's ambitions?
Dave: In a word, yes. As I said, we're one of the smaller clubs in League 2, but we hold our own. We're never going to get to the Premiership, and probably not even the Championship; but we should be challenging for League 1. If the proposals went ahead, as I said, the B teams would, in my opinion, dominate. And that would reduce our chances of challenging for promotion or the playoffs. We would be stuck in mid-table at best, resigned to playing the same sides over and over again. So again, what's the point?
GM: Would you be happy to see your side play in a competitive league against a Premier League B team?
Dave: I think I've covered that one! Given the potential impact on Cheltenham, given the potential impact on the league as a whole, then quite simply – there's not a chance I'd be happy with this!
GM: Long term would do you think the introduction of Premier League B teams would have on the lower leagues in general?
Dave: Earlier I mentioned that I'm from Scotland, and grew up as a Rangers fan. A lot of people down here would say that Scottish football is awful, and it probably is. The reason? For far too long, there was inequality. Inequality in finances, inequality in competitiveness, inequality in attendances, inequality in every area feasible. Two clubs, i.e. Rangers and Celtic, dominated. That turned players off, turned fans off, and the rest of Scottish football suffered, and continue to suffer, as a result. Attendances decreased, revenue decreased, players didn't want to sign, football quality got worse… The FA's proposals would, in my opinion, lead to a similar situation in the Football League over time. And that cannot be allowed to happen.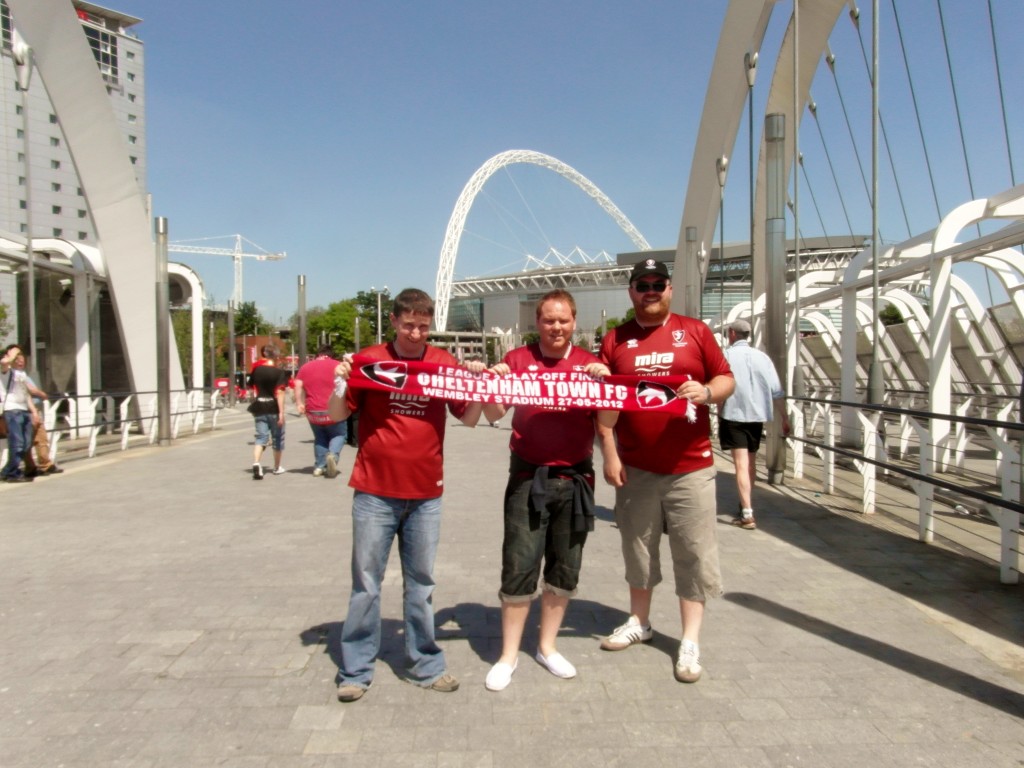 GM: Do you think clubs like Cheltenham have a responsibility to supply the England team with players?
Dave: Being Scottish, I don't really care! But seriously, we're far too small a club to supply the England team with players, at least directly. But in the last couple of years, we've had Jack Butland and Luke Garbutt on loan. Both got their first taste of first-team football at Whaddon Road, and at the end of the season he was with us, Butland was capped for England and named in their Euro 2012 squad. Garbutt has played at every England youth level up to U21, and was recently being raved about on Twitter for his performance for the U21s against Wales, I believe. Now I'm not saying that these things wouldn't have happened had they not been on loan at the Robins, but I do believe that loans to League 1 and League 2 sides play an important part in the development of young players.
GM: Would like you want to see your club enter into a strategic loan partnership with a Premier League club? If yes could you see a possible problem if this was to come to an end, if no why would you be against it?
Dave: This is something I'm not sure about. Loan partnerships like this could be beneficial to both sides, allowing young players to gain experience of first-team football, while simultaneously allowing smaller clubs like Cheltenham improve their squad. However, I'd be concerned about the restrictions that could be applied, so the partnerships would have to be managed well, and with clear regulations set in place by the FA. For example, I wouldn't want us to be restricted from taking players on loan from clubs other than those a partnership was in place with; I wouldn't want there to be restrictions on the players, I would want to restrict the early termination of loans unless both sides agreed (especially if the partnership was terminated), and I wouldn't want to allow players to be forced upon clubs. Overall, I think it's a suggestion that merits further investigation before being ruled in or out.
GM: If yes how would you react to the possibility of the Premier League club giving instructions about what their players should be doing in terms of playing and training?
Dave: While I can understand why clubs would want to do that, I wouldn't want it to be allowed. If a player is on a long-term loan, they should be treated as being a player of the club he is on loan at. Anything else could cause problems for the club, and potentially leave them at a disadvantage; especially for a club like Cheltenham that work with a small squad. What would we do if, say, we had a goalkeeper on loan, only had an inexperienced reserve as cover, and we were prevented from playing the loan player in a match by the parent club?
GM: Are there any alternative actions / measures would you like to see taken to address the issues identified by the FA?
Dave: The U21 league is a great idea, and needs to be given more time. However, I would remove the rules allowing over-21s to play, and restrict it to youth players only. Instead, a reserve league should be re-introduced for the Premiership and anyone else who wants to get involved, allowing overage players to get games in without compromising youth development. If clubs desperately want a B team, then create a B-league and/or cup competition. Just don't allow it to affect lower league clubs in any way, shape, or form.
Thank you to Dave for taking the time to give us his views on the plans. To keep up with Dave you can follow him on Twitter @nelbo009. If you are opposed to the FA's plans please spare a min to sign the petition here, and please go forth a spread the word, tweet using #sayNoToLeague3! If you want to have your say on what the plans could mean for your club please drop us an email or a tweet @the92dotnet. Have you been Whaddon Road or any other league grounds? Why not rate / slate and review your experiences with us! You can register here if you aren't already a member, it's free!