Changes to the Johnstone's Paint, no EFL, no, err what's called… ah yes, the Checkatrade Trophy have provoked an outcry from fans. A tournament already belittled by many saw changes in format, rules and entrants this summer. More matches on the calendar and rock bottom prices though provide groundhoppers with an ideal chance to get a few more ticks off the list. That's the opportunity blogger Michael Pilcher took. The Gills fan reports back on entering the final 10 of his journey doing the 92 league grounds…
Ground: Abbey Stadium (Cambs Glass Stadium) (82/92)
Game: Cambridge United 2-1 Middlesbrough
Date: 04/10/2016
Cambridge, just under two hours drive away from my home in Kent, was one of those trips I always thought I'd make a day of with the family…have a meander around the city centre, maybe a spot of punting, bite to eat, then on to a match. Alas the £10 per child ticket prices at the Us seemed prohibitive, very steep when my daughters had recently ticked off two grounds higher up the pyramid at a combined cost of a quid. And so, after consecutive ground visits with children in tow, it was time to go solo again: just me, my 108 and the TomTom. For convenience and minimum disruption to the family routine a visit to the Abbey was one I was saving for a midweek, and whilst not a fan of the revised EFL Trophy format with its academy teams and penalty shoot-out bonus points, they do offer an opportunity to visit grounds on the cheap. I had half a day's annual leave left to book from work, and naturally it made perfect sense to use that up to make the 170 mile round-trip to Cambridge for a 7pm kick-off against Middlesbrough U-21s. True, the atmosphere would be practically non-existent, but at a tenner I was paying half the normal match day price. Plus having ticked off five grounds in the opening weeks of the season, I was starting to get withdrawal symptoms after a month without.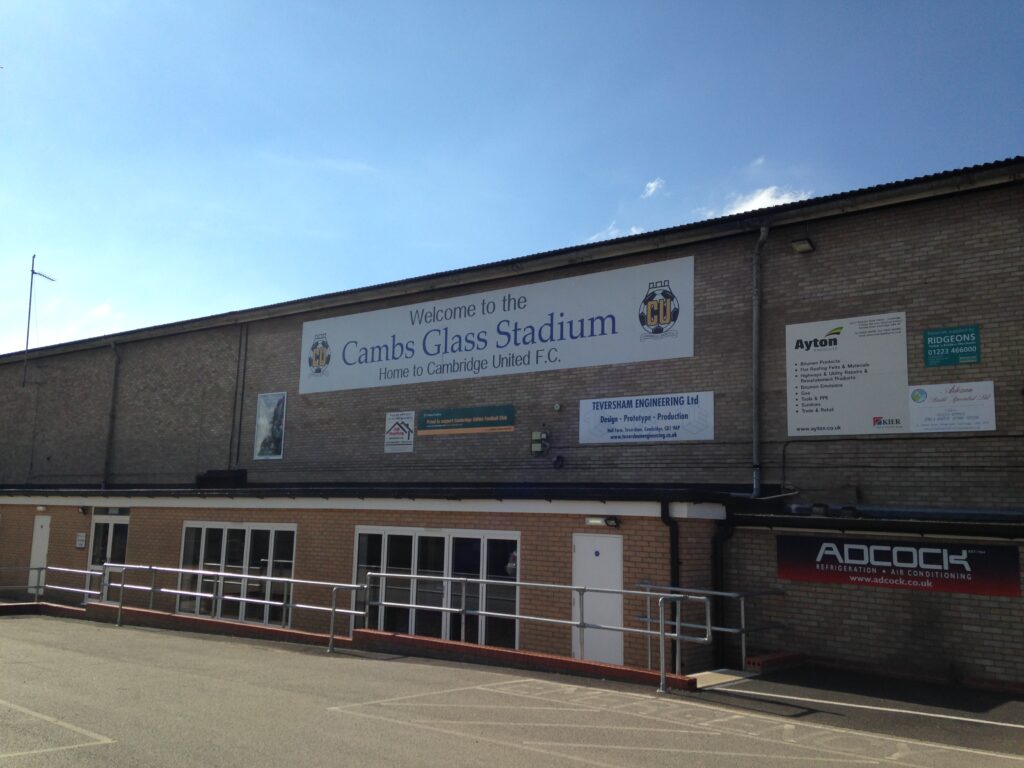 The drive up from Tonbridge was problem-free, and I arrived with an a large chunk of the afternoon to kill. Thanks must go to the owner of this website for his helpful advice on where to park, Rawlyn Road seemed to be the nearest free parking and was only a short walk to the ground. The Abbey was naturally deserted at 2pm, and the barriers and gates were all wide open; with no-one in sight, I took the liberty of stepping into the stadium to take some photos, at the age of 32½ finally getting to set foot on the hallowed turf of a professional football pitch. With pictures done and brief exchange with the groundsman – he wanted £20 for the privilege of taking pictures from the pitch, I complemented him on the quality of his playing surface before wandering off – I headed off to see what was around. Further down the Newmarket Road are the Cambridge Retail and Beehive Centre shopping parks. I had a few errands to run whilst there which used up a good chunk of the time – I never made it as far as the city centre itself, although having driven through it it seemed to be full of bicycles and students. I headed back towards the ground, stopping off for some fast food at a conveniently-located golden arches.

The Abbey Stadium has a conventional yet classic feel: four amber-hued stands, none of which particularly dominate the others, with identical floodlights at each corner. The most modern addition appears to be the raised, all-seated South Stand, with its amber seats and 'CUFC' black lettering; I noticed from my wander onto the playing surface that this stand seemed to be set back quite far from the pitch. Fans tonight were housed only in the Mundipharma Community Stand, the seating for which is also raised and so unusually has to be entered via two metal flights of stairs on the outside. The stand is fairly old but well maintained; I sat in my allocated seat and had a massive supporting pillar in the way, but then with the block largely empty I had my pick of seats and ended up with a very good view of the match. The Newmarket Road terrace with its bold 'Amber Army' backing is ordinarily where all the diehards stand; it doesn't cover the width of the pitch; one corner is spectator-free and instead houses the supporters club. The Habbin Stand running the west side of the pitch is also all-terrace and, like the opposite stand with their corrugated roofs, feels like it's part of a proper football stadium.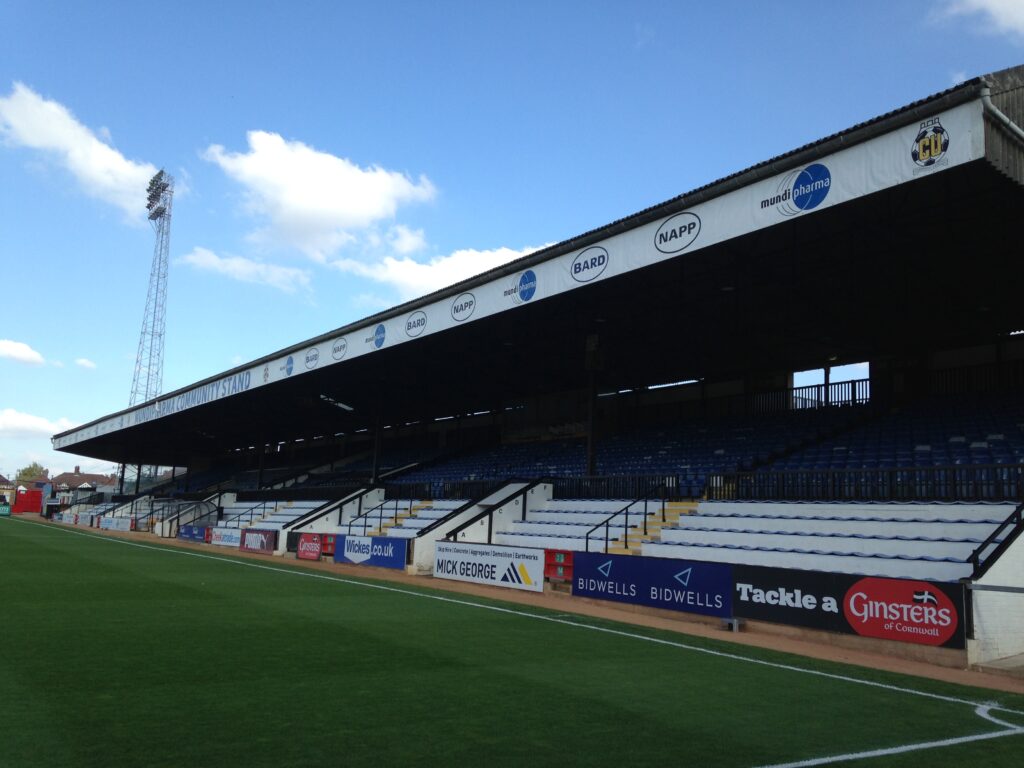 This game was a weird spectacle: to use common football parlance, this was literally men against boys. It was like the infants getting to play a game against the Year 6s at primary school. Oddly rather than wearing 1-11 the Middlesbrough team had been given squad numbers, so the numbers on their backs ranged from 44 to 63; someone observed the starting eleven's shirt numbers added up to 605 and must be some kind of record. Cambridge dominated throughout, taking the lead early on through Uche Ikpeazu who barged his way through the defence before side-footing home. Then followed an odd passage where the Us applauded Boro, but not in an ironic way. A young visiting defender made an inch-perfect slide tackle in the box, and the home fans paused before deciding it was worthy of applause. Then young Brazilian striker Jouo Morelli danced through the home defence with some neat tricks, before firing past the keeper but narrowly wide. It was a good passage of play which the home fans clearly felt worthy of recognising. They weren't applauding though when Middlesbrough equalised against the run of play on 35 minutes, Marcus Tavernier cutting in from the left before curling into the far corner.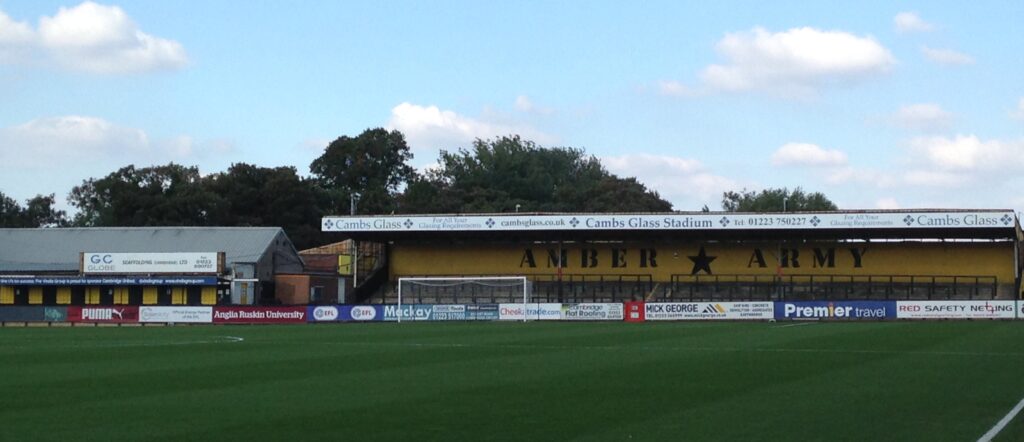 Ten minutes into the second-half and the Amber Army regained the lead, Matty Elsdon heading a Max Clark cross past his own keeper Joe Fryer from 18 yards. From thereon in the Us carved out a number of opportunities: Fryer made an excellent double reaction save from Josh Coulson at close range, Ikpeazu could easily have had a couple more, and striker Joe Pigott will be disappointed he didn't get his name on the scoresheet. Boro offered little, their tactic of trying to pass it through Cambridge failing as the hungrier home team were first to every loose ball and latched on to each under-hit pass. Boro's plan B was to try and play it over the top to play their speedy wingers in behind, but playing long balls against a side of seasoned League Two pros was never going to work. Home captain Leon Legge, a defender I remember as a solid player from his time at Gillingham and one of the finest headers of the ball I've seen at any level, was in his element. The visitors mustered one clear-cut chance in the second-half, and a couple of speculative long-shots that were easily charged down, but overall it was very comfortable indeed for United.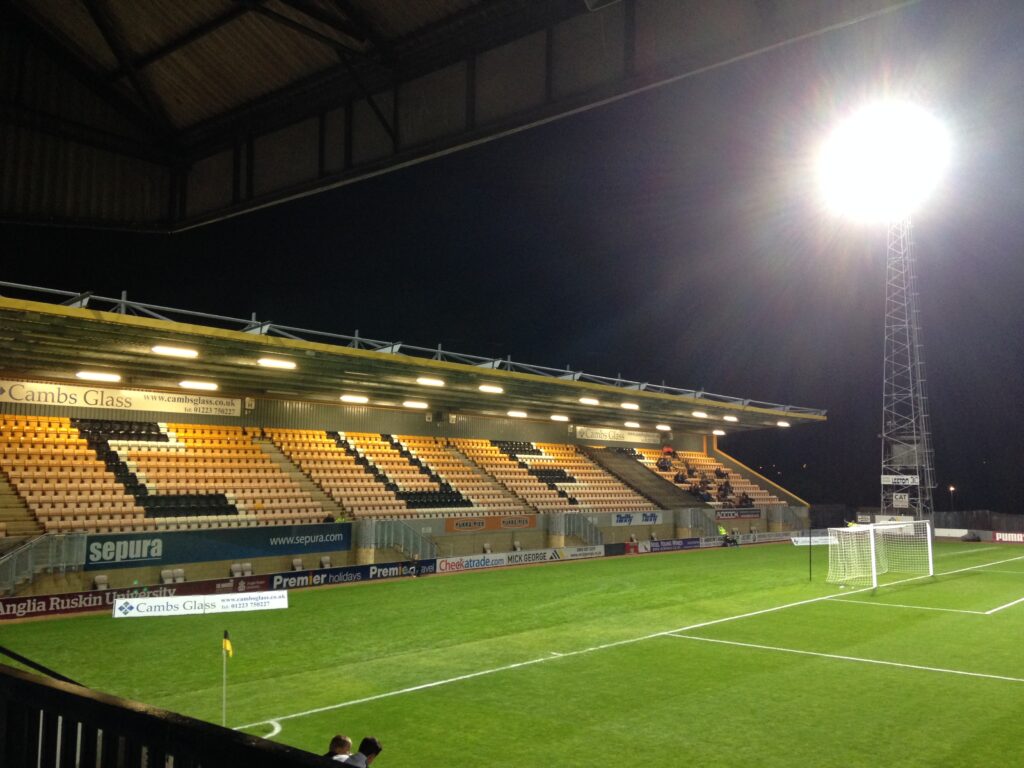 The problem with using the trophy games for stadium visits is you always leave feeling a bit guilty at not having the seen the club at its best. Officially these are competitive games but they're more like friendlies: weakened sides and low crowds – in most case the hosts only bother opening one or two stands. The attendances have been poor, and tonight was no different – the crowd given as 693, the record lowest gate for a first team game at Cambridge, with 27 away fans. It does make you wonder what happens if, say, Everton U-23s and Sunderland U-23s get to the final – are fans of those clubs really going to travel down to Wembley to watch their academy teams? There were around 59,000 and 72,000 at the two previous finals, as for many fans of lower league clubs the trophy is their club's best chance of getting a trip to Wembley. It also seems unfair that the Premier League clubs can pick whoever they want just as long as they have a six under-21s, whereas the Football League clubs have to start five first-team players that started the previous game. Shouldn't this rule be done away with so the lower league clubs pick more youngsters too? I completely understand those fans boycotting this competition, which was already seen as being a bit 'Mickey Mouse' before; now, it's sunk even lower. Football League clubs and their fans deserve better.

Atmosphere n/a: It never feels right giving a club a rating based on an EFL Trophy game – even the area finals can be flat, the only time you get an atmosphere is at the Wembley final. Needless to say, there was no chanting or singing tonight from the 693 fans, just the occasional ripple of light applause.
Location 4/5: Easy to get to, and plenty of free street parking nearby.
Programme 1.5/5: Less a programme, more of a pamphlet – £1.50 for 16 pages. In fairness to the Us at least they bothered putting something together for this tie.
Stewarding 3/5: Having not visited the ground before and with no clear signs anywhere, I had no idea where I was meant to be going. I showed my ticket to two stewards, both of whom looked at me blankly. "Which stand is that?" one asked.
Character 4/5
Value for money 4/5: I suppose if expecting an attendance in the 100s rather than 1000s, you can't really charge any less than £10 (kids were a quid). Probably about right, when they're expecting to run at a loss on these types of games.
Overall 3.5/5: Nice traditional ground, one that deserves to play host to much better games and attendances than this.
Keep up with Michael's 92 here and follow him on Twitter @michaelepilcher. If like Michael you fancy blogging about your experiences doing the 92 league grounds drop us a tweet to @the92dotnet.
Have you made the trip to the home of Cambridge United? If yes you can add the Abbey Stadium to your 92 or if not plan your trip there: