I'm sure you'll join us in welcoming Colin Harrison to the92.net blog. The avid Newcastle fan has been a long time follower of @the92dotnet and makes his blogging debut reviewing a trip to Cleethorpes…
Ground 68/92: Blundell Park
Game: Grimsby Town 2-2 Barnet
Date: 12/11/2016

When you are a Newcastle United season ticket holder, most grounds are quite some distance away. Add this to the fact my quest to complete the 92 has to revolve around my beloved 'Toon'.
So, as it was an international break I planned a trip to Grimsby, as it was the shortest trip of the 24 grounds I had left to tick off.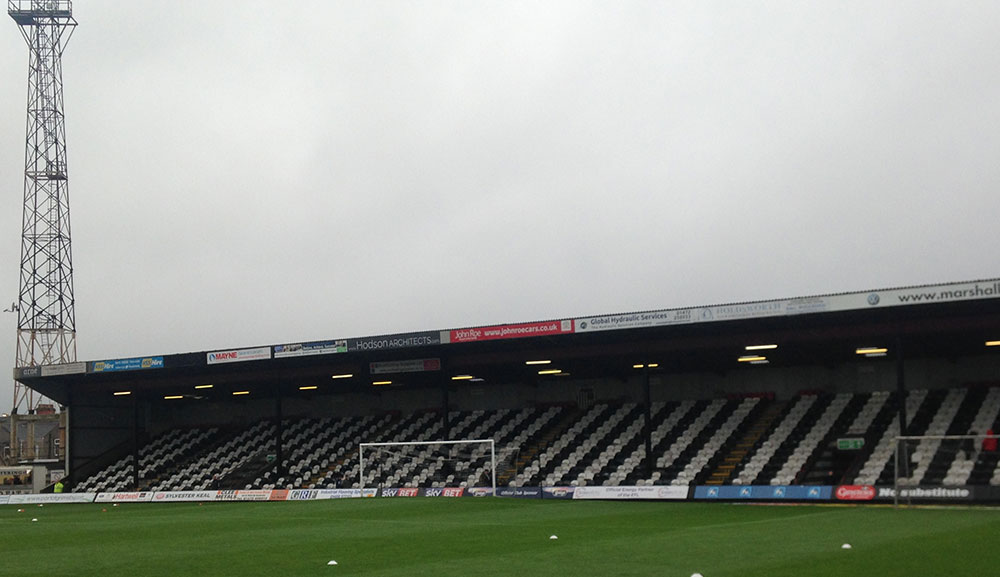 I rounded up a couple mates who I have been dragging around England for the last couple of seasons, in order to reduce the fuel costs. Then I get a call from a mate who lives nearby, who is can-you-believe, a Tottenham Hotspur season ticket holder….. this man is approximately 8 grounds ahead of me in his list, and the amount of miles he does every weekend travelling to watch Spurs play home and away is nothing short amazing (or mad!!). He is at a loose end and since he hasn't ticket off Blundell Park, asks to come along for the ride. Great, four of us for the trip. Another message from one of my other mates asks 'is there room in the car for me?'. Now five fully grown blokes in a Renault Clio is something you don't expect to see, but we all squeezed in and set off.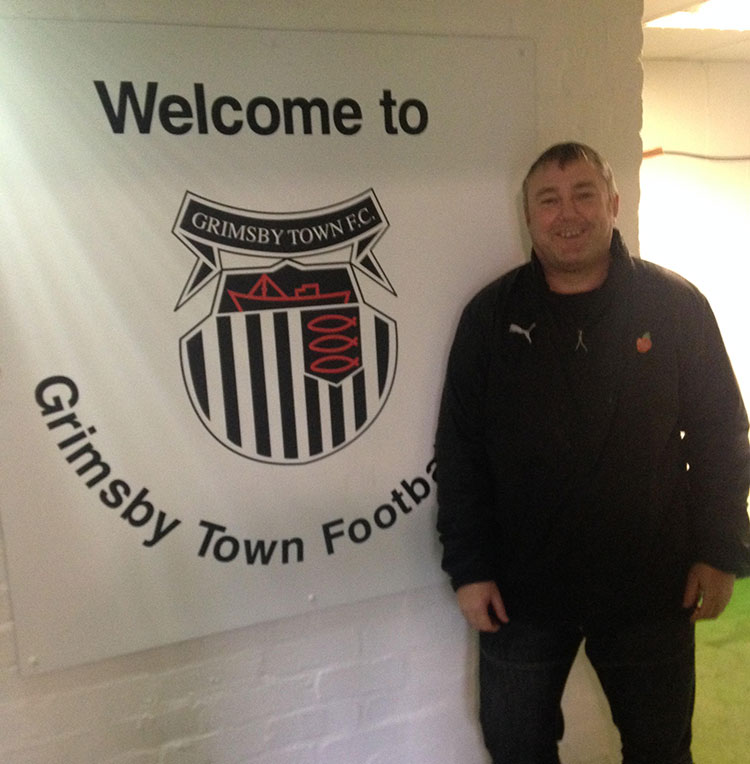 I have attempted to get a photo in the dug-out of most of the grounds I visit, and this usually means I speak to a friendly steward who understands what I'm doing, quickly walk in, photo, quickly walk back out. We arrived early, just as the Barnet team bus pulled up, and I asked the steward who is at the players entrance my question. Now, I think he must have believed we were with the away team, as without a moments hesitation he shows us in. We get our photo, wander down the tunnel, peak into the away dressing room, and then speak to the stadium manager. We ask him how to get to the ticket office, to which he tells us 'you are in now so just go for a pint in the bar and sit at the back of the stand when kick off nears'. Not very often you get in for nowt!!
The game was a decent match. Grimsby raced into a two goal half time lead, but were pegged back with two Barnet penalties. Grimsby were awarded penalty of their own in the 90th minute but Omar Bogle, who scored twice in the first half, smashes it over the bar. The game had goals, penalties scored and missed, and even a sending off.
Now a trip to Cleethorpes can't be complete without fish & chips, so we found a recommended place to eat, and tucked into our bait before heading home. All in all, a good day out.
Thank you to @officialgtfc for today's hospitality @jamesbishop1978 @Gav2501 @the92dotnet pic.twitter.com/Bp66iq2u7s

— NUFC Podge (@colinpodge) November 12, 2016
Atmosphere 3/5: not too bad but I think the cold affected the chanting!!
Location 4/5: straight forward enough, parked on the side streets about 200 yards from the ground.
Pie rating n/a: didn't want to spoil my fish & chips after the game.
Pint rating 4/5: in the players bar, we were served our pints in a glass, not the usual plastic ones.
Programme 3/5: £3, usual stuff.
Stewarding 5/5: couldn't ask for anything more of them.
Character 4/5: great if you love the old style grounds.
Value for money 3/5: £20 for league two is still expensive, but as we didn't pay I really should give it 5 out of 5…
Overall 3.5/5: a great day had by all five of us. Not sure if this would have been the case for a normal fan, considering our 'access most areas' status.
Keep up with Colin's 92 here and follow him on Twitter @colinpodge. If like Colin you fancy blogging about your experiences doing the 92 league grounds drop us a tweet to @the92dotnet.
Have you made the trip to the home of the Mariners? If you have you can add Blundell Park to your 92 or if not plan your trip there: