Gills fan Michael Pilcher continues to set the pace doing the 92, ticking off his second ground in successive weeks. The Kent outfit were off to the Potteries to face Port Vale hoping to avenge a 2-1 defeat from their last visit.
Ground: Vale Park 72/92
Game: Port Vale 1 – 1 Gillingham
Date: 15/08/2015
Vale Park is one of those lower league grounds that has been sitting on my list for years, and considering Vale have followed my team (Gillingham) through the bottom two tiers for the past six seasons or so, it's surprising it's taken me this long. Maybe the reason I've been putting it off is because I didn't really know where it was – to my shame, I always assumed they were in the Midlands somewhere. With a family-free Saturday, I decided it was time to take the plunge and head for Port Vale. It was as I was booking my place on the Gills coach I thought to look up where I was heading: far from the Midlands, Port Vale – which isn't even a geographical location – are situated in Burslem, just over 200 miles and nearly four hours away from Kent. The Potteries, here I come.

After a seamless traffic-free drive up (a minor miracle considering the distance and number of roadworks en route), we were dropped off at the ground at half one with a warning to proceed with caution as the Vale fans tend to be quite hostile. Venturing around I found this to be far from the truth; Vale and Gills fans were standing outside the ground and walking along together engaged in friendly conversation, talking about their chances, predictions and players to watch out for. Maybe it's a different story if their team has lost, but I certainly didn't get a feeling of intimidation pre- or post-match. Same went for the stewards and staff who were very friendly and receptive, in spite of some dialect that I hadn't heard before and had to look up (turns out these were normal Stoke-on-Trent terms and not insults!)
The administrator of this very site informed me the original plans for Vale's ground led to it being dubbed 'The Wembley of the North' (Wikipedia says it was built in 1950 with a planned 80,000 capacity, in the end settling for half that). In a fairly residential area and without a mainline train station for miles you wonder how the current infrastructure would cope with getting a large crowd. But this is my kind of ground: it wasn't all built in one go, but has been built up over time, each end getting renovated whenever the club had the money to do it. Or not, as the case may be – the Lorne Street stand is yet to be fully completed, some 16 years after the stand was opened. There is a real mish-mash of styles, with a two-tiered structure in one corner that looks like it's been crammed in, with its blue seats going against the amber/black colour scheme of the rest of the stadium. The unfinished Lorne Street stand looks like it has some of the old features of the stand it replaced, with a retro 'Vale Park: A venue for all occasions' sign and original clock, lending a sense of history. Yet because of the overall ramshackle feel, it doesn't seem like a stadium with a capacity just shy of 19,000.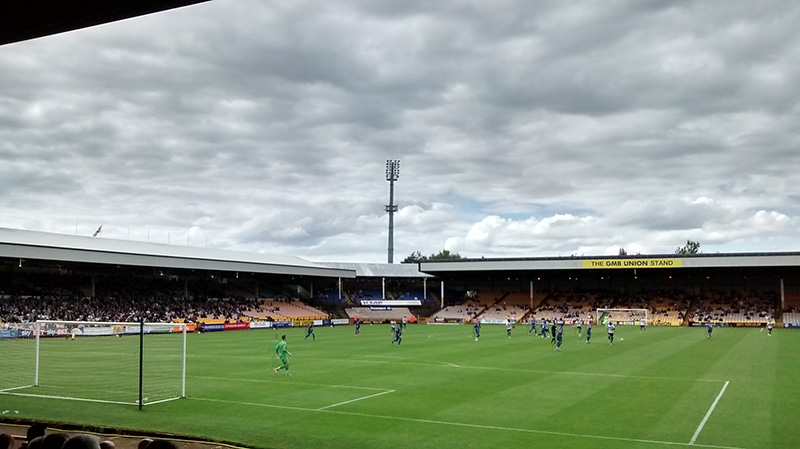 Port Vale had started the season with two clean sheets, with the Gills on the back of two wins including a 4-0 opening day win over promotion favourites Sheffield United. If that opening day had been a walk in the park for Gillingham, they soon knew they were in for a tough game here; inside 40 seconds keeper Stuart Nelson had to be alert to make a quick double-save from Ryan Inniss. It was Gills that took first blood, with the Vale keeper inexplicably opting to pick up a backpass. Not often you seen that, I thought, and it's always an exciting sight: the whole of the opposition standing on the goal-line, the attacking team only eight yards from goal with an indirect free-kick. Yet despite the close proximity to goal they don't often lead to goals, with an eleven player wall and narrow angle to contend with. Chelsea-loanee Jordan Houghton laid it off to Bradley Dack, who smashed it goal-wards; perfectly executed, right into the roof of the net, 1-0. That was his third goal in three games this season, another good finish from our attacking midfielder; QPR and Bristol City are allegedly hovering for his signature.
From then on, it was all Port Vale. Their constant pressing and pace in the final third caused Gills real problems – by the 90th minute we had clocked up six bookings, including one for each of our starting back four; a couple of them were perhaps a tad harsh but it gives an indication of how much pressure we were under. Vale were linking up well and putting together some very nice breaks, including one superb move which ended with GFC right-back Ryan Jackson getting booked and very fortunate not to give away a penalty, the ref deeming the foul was just outside the box when it looked inside. The Valiants' dominance was rewarded ten minutes before half-time, Anthony Grant playing a great ball over the top to Byron Moore, who chested it into the path of Louis Dodds to arrow a great strike across goal and into the far corner.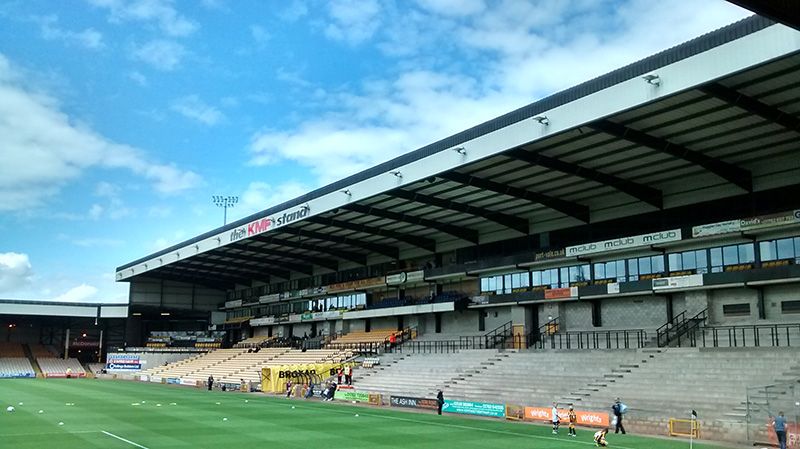 The second half continued with yet more Vale pressure, Inniss hitting the bar for Vale early on. The Gills were missing a presence up front to hold up the ball, with the defence and midfield constantly overworked; there were a couple of breaks forward but were snapped at, ex-Vale striker Ben Williamson wasting a great opportunity by blasting well over when he had two unmarked team-mates either side of him. The introduction of Jake Hessenthaler helped relieve some of the pressure as he harried opponents and brought some much needed energy to the away side, but overall the home side continued to dominate. They flashed one effort across goal and worked themselves into some good positions several times, but a winner proved elusive. After a nervy, edgy 75 minutes it was definitely a well-earned away point for Gillingham.
After a couple of consecutive visits to new builds, it was nice to get away from that and go back to grounds with a bit of history, where the classic meets the new(ish). If anything though this visit mainly served as a reminder of why I prefer to go to games as a neutral, spending the majority of this game fretting and complaining about the Gills' performance. Alas it looks like I'll be suffering another GFC away day in just a fortnight's time; all in the name of doing the 92…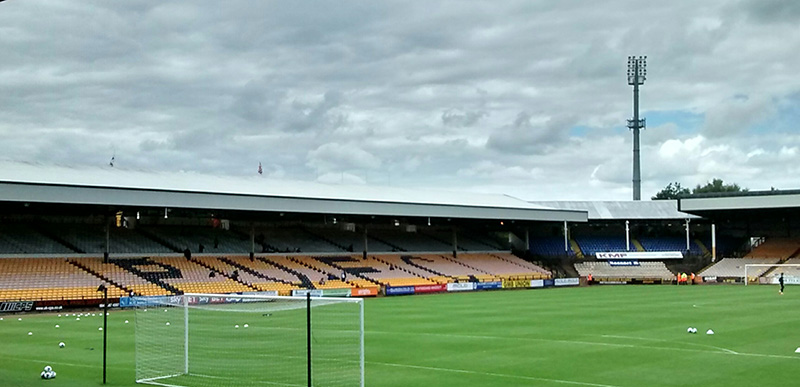 Atmosphere 3/5: Neither home or away end were at their best, the home side undone by going a goal down early on and the away end basically going through the standard Southern-team-away-at-Northern-team chantbook.
Location 4/5: The feel of the stadium and style of surrounding houses made it feel like I was experiencing a match day from a bygone age. Some decent pubs in the area too, apparently, not that I experienced any unfortunately.
Value for money 2.5/5: £23 for League One. Seems standard these days but can't class that as 'value for money'.
Pie Rating and Pint Rating n/a
Programme 3/5: Some interesting content but not the greatest quality.
Character 4/5: Some contrasting style of stands, but plenty of character.
Stewarding 4/5: Friendly stewards, marked down only because they made me take the lid off my bottle of drink (one of my pet hates).
Overall 3.5/5: A lovely stadium and a great set of fans, but not the greatest of games or atmospheres. If this was a latter-season game with something riding on it I'm sure we'd have seen more than 5,067 souls and thus a far better occasion.
Keep up with Michael's 92 here and follow him on Twitter @michaelepilcher. If like Michael you fancy blogging about your experiences doing the 92 league grounds drop us a tweet to @the92dotnet.
Have you ticked the Vale Park off on your quest for the 92 club? Add it to your 92 here www.the92.net/ground/vale-park or plan your trip their with our away day planner here www.the92.net/plan-your-away-day/vale-park