Rochdale fan and aspiring football writer Bryan Cowin gives us his insight into Spotland, the home of the Dale.
The home of Rochdale A.F.C. is located 12.5miles out of Manchester city centre. It has been the home of The Dale since 1907, when it was known as ST Clements Playing Fields after a previous Rochdale Town went out of business. Spotland is shared by Rochdale Hornets Rugby League Club. Spotland has been selected as a venue for the 2013 Rugby League World Cup. Spotland will host the vital clash Fiji v Ireland. This will be the first Rochdale has staged an event in a World Cup in any sport.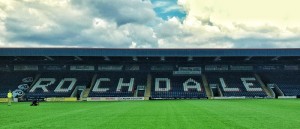 Thanks to @Spikey3187 for the pic of Spotland
Most of the atmosphere is generated from the Thwaites Beer Stand (the Sandy Lane End) although most of the stadium likes a sing-song. The away fans are housed in the the Westrose Leisure Stand (the Willbutts Lane Stand
Where to eat and drink
Close to the ground there are a few pubs and eateries, with one being in the ground. The best place for away fans is Studds Bar opens its doors from about 12pm on the days of home matches to both home and away supporters. It's mostly used by home fans but there's often a decent sprinkling of away supporters depending on who the opposition is. If you like some found I would recommend you go to The Cemetery Hotel, which is a lovely pub and nice food and is very close to the ground, alternatively there is a retail park just as you come off motorway where there are fast food options.
How to get there
By Road
Take the M62 and come off at junction 20, follow the road for Rochdale A627 (M), turn left at the next set of traffic lights, when you come towards the roundabout middle lane and straight across, at the next crossroads straight ahead, and you have reached Spotland.
There is a car park 10 mins walk away from the ground unless you require a disabled parking bay, where you can park at the ground.
By Rail
The main train station is 2.5 miles away, or 35 minute brisk walk, I would advise you get a taxi which can be pre booked and will cost £6-£7
Follow Bryan on Twitter @btc10_27