The Groundsman: Firstly John many congratulations on completing the 92! Which was your final ground and did you commemorate the occasion?
John: Thanks! My final visit was to the League's newest newcomers, Fleetwood Town, for a hard fought goalless draw with Southend United on 8 December 2012. It was a very cold day, so it was nice to be able to travel to the ground using the modern tram system from Blackpool.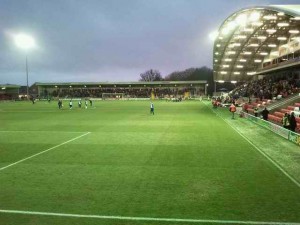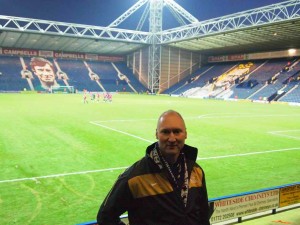 When I finished the 92 clubs for the first time in 2011 with a visit to Preston, I was lucky enough to follow Southend to Deepdale as a result of a favourable first round FA Cup draw. The team had heard about my quest and had been spurred on by sharing a hotel with celebrity Timmy Mallett the night before the game. Another gutsy nil-nil ensued and I celebrated by going to Mr Mallett's personal appearance in nearby Prescott!
GM: What was the first ground you ticked off your list?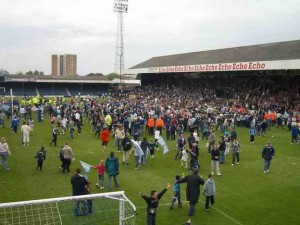 John: My first ground was Roots Hall, on 15 December 1990. None of my family were interested in football, so when my grandfather obtained a couple of complimentary tickets, I was delighted that he chose to take me with him. Since then, and despite having lived out of the area for most of the 20+ years since, I have become a regular and a season ticket holder during some of the best times in Southend's history – I have been privileged at Roots Hall to witness two spells in the Championship, a League One title and a victory over Manchester United during that time.
GM: Which ground was your favourite overall over the course of the journey?
John: There are some amazing stadia in the top divisions – the Emirates is a superb modern arena, Old Trafford is the home of the most consistent side in the English game during my two decades of watching live football but, as an overall package, it's got to be St James' Park, Newcastle. That city bleeds black and white and it's a moving experience to walk to the ground from the city centre. Even though my visit was for a Championship game (against Leicester, 31 August 2009), there were almost 40,000 in attendance and the Gallowgate end was buzzing.
GM: And your least favourite?
John: I don't have happy memories of my visits to Swindon and Crawley where facilities for away fans were limited and results were distinctly forgettable… Of the more recently constructed grounds, Colchester United's Community Stadium lacks atmosphere and is poorly served by the park and ride.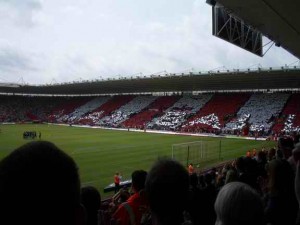 GM: What are the lasting memories of your travels?
John: I've had so much fun completing the 92 – it's incredible to think that I've been able to get to 74 of the current grounds with Southend and there are some great moments to look back on: Promotion secured at the Liberty Stadium, an injury time equaliser at Stamford Bridge, victory in Southend's first ever game against Leeds United, Freddy Eastwood's birthday hat-trick at Bristol City, taking Tottenham to extra time at White Hart Lane, penalty shootout heartache at Meadow Lane, proud and unbowed after a playoff mauling in Doncaster, farewell to the Championship and an Alan Ball tribute at St Mary's, Daryl Flahavan's two saved penalties in a 3-1 win at Gresty Road, an unexpected 4-2 win in Hartlepool, walking to an FA Cup fifth round tie at Hillsborough…
And then there's the amazing games I've attended as a neutral as part of the 92 quest: Hearing 'You'll Never Walk Alone' at Anfield, an epic 3-3 draw with Barcelona at Old Trafford and an incredible 11 goals at Fratton Park!
GM: Finally, as we all know the 92 can sometimes only last a season if relegations for League 2 and promotions from the Blue Square go against you, in an ideal world who would be your 2 to up and down at the end of the season.
John: I have followed Southend to several of the Conference teams when they have previously been in the league so I would like to see Wrexham come up from the Conference as I feel I should really have been there in the past. It would also be nice to see Forest Green Rovers in the league just to watch everyone searching for the ground on a map!
As for teams going down from League Two, that's not a fate I'd wish on any club. Barnet look set to move to Harrow next season, so I hope they stay up. Southend have not been particularly successful at Burton or Morecambe since they joined the league, so perhaps I'd like to discard them – of course we could always avoid playing there by getting promoted!
GM: Thanks to John for taking the time to spare his experiences on his journey. Keep up to date with John on his on going journey following the mighty shrimpers on twitter @OldPaShrimper. If you would like to guest blog with us just drop a tweet to @the92dotnet