Geoff Jackson, the92.net's first official 92 club member speaks to the Groundsman about his journey to do the 92 Football League Grounds.
The Groundsman: Hi Geoff, firstly congratulations on completing the 92! Which was your final ground and did you commemorate the occasion?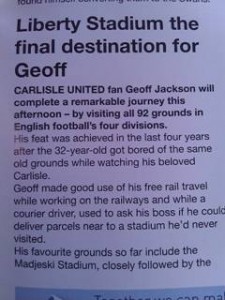 Geoff: My Final ground was the Liberty Stadium for Swansea V Norwich last Feb. To commemorate the occasion my friends at Carlisle United had contacted Swansea and a little note was placed in the programme (right). Norwich striker Grant Holt scored 2 for the Canaries that day, his mum lives directly behind our house. And it was former Carlisle United striker Danny Graham who scored for Swansea too.
GM: Wow, certainly seems like everything that day was in relation to your achievement! What was the first ground you ticked off your list?
Geoff: My first was obviously my home team Carlisle United at Brunton Park when I was about 7.
GM: Which ground was your favourite overall over the course of the journey?
Geoff: My favourite ground was either Reading (which was probably the game that got me hooked on Ground-hopping up until that point it was just Carlisle away games I went to) or Swansea when I was there for my final one. Both were enjoyable games and the atmosphere was good. The new ground at Brighton is also well thought out with the fans in mind.
GM: And your least favourite?
Geoff: My first trip to the old Bloomfield Road on a cold and wet October night wasn't the best thankfully it's been totally upgraded since then but the worst has to be Accrington Stanley; 2 visits and 2 defeats and it always wet and cold.
GM: What are the lasting memories of your travels?
Geoff: Some grounds can be rubbish but if the game and atmosphere is good you tend to enjoy it more, coming from Cumbria I have put the miles in (390 each way to Plymouth is the longest I did that in 1 day). The closer you get to the end of the 92 the more frantic you get to complete it!
GM: Finally, as we all know the 92 can sometimes only last a season if relegations for League 2 and promotions from the Blue Square go against you, in an ideal world who would be your 2 to up and down at the end of the season.
Geoff: Ideally I'd like one of the former league clubs to come up like Grimsby or Wrexham. I haven't been to Luton or Newport yet who are up the top end of the table. Accrington and Barnet can go down for me as I believe Barnet are moving at the end of the season.
Geoff has topped up his 92 for this season, with the New York Stadium being his only addition to his list. His next target is to do the Scottish League ground and he is currently on 28 of the 41. Thanks to Geoff for taking the time to speak to the Groundsman, keep up to date with him on twitter @CumbrianGeoff. If you would like to guest blog with us just drop us a tweet @the92dotnet