Blogger Michael Pilcher heads to Humberside as Hull entertained Birmingham with both teams chasing down Brighton at the summit of the Championship.
Ground: KC Stadium 74/92
Game: Hull City 2-0 Birmingham City
Date: 24/10/2015
After two months of no new grounds – nothing ticked off since Sunderland in August – a planned October half-term up North meant I had a chance to get back on the 92 trail. The trouble was, the weekend fell on a wedding anniversary – 7 years and counting – and so serious some bribery was going to be in order.
But this required bribery ultimately made my decision over what ground I was going to do: for years, my wife has mentioned wanting to do go The Deep in Hull, a futuristic aquarium/the worlds only 'submarium'. What if I offered to take her to Hull at long last, and take her out for a meal after…with the small matter of me disappearing for a few hours in the mid-afternoon for football reasons? A deal was struck, and ground number 74 was on.

After a morning at The Deep – very impressive I have to say, well worth a visit – I left my wife shopping in town, and made the short ten-minute walk to the ground. A doddle to get to from town, the planners clearly wanted their townsfolk to walk to games: after going over a large footbridge leading right to the KC, when you first see the ground you notice the unusual curved shape of the roof. It's a certainly impressive visually but overall the ground just felt a little cold and sterile. It's big and grey, with no colour or logos in sight, which is especially odd when you consider this is a sponsored ground. It was only after walking three-quarters of the way around the stadium to be greeted with a giant photo of Dean Windass that gave any indication as to where I was.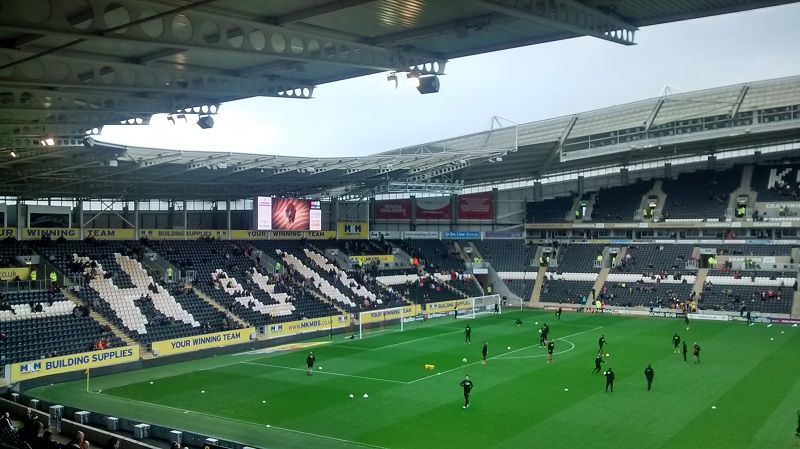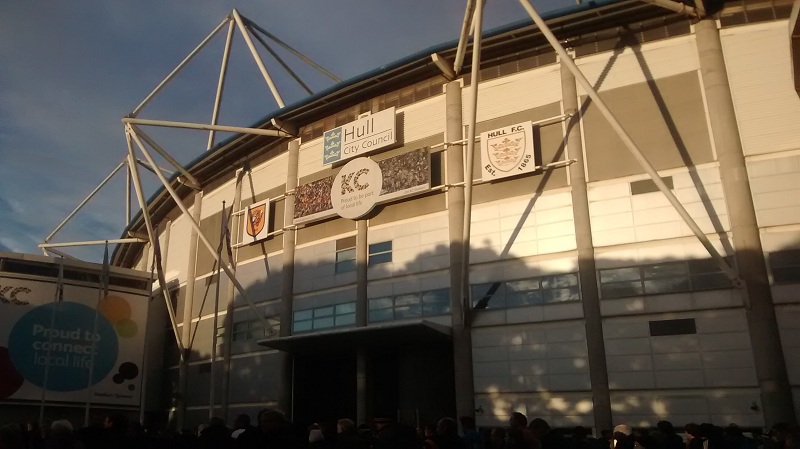 In fairness the inside is impressive, with a good view even from my lower price-band seat, and the facilities are excellent. Although the black seats with white just screams 'neutral'; the ground is shared with the towns rugby side, and is also used for other events – ever the traditionalist, I prefer to see my grounds in club colours. The two screens at each side of the ground relayed club trivia, giving you ten seconds to answer reach question, which I've never seen done before and thought was a good use of the screens.
So, to the game: I haven't followed the Championship much this season, so looking in my programme I was surprised to see Birmingham were 2nd in the table, with Hull just behind in 4th. A big top of the table clash, with Hull's home record and Birmingham's away record identical – W 4 D 2 L 0 – surely this one had 'draw' written all over it? It seemed that way early on, with Birmingham sitting deep and Hull, despite their possession, unable to find that telling final ball. The home fans were in fine voice, with most of theirs chants in praise of Steve Bruce: in this age of managers being constantly hired and fired, it's refreshing to see fans backing their manager.
As the half wore on and the chances and chants died down, the Tigers got increasingly edgy, drawing some 'ssshs' and less than complementary chants about atmosphere from the Brum end. As those away fans thought they were going to get to,half-time goalless, Hull burst into a two-goal lead. First David Meyler netted a fine side-footed effort, and two minutes later some great work down the left-wing from Andrew Robertson led to Abel Hernandez turning and shooting home.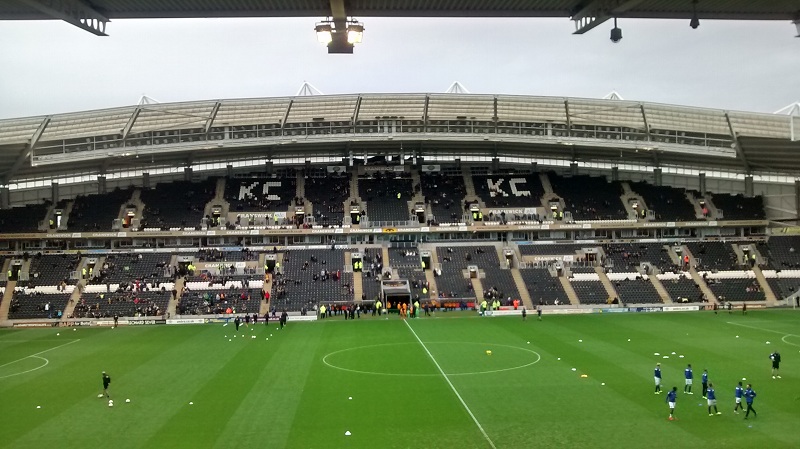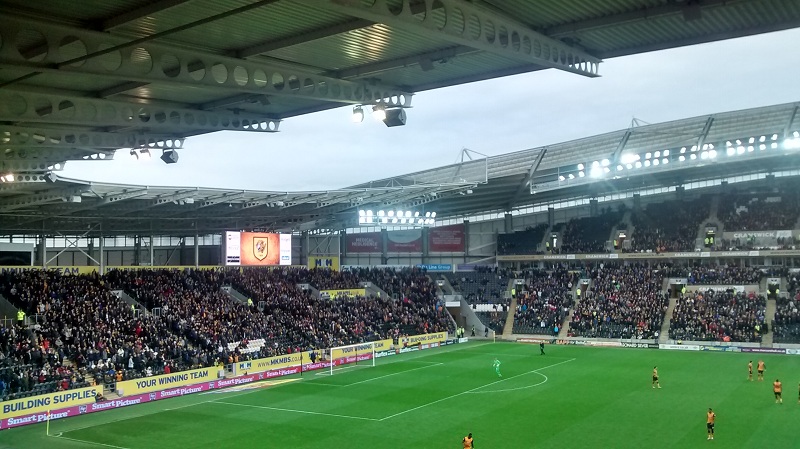 The second-half was all Hull, they could easily have doubled or tripled their score, with Sam Clucus particularly unlucky not to score. A comfortable days work for Hull as the moved up to second, with Birmingham offering absolutely no illustration of how they are so high in the table: a day to forget.
After making my way out the opposite side of the ground, through parkland – nice to see a new ground not in an industrial estate – I headed straight for my anniversary meal. Factoring in the aquarium, meal and a hotel stay this was shaping up to be one expensive weekend. I suppose ultimately my wife was happy with her end of the bargain, and I was happy with my mine – I had ground 74 in the bag. Marriage is about nothing if not compromise.
Atmosphere 3.5/5: Apart from a mid-first-half lull the home fans were in decent voice. Not much to enjoy for the away end, so unfortunately didn't hear a great deal from them.
Location 4/5: Large parkland at one side of the ground, a footbridge leading to town on the other.
Value for money 2/5: £27 lowest price ticket for a category B game.
Pie Rating and Pint Rating n/a
Programme 5/5: It takes a lot in the age of the £3 standard programme for something to catch your eye, but Hull's is a top effort. Landscape rather than portrait, the design and content is spot-on.
Character 2.5/5: The surroundings are nice and it's not penned in by shops or car parks. Whilst the stadium design is unique and eye-catching, the overall appearance is not. Maybe if the owner ever gets the club renamed Hull City Tigers he could give the dull exterior an amber and black striped facelift…
Overall 3/5: The town and ground seemed nice enough and the atmosphere was good in spells, but £27 for a largely comfortable one sided game, this isn't a visit to treasure. In fact writing this a day later I've already feel like I've forgotten most of it.
Keep up with Michael's journey doing the 92 here and follow him on Twitter @michaelepilcher. If like Michael you fancy blogging about your experiences doing the 92 league grounds drop us a tweet to @the92dotnet.
Have you ticked the KC Stadium off on your quest for the 92 club? Add it to your 92 here www.the92.net/ground/kc-stadium or plan your trip their with our away day planner here www.the92.net/plan-your-away-day/kc-stadium