Groundhopper Michael Pilcher gets the first tick off his 92 for the new season. Leicestershire was the destination as the foxes took on relegation survivors Sunderland under the stewardship of new manager Claudio Ranieri.
Ground: King Power Stadium 71/92
Game: Leicester City 4 – 2 Sunderland
Date: 08/08/2015
Ah, the joys of pre-season. From the transfer rumours, to the eventual new signings or sudden emergence of a youth team player, to reading a bit too much into pre-season performances. The first game of the season is always exciting, with an unexpectant, slightly relaxed buzz. No formbook, no desperation for points, just two sets of players and fans buoyed by a summer of optimism, looking ahead and wondering what 2015/16 may bring them.

Sunderland experienced the joy of Dick Advocaat going against a promise to his wife and reversing his decision to retire – Sunderland fans clubbed together and raised over £2,000 for flowers for Mrs Advocaat – whilst Leicester unexpectedly sacked last season's saviour. Despite rescuing the club from relegation with a superb run at the end of last season, an "incident" involving his son on a pre-season tour of Thailand plus a generally fractious chairman-manager relationship meant Nigel Pearson got the chop. In came Claudio Ranieri, perhaps a surprise choice considering his recent CV; although, after several years of working with Pearson, the board probably just wanted a 'nice guy' manager.
The King Power – what even is 'King Power'? And when did it stop being Walkers? – is on my 'No Man's Land' list of grounds; not that close to my house in Maidstone, not that close to my in-laws' in Preston, this was effectively going to need a day out. The Leicester ticket office told me the week before it was "highly unlikely" tickets would make general sale, so I was gearing myself up for a drive to Cambridge United. Then a few days before the game, some tickets made it to general sale; King Power, here I come. I armed myself with some cheap advance train tickets – not quite as cheap as they had been when I first tried to book them mind, and the cheapest one left at 8:30 – and so here I was in Leicester at 11:30 on match day, with several hours to kill. Initially greeted by discount and independent shops, the further you walk into town you soon hit the 'cultural quarter; the local market, the cathedral and, if you're historically inclined, the Richard III Centre. With it being a University town there's no shortage of pubs & drinking establishments, with the Barley Mow near the station seemingly the main choice for away fans, already swarming with red and white stripes at midday.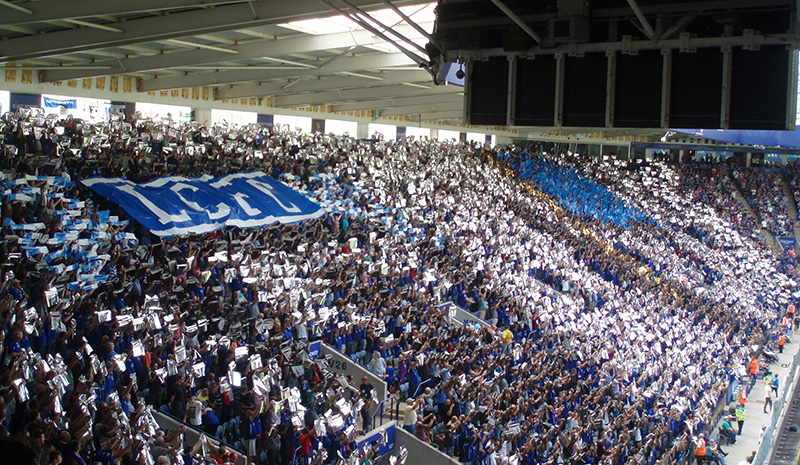 The walk from the train station to the ground didn't seem as easy as my Googled directions made out. It's signposted from the centre but once you've made it through Nelson Mandela park and past the Leicester Tigers rugby stadium, it's a free for all. Each blue shirt seemed to be heading in a different direction, each with their own shortcut or established route; the fact it was a searingly hot day meant I was keen to just get to the stadium rather than pounding unknown streets. With a lot of grounds you can see it way in the distance, the presence of it looming large over the town/city. Oddly despite being a large stadium you don't see the King Power until you're quite close to it, obscured by shops and trees. Once you've arrived, it's impressive enough, but is a fairly standard new build. Lots of shiny bright white poles, lots of corporate logos, nothing quirky or out of the ordinary. Inside, more corporate logos, lots of clean shiny seats in club colours. The only unusual feature was a club remembrance garden just outside the ground, which I thought was a nice touch.
Unlike most new builds though, King Power certainly has one thing going for it: atmosphere. Starting from before kick-off the home fans made one hell of a noise, each attack sending the volume up a notch, and they were quickly rewarded. Kasper Schmeichel had to be alert to make an early quick-fire double save, but there was to be no tentative sizing-up-of-the-opposition from either side here – once Jamie Vardy nodded in after ten minutes, a new-look Sunderland defence crumbled, unable to handle Leicester's constant pressing. The impressive Riyad Mahrez nodded in a second before soon earning and converting a penalty: 3-0 up within 25 minutes, the Foxes couldn't believe their luck. "We're Leicester City, we're top of the league" the home stands gleefully chanted. A shell-shocked Advocaat made a tactical switch after just half an hour, throwing on Steven Fletcher for the anonymous Lee Cattermole, whose sole contribution had been to concede the penalty.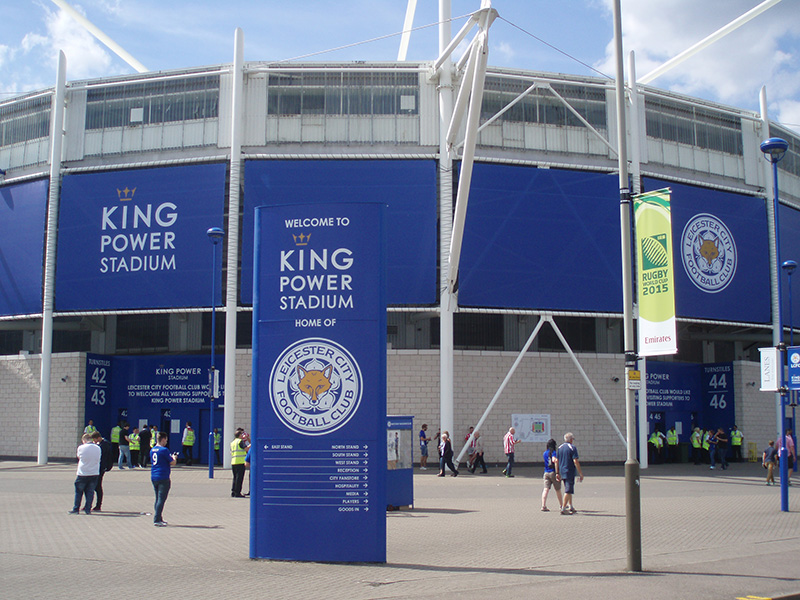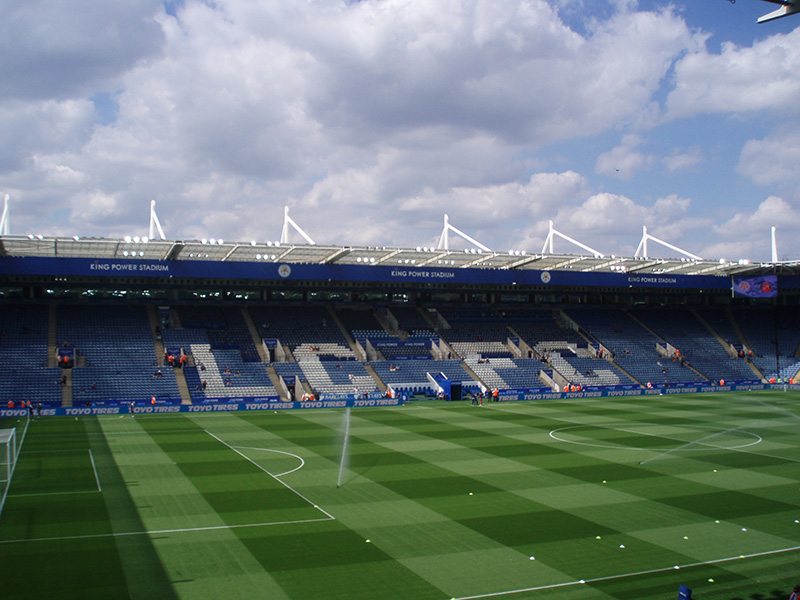 The poacher Jermaine Defoe pulled one back in the second-half to make it 3-1, before Marc Albrighton shot home to extend the home side's lead. Fletcher headed home another consolation after Jeremain Lens lobbed Schmeichel, but Leicester deserved their win and it's no exaggeration to say they could've had eight or nine. Vardy was denied after a one-on-one, Mahrez was unlucky to hit the post after some penalty-area shimmying, later forced a fine save and pushed a good chance wide. Another several late chances went unconverted including one decent one for summer signing Shinji Okazaki, who deserved to mark his fine debut with a goal. 4-2 was the final score, following an exciting display from Leicester that had the Foxes talking up their team's chances this season. Sunderland on the other hand were a shambles; Advocaat is probably wishing he took up that retirement.
Finally, a word of warning to anyone needing to head back to the train station after the game – don't follow the swarms of blue shirts. Everyone seemed to be heading the same way so I follow suit, assuming they were heading back to the town centre; after fifteen minutes of following the herd I decided I'd better check my phone Maps app, and realised they and I were heading away from town. Good job I wasn't in a rush…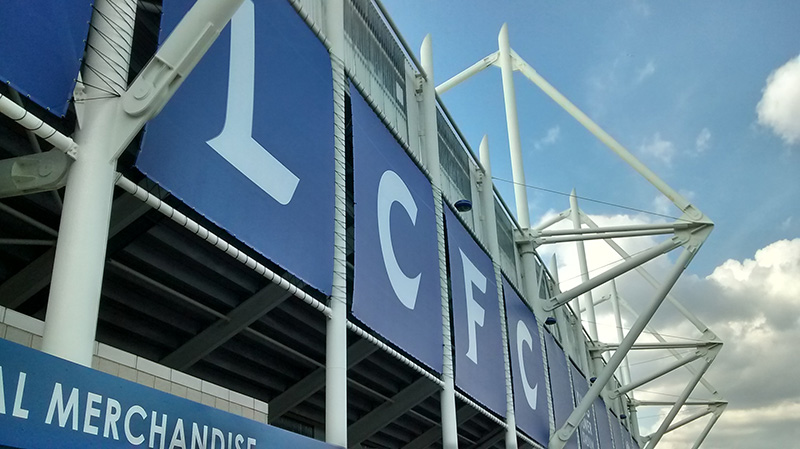 Atmosphere 4/5: A large crowd were in fine fettle. The home fans sang throughout, most of the players seemed to get their own chant and there was even an acronym-based 'LCFC' chant, which I've never heard other clubs do. No doubt stunned into silence, there wasn't much noise coming from the Wearsiders.
Location 3/5: Surrounded by shops and industrial estates as seems to be the norm, it's only a fifteen minutes or so walk from the town centre. A nice enough town, although the ground is quite out of the way.
Value for money 2.5/5: I had to get a mid-priced (£36) ticket due to the cheap ones selling out before general sale, this coupled with £50+ travel costs meant Leicester is my most expensive ground tick thus far. For the £36 match ticket, I had a good view and luckily it was an entertaining game, but £36 still seems a lot for a lower-end Premier League tie.
Pie Rating and Pint Rating: Not sampled
Programme 2/5: All style, no substance. Charging £3.50 seemingly because each one is sealed and comes with a poster, it was nice to look at but with no great content or interesting features, and very ad-heavy. Randomly, rather than an established player or new signing, chairman Vichai Srivaddhanaprabha was on the front cover.
Character 2/5: Not quite the soulless new build I was expecting, although this was almost entirely because of the superb atmosphere.
Stewarding 5/5: Friendly, helpful, and didn't insist on bag searching; no complaints.
Overall 3/5: A fantastic atmosphere and I did enjoy my couple of hours wandering about the city centre, but an expensive day out all in all. This was really 'one for the stats'; another tick off the list, but not a ground that will live long in the memory.
Keep up with Michael's 92 here and follow him on Twitter @michaelepilcher. If like Michael you fancy blogging about your experiences doing the 92 league grounds drop us a tweet to @the92dotnet.
Have you ticked the King Power Stadium off on your quest for the 92 club? Add it to your 92 here www.the92.net/ground/king-power or plan your trip their with our away day planner here www.the92.net/plan-your-away-day/king-power