Blogger Michael Pilcher yet again continues to tick off grounds with another 2-in-1 weekend. The destination this time, a local derby between promotion chasers Bristol City and highflying Swindon Town at the County Ground.
Ground: The County Ground 69/92
Game: Swindon Town 1-0 Bristol City
Date: 15/11/2014
As with my most recent ground hops this visit very much fell into the 'bribery' category with Mrs P. A work colleague originally from Swindon was having a 30th birthday party that just so happened to be taking place at the County Ground, on the same day as 3rd-placed Swindon Town were playing rivals and top of the table Bristol City. Too good to turn down surely? Even if, in this case, it meant the expense of a hotel for the night and taking the other half to the nearby Macarthur Glen shopping outlet on the Sunday.
A hotel a few miles away from the ground was my base for the weekend, and that short journey saw no end of roundabouts, culminating with the famous/infamous Magic Roundabout right next to the ground. I'd always assumed the 'roundabouts' chants I'd heard about Swindon were based purely on the Magic Roundabout, but there was loads of the things; the town planners in Swindon were roundabout crazy. Getting to the ground early, there was a definitely air of excitement amongst the bumper crowd.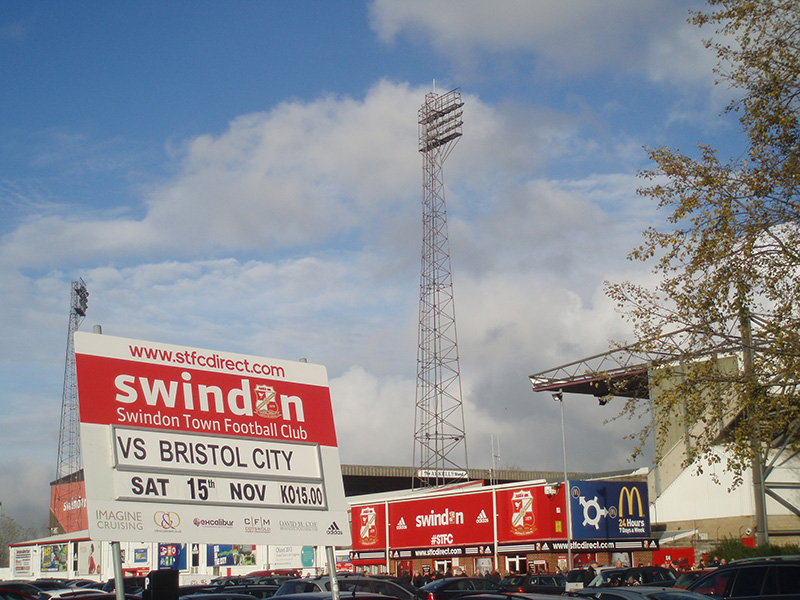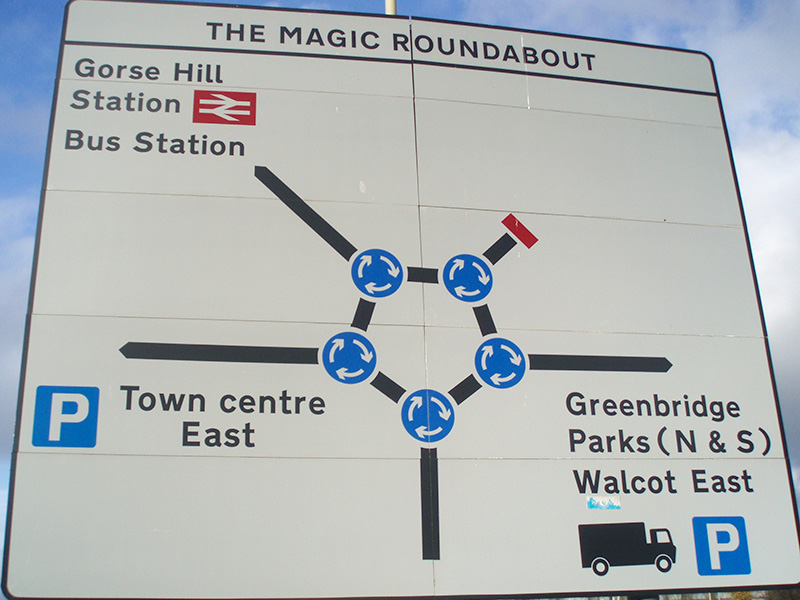 Stepping in to the Town End before kick-off, it was like stepping back in time; corrugated iron roofs, retro electronic scoreboard, and the feeling was accentuated by being crammed in and the people around me smoking and drug-taking. Yep, really. Whilst I'd like to consider myself a pretty liberal kind of guy, for me the time and place for snorting white powder is not on a football terrace. In my twenty years of going to football this was probably the only time I've ever felt uncomfortable, the group of fans to my left interspersing their recreational drug use by playing some sort of offensive shout bingo – homophobic, sexist, racist, you name it. On arguably their biggest day of the season the stewards lost it here, turning a blind eye to many things, like standing, overcrowding – in my row of 10 seats there were almost double that crammed in – as well as the things outlined above. They weren't helped by hoards of people turning up ten minutes into the game, but they seemed to let them all into the central block where I was stood, rather than trying to disperse them. It's a tough job at the best of times, let alone on derby day, but they only earned their keep by occasionally walking up the gangways during the closing ten minutes and nudging people aside. Fans can seemingly do what they want, just so long as the gangways are clear…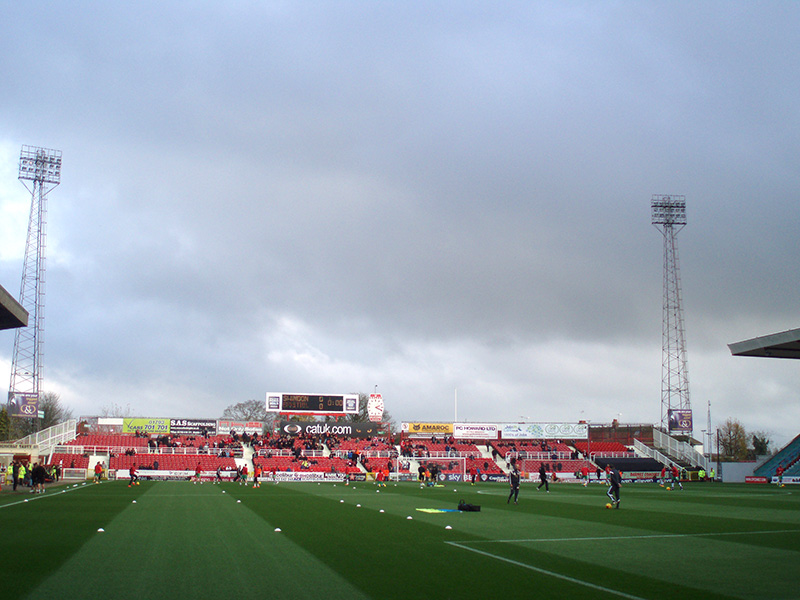 Despite having to keep one eye on the handful of drug-addled 18-year-old "ultras" to my left, the other was focussed on what turned out to be an engrossing game. A feral derby atmosphere was taken up a gear when City captain Wade Elliot was sent off in the second minute, seemingly for an elbow. (To this onlooker the Swindon player looked to have made a meal of it, not that I'd dared have voiced such views at the time!) Bristol City's 22-match unbeaten run was looking under serious threat, although in an opening half of few chances, they were rarely troubled. It was the second-half when that extra man started to tell for Swindon, the home side using possession well and creating a host of chances. When home full-back Nathan Byrne hit a rasping 25-yarder against the bar, you sensed the goal was only a matter of time, and when it came in the 78th minute it was a moment of real class. Town striker and top scorer Michael Smith played a one-two and when he got the ball back, danced past three defenders before curling in from close range. I was almost crushed in the ensuing celebrations. Swindon saw the game out, a half-chance blazed over by Aaron Wilbraham was City's only real second-half chance, and the crowd celebrated a fine Robins derby win and moving up to second in the table.
I then got the pleasure of coming back to the County Ground a couple of hours later, enjoying a few drinks in the Legends Lounge for the afore-mentioned 30th birthday party. It's not often you get to drink surrounded by pictures of Fraser Digby & Glenn Hoddle, or have life size photos of Jan-Aage Fjortoft on the doors to the toilets. Quite a few of the party-goers had been at the game, and it was a great evening which I needed after having a downbeat feeling when I left the game. The fans I met at the party had suffered their share of disappointments, regaling me of stories of former glories, but were in good spirits after a fine day for them. They'd beaten their rivals and were sitting pretty in the promotion places; when you're a lower league football fan, it rarely gets much better than that.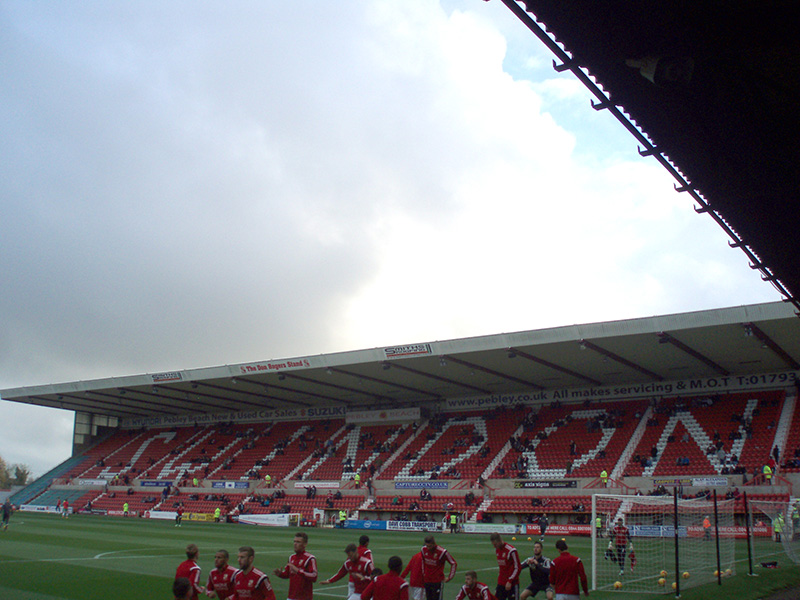 Atmosphere 4.5/5: Suitably buoyed by M4 derby day, a braying Town End was in full voice throughout. The only let-down was the open away end meant the sound of the City fans was mostly lost.
Location 3.5/5: Swindon has plenty of shops and a few places of interest – the Oasis Leisure Centre where the band Oasis got their name from! – and the town is no doubt a Mecca for roundabout enthusiasts. Train station walkable distance and plenty of pubs and eateries nearby.
Value for money 3.5/5: Despite being a Gold Category game it was actually only £2 more than a Bronze game. Considering the atmosphere and magnitude of the game £20 felt reasonable. Red card, great goal, not bad overall.
Pie Rating and Pint Rating n/a
Programme 3/5: Bit light on stats & heavy on adverts, and as a programme purist I like to see the back reserved for team sheets rather than a list of sponsors & club partners.
Overall 3.5/5: Despite feeling a bit on edge, it was certainly a memorable trip! The County Ground has an interesting mix of stands, and – apparently – has the World's only football-stadia based Rolex clock. If I'd sat in another stand I'd probably have had a better impression, I was somewhat unlucky in terms of seat location. A visit that'll live in the memory, if perhaps for not all the right reasons.
You can keep up with Michael's 92 here and follow him on Twitter @michaelepilcher. If like Michael you fancy blogging about your experiences doing the 92 league grounds drop us a tweet to @the92dotnet.
Have you ticked the County Ground off on your quest for the 92 club? Add it to your 92 here www.the92.net/ground/county-ground or plan your trip their with our away day planner here www.the92.net/plan-your-away-day/county-ground