A big welcome to blogger Michael Pilcher making his debut on the92.net blog – a what an entrance too! In his trip to Dagenham Michael had an evening to remember…
Number 66 of 92: London Borough of Barking & Dagenham Stadium
I was thinking about putting off Dagenham & Redbridge: I was only 65 grounds into my 92 and, living in Kent, it's the only ground I had left in close proximity. When I'm getting to my final few ticks, do I really fancy a trek up to Carlisle, or Hartlepool? Can I do it on a cold Tuesday night in Stoke? But with the family away, D&R only being about 30 miles from work and the opportunity to keep my CPG (cost per ground) down with £10 terrace tickets, I decided to hell with thinking tactically and getting ground number 66 ticked off. Even if it was by far the closest one left on my 'To Do' list.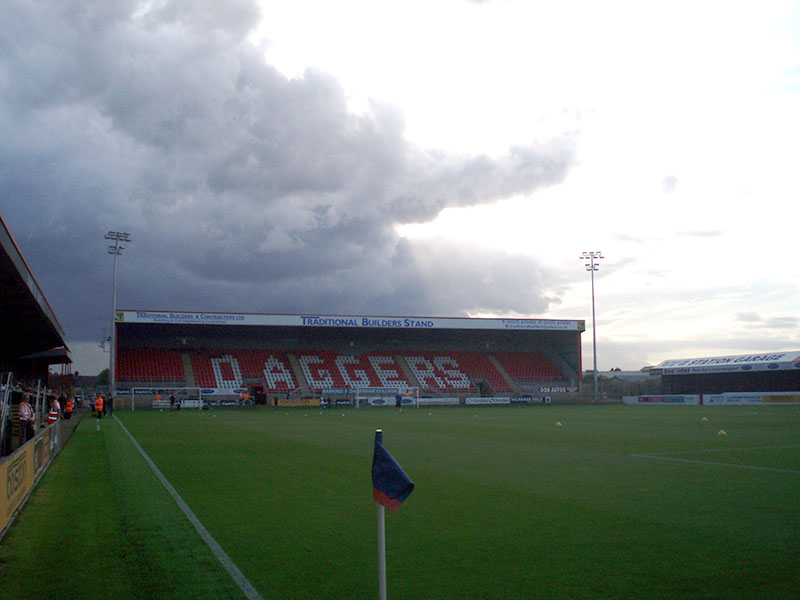 After a fairly comfortable drive from Kent – hardly any hold-ups on the Dartford Crossing (that would come on the way home) – I ended up arriving in Dagenham a good two hours before kick-off. I secured myself some free street parking near the ground and decided to explore the area. It mainly seemed to consist of flats, flats, an industrial centre, and more flats. Not a public house in sight. I killed some time walking around the sparsest club shop of all time, before walking back to the car to see if I'd missed anything down Dagenham way. I really hadn't.
The game itself was…crazy. When Brentford went 2-0 up after 9 minutes you feared there might be a cricket score, but fair play to the Daggers who kept going despite being hampered by their clearly over-generous defenders. They pulled it back to 1-2, before a sloppy goal made it 1-3; Dagenham scored their second just before half-time for 2-3. A 25-yard screamer ten minutes into the second-half made it 3-3, only for yet another defensive lapse allowed Brentford to go 4-3 up. There was still time in the 90 for Daggers to make it 4-4 with a superb goal from an acute angle in the 90th minute, before almost snatching a last minute winner. Extra-time saw four more goals and more sloppy defending: 5-4 to Brentford, three minutes later it's 5-5. Dagenham went ahead for the first time to make it 6-5 only for Brentford to equalise for a League Cup record-equalling twelfth goal of the game with just minutes to play. Incredibly, 6-6 it finished.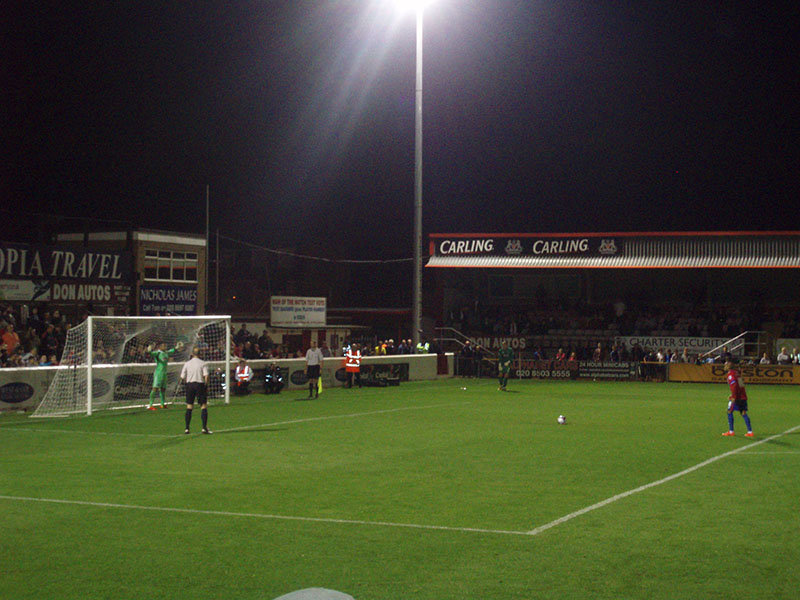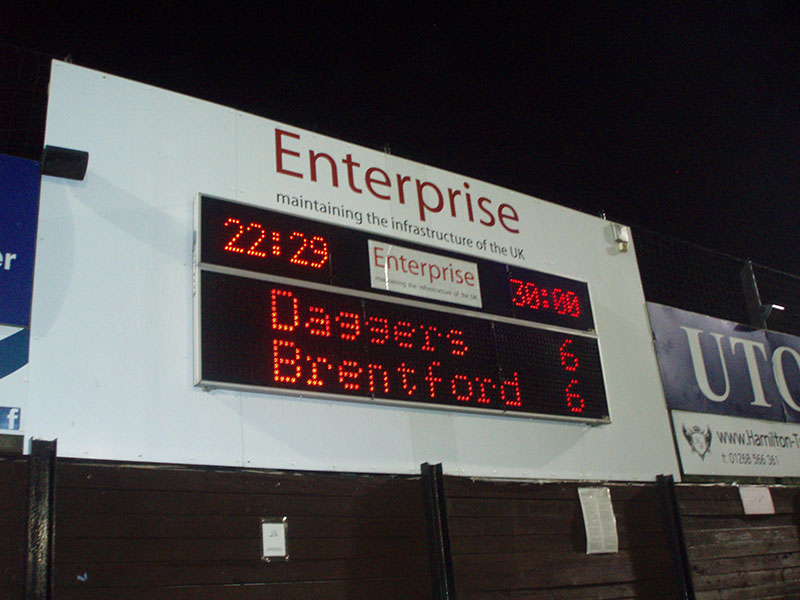 And so to penalties: both teams seemed very keen to get home, undoubtedly the quickest shoot-out ever witnessed – as soon as one player had taken their kick the next was already half-way down the field on the way to take theirs. Dagenham never recovered from missing the opening penalty, Brentford going on to win 4-2.
Atmosphere 4/5: It can be difficult to get a full sense of a club's atmosphere at a League Cup game. The enticement of £10 tickets attracted a fair sized crowd though, including a drummer, and the home fans made plenty of noise as their side overcame a poor start.
Location 2.5/5: On the plus side, there was no difficulty finding free street parking nearby. But…there's nothing in the area. Except lots of flats and industrial shops.
Pint & pie: Not sampled
Programme 3/5: Pretty standard fare. £2.50 for a fairly sparse programme which seemed more advert-heavy than others.
Value for money 5/5!: £10 to see 12 goals, extra time and a penalty shoot-out. All that was missing was a red card.
Overall 4/5: I must admit I have a soft spot for grounds like this; stadiums that have been built over time, the stands all different sizes, shapes and ages. Give me Dagenham over one of the identikit new grounds any day. The fact it was 12-goal Cup game, and I got to stand on proper terracing, was the icing on the cake.
Thank you to Michael for reviewing his extraordinary visit to the home of the Daggers. You can follow Michael on Twitter @michaelepilcher and look out future reviews over the coming season. Have you ticked Dagenham off your 92? Rate / slate your visit with us or plan your trip there with us.