Eager to reach the magical 92 mark before the seasons end Blogger Michael Pilcher was heading North again. Blundell Park was the destination as the Gills fan took the opportunity to join some travelling Exeter fans on the journey to Cleethorpes.
Ground 88/92: Blundell Park, Grimsby
Grimsby Town 0 – 3 Exeter City
14/01/2017

There was something about Grimsby that had previously put me off going. Maybe it was it's reputation; maybe it was the name; maybe it was just the prospect of a 4 to 5 hour trip up the East coast. The closest I came to visiting before was a Gills away day at the end of the 08/09 season, stopping myself as it looked like the Mariners were about to go down into the Conference. I dodged a bullet there – relegation-threatened Grimsby thrashed the promotion-hunting Gills 3-0 – although it was a result that in the end helped Grimsby to stay up. Town did go down into non-league the season after but, after a six-season absence, they were now back in the League. As I was now determinedly chipping away at my 92 I needed to tick Blundell Park off, and so required a convenient way of getting up there. Enter my work colleague and fellow 92er, Nigel B.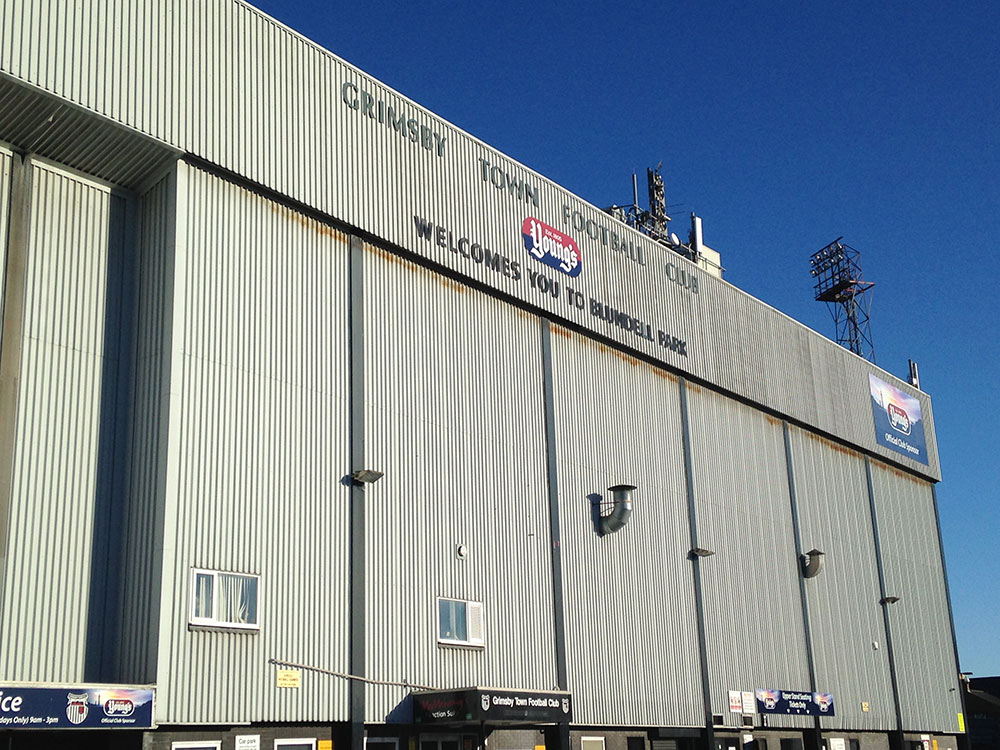 Nigel is a Grecian fan – driving me up to Sunderland and back one crazy Tuesday night last season – and regularly goes on Exeter Exiles away days. The Exiles have someone who books travel from London and match tickets en mass, usually securing a tasty discount, and so I made my interest known a while ago. With 24 people going up from London the train tickets to Cleethorpes were much cheaper than I could have got them, so it was a great opportunity for number 88. (Grimsby Town actually play in Cleethorpes, so are one of the few League clubs to play outside their home town. And their tenth-tier rivals Cleethorpes Town play their home games in…Grimsby. Madness). The bad news: we were meeting at Kings Cross at 8:10 to leave for Cleethorpes a bit after. To get the train from Tonbridge to Victoria and then get the tube over to Kings Cross meant getting to Nigel's for 5:40, and as I had to get over to his from Maidstone this meant getting up at 4:40. 4:40am.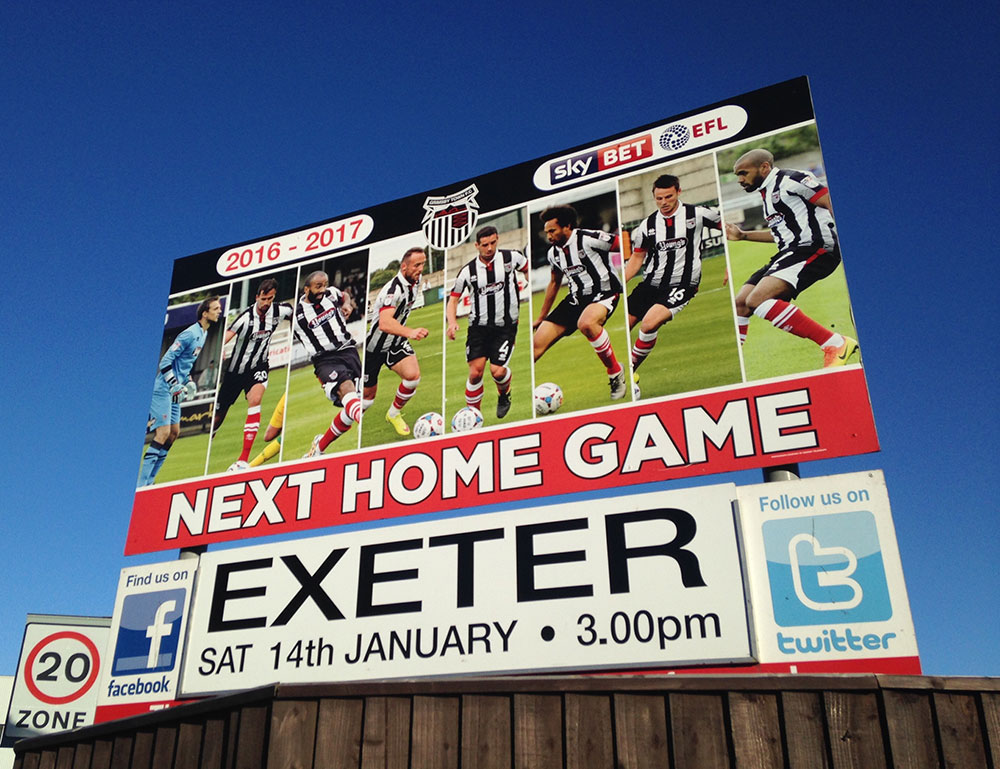 My determination to visit my remaining grounds was leading me to make some crazy decisions. Thankfully Nigel made the early start and the journey much easier, on top form as ever as he regaled me with stories of some of his old ground visits. The Belle Vue human pyramid/St Johns Ambulance story was another classic – Nigel if you're reading this, you have to start a the92.net blog and start getting these stories written down! The train journey to Cleethorpes via Doncaster was easier and quicker than expected, yet another ground that seemed like it was at the end of the Earth yet was only three hours or so by train from London. We were on the North East Lincolnshire resort before midday, so I decided to catch my bearings and have a little wander.

If you exit the station to the left you go straight onto the promenade, and I'm sad to report it seemed largely abandoned. There were one or two boarded up shops but the rest had their shutters down, whether this was because of the storm the night before, the fact it was mid-January or they were permanently down, I wasn't sure. Luckily there were still a few amusements and sweet shops open – Nigel seemed to be happy with his Scrumpy-flavoured stick of rock – and it's not often you get to have a go on 2p and claw machines on your way to a match. Then of course there's the famous local haddock & chips and sandy beaches to enjoy – for a sunny season-starting away day in August, this would be absolutely perfect. In January, not so much, and I'd thankfully layered up to protect me against the bitterly cold breeze. It was as I was making my over towards the residential housing around the ground that the 'grimness' implied in the club's name really hit home. A burnt out motorbike greeted me at the bottom of the bridge over the railway from the front. Near the ground, on some stretches of street there was more excrement than clear path, like some bleak scatological obstacle course.
But then, tucked away amongst the housing and with no fanfare or signage, the away end appeared. And my word, what a stadium. Personality; identity; charm: it had it all in spades. Parts of the Main Stand date back to 1901, and the weathered wooden planking on the outside doesn't look like it's had any kind of upkeep in a while, although as it faces the Humber it is being continuously battered by whatever the North Sea throws at it. It doesn't even need a fancy name; when you're reportedly the oldest surviving stand in domestic football, you don't need one. The Pontoon Stand though may just be the best stand name in the league, named after the fish docks of Grimsby; this is the most modern of the stands, decked out in the club's black & white and is where the more vocal of the home support congregate. The Young's Stand has a real grandstand feel, the fans at the back of the towering stand no doubt freezing but at the same time enjoying a view of the Humber. Finally there is the Osmond Stand, where I was stood with the rest of the Exeter fans. The corner between the Main and Osmond stands is the only enclosed corner, although it's a standing area that isn't available to fans to allow Blundell Park to be classed as all-seater.
The game itself looked set to be an interesting one, with Grimsby just outside the play-offs and Exeter only three points behind. The visitors were on a great run of form, unbeaten in seven and boasting the best away record in the division. It was the home side that started the stronger, carving out a couple of decent openings that were comfortably dealt with. Exeter gradually grew into the game and went in front just before the break, with Reuben Reid – who was taking a little bit of flak from both sets of fans for his weight and work-rate – turning smartly and rolling home after a corner.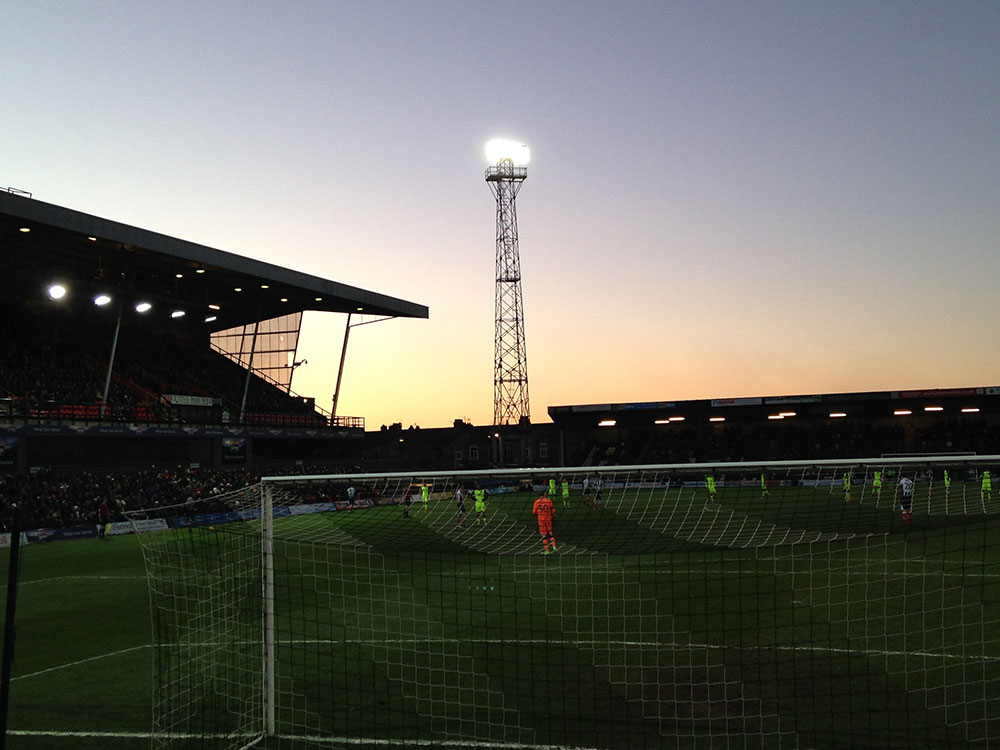 In the second-half the visitors really upped their game and were totally dominant. They harassed and harried from the front, allowing Grimsby little to no time on the ball. It was a Grimsby gift that allowed Exeter to extend their lead though, Danny Collins playing a suicidal ball across the defence with David Wheeler intercepting before gratefully firing home via a post. The highly-rated Ollie Watkins had fired a good chance straight at home keeper Dean Henderson when played through one-on-one, but he did bag himself a goal ten minutes from time. Receiving the ball just outside the area, he danced past a couple of challenges before curling into the bottom corner. Game, set and match.
Aside from spells at the start of both halves Grimsby had offered very little going forward, Omar Bogle especially was isolated and cut a frustrated figure. Brown and Moore-Taylor marshalled the visiting defence expertly and it was an all-round perfect away performance from the Grecians. A 3-0 win was a great birthday present for Exeter manager Paul Tisdale, who was treated to a chorus of 'Happy Birthday' from the away end after the final whistle. A far cry from just a few months ago when Exeter were 23rd and some fans were calling for his head; all of sudden they're four points off the play-offs with a game in hand. It's a funny old game alright.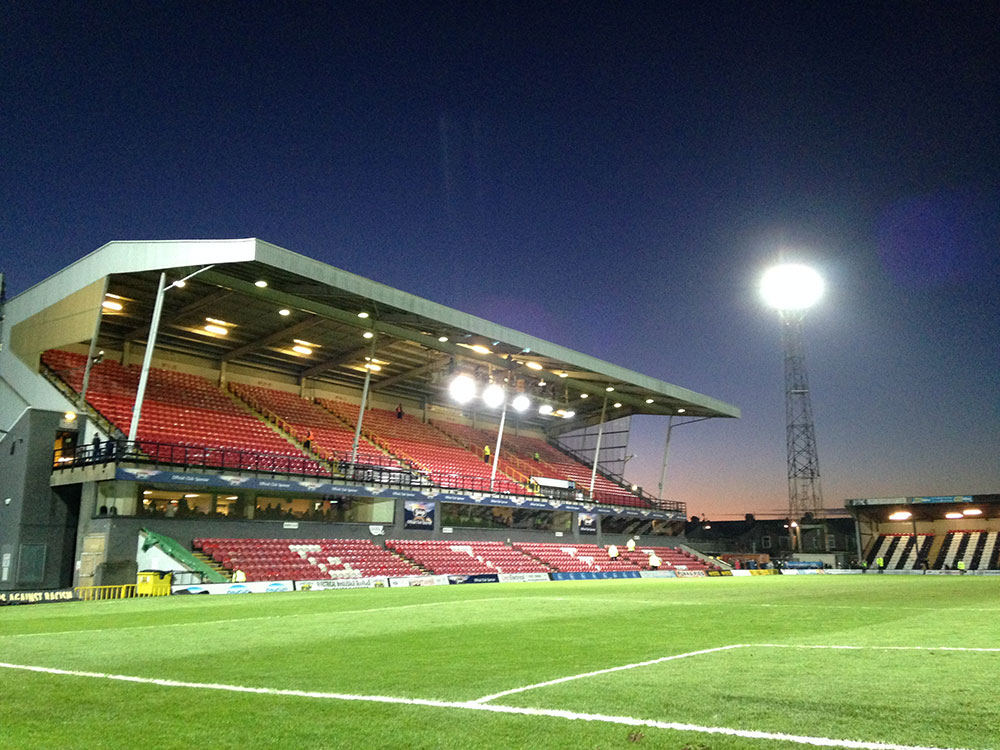 The Exiles and I headed back down to Cleethorpes train station to celebrate at the imaginatively named No. 1 and No. 2 pubs with cider and back-to-back Wurzels on the jukebox. We had just over an hour to kill before our train back and the No.1 especially is a cracking little pub, definitely recommended. We left Cleethorpes at twenty past six and I was finally back at home eating cheese puffs by half midnight, some 20 hours after I'd first set off. It was a long old day, but entirely worthwhile.
Atmosphere 2/5: I'd heard Blundell Park had one of the best atmospheres in the division, and could certainly believe that after witnessing 1000 Mariners singing their hearts out at Hartlepool just a week ago. However, a couple of generic and one Omar Bogle chants aside they were largely quiet. After the third goal probably about 50% of the home fans piled out at once, I'd never seen anything like it. A terrific effort from the 250-odd Grecians in the away end though.
Location 4/5: Only 10-15 minutes or so from Cleethorpes train station, with plenty of entertainment along the way via the promenade. There looked to be plenty of street parking, whether you'd feel safe leaving your car there for a couple of hours is another matter.
Programme 3/5: From the exterior looked to be a more rustic programme, yet once inside it descended into the usual glossy ad-heavy fare. Average.
Stewarding 5/5: Very friendly bunch. Didn't force the away fans to sit down as often happens at other clubs.
Character 5/5: Four varied, classic stands + tall uniform traditional floodlights = full marks.
Value for money 3.5/5: £18 is slightly cheaper than other grounds at this level, paying sub-£20 is a rarity.
Overall 4/5: Terrific stadium and overall a grand day out. If I'd come on a day with the promenade fully open and to a more even game with a home crowd in full swing, this might well have been elevated to full marks. The ground itself though is right up there on my list. If Gills get Grimsby away early next season I'll be back up to fit in another visit before the Mariners move to their proposed new ground.
Keep up with Michael's 92 here and follow him on Twitter @michaelepilcher. If like Michael you fancy blogging about your experiences doing the 92 league grounds drop us a tweet to @the92dotnet.
Have you made the trip to the home of the Mariners? If you have you can add Blundell Park to your 92 or if not plan your trip there: