The New Lawn is a new edition to doing the 92. The little club on the hill enters the league, despite several close calls in previous seasons. Maybe most famously known as the eco-friendly club, and first vegan football club in the UK. We are excited to welcome a new experience to the 92. We caught up with supporter, volunteer, reporter, match day program contributor and author, Chirs Gardner.
Groundsman: Welcome, after 128 years, to the Football League! Despite going close several times recently in the National League play-offs, what was it like to finally clinch promotion?
Chris: Incredible and incredulous! We were in another world, pinching ourselves to check it had happened.
Groundsman: What your best / worst memory from your non league travels?
Chris: Well, first thing to say is that since the club was founded in 1889, the 2017/18 season is the first of its 'League Years'. So, I have 128 years to choose from! Worst is easy. Losing 2-1 at already relegated Grays Athletic in April 2010, resulting in relegation from the Conference Premier. Even though Salisbury City's financial problems meant a reprieve several weeks later, I'll never forget the emptiness and feeling of utter despair. At the start of the match, Forest Green Rovers was 2 points and 3 positions clear of the drop and took a first half lead. Everything imploded at Grays Athletic and elsewhere in the closing minutes. The news filtered through from hand held radios. Just plain awful.
There are several contenders for best, but the winner has to be Wembley 2017. For our tiny club, achieving Football League status. There with so many friends with whom joy and despair had been suffered, the elation was better than any of us had dreamed. As I said above, it was just incredible and incredulous. We were in another world, pinching ourselves to check it had happened. What made things even better was the magnanimity of Tranmere Rovers fans who really are the best. Weeks earlier, we'd smashed their season with a fortunate 1-0 win at Prenton Park. Yet there was no malice, just good wishes. The same at Wembley. That is true sportsmanship in the very best tradition.
Groundsman: The eco-freindly and vegan nature of the club is well publicised. how does it affect the experience as a match going supporter?
Chris: Dale Vince responded to an invitation to help the financially ailing club in 2010. In a few short years that initial help turned into outright ownership and control. To start with, red meat banned in favour of free range chicken only, then just fish, and finally, vegan fare. Add to that new club badge, new strip, rainwater harvested, organic pitch mown by an intelligent, solar powered 'mowbot', photo-voltaic panels on the south stand roof to power the stadium, off-lying land turned over to organic wild-flowers, support for ethical and ecological charities, paperless ticketing, shop and other services developed on line. Dale does not do things by halves!
Initial reaction of supporters was shock, confusion and disbelief. Dale met a storm of opposition from supporters who themselves were split in rival factions. Much of the strife was vented on the manager he inherited, Dave Hockaday but Dale did not hide and his 'biker' appearance invited further scorn from the traditionalists.
Half a dozen years on, Dale is as liked and popular a Football Club Chair as I have known. He is genuinely 'loved' by most supporters. It's a remarkable transition. How and why?
Well, I assure anyone reading my words that Dale is the real deal – 100% genuine. He is a Stroudie, living in a prominent mansion that most know. His company, Ecotricity has become as synonymous with Stroud as Norwich Union (now Aviva) at Norwich. As the 2008 recession loomed and main employer Coventry Building Society upped anchors, Ecotricity's rise was a blessing. Thanks to Ecotricity and substantial employers like Renishaw, Stroud enjoys high quality employment statistics. Many such companies sponsor Forest Green Rovers.

At the close of the nineties and into the noughties, Rovers had enjoyed (or rather, endured) 11 seasons in Non League's top flight before Dale invested. Because of the efforts of his predecessors, the Club was surviving, albeit with increasing financial difficulty, in a modern stadium in the Conference Premier, soon to become National League. Of course, Rovers were more popular with its opponents then. Its small support was library-quiet, averaging barely 1,000. Endearingly quaint. And on the field play Rovers were generous to a fault, often meaning easy pickings for more fancied outfits. That said, the basis was in place for someone with fresh ideas and deeper pockets.
In the unlikely event of a huge cash injection, a risk might have been that Forest Green Rovers could simply become a tiny version of their counterparts in the Premiership. Franchise teams with little else to distinguish them one from another. How then could little Forest Green Rovers retain any semblance of identity if such investment occurred, as happened under Dale's tenure?
Dale is not, and has never been about being an old fashioned 'money bags' Chair. He saw a Club he could help, albeit not initially on the scale that he later invested. The pay back from his view point was the ability to realise his ambitions for an eco-friendly, vegan fuelled, ethical sporting business. Eventually, to become sustainable through its own momentum. Anyone who spends any time with Dale will know that he does not "do short term" and is only interested in what can be achieved not warned about what cannot.
The Green in Forest Green Rovers swiftly took on another meaning. Far from losing identity, the Club was seizing it in chunks. Shock and amusement of locals and supporters was balanced by admiring reports by national press and media. Why shouldn't a football club lead in ethical and ecological affairs and why hadn't its athletes adopted sounder dietary habits? Years on, much of Dale's initial revolution is becoming more mainstream. Ecotricity and Forest Green Rovers have proved to be a good match.
Behind the scenes, the Club was restructured on a more professional basis. Administrators, marketing & commercial staff all left their mark. Catering was becoming famed for the quality of the vegan menu, and the supporters voted with their feet and stomachs as the restaurant and hospitality suites filled. Again unusually for a football club, customer was king not turnstile fodder.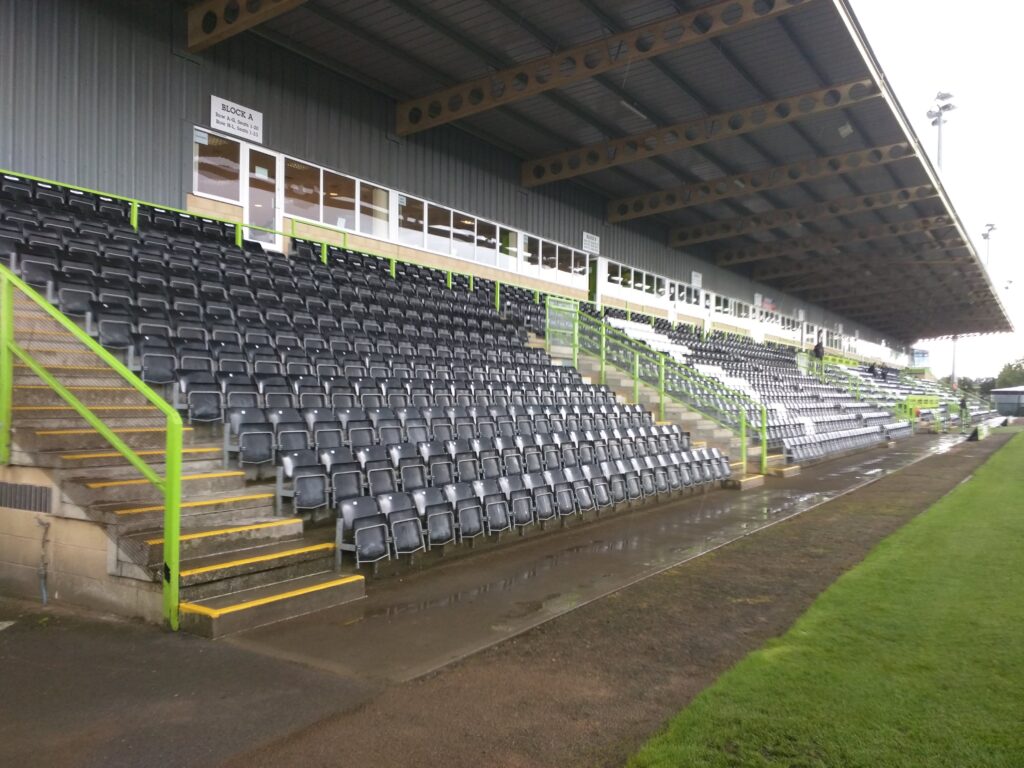 On the playing side, coaches and medical back up were recruited with greater depth of expertise central to fitness training of players, and their recovery from injury. The academy and development set up was similarly strengthened. And volunteer efforts were redoubled with purpose.
The Ambassador scheme led by current Vice Chair Phil Butterworth was embraced with enthusiasm by Dale's team and it blossomed. At the last count, there are a remarkable 53 schools and colleges in Gloucestershire and South Gloucestershire at Primary, Secondary and Tertiary level boasting 73 individual ambassadors. They draw in fellow students, their school friends and different generations of their families. I have come across nothing like it at any other club. Despite the modest population of Forest Green and Nailsworth (less than 5,800 souls) Rovers average home league gate nears 1,800. This put Forest Green Rovers' support ahead of most National League clubs and on a par with much larger outfits such as Torquay United, unthinkable a few short seasons ago.
It's been a long winded answer, but as ever truth lies in the detail. Dale's direction has not been to everyone's liking. Some traditionalists take a principled view about clubs accepting investment from a new owner and effecting change. Nothing personal, just that they see the future of their football club differently. But they are few in number these days. Most of us are proud of our visionary 'Electric Chair' and enjoying the ride in what is after all an ethical journey. Vive la difference!
Groundsman. Wow, the details really gives perspective though! Thanks! The winning bid from Zara Hamid Architects for your new stadium on a sustainable green park looks amazing and innovative. What are your and fellow fans thoughts about this?
Chris: Similar to Dale's personal standing, most supporters are excited by the proposal and how, with the eco-park, it might underpin Forest Green Rovers' and Stroud's sustainable future. The architecture is striking, the strategic position brilliant and the value for Stroud and South Gloucestershire sporting eminence and employment is inestimable. Yet all fans share a pang of sadness that the club has outgrown its original hamlet home, and a minority will never be reconciled.
But simply, 3000+ gates and 1000's of visiting fans regularly finding their way up a narrow 600ft hill is fast becoming a logistical traffic nightmare and unbearable for residents.
Groundsman:Can you tell us a little bit about Forest Green Rovers? Who are your rivals in the league?
Chris:With Dale's support, our age-old nickname, The Little Club on the Hill, may be growing thin! Yet there is huge affection for the name, and I think it will stick even at M5 Junction 13.
Forest Green Rovers is a special club. Ok I would say that wouldn't I? But consider the insanity of a hamlet club atop a windy Cotswold, in a Rugby mad county, aspiring to break into the Football League. People have been certified for less! Building our present smart stadium in 2006 was extraordinary in itself, let alone getting into the Conference Premier and clinging onto its status there longer than any other club. So against such unrealistic expectation, Dale Vince has been pretty down to earth!
Local rivals? Hitherto, we have been the favourite second club of the likes of Swindon, Cheltenham Town, Bristol Rovers and Bristol City. Geez, even the egg chasers at Gloucester Rugby! Of course, we offered no threat then. Since, all except Bristol City have become League foes, much to their disgust. Out of them all, Cheltenham Town (the Robins) will be the hardest fought derby (El Glosico) with Swindon (another set of Robins) not far behind. Quite a contrast to last season where the nearest rival club was Aldershot.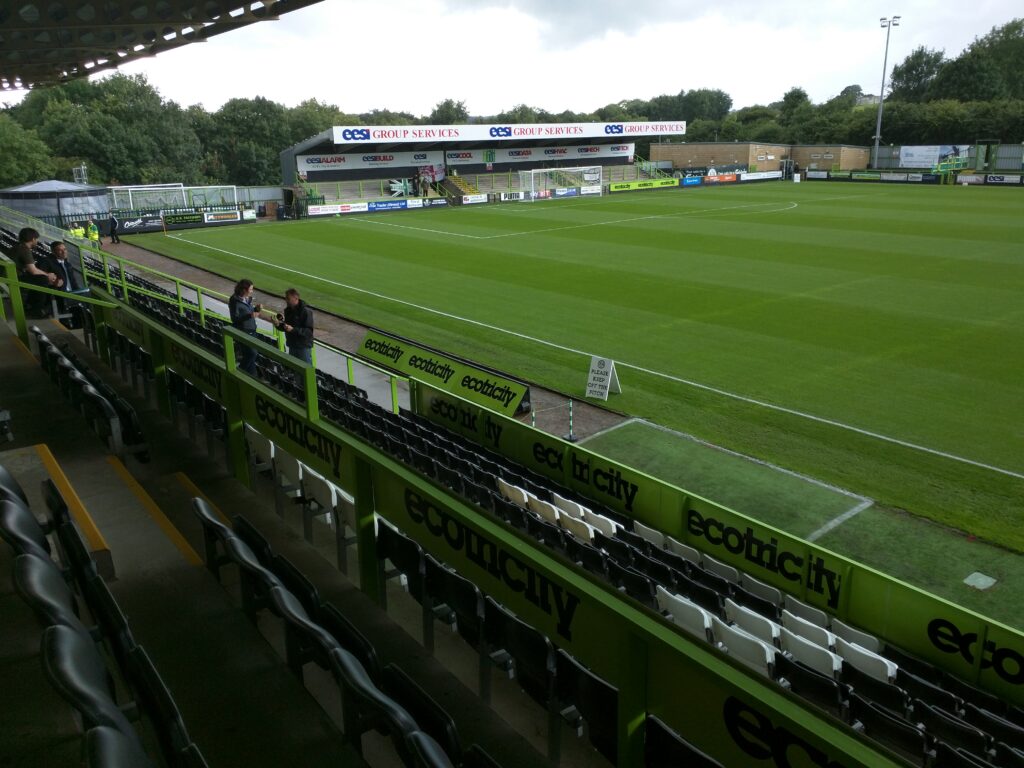 Groundsman: It was an urban legend that Barcelona based their badge on the old Forest Green Rovers one. Was there much furore when the club changed crest and colours recently?
Chris: Good story isn't it but not sure there is any truth there? As they say though, imitation is the sincerest from of flattery!
Was there a furore? Absolutely and in line with some of my responses above, some will never accept the dumping of our black and white stripes and badge. Yet like so many changes that Dale inspired, it caught the mood, however traumatic the birth. Football generally has bought into bolder strips since and the Rovers strip is everywhere to be seen in Stroud and South Gloucestershire. It is cool amongst the burgeoning young support too – how did that happen!
The value of the colour scheme really came home in 2017 at Wembley. About 4,000 Forest Green Rovers supporters & players families pitched against 12,000+ rumbustious Merseysiders. Yet the green and black shone out as Tranmere's white could not. Improbably, it felt like there were more of us!
I have to admit, I was one of the 'antis' when the black and white strip and old badge was consigned. But now I am as sold on the green and black as anyone. Even an old crumbly can change!
Groundsman: Although Forest Green Rovers are new to the league, how many of the current 92 grounds have you ticked off your list?
Chris:As a born and bred Bristolian and long since lapsed Gas fan, personally I can tick off many of the 92. Yet through FA Cup and National League exploits, Forest Green Rovers' list is impressive too. Unsurprising since promoted Conference & National League sides now pervade the Championship and Leagues 1 & 2. My unofficial count is that we've had competitive encounters at 2 clubs in the Championship, 9 in League 1 and a whopping 19 in League 2. That makes a round 40. More to come this year.
Groundsman: Which grounds will you be looking to cross off over the coming season?
Chris: Cheltenham & Swindon obviously – more because of the derby element than the stadia which are 'modest'. As a West Countryman, I've always looked with fondness at Exeter City and Yeovil Town and our renewed encounters will be a bit special too. As for stadia quality, Chesterfield, Shrewsbury and Coventry City hold the most interest for me. Finally, until 2016/17, we had an excellent record at Sincil Bank. The Imps did the double on us last year, in doing so removing Forest Green Rovers as title contenders. Unlike Tranmere, their fans and players did not deport themselves with dignity nor magnanimity. That is a wrong we'd love to right in 2017/18!
Groundsman: What can visiting fans to The New Lawn look forward to next season?
The New Lawn is a well appointed stadium with views over the mellow Cotswolds and a few neighbouring lamas! But be ready for the changeable weather – Forest Green can be sunny and mild but come prepared for Arctic!
There is parking for around 350 cars on site, more at the adjoining primary school and less predictably by enterprising nearby farmers and householders. But arrive early as Spring Hill gets congested.
The stadium has a capacity of a shade over 5,000. Visiting fans will be directed to the uncovered West (Wet) Terrace. Moves are afoot to install some seating there but this is unlikely before the Autumn. A limited number of covered seats in the East stand will be available for fans with greater needs and of course wheelchair users. So apologies to those who may find the spectating conditions not to their taste, but we are where we are as a club and hope that our welcome will make up for deficiencies.
Unless there is a step change this season, visitors will find us friendly but quiet. The New Lawn has often been compared to a library. It takes time to change the ways of easy going Cotswolds folk!
Many visitors like to explore the pretty market town of Nailsworth, a mile down the hill before grabbing their crampons to remount the heights. Allow yourself a good amount of time and have a defibrillator handy. There are fine pubs aplenty in Nailsworth whilst The New Lawn offers Forest Green Rovers' own Green Man Pub, a marquee for visiting fans and post match hospitality in the Carole Embrey suite in the main East Stand.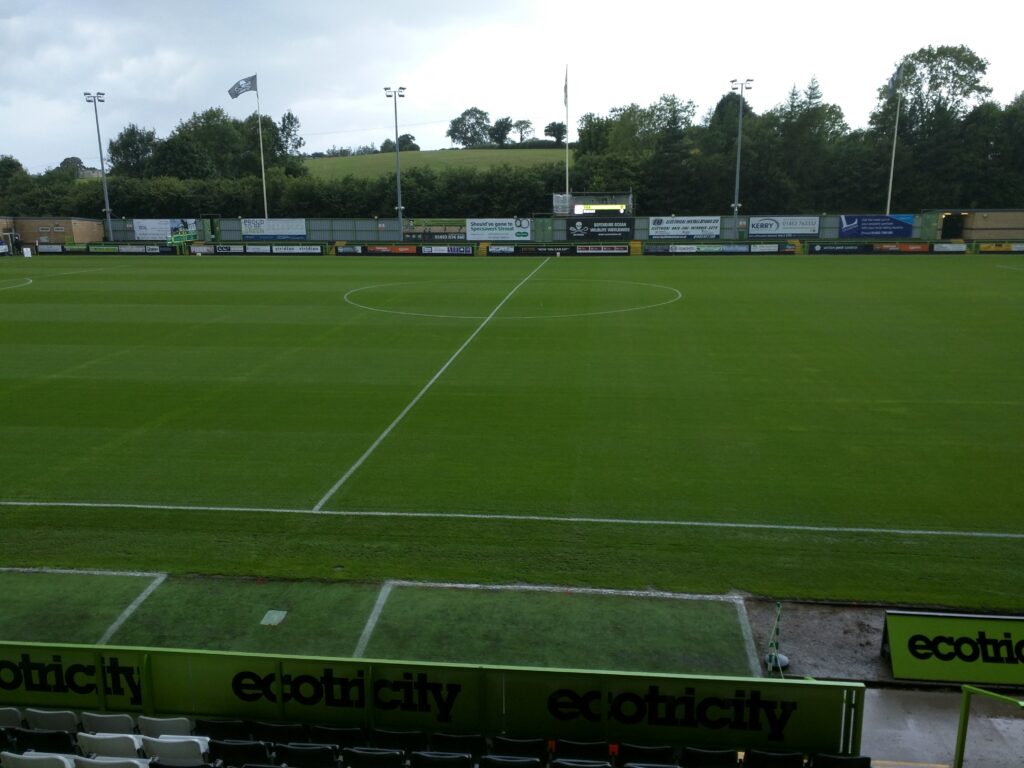 I have written two books about Forest Green Rovers. 'The Rise of Forest Green Rovers – The Road to Wembley' and 'We Did It Our Way: Forest Green Rovers Triumph at Wembley – How a Cotswold hamlet club broke into the English Football League'. For those who want to know more about the history of Forest Green Rovers, I recommend Tim Barnard's 'Something to Shout About'. Forest Green Rovers still holds copies for sale. It is best described as an affectionate, illustrated reference volume. I find it indispensable in writing about the club
Quick Fire Round
GM: Would you like to see Safe Standing introduced?
Chris: Yes – Well we've got around 3,000 safe standing places at present! Seriously though, safe standing gets my vote (hopefully at the New Stadium).
Are you in favour of B teams entering the football pyramid?
Chris: No. History teaches us that The Premiership is not to be trusted. There need to be tighter rules about the proportion of home-eligible players. B Teams are simply a ruse to bring in yet more foreign stars leaving the B Teams to be populated by the rest, whilst the National Teams' fortunes plummet.
Would you like to see your team have a strategic loan partnership with a team higher in the league structure?
Chris: No strong views on this, but then Forest Green Rovers is fortunate in being a well resourced club. All things change, however. The danger is that the weaker partner has to accept that it will never challenge the stronger's position. That may not satisfy many supporters.
Should there be 3 up, 3 down between the Football League and the Conference?
Chris: A resounding yes. The National League gets stronger every year yet the EFL continues to be protectionist. All the arguments have been won but nothing changes. There is no justification for the unfair 2 up 2 down system when the EFL operates 3 or 4 between the Championship and League 2. Besides, it make life harder for relegated Division 2 Clubs – in recent years only Bristol Rovers and Cheltenham Town have bounced back quickly.
Thanks to Chris for taking the time to speak to us in the lead up to the new season. To keep up with Forest Green Rovers, you can follow them here on twitter Twitter @FGRFC_Official
Have you made the trip to the home of Forest Green Rovers? If yes, you can tick The New Lawn off your 92 grounds checklist or if not plan your trip there: