Blogger Michael Pilcher ticks off the DW Stadium as Wigan look to cling to their Championship status so Wolves still harboured hopes of going in the opposite direction.
Ground: the DW Stadium 70/92
Game: Wigan Athletic 0-1 Wolverhampton Wanderers
Date: 25/04/2015
My ground count has seriously suffered this campaign, mainly because of my third child arriving last May. After averaging 15 new grounds a season for the last three years, my count for 2014/15 stood at a measly five. Finding myself up North with the in-laws in Preston on Friday ready to head over for a stag do in Liverpool on Saturday night, I left Preston that bit earlier to go to the only ground that was (sort of) en route: the DW.
Arriving into Wigan North Western station, you can see the ground prominently; it's only a mile or so away, from there it was just a case of finding the quickest route. I ended up ignoring the directions I'd googled beforehand and finding a much quicker way – after 15 minutes and a scenic walk alongside a canal, I was at the DW. From a distance it looks fairly impressive, not too dissimilar to the Reebok or John Smiths Stadium. However on closer inspection it's not quite as impressive as those aforementioned; it's clean and uniform but lacking a bit of identity. Surrounded by big shopping outlets and with its big revolving 'DW' sign on the West Stand, it just felt a bit corporate.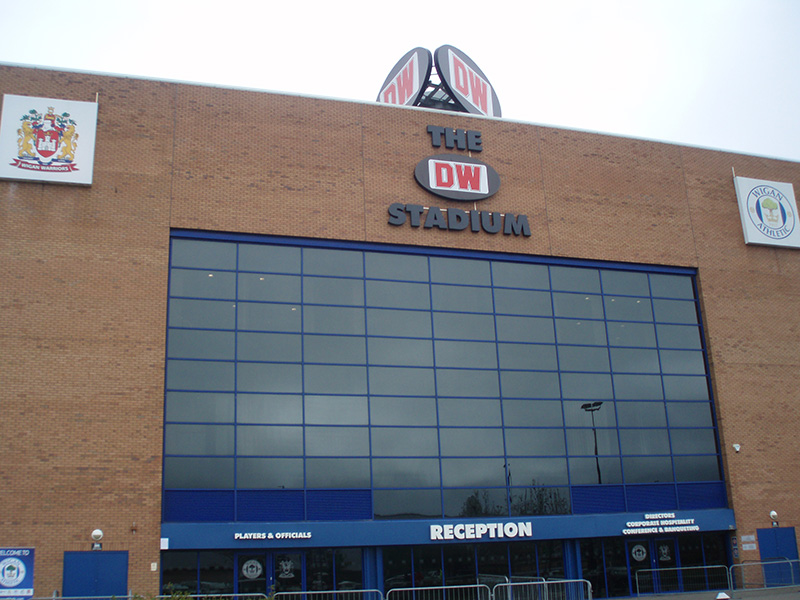 As for the game itself, it was set-up very nicely. Wigan desperately needed the points to try and escape the drop, Wolves desperately needed the points to keep their play-off hopes alive. It was Wigan who started better, playing some very nice football indeed, spear-headed by Jermaine Pennant and a clearly pumped-up James McClean running around like a man possessed. However without a recognised striker – a problem that has persisted all season according to the fans around me – the Latics didn't have a 'fox-in-the-box' to make their possession count. Visitors Wolves boasted not one but three of them – "Oh oh oh it's magic, you know, Dicko, Afobe, Sako" as the 4000 away fans joyously sang about their front trio, with nearly 40 goals between them.
Two of them combined to give Wolves a 25th minute lead against the run of play. A clumsy Emerson Boyce challenge earned him a yellow card, and he was further punished when Sako whipped a great ball into the box for Afobe, who ghosted in to the far post to nod home. The pattern of the game from then on was plenty of Wigan possession with Wolves holding them at arm's length, before going on an occasional quick foray themselves – Scott Carson had to be alert a couple of times to make some good saves. At the other end Wigan just didn't test the Wolves defence enough, the closest to a goal coming when James Perch converted late on only for the assistant's flag to go up. For all their possession and clever play, they were lacking in the final third. It was like watching a lower league version of Arsenal – seeing plenty of the ball but often trying to walk it in. Final score 1-0 to the away side, harsh on the home side who were deserving of at least a point. The new chairman and whoever is manager next season seriously need to invest in a striker or two.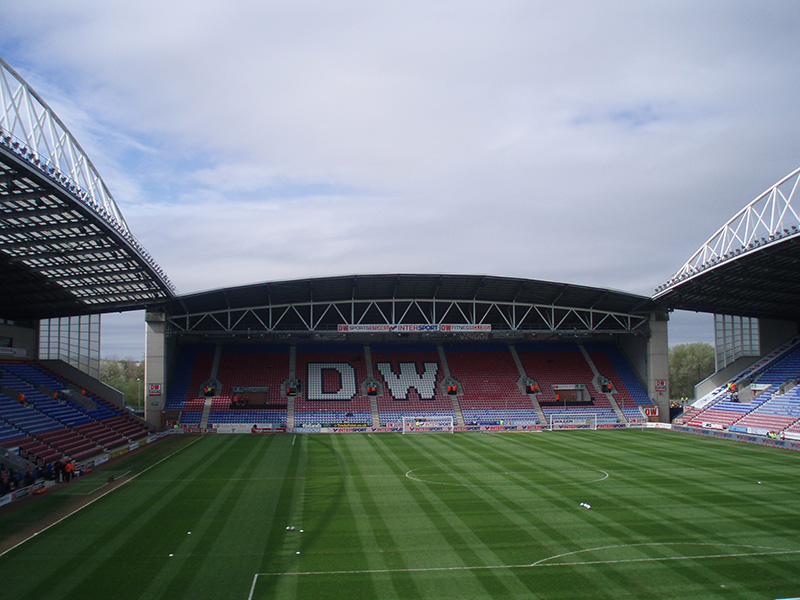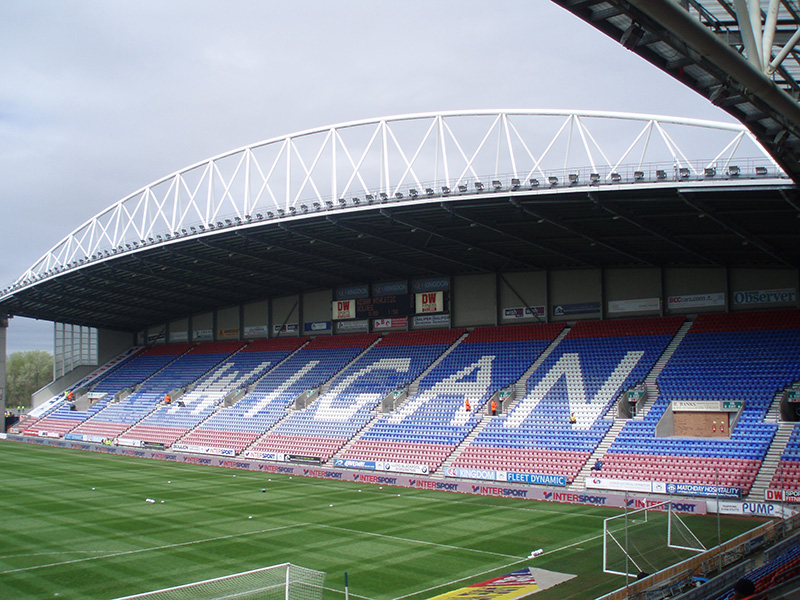 It was with some surprise when I read a match report two days later that Wigan had had McClean sent off in injury time. I stayed until the bitter end and, presumably pre-occupied with thinking about getting over for my onward train to Liverpool, I did a Chris Kamara and managed to completely miss the red card. All I can say is that it had been coming, McClean was booked early on and was haring about the pitch throughout, determined to help drag his team out of danger. As it is their fate is now out of their hands; a Rotherham win midweek will confirm Wigan's relegation. Wolves meanwhile are just about still in the play-off race, needing a win and other results to go their way to seal 6th place.
Having just happily ticked off my 71st ground, the evening brought news that both Tranmere and Cheltenham had been relegated out of the league, meaning in the space of a few hours my count had gone from 70, up to 71, before dropping back down to 69. No-one said doing the 92 was going to be easy.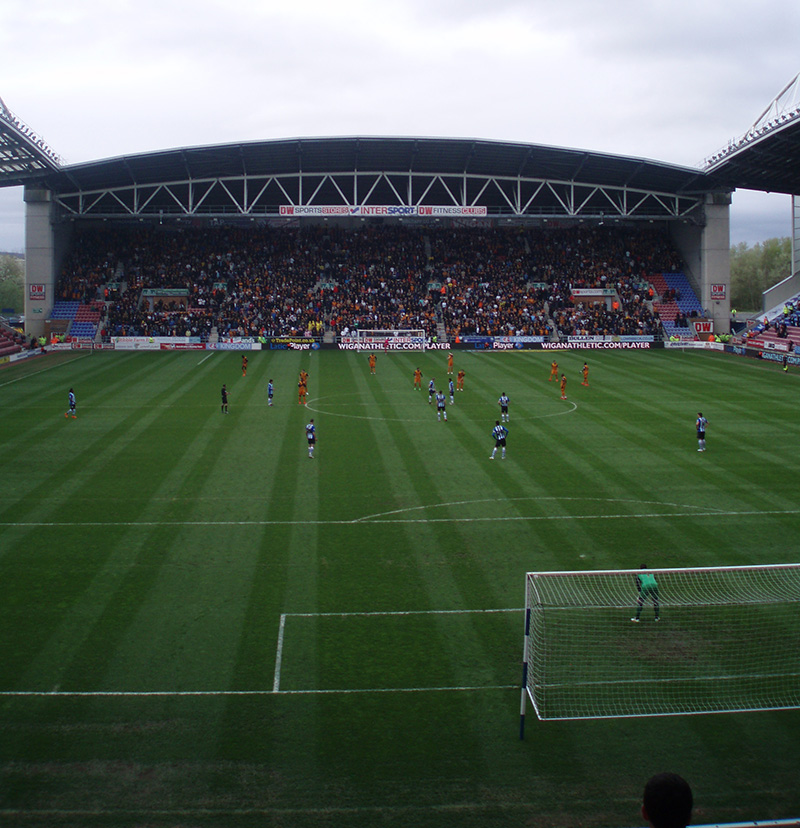 Atmosphere 3.5/5: I'd always assumed that Wigan was a big rugby town that didn't care for its football team. And although there were blocks of empty seats, the home fans were very vocal and got right behind their team. The Wolves goal knocked them but they didn't get edgy and on the player's backs like most supports tend to.
Location 3.5: Easy enough walk from the train station. A nice scenic walk by a canal…leading to a massive shopping estate.
Pint & pie: Not sampled
Programme 3/5: Some interesting features and a decent design, but seemed a bit sparse.
Stewarding 5/5: Friendly and despite me having a rucksack with stag night stuff, they took my word that I hadn't loaded it with glasses bottles, cans and flares and didn't insist on searching it.
Character 3/5: Nice, clean, uniform, but generally uninspiring. Not as depressing as many other new grounds, but still lacking something.
Value for money 3/5: I thought Wigan was famed for having cheap tickets to pull the fans in. £20 is relatively cheap for the Championship, but this wasn't the bargain trip I envisaged.
Overall 3.5/5: As I arrived with plenty of time to spare the outlet proved useful in killing time, generally I'm not a fan. The fans were a great bunch and it was an entertaining enough game, but there was nothing really to set the DW apart.
Keep up with Michael's 92 here and follow him on Twitter @michaelepilcher. If like Michael you fancy blogging about your experiences doing the 92 league grounds drop us a tweet to @the92dotnet.
Have you ticked the DW Stadium off on your quest for the 92 club? Add it to your 92 here www.the92.net/ground/the-dw-stadium or plan your trip their with our away day planner here www.the92.net/plan-your-away-day/the-dw-stadium