An international break can only mean 1 thing for Newcastle United fan Colin Harrison; a chance to chalk another ground off the list doing the 92…
An email from Virgin Trains with the offer of cheap first class travel ignited an idea to tick off a ground in the capital and allow me to enjoy the journey instead of a four hour drive each way. I persuaded my trusty side-kick Paul to come along too. We decided on the international break weekend of October 7th and duly booked up the train in order to visit Charlton Athletic and tick off the Valley.
However a week before our trip Charlton's match was called off due to a number of players being selected for their relevant countries teams. With tickets paid for this meant a look at which ground we could visit I stead. Considering I only had 12 to do to complete 'the 92', it made the task difficult.
The train tickets were non-refundable so desperation started to set in when none of the teams I had left to do in the locality were playing at home. The nearest one to London was Milton Keynes Dons, so we decided on their game against Bradford City. Unfortunately this meant further expense as we would need to get another train to get there, best laid plans and all that!
The morning of the match arrived and we travelled in first class luxury. We arrived into Kings Cross at 12.45, walked to Euston Station to catch the 1.15 train to Bletchley, passing the Wembley Arch along the way. From there we jumped in a taxi and arrived at the ground just after 2pm. We headed to the box office and paid £22 to sit behind the goal. It was 'Armed Forces Day' at the stadium, so there were a number of displays around to keep the younger fans amused.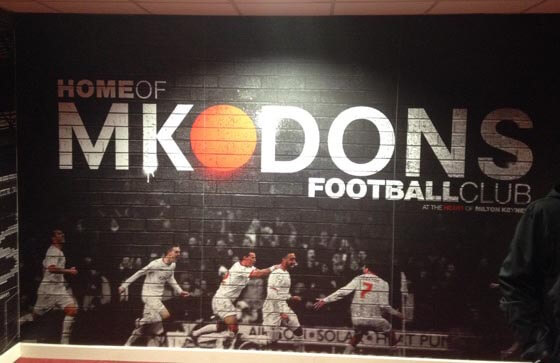 We decided to head inside to view the stadium, and I must say we were very impressed. Such a great stadium should not be hosting third tier football. Every one of the 32,000 seats were padded, similar to that of The Emirates, which we viewed from the train window earlier. The concourse that runs behind the lower tier seats is very spacious, with a large bar behind our chosen seats. It would be rude not to sample a pint.
The game was always going to be an uphill task for the hosts due to a sending off within the first five minutes. Bradford scored twice before MK Dons pulled one back on the stroke of half-time. During the break, Paul and I decided to see if we could walk to the side of the pitch for a different view of the game. Without any trouble we sat in some empty seats not far from the dugouts.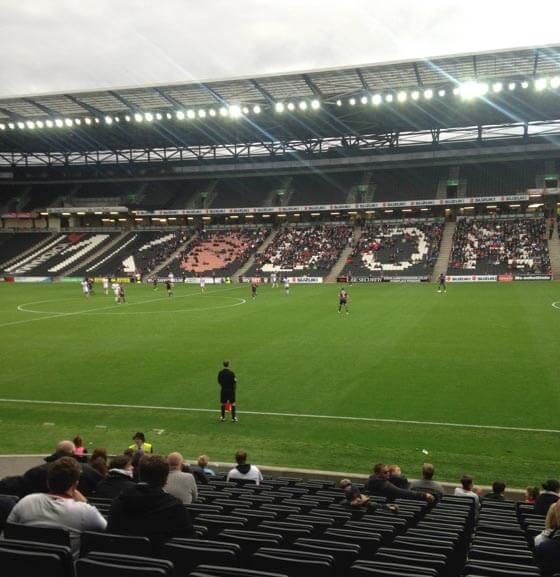 Two more goals from the visitors killed the home atmosphere and it was only the away following you could hear, as they ran out comfortable 4-1 winners. After the game we headed into the Club Red bar for another pint. We walked into the corporate area where the Man of the Match award took place before heading downstairs to the main reception.
We spoke to a gentleman in a MK Dons blazer jacket and explained our goal of a dugout photo. He escorted us down to the changing rooms area and out through the tunnel. As we were chatting in the tunnel area, Bradford City manager Stuart McCall finished his post-match interview and stopped for a photo as well.
We thanked everyone for their hospitality, and set off on our return journey which consisted of a taxi, train, train, taxi, arriving home at half past midnight, with only 11 more grounds to go.
Atmosphere 2/5: Difficult to generate an atmosphere inside a stadium that was only one-third full.
Location 3/5: Not far from Bletchley Train Station £5-6 taxi ride
Value for Money 3/5: £22 for the ticket was decent, but the cost of the full day was well over £100
Pint Rating 3/5: Average pints for just under £4
Programme 4/5: £3 for quite a bumper issue.
Character 4/5: Better than most new build stadiums.
Stewarding 5/5: Couldn't ask for much more than what we got.
Overall 3/5: A decent day out was had by all.
Keep up with Colin's 92 here and follow him on Twitter @colinpodge.
If like Colin you fancy blogging about your experiences doing the 92 league grounds drop us a tweet to @the92dotnet.
Are you on a journey to the 92 club? Use our free website to keep track!