Blogger and the92.net co-founder Pete made his second trip down to Sussex this year hoping this time to be able to get to the American Express Community Stadium.
Ground: The American Express Community Stadium (68/92)
Game: Brighton & Hove Albion 1-1 Aston Villa
Date: 18/11/2016

Second time lucky
The Amex Stadium was proving a difficult obstacle to overcome on my 92 given its location of being a considerable distance from both my own home and my parents' place. Once or twice previously it was earmarked for a trip that didn't come to fruition, however last season it was very much on my radar to get to. So much so that earlier this year in March I had the Amex sorted as part of 2-in-1 weekend; Brighton v Reading on the Friday night, followed by Fulham v Bristol City the following day. All was going swimmingly with tickets and accommodation nearby in the bag until disaster struck… Reading selfishly progressed to the FA Cup quarter final meaning their game at the Amex was postponed! We were able to get a full refund on the tickets, but unfortunately made a schoolboy erroring booking a non-refundable rate on the hotel. Meaning my Dad and I had to make the long trip to the countryside just outside Brighton to use it. It did mean we were considerably closer to Craven Cottage for the game on Saturday, but a lesson learnt none-the-less!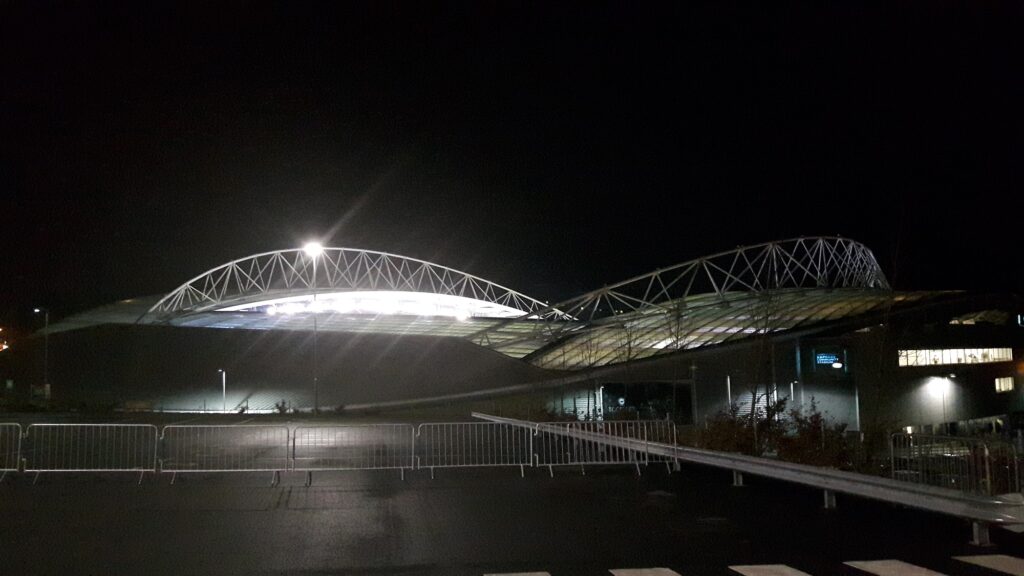 I travelled down from the East Midlands by train, changing at London St Pancras to Haywards Heath. Here I met my old man and we headed off to check in to our Bed and Breakfast. This was located in Keymer, a small town conveniently located 5 miles from the Mill Road park and ride site. Despite Google Maps telling me in the morning the journey would take 9 minutes, with a combination of an accident and Friday evening traffic this took closer to 45 minutes. It felt as if something was trying to prevent me from ticking the Amex off my 92!

The stadium is situated out of town meaning parking at the site is limited. If you do wish to park at the ground you're looking at £12 if you book in advance or £15 if you turn up. The club clearly want people to take public transport with a levy for such travel being included in every ticket. There are 3 park and ride options to choose from and numerous other public travel options. We opted for the Mill Road site which is to the west of the city. The website said it's usually full an hour and a half before kick-off so we made sure to arrive in plenty of time to get a space. The bus to the ground took around 15-20 minutes given the traffic which wasn't too bad. As expected there was a bit of queue to get the bus back after but all in all the process was run smoothly.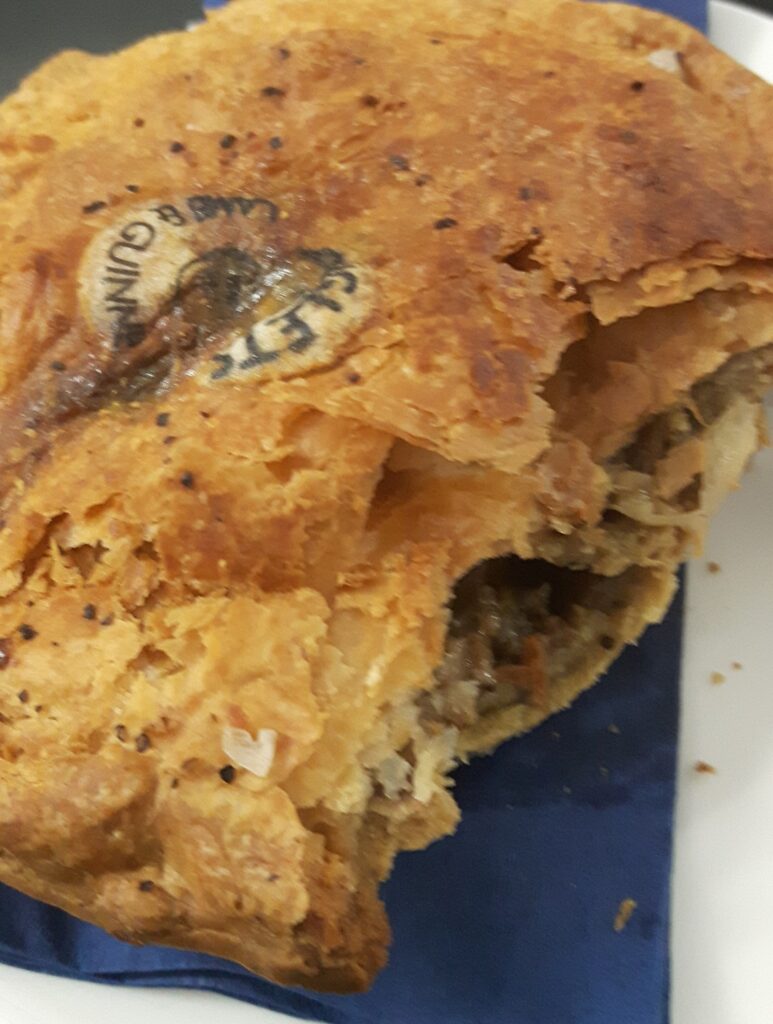 In search of pie-fection
One of the primary reasons for the Amex featuring high on my list wasn't the stadium or the quality on the pitch, but the reputation of the produce under the concourse. This may be considered sad I know but since the92.net launched in 2011 (coincidently when Brighton moved to the Amex) the pies there have rarely been off top spot of our pie ratings table. Starting off as a small local company in 2011 Piglets Pantry has been transformed since winning the Amex contract now shifting 8-10k pies per game…they must be doing something right. I went for the special, Lamb and Guinness, which didn't disappoint. The pastry was crisp and full of flavour as was the filling. This was a pie a world apart from the usual standard plastic encased, tin foil lined offering. Well worth the journey.
Meeting a man on a mission
If you're a regular reader on the92.net blog or if you follow us on Twitter (@the92dotnet) you will have noticed a fella called Ed Wood pop up a few times. The keen ground hopper from Derby is on a mission this season to regain his Guinness World Record to watch a league match at all 92 league grounds (+Berwick Rangers) in the quickest time whilst raising money for Prostate Cancer UK along the way. I was hopeful our paths would cross during his journey and after a couple of near misses we were finally at the same ground on the same day. It was good to finally meet in person and exchange tales and tips from our own very different quests to 'do the 92'. If the weather is kind Ed is hoping to complete the feat in less than 200 days which would be a remarkable achievement. If you would like to donate to Prostate Cancer UK you can do so via Ed's Just Giving page.
On to the game
And to on the field matters; it was 2 form teams in the offering. The home side were unbeaten in the league since early September. Their visitors from the Midlands hadn't tasted defeat since Steve Bruce took over, a run of 3 wins and 2 draws. Something had to give didn't it?
Brighton enjoyed some good early possession but were unable to carve out any clear cut chances. Danger man Anthony Knockaert was well martialled by Villa left back Jordan Amavi, often with the assistance of the back tracking Jonathan Kodjia. When the ball turned over Villa were always looking to break quickly, but similarly to their hosts often their play with a tad disjointed. They did take the lead though with 20 minutes on the clock. A central free kick from midway inside the opposition half was taken by Adomah, and in all honesty looked under hit. However Villa centre half Nathan Baker timed his run well and his glancing header couldn't be kept out despite a hand from Stockdale.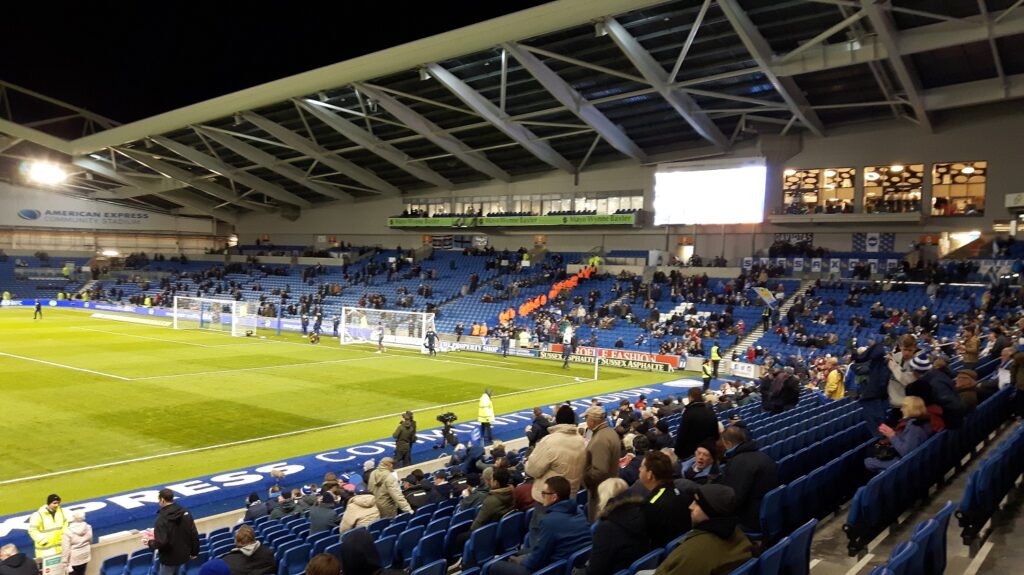 Brighton finally got their act in gear as the half time whistle beaconed and it was fairly straight forward. A neat one-two between Baldock and Murray was finished by the latter powering a rasping drive low into the bottom corner. Game on so we thought but still after the break clear cut chances were hard to come by. Sidwell shot over when well placed for the hosts and Murray put a looping header over.
As the game wore on it was the team in claret and blue that looked most likely to take the 3 points. During a sustained period of pressure which included what must have been 6-7 corners in a row Kodjia hit the bar from one and soon after forced Stockdale into a smart save both from headers. Albion might have snatched it at the death as substitute Jamie Murphy cut in and hit a low shot from the edge of the area that Gollini saved well, but in truth that would have been harsh on the Midlanders.
In the post-match interviews Chris Hughton said a draw was a fair result and when a home manager admits that you can tell he's relived to go away with a point. From a neutral view Brighton didn't live up to hype, however that was down to a Steve Bruce side that were well organised and had a game plan. As I mentioned earlier Knockaert didn't have a sniff and chances for Albion were at a premium. Villa still look like a work in progress but are a lot stronger in defence. Going forward they have some great options for Championship level and if Brucey can get them to click I can see the Villans making a serious assault on the automatic promotion spots.
Ground ratings
Atmosphere 3.5/5: Pretty decent throughout in a game where in patches there wasn't much to get excited about. The 4k Villa fans were tremendous.
Location 3/5: I do prefer a ground in town, but realise with big new facilities that is a challenge. The park and ride worked well.
Pie rating 4.5/5: Can see why they are considered the best.
Programme 3.5/5: Good quality, what I would expect from a club with Premier League aspirations.
Stewarding 4.5/5: Seen but not noticed.
Character 4/5: Probably the highest character rating I've given to a new build. You can see from the arena to the concourse to the outside, the ground has been built with the fans in mind.
Value for money 2/5: One of the more expensive ticks off the list; £40 adult ticket (inc £4 transport levy), £28 concession ticket (in £2 transport levy), £4.20 pie (in the bar as opposed to the concourse), £3.50 programme.
Overall 4/5: A striking, eye-catching piece of architecture, with character and built with the fans in mind.
You can keep up with Peter's 92 on his the92.net profile and on Twitter @the92dotnet.
Have you made the trip to the home of Brighton & Hove Albion? If yes, you can tick the Amex Stadium off your 92 checklist or if not plan your trip there: