Blogger Michael Pilcher continues to make inroads into his 92 this season. After a previous failed attempt it was second time lucky as he made the trip to Carlisle…
Ground: Brunton Park (80/92)
Game: Carlisle United 1 – 0 Plymouth Argyle
Date: 13/08/2016
For years I was under the impression Carlisle was a lot further away than it actually was. It's only ten miles from the Scottish border which is why I'd got it into my head Carlisle was going to be a mission to get to, it always looked so far away on the maps. It was only after once inquisitively putting 'Preston to Carlisle' in the national rail website that I found it was but an hour away from my in-laws in Lancashire by train. I almost ticked Brunton Park off last December, Storm Desmond putting paid to that after leaving the pitch completely submerged. After a last minute necessity to be up north, I headed up a bit early to allow me the Saturday to take in a game.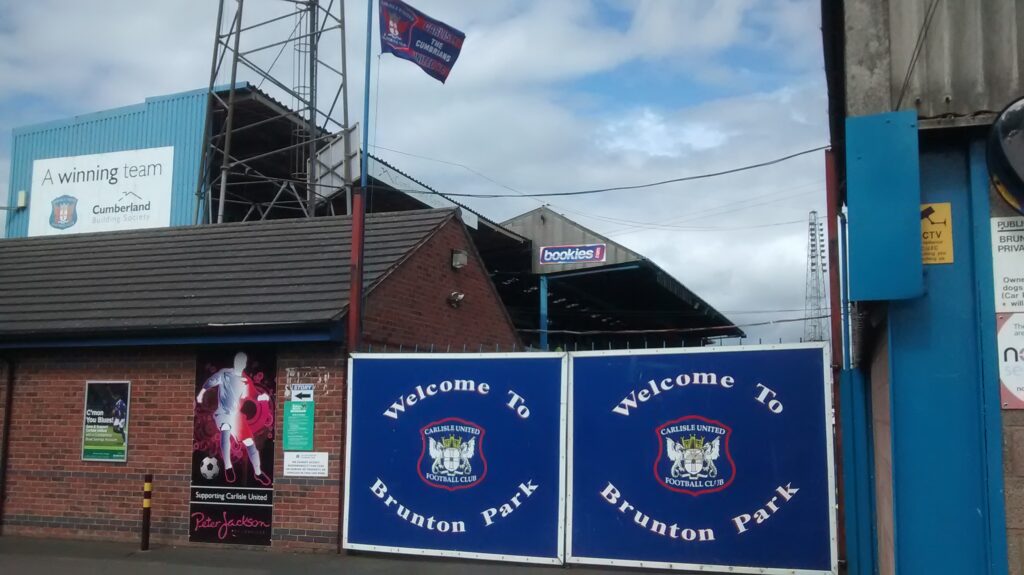 Carlisle v Plymouth may not have been the most mouthwatering of fixtures, but Plymouth to Carlisle is comfortably the longest away trip in English football this season (389 miles). I was tempted to go in with the Green Army, up until I found I'd have to pay a more for the privilege, plus I'd have to sit; I'm not turning down terracing when I get to enjoy it so rarely on my travels these days.
I headed into England's largest city by area not population – that's a pub quiz answer right there – for early afternoon. I didn't know much about the city so was surprised when I arrived to a town with a Roman vibe, almost like a Bath of the North. Stone clad buildings, historic castle and cathedral, cobbled streets…it also has a pretty good branch of CEX as my children will attest to, after picking them up some Skylanders figures we hadn't been able to get hold of anywhere else. I'd only allowed for an hour or so in the centre, a shame as I hadn't realised about its historic links and how much there was to see and do in the city.

A brief, straightforward 10-15 walk from the centre down Warwick Road leads directly to Brunton Park. Residential houses on one side and then greenery all around it, on first coming up to the stadium it's almost tucked away. You wouldn't think a 18,000 capacity stadium (the largest stadium in the UK still with terracing: another pub quiz answer right there) lies beyond. But once I'd had a little scout about outside and took up my position on The Paddock terrace, my word what a ground.
Brunton Park has plenty of traditional charm and character, and some wonderful quirky features. The large East Stand opposite me over-runs the length of the pitch and extends beyond the goal line, so falls short on the other. Were they planning to move the pitch at some point, or was it just bad planning? The Warwick Road End is a home end terrace with a distinctive three pitch gable roof, and the floodlights – rather than copying everyone else and putting the lights in a square or rectangle frame at the top of the pylons, they've just whacked them at the top of the pylon. And they've deemed that they only need three, one corner goes without. The Waterworks End is an open terrace which has seen better days, which is why it's only used when there is a large away following; today, it was just hosting flags and banners.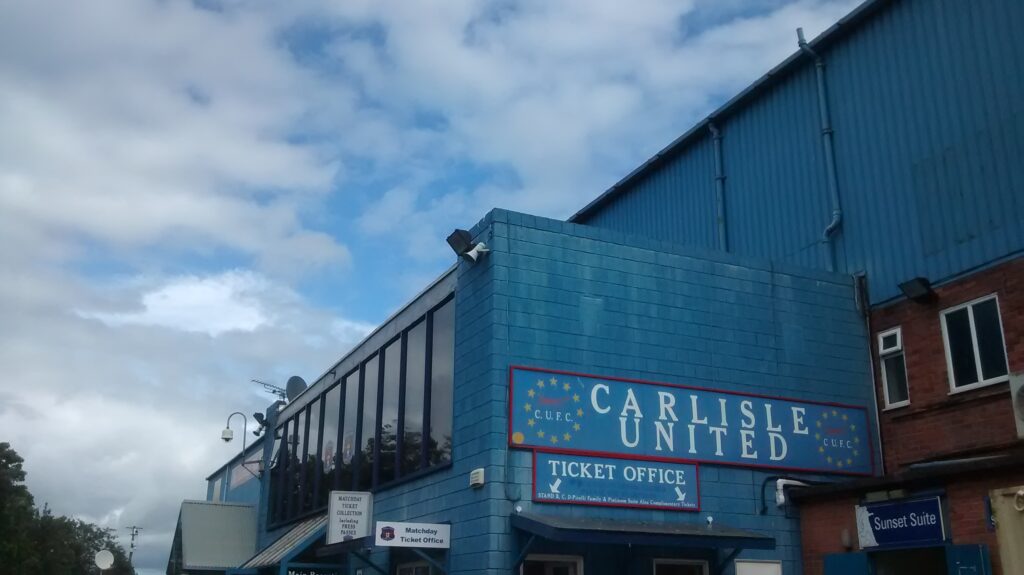 Carlisle attacked with intent from the off. Nicky Adams and Reggie Lambe were causing plenty of problems down the flanks, and Danny Grainger was providing a real outlet from left-back. Grainger almost scored with a thunderbolt from a good 30 yards, as the hosts carved out a number of promising openings. Unfortunately despite the quality of the balls in the box the front two weren't always on the same wavelength, noticeably absent as fine ball after final ball worked its way into the penalty area. Bermuda international Lambe eventually gave the Cumbrians a deserved lead just before half-time, Grainger played a dangerous ball in which was cleared only as far as Lambe, lurking just inside the box. He took a touch before firing into the bottom corner. United had a couple of other great chances just before the break, but despite their dominance had to settle for a 1-0 lead.
They rested on their laurels the second half, as Argyle came at them a bit more, although without really creating too many chances. It was only in the last 15 minutes they started to cause problems, and it took a superb defensive headed block from Grainger on the line to deny Gary Miller what looked a certain equaliser. When the fourth officials board went up to indicate 4 minutes of injury time, the home fans suddenly seemed to come alive. There hadn't been much in the way of singing, and I didn't hear a single player-based chant; the one dampener on the day for me was the atmosphere or lack thereof. Carlisle held their nerve to seal a 1-0 win.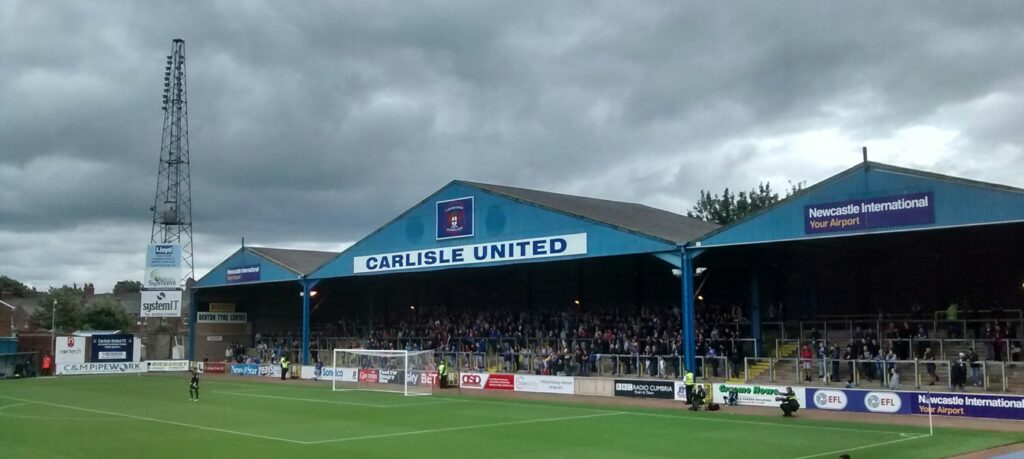 All in all, a good day out. A ground – and, indeed, city – oozing character, it was one of those where I wished I'd done a bit more research on my destination beforehand so I could've made more of a day of it. But crucially, I was up to 80 on my ground count. This was the highest level I've yet reached, a small but definite psychological boost to finally get into the 80s. 12 to go.
Atmosphere 2/5: Not much in the way of chanting, the odd "United!" refrain aside. There wasn't enough of the Green Army for them to get things going in the away section.
Location 4/5: Easy walk from town, ideal for train travellers. Plenty of pubs and places to eat.
Programme 3.5/5: I almost gasped when the programme seller outside the ground only asked for £2, I can't remember the last time I didn't pay have to £3 for one. Fanzines were only a quid as well, plenty of reading material for £3 up Cumbria way. The programme looked and felt like the ones other clubs were selling in the 90s before going all glossy (if that seems like an insult to the CUFC effort, it's not meant as such). Some decent content and features.
Character 4.5/5: Lovely stuff. A mix of stands with some quirky, distinctive features.
Value for money 4/5: £17 for terracing. Decent view.
Overall 4/5: The game was enjoyable if by no means a classic, but I got to sample a fine ground whilst stood on traditional terracing. Big fan of Brunton Park. Of the 80 grounds in my count, this stadium would easily be in my top ten, if not maybe even pushing for a top five spot.
Keep up with Michael's 92 here and follow him on Twitter @michaelepilcher. If like Michael you fancy blogging about your experiences doing the 92 league grounds drop us a tweet to @the92dotnet.
Have you made the trip to the home of Carlisle United? If yes you can add Brunton Park to your 92 or if not plan your trip there: