Blogger Michael Pilcher edged a ground closer to the magical 92 club with a trip to Yorkshire.
Ground 89/92: Valley Parade
Bradford City 2 – 2 Gillingham
04/02/2017

My eldest daughter (6, going on 16) was disappointed that our run of games & grounds together this season ended when I went solo to a few matches during January. Her last ground had been Rodney Parade in December, a majorly disappointing visit – the match was abandoned at half-time, we both got absolutely drenched, and we got lost trying to find the train station – and yet weirdly that experience hasn't put her off. With four grounds left for me to do over the last months of the season her next trip was never going to be too far away, and my 89th ground is one that had been on my radar since June. When the Gills fixtures first came out the trip to Valley Parade was one of ones I was really looking out for, and it was now the only ground left for me to tick off in League One.
Bradford is a place I'd been to a good few times in the past, having been to University down the road in Huddersfield. I'd been to watch Bradford Park Avenue twice and been in the centre for gigs, but never managed to get to Valley Parade. I'd always assumed it was because the Bantams and Gills hadn't crossed paths during my halcyon Uni days (2002-05), but having looked it up on Soccerbase they were in the same division for two out of those three years. Gills won both of their visits to Bradford during that time: I have absolutely no idea what kept me from going, I massively messed up there. Add to that missed potential trips in 2013 and 2015, I'd had four perfectly good chances to tick off Valley Parade with the Gills down the years. All four were Gills wins. This is all the more galling because in all my years of following the Gills away, I've witnessed less than a handful of victories.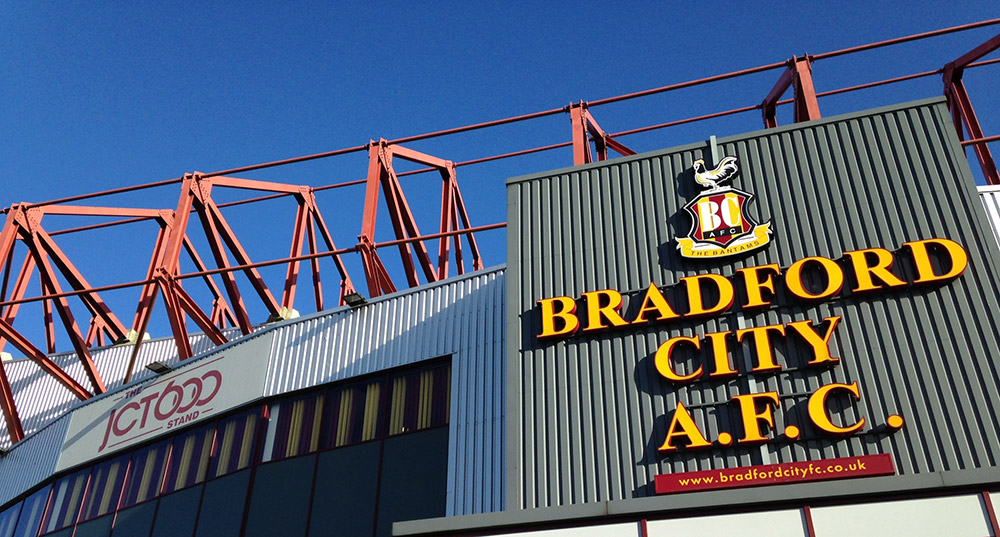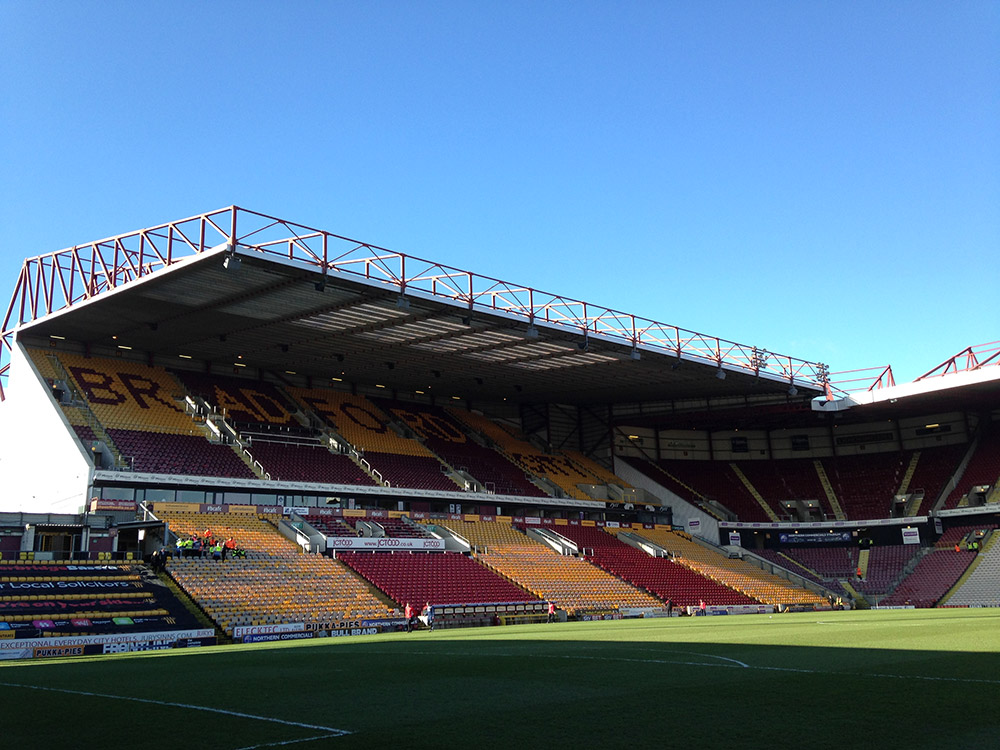 The family and I headed up Friday night to stay up North for the weekend with the in-laws in Preston, from there it was an early Saturday morning train to Bradford. I booked £20 advance return tickets for me and my young ground-hopping buddy, and was about to book my match tickets with the Gills before instinct told me to have a quick check of the Bantams website first. In the main news on the club website was an article about how Bradford were running a #BantamsFamily offer for the Gills game – adults could get tickets for £10 and under-11s for a mere £1 in certain parts of the ground. Chuck in a £2 web fee, it was only £13 for one adult one child; compare that to the away end, where I'd pay £26 for the same. Die-hard fans would no doubt be shaking their heads at this point, commenting that they'd happily pay the higher price to sit with their fellow club's fanbase, but the way I saw it I was paying half the price to watch the same match only in an adjacent stand. Besides, I've got a Cost Per Ground Average to keep down.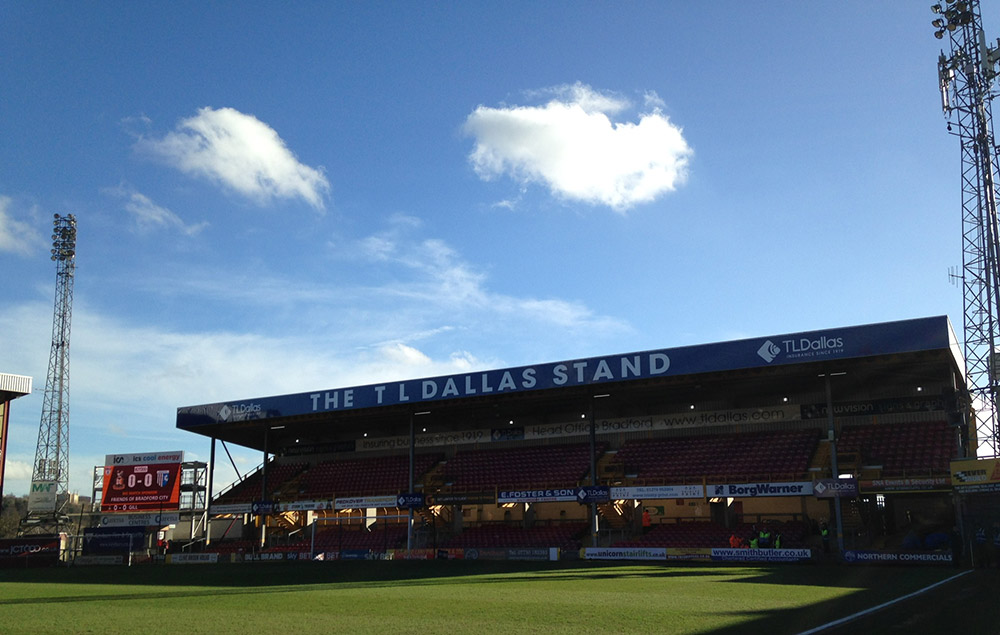 Advance train tickets are generally cheaper for earlier journeys, which worked out very nicely in this case as it meant I got time to meet up with my old Uni pal Loz who I hadn't seen in absolutely ages. As coffee and cake was more her scene than curry and cider – same for my daughter – I opted for a local coffee shop as a pre-match destination rather than one of the many local curry houses. A missed opportunity with the city being crowned Curry Capital of Britain five years running, but I had to go with the majority vote. Suitably fed and watered, Loz gave us a lift to the ground. It's always a warming sight to see a football ground on the horizon, and as we drove over towards it you could see it from quite some distance away. We had a couple of hours to spare, which allowed ample chance for this ground nerd to get himself some photos. I had e-mailed the club beforehand to ask if I'd be ok to get into the stadium before it opened to take some photos. When I got there, not only were all the stewards expecting me but they rolled out the metaphorical welcome mat. We were escorted pitch side, and whilst snapping away we were invited for a photo in the dug-out; not one to turn down a chance like that, we were then offered the chance to have a photo in the goalmouth. The staff at the club were terrific and extremely accommodating.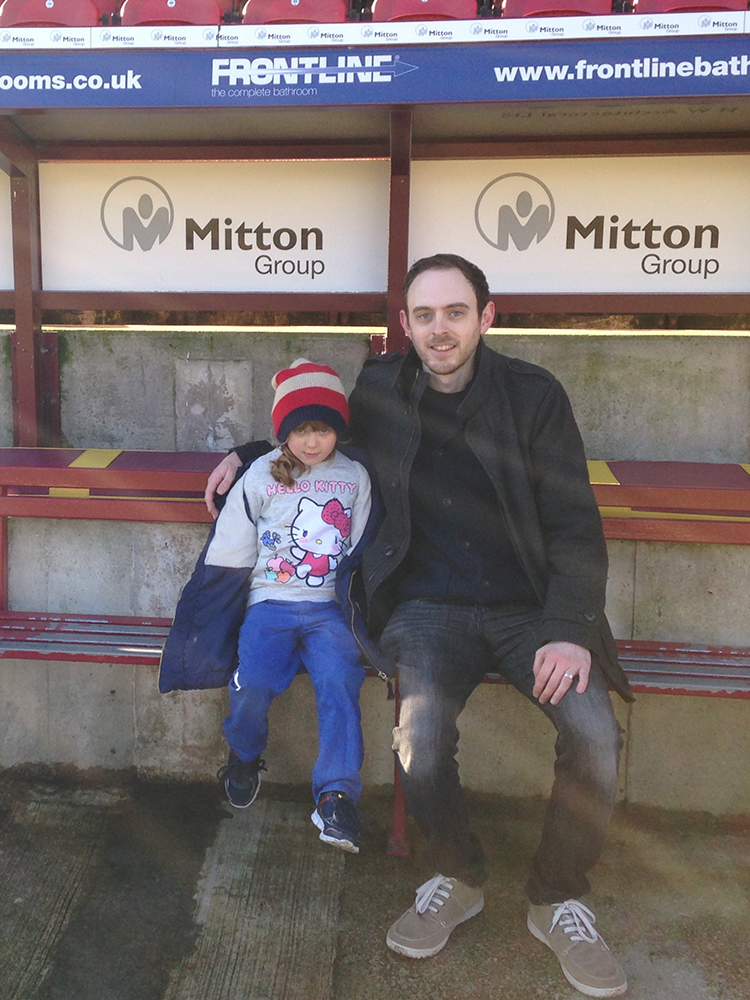 My daughter and I stood pitch side and just tried to take in the vivid sea of amber and claret around us, it's an incredible stadium that you can tell has hosted top tier football. That claret & amber colour combination is distinctive and seemingly unique in the English league. The West Stand and Kop Ends draw the eye, connected two-tiered stands towering over the other half of the stadium. I was always led to believe Valley Parade was something of a "cut-and-shut" of a stadium, like a transit van has been welded onto a Smart car. Whilst these two stands are clearly bigger they don't dwarf the other stands as much as I'd thought they would, having seen the ground plenty of times over the years on TV.
The East Stand looks like a smaller isolated brother of the other two, unconnected and single-tiered with the same contrasting colours spelling out 'BANTAMS'. The stand that really looks like the odd one out is the TL Dallas Stand, a small, 'boxy' red-seated double-decker affair that doesn't really look in keeping with the other three. There is a fancy new scoreboard next to this end, alas from our vantage point in the top corner of the East Stand, the windshields meant we couldn't see it.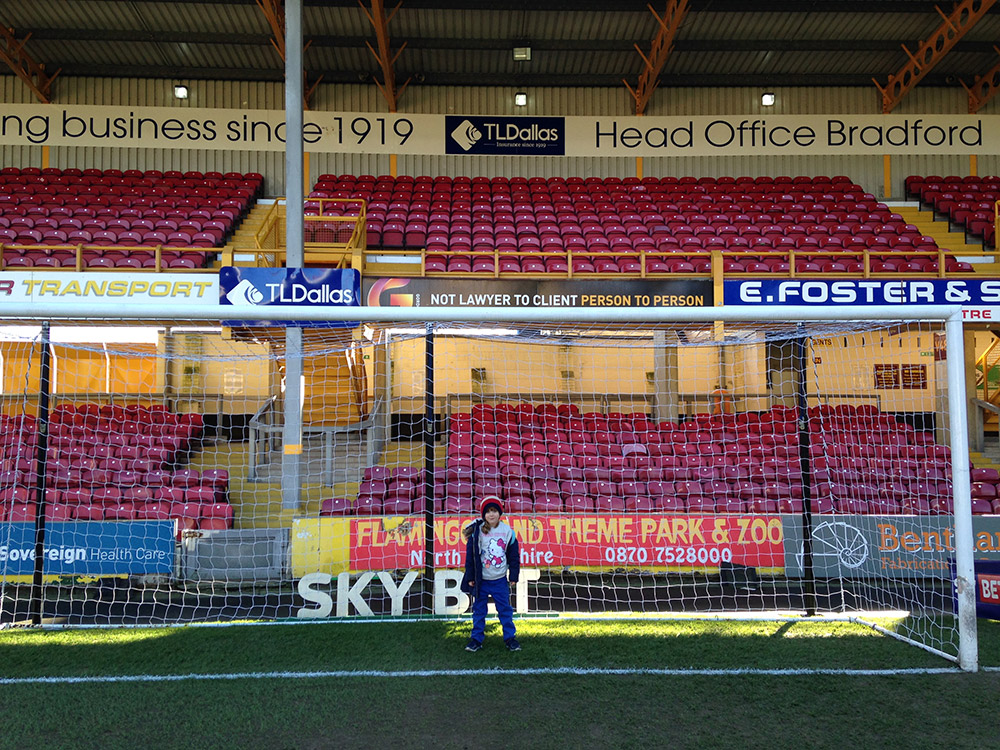 On paper this looked like a home banker; Gillingham have struggled this year, especially on the road, whilst Bradford were fifth and unbeaten at home, plus they were buoyed by some exciting new deadline day signings and anticipating a bigger-than-normal crowd. But new Gills manager Adrian Pennock has instilled a bit more fight in this side, shown by them holding table-topping Sheffield United to a 2-2 draw in the previous away game. And a determined Gills took the lead after 14 minutes, the ever-threatening Ryan Jackson long throw was hoisted in, knocked down by captain Max Ehmer for Josh Wright to smash home. 'Wonder how long we can make this last', I thought, and it turned out to less than a minute. Deji Oshilaja, a centre-back deployed at left-back, was bamboozled by Mark Marshall who floated in a cross for one of those deadline day signings, Charlie Wyke, to head home on his debut. Wyke was involved again when the Bantams took the lead, winning a free-kick outside the box. Billy Clarke stepped up and visiting keeper Stuart Nelson tipped his effort onto the post; unfortunately, when the rebound came out, the three players closest to it were all home players, and Tony McMahon was the one to tuck away to give Bradford a 2-1 lead.
Under the previous regime Gillingham would probably have folded, and I fully expected us to here. Yet we fought back to equalise, right-back Jackson involved again as his ball found Oshilaja at the far post who's stabbed effort hit the inside of the post, rolled along the line and crept in. It seemed to happen in slow-motion and some of the Bradford players seemed to watch this unfold when they could have prevented it. But they all count. Gills certainly made a game of it and didn't look like a side struggling in 17th place. Bradley Dack looked more like the award-winning player of last season, Scott Wagstaff and Jake Hessenthaler marshalled the midfield and striker Rory Donnelly, who's barely played this season, did a superb job on the left-side, even popping up to clear a late shot off the line. Bradford had most of the possession and chances but only really forced Nelson into one meaningful save, and Gills could have snuck it on another day when the lightning-quick Elliott List, fresh from the bench, was played through twice late on. The home fans weren't happy with some perceived time-wasting from the Gills, but that's pretty much par for the course these days when a struggling team is earning a draw away at a bigger better one. 2-2 it finished, the Gills dogged display rewarded with a much-needed point.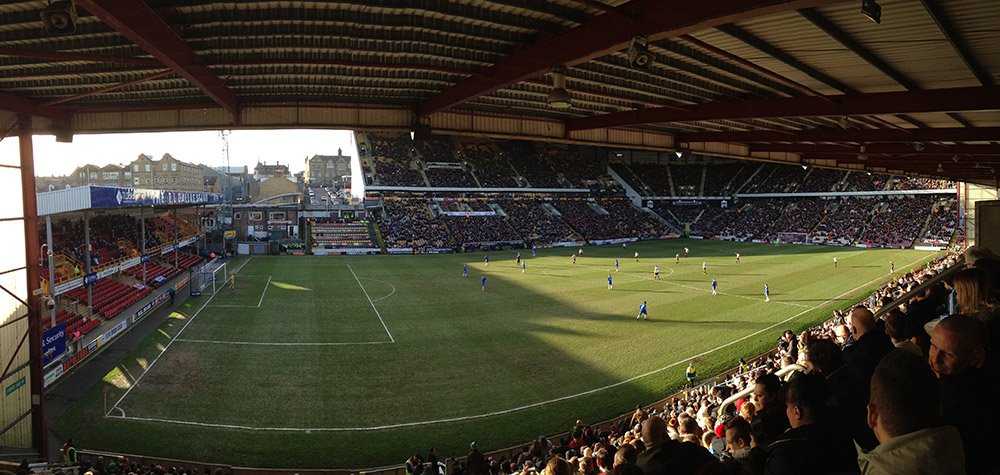 Bradford seems to have had a certain reputation in the past – a few people had, when I told them where I was going, advised me to "be careful" – but everyone we encountered, whether at the ground or in the city, seemed friendly. We never felt threatened or intimated at any point, and not sure what this apparent reputation is based on – 'summat owt t'nowt', as they might say round these parts (apologies to all my Yorkshire friends). Although one Gillingham fan that had parked locally did come back to their car to find the rear window had been smashed in, and nothing inside had been taken, but then every club has its bad eggs. We personally found the fans to be an affable bunch.
Following the crowds from the ground back into the city centre, we had enough time for a spot of generic fast food before our onward train journey back to Lancashire. An enjoyable game and, thanks to the superb hospitality of the staff at Valley Parade, a memorable day out.
Atmosphere 3/5: The fans in the Kop top tier seemed to be making most of the noise, generally it wasn't very loud. The 200-odd fans from Kent did their best considering their number.
Location 4/5: At the bottom of a hill set amongst residential housing, easily walkable from the train station and city centre with its wealth of curry houses.
Programme 4.5/5: Very, very good indeed. Great content, well researched and interesting features, and for a change a decent amount of space dedicated to the visiting team.
Stewarding 8/5: Couldn't have been more helpful or accommodating. Considering I always rate this 5-out-of-5 essentially just for stewards doing their jobs, this should be higher an 8 or 9. I cannot praise the Bradford staff enough.
Character 4/5: A terrific stadium, one that deserves to be hosting football at a higher level.
Value for money 5/5: The £2 web fee was annoying but £13 overall for one adult & one child for a league fixture is good value at any level.
Overall 4/5: Decent stadium, decent game. A perfect way to complete my League One set.
Keep up with Michael's 92 here and follow him on Twitter @michaelepilcher. If like Michael you fancy blogging about your experiences doing the 92 league grounds drop us a tweet to @the92dotnet.
Have you made the trip to the home of Bradford City? If you have you can add Valley Parade to your 92 or if not plan your trip there: