Gillingham fan Michael Pilcher made the long trip to Lincolnshire to Glanford Park, the home of Scunthorpe United. The Gills were looking to the stop of rot after 3 consecutive defeats had seen their promotion push stutter.
Ground: Glanford Park 77/92
Game: Scunthorpe United 0 – 0 Gillingham
Date: 05/03/2016
"I've been Southampton but I've never been to Scunthorpe", as Tinie Tempah tells us on 'Pass Out'. This particular line applied to me too, but was something I needed to put right if I ever wanted to complete the 92. With Gillingham travelling there this was as good a time as any to get Scunny ticked off, unfortunately old 'sunny Scunny' is not a particularly glamourous-sounding place, and a bit of a tough sell. One of my occasional fellow away day travellers refused this one, and Scunthorpe is one town my wife had made it absolutely clear she wouldn't accompany me to (I think she'd seen some Channel 4 reality series about people in Scunthorpe on benefits, and she had decided this was representative of the place as a whole). With the train showing as a scandalous £110 – £110! – the £26 club supporters coach was as cheap a way as any for me to travel to Lincolnshire's only league club.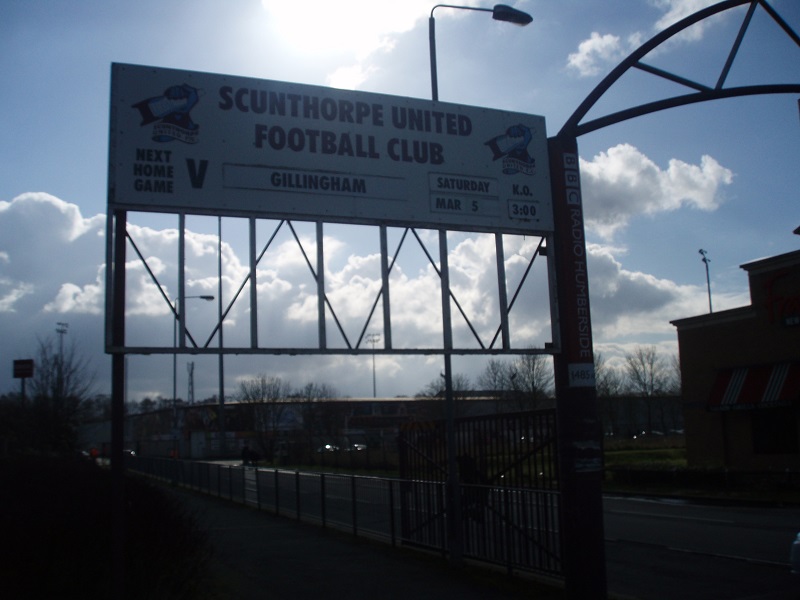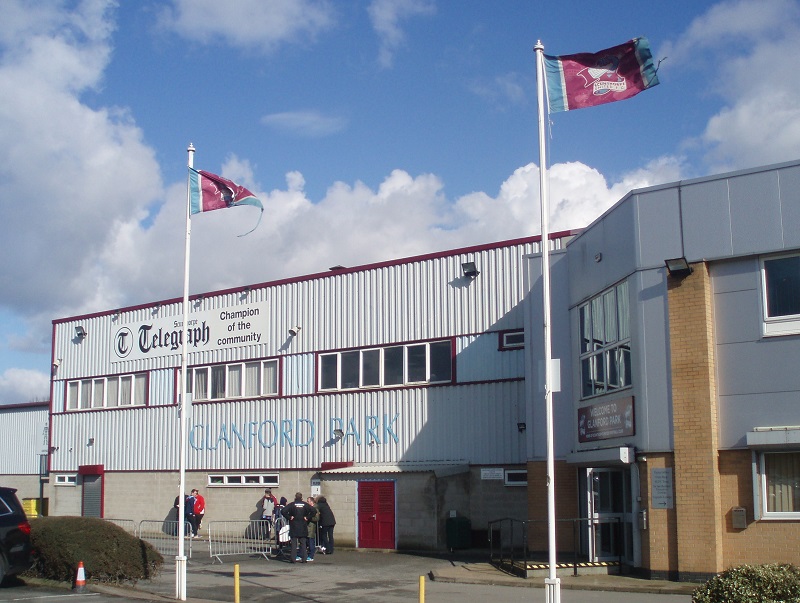 Since I started going to football in 1994, I've always been quite lucky in that I've never had any illnesses on a matchday, not even during my three seasons as a GFC season ticket holder. So it was sod's law then that I get the mother of all bugs the day before an eight-hour return coach journey. Friday night was grim, to the point where I thought I'd just take the hit and not bother going. Alas, I had also bought a ticket for my GFC-supporting mate in Nottingham who was meeting me there, so as nice as a Saturday in bed sounded, it was going to cost me about £45. "The fresh air will do you good", my wife said, persuading me to go.
The coach journey passed by in a bit of a blur – my well-intentioned plans of reading and sticking the ipod on were abandoned, determined as I was to try and sleep for as much of the journey as possible. With Gillingham's recent away form, or form in general, a hardy 23 souls were making the coach journey – a low for the season, apparently, and meant they'd probably just about break even on this trip. Fans are a fickle bunch; amongst the pre-season favourites for relegation, even with the recent poor run the Gills were still an impressive 4th in the table.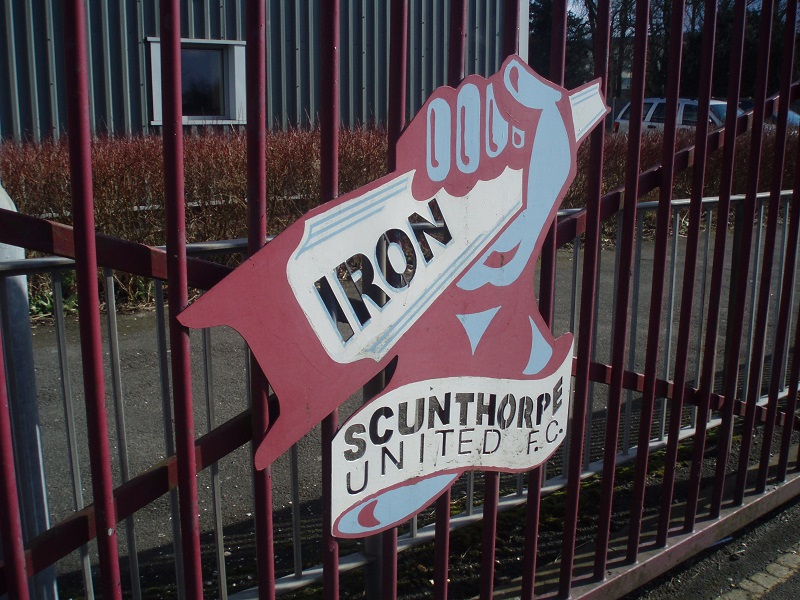 I was expecting Glanford Park to be a real 80s throwback, built in a residential area. So I was surprised when the coach drove past shops and restaurants galore; rather than new grounds which seem to be surrounded by similarly new shopping parks, this was a late 80s ground which had happened to have lots of new shops & eateries built around it. The ground itself had a nice retro appeal, with an old-fashioned clubhouse, The Iron Bar. It had a uniform look and was completely enclosed, although the corners weren't used for supporters. In the away stand, annoyingly there were some supporting pillars in the way – luckily there were free seats galore so we didn't have to stick with our designated ones – although the legroom felt a bit restricted compared to normal. It wasn't quite Kenilworth Road bad, but still noticeable.
The game itself finished 0-0, somehow; it was quite possibly the most one-sided 0-0 you will ever see. How the Gills didn't lose was entirely down to keeper Stuart Nelson, who pulled off at least three or four smart saves, including one from a late one-on-one which looked a certain goal. A couple of goal-line clearances from defenders Max Ehmer and the impressive Aaron Morris helped the cause too. If Scunthorpe had won 3-0 Gills wouldn't have felt hard done by, so this was definitely a point well-gained, and indeed was a point that took the Gills back up to 3rd in the table.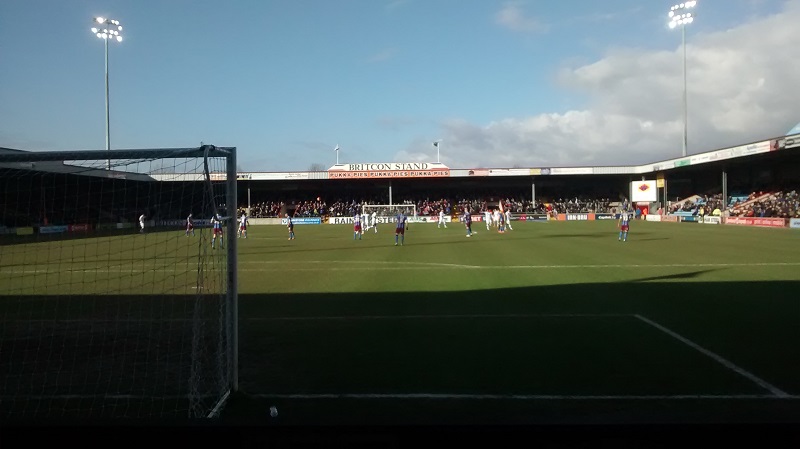 Atmosphere 1/5: Not much from either home or away fans. Especially disappointing from the SUFC fans considering they pretty much dominated throughout.
Location 2/5: If you like having an extensive choice of fast food and shops, Glanford Park is for you. Surely not many grounds offer a choice of McDonalds, KFC, Pizza Hut, Frankie & Bennys and Subway within walking distance. Unfortunately, proper drinking establishments were a bit further afield.
Pint & pie: Not sampled.
Programme 4/5: Decent design and look with some good content. Puts some higher division clubs to shame.
Stewarding 5/5: Friendly, helpful, and didn't insist on bag searching; no issues.
Character 3/5: A throwback to when 'new' grounds had a little something about them and weren't just sterile and clinical. Crazy to think that when opened in 1988, this was the first new league football ground to be built in over 40 years; now we seem to get one or two a year.
Value for money 2/5: £22.50 to watch a League One nil-nil in the freezing cold. Character-building certainly, but not value for money!
Overall 3/5: The locals were friendly but unfortunately didn't generate much of an atmosphere. A nice stadium, alas one I subsequently found that the Iron are leaving soon anyway, so my trooping on with this trip despite being ill was largely in vein. Let's hope my next trip to their new home is more memorable than this one!
Keep up with Michael's 92 here and follow him on Twitter @michaelepilcher. If like Michael you fancy blogging about your experiences doing the 92 league grounds drop us a tweet to @the92dotnet.
Have you ticked Glanford Park off on your quest for the 92 club? Add it to your 92 here www.the92.net/ground/glanford-park or plan your trip their with our away day planner here www.the92.net/plan-your-away-day/glanford-park