With just a dozen grounds left to go the92.net regular Michael Pilcher went back to where it all began. The Gills fan returned to his spiritual home to pass the baton on to the next generation.
Ground 1/92: The Priestfield
Gillingham 1 – 2 Luton Town
30th August 2016
Having fairly recently ticked off ground number 80, my latest blog isn't about ground number 81 on my quest towards the 92, but instead, I'm going all the back to ground number 1: Priestfield, Gillingham.
I won't be reviewing my Priestfield debut (Gillingham 1 Arsenal 3, August 1994) or my competitive debut (Gillingham 3 Cambridge 0, August 1995). The Priestfield of 2016 is vastly different to the one I first visited over two decades ago; much like Trigger's Broom, it's the same but each component is completely different. The crumbling terraces of my first visits have been replaced with shiny plastic seats, the decaying side stand transformed into the impressive two-tiered Medway Stand at the turn of the millennium. The 'temporary' Brian Moore Stand still remains, odd when you consider it was first installed in 2003, meaning away fans have now been open to the elements for thirteen years. When the 'temporary' seating was first put in it was meant to be exactly that, as the Gills continued to search for a site for a new stadium. A few potential sites have been proposed over the years, Cuxton, and Mill Hill in particular. All proposed, all met with Council resistance or opposition from residents. Chairman Paul Scally is determined for the club to move, but it doesn't seem his dream is any closer to being realised.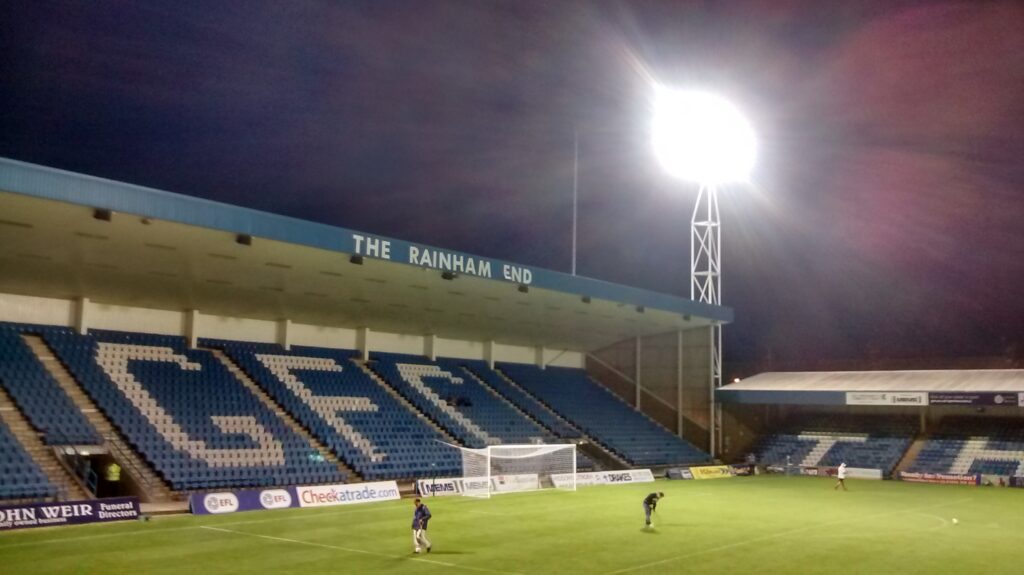 The reason I'm writing about a ground I've visited in excess of a hundred times and was a season ticket holder at for three seasons is because, this time, I was being accompanied by two people making their first ever football stadium visit. My twin daughters had been pestering me to take them to a match for a good while, building up a certain romanticism about attending football matches due to me going so prolifically. "Where's Daddy going?" they'd ask; "Football" always the answer. Surely if I was going to football so often, spending days on coaches and trains in pursuit of another football ground visit, it couldn't be anything other than amazing? The twins are almost 6, and despite watching the odd burst of Euro 2016 on TV with them, I don't think they really knew what was entailed. The line is further blurred by me sometimes coming home on Wednesday nights dressed in football kit and shinpads after 6-a-side, so they never knew if I was disappearing to watch or play football. When I first told them I was taking them to a match, one of them later said "When it's my turn, I want to play striker and not goalie".

I'd been putting off taking them was because I wasn't sure if they'd be able to maintain interest. They still seem so young to be going to football at 5; I was 10 before I went to my first match, although admittedly I was a latecomer to football. I was hooked after my dad introduced me to this new world; the smell of woodbines and burgers wafting over a terrace full of shouting men, every other word a swear word; the swearing was as much entertainment as the football to my younger self. The twins have only recently got to a point where they will sit still for a 90 minute film at the cinema so decided they were perhaps ready for football; the brightly-coloured CGI of Minions and Zootropolis could hold their attention easily enough for an hour and a half, but could Cody McDonald and Jamie O'Hara? As this was a quieter EFL Trophy tie and tickets were only £5 adults/£1 under-16s sealed the deal – if I had to leave at half-time, at least I was only £12 down (I roped in my granddad to come along for some assistance).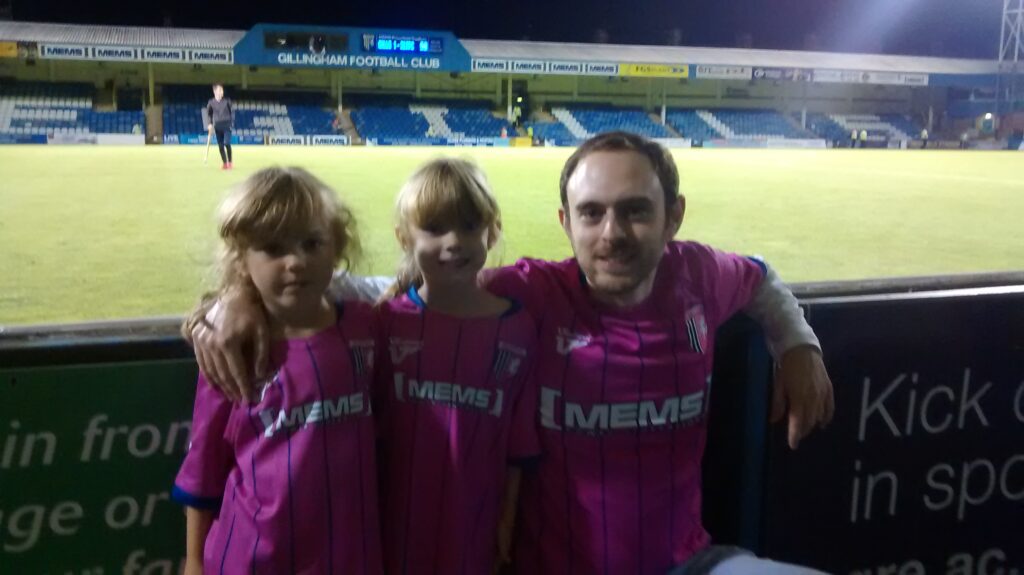 As a Gillingham fan I'm biased, but can understand why an away fan wouldn't be particularly enamoured with Priestfield. You walk through a residential area full of run-down and boarded up houses, go down a tiny alleyway to get to a sorry-looking mass of green temporary seating. The away end has one food kiosk, with two portaloos to serve the calls of nature for all visiting fans; this I remember after watching a TV programme about the worst grounds in Britain (Priestfield came top), although I believe the facilities have been upgraded a little since. The town centre itself is a soul-destroying, dilapidated mess, with 'dump' or 'grotty' being most people's one-word description of it. There are some good pubs and chippies near the stadium itself, but Gillingham isn't a place you'd want to spend a great deal of time in.
I didn't want to spend too long 'soaking up the atmosphere' with kids in tow, so timed my journey to arrive about 10 minutes before kick-off, and thanks to the quietness of the game was able to park about five minutes up the road. The children looked on in wonder, I'm not sure they were fully aware of the scale, and they spend a good portion of the first-half taking it all in. Gillingham had put out a pretty strong line-up, but it was the juniors that looked the more up for it. The senior pros didn't look interested, with no desire to close down or get stuck in; presumably with the spate of injuries at the club, they were under some sort of orders to not make any tackles. A youthful Luton team were 2-0 up inside 24 minutes, the first an easy header as the defence and keeper all expected each other to deal with it. Both goals came from the right-hand side, which shows the problems that will occur when you play a 19-year-old right-winger as a left-wingback.
Throughout the game I hadn't quite been prepared for the barrage of questions from my children, forgetting that they're at a very inquisitive age. "What are those people at the side doing?", "What are substitutes?" and most controversially "Can we cheer for the orange team because they're winning?" (this last question mostly definitely met with a resounding 'no'). It took little bribery with snacks to make them sit still, even with this they were fidgeting and constantly trying to stand up. They were impressed with certain elements, in particular the distance Stuart Nelson could get on his goal-kicks and how far Jay Emmauel-Thomas could throw the ball, but I think their biggest cheer came when the ball was kicked over the roof of the Gordon Road Stand into the streets behind. "How many spare balls do you think they have?" they pondered, something I'd never thought about before. They were also buzzing from being out past bedtime whilst it was dark outside, and also from a significant dosage of E numbers. It's the simple things.
The Gills at least started to make a go of it in the second-half after a couple of half-time subs, Bradley Dack in particular having played like someone that was doing their very best to avoid picking up any kind of injury ahead of deadline day. The girls started to get more involved, willing 'the blues' on to score. I didn't want them to go home having not seen their team score in their first ever match, and after a couple of decent chances were saved and with the match into injury time I thought it wasn't going to be, so I'll forever be indebted to 17-year-old midfielder Darren Oldaker. Always willing to show for the ball where some of his team-mates were shying away, after some good build-up play he drilled a shot into the bottom corner from outside the box: never before has a consolation goal made me so happy. The whole point of the reformatted Trophy is for youth to get a chance, so it was great to see the teen get 90 minutes and a goal. Luton also handed a brief cameo to 15-year-old striker Connor Tomlinson, who had to get permission from his headmaster to appear; his first touch greeted with a cheer from the 2000-odd home fans. Gills 1 Luton 2 was the final score, by no means a bad match but not a great result against a Luton side that had, I found out after, made the full eleven changes from their previous game. An equaliser would have given us the chance to earn a 'bonus point' via a penalty shoot-out, another new gimmick of the revamped Trophy.
"So, what did you think of that then?" I asked the girls after on the way back to the car. "Good!" they shouted in unison. "What was your favourite part?" They deliberated briefly: "The snacks". In fairness to them they had lasted the course, and I hadn't had to do that much bribing; maybe I could get them involved in this 92 malarkey after all. They were one down, they only had another 91 grounds and 25,000-odd miles to go…
(The below scores aren't necessarily reflective of this Checkatrade Trophy game, but a mean average over my two decades of following the Gills).
Atmosphere 3/5: My first visits were played out in a ferocious atmosphere, and must have been a nightmare for opposing teams. However slowly that has died away, and trips over recent seasons have been massively disappointing, even for bigger games. To an extent I think fans were spoilt by the Championship years (2000-2005) and now assume we have some sort of right to be playing at that level.
Location 3/5: In the middle of a large residential area close to a pretty dire town centre. Although generally finding some free street parking nearby isn't a problem, and the train station is easy walking distance (as are several pubs and half-decent chippies).
Programme 5/5: One of the things I've noticed on my various travels is how consistently strong the award-winning Gills programme is compared to others. It's comfortably amongst the best programmes I've seen, alongside those of Arsenal and Aston Villa.
Stewarding 4/5: Generally good, although when things do start to get a bit Danny Dyer, they look the other way and have no desire to get involved; this has led to a few unpleasant scenes in recent years.
Character 3/5: Three-quarters of the ground is nice and, despite being built separately, blend in well together. Let down by the rickety away 'stand'.
Value for money 3.5/5: Sensible prices for this Trophy game. The prices for one-off league games can be quite high (£23-26 in some sections) as they look to steer people towards season tickets, which tend to work out around £12 a game. They do some good ticket offers now again, just a shame there aren't more of them.
Overall 3.5/5: It's not perfect, but it's (in a footballing sense) home. Maybe one day we'll get some mega-bucks foreign investor and the stadium, club and area will be rejuvenated – as Kent's only league club (for now: Maidstone United will get there sooner rather than later) you'd have thought the catchment area could sustain something bigger. In the meantime, Priestfield will do.
Keep up with Michael's 92 here and follow him on Twitter @michaelepilcher. If like Michael you fancy blogging about your experiences doing the 92 league grounds drop us a tweet to @the92dotnet.
Have you made the trip to the home of the Gills? If yes you can add the Priestfield Stadium to your 92 or if not plan your trip there: